Whether they're banding with a stream of air or broadcasting off the blades of a spinner, growers and custom applicators working with granular and bulk dry products are looking to cover more ground faster and with more accuracy — it's all part of increasing productivity and precision.
We spoke with several suppliers of granular applicators and the consensus points toward bigger machines over the next several years with an emphasis on more accurate application of materials and more on-the-go monitoring of the process.
"It's always about money," explains Aulari's Patrick Audette in Saint-Barnabe-Sud, Quebec. His company builds pneumatic applicators for sidedressing and deep-placement operations. "Our customers are looking for more precision for the best application of an expensive product, but they also want to be able to cover more farm ground more quickly."
Audette says the demands are leading to larger capacity machines and wider working widths. "We're going to 32 rows, from current 24-row models, and our next goal is a 36-row planter with dry fertilizer, and this means some new engineering," he notes.
"Also," he says, "wider air booms are coming. We're at 60 feet now but a lot of farmers are asking for 90- and 100-foot booms."
Audette says while Aulari has a niche market in precision deep-placement and sidedressing equipment, the firm is facing the same demands as everyone who builds dry material handling equipment. "Growers are looking for more acres per day or acres per hour, and that leads to bigger equipment with stronger frames and undercarriages."
Another manufacturer, Valmar Airflo Inc. in Elie, Manitoba, reports similar demand for bigger equipment.
"Larger is always better," says sales manager Jason Janzen. "Everyone is looking for bigger hoppers and wider boom widths."
Currently Valmar offers a 7-ton hopper and 60-foot boom on its 7600 applicator, but Janzen says the company will likely offer an 8-ton unit soon. "That's what the industry in Western Canada and the northern U.S. is going toward … 80-foot booms and 8 tons."
Precision is a big factor in future equipment development, Janzen explains. "Our Model 7600 applies according to bulk density. It's designed to apply a pre-selected range of 100-1,000 pounds of material per acre at 8 miles per hour. Some of our customers with larger operations are operating at 15 miles per hour, so they cover a lot of ground in a day."
"Growers are also looking for load cells or scales," he says. "Farmers want to be within a pound or two of set points to calibrate with GPS. The load cell tells when the hopper is full, the GPS says one has covered 10 acres, and the load cell says 'you've used 1,000 pounds,' so the operator can continually adjust the application rate for accuracy."
Janzen says a load cell will likely be standard on Valmar equipment in 2015.
Anthony Montag, vice president of Montag Mfg., Emmetsburg, Iowa, says 85% of his company's machines leave the assembly line equipped with a scale kit. "It's our most popular option," he explains, noting growers and custom applicators appreciate the ability to know exactly what's happening and when during field work."
The next big frontier, he says, is to tie load cell output into controllers for on-the-go automatic adjustments.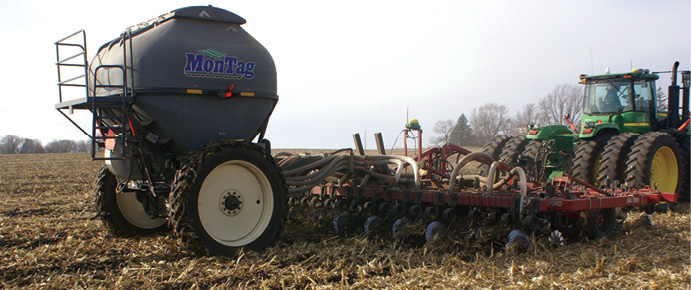 A 9-ton steerable cart Montag pneumatic system is the largest in the company's inventory now, but officials say farmers are wanting 14- and 16-ton units for more productivity, along with the ability to work 32- or 36-row widths.
"Also, we're seeing more need for improved swath control, particularly to reduce overlaps in irregular-shaped fields on over terraces."
Montag's roots reach back to 1988 when his father patented a dry fertilizer meter, which has undergone several iterations to meet the demands of larger equipment. Today, Montag products are aimed at precision placement of materials, and Montag says even in side-banding and "spoon feeding crops" the demand is for bigger equipment with larger field capacity.
"Like everything else in agriculture it's all going to get bigger," he says. "We have a 9-ton system that is serving well, but we're getting many requests for 14- and 16-ton models. Also, there's a continual demand for more outlets on our machines and that means a larger metering system. Ten years ago 12 rows was the market. Today, it's 16, but 32-36 rows is what we're hearing we need to build."
Montag says his firm's challenges include a meter to handle 32-36 row equipment and notes he expects to have that available soon.
At New Leader, part of Highway Equipment Co., Cedar Rapids, Iowa, Marketing Director Ingrid Livingston says the large dry applicator market is seeing interest from an increasing numbers of farmers.
"Growers are getting more interested in applying their own dry materials, and their equipment is looking more like that of the traditional custom applicator," she explains. At least part of the demand is from growers looking to add to their own flexibility to apply when and where they need, especially as farms get larger.

New Leader's chassis-mount spreaders are a familiar sight on a rainbow of equipment choices. The Cedar Rapids, Iowa, firm says it's planning a new variable-rate spreader later this year to go with its current spinner spreader that can handle four dry materials in one pass.
New Leader, a supplier of spinner spreader beds to various major farm equipment OEMs, has introduced trailer-mount versions of its "truck bed" spreaders specifically for growers who want to pull the applicator.
"They may still want a pull-type product, but they want the same precision and the ability to apply multiple products in one pass to increase their efficiencies in the field," she says.
In addition, New Leader offers its L4000G4 spinner spreader which is capable of handling up to four products simultaneously through a MultiBin insert in the hopper. For single fertilizer or lime applications, the insert can be removed.
"This allows fewer field trips and creates less compaction," Livingston explains. "Also, this unit has variable-rate technology with an adjustable controller in the cab and the ability to work with mapping software and GPS. The controller varies the speed of conveyors feeding the spreader and can change the rate within a fraction of a second."
Livingston says New Leader will be introducing additional products later this year, which make good use of the abilities of their VR controller.
Echoing the sentiments of the others, Livingston says growers are looking for wider applications and faster speeds. Currently New Leader machines can operate with a 120-foot wide pattern — depending upon the hardness, density and uniform shape of the granular material being applied.
"That's another variable we're seeking to control," she adds. "Our company is working with various fertilizer and dry material suppliers to improve the uniformity of the products, so we can better calibrate our equipment for accurate application."
In fact, New Leader offers a SNG (size grade number) and hardness test kit, to help growers determine the average size of material they are applying and its relative hardness. With those figures, they can better adjust their applicator to apply the material at hand, Livingston explains.