My last article was titled "Technology to Exceed Customer Expectations." In it I cited 5 different real world examples that show how farm equipment dealers use technology to better serve their customers and to improve their dealership's performance. We'll use these examples to understand why and how technology can better connect your dealership to your customers.
We'll "connect" these examples to different ways of connecting, each of which improves how you collaborate with your customers, their other suppliers to better satisfy them, and to improves your dealership's overall performance. "Connection" and "connectivity" is the theme of this article because these are the chief benefits of information and communication technology.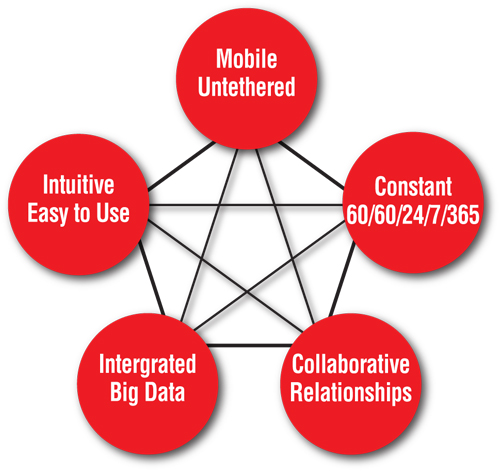 1. Mobile Connectivity =Untethered
The use of mobile devices is often called a "revolution" because the use of smart phones, tablets and remote communication technology can change the way your dealership operates, and how often you communicate with your customers and/or their machines. Wherever you are, you can be in touch by phone, email, text messages or other electronic ways.
Think of some examples. Farmers with a smart phone and a signal can:
Monitor and control their irrigation system or grain storage,
View the activities around their barn or farmstead or
Show a live video of how a machine is malfunctioning and which parts they need to order from you.
Each of these examples lowers risk, increases productivity and/or improves the profitability of your customers.
2. Constant Connectivity = 60/60/24/7/365
Today's technology can monitor most farmstead or field going machinery, and can do so second by second (60), minute by minute (60) and every day of the year (24/7/385). In a similar vein, if you have your smart phone by your bedside, your customer's can contact you whenever they feel the need. Whether you or your customer chooses to use it is another question, but technology does allows for constant connectivity.
3. Collaborative Connectivity = Stronger Relationships
With mobile and constant connectivity, you can build a stronger relationship. Farmers who must work 24/7 during the busy season will want to do business with a dealership who can support them when they work, not only when the dealership's doors are unlocked.
More importantly, by being in the information loop, your dealership can assist the farmer with his other suppliers of seed, feed, fertilizer, chemicals and advice (agronomic, veterinary, etc.). You do your part by selling and supporting the machinery technology, which enables the farmer to manage his information with other suppliers.
4. Integrated Connectivity= 'Big Data'
Managing location specific data for machines and fields and then integrating and analyzing the information is called "Big Data."
Untethered, constant and collaborative information technology generates a lot of data — A LOT OF DATA!
Think of the amount of information contained in a yield map and this is just from one pass over the field at harvest time. Then multiply that by each machine that has 20 or more different monitored functions that are sensed second by second during every hour of operation. The increase in the amount of data is exponential.
Your dealership may not do the analysis, but the machines you sell and produce are an essential contributor to the data. So you must be comfortable with helping your customers benefit from the use of their data.
5. Intuitive Connectivity — Easy to Use
The last type of connectivity is that between the person and the data. That is how each of us uses the technology. Ever since the personal computer was first commercialized in the early 1980's up to today's smart phones and tablets that use finger tips, swipes and voice control, our ability to use information technology is much, much easier. When things are easier to use, we're more likely to use them to improve our lives.
The controls on the machines that you sell have evolved considerably, as well. They will likely continue to evolve, especially when it comes to manipulating the "Big Data" in collaboration with others.
With these five types of connectivity, how do the five examples I cited in the last column relate?
Example A: Texting for Parts Availability: When your customer uses his smart phone or tablet to message your parts manager, he is using mobile and constant connectivity over a device that is intuitive to use.
Example B: Live Chat Website Monitoring: Systems that monitor customer hits on your website and then allow a dialogue with a potential customer are examples of constant and collaborative technology. This interaction with a person interested in a new or used machine definitely improves the customer experience. It builds a good relationship whether or not you sell the machine, which happens significantly more often with the use of this technology.
Example C: 5 Minute Email Response Time: Dealerships that do this are using constant and collaborative types of connectivity. Knowing they will get a response and by using a form of communication that is reliable and frequently used, benefits both the customers and dealership.
Example D: Live and GPS-Based Job Scheduling: By knowing where field technicians and their service trucks are, and the status of every work order helps your service managers to schedule these resources more productively for you and more quickly for your customer. The connectivity is constant, collaborative and, according to dealers who use many of these systems, intuitive.
Example E: Remote Diagnostics: Using a telemetry system that monitors machines 10 or 100 miles away from the dealership or farm office illustrates mobile, collaborative, constant and integrated connectivity. Depending on the system, the monitoring is easy to use, and thus intuitive.
Technology is changing quickly and dealers who know how to connect will add the most value for their customers and their dealership.
There are many other examples that farm equipment dealerships are adopting and using daily. Let's us know how you use them and what benefits they offer. Let's connect.
George Russell can be contacted at GRussell@CurrieManagement.com.