Champlain Valley Equipment
Headquartered in Middlebury, Vt.
Founded: 1970
Partners: Brian Carpenter, president/general manager; Russ Carpenter; Jason Bessette, store manager, St. Albans, Vt.; Josh Provost, vice president and store manager, Derby, Vt.
Locations: 4 in Vermont. Stores include Middlebury, St. Albans, Derby and Berlin
Lines Carried: New Holland, Case IH, Kubota, Kuhn, Polaris, H&S, Gehl/Manitou, Kinze, Woods, Pottinger, Art's Way, HLA, Yamaha, Land Pride, Sunflower, Jamesway, Ventrac, Taylor-Pittsburgh, CAM Trailers, Farmi, Pik-Rite, Wallenstein, MK Martin Meteor, Mensch, Bradco
Markets: Dairy is number one, with several specialty areas including orchards/vineyards, maple syrup operations and livestock, including goats, on the rise. Commercial, landscapers, hobby farms, estates and large property owners are also key segments
2013 Revenues: $37,661,972. New Sales: $19,170,458; Used Sales: $6,883,712; Parts Sales: $7,864,346; Service Sales: $3,743,456
Employees: 86
---
A day-in-the-life exploration of a small dealership in the midst of getting bigger Farm Equipment Staff Report or our once every-two-years Dealership Minds project, Farm Equipment revisited the operation that was recognized in 2006 as North America's best-run small (one- or two-store) farm equipment dealership.
There are a number of things different about Champlain Valley Equipment, but what peers from other parts of the country are most surprised to learn, says President GM Brian Carpenter, is its low average dollar transactions and the jack-of-all-trades sales force.
"This is not like the high horsepower tractor, spraying, planting equipment and combine-type dealers you see in the Midwest," he says, noting how other dealers are floored by how many various products a dealer in this area of the country needs to carry under one roof to fully serve a highly diversified customer base. His counterparts in the Midwest might have one salesman doing the same level of sales revenue as his entire 4-store company.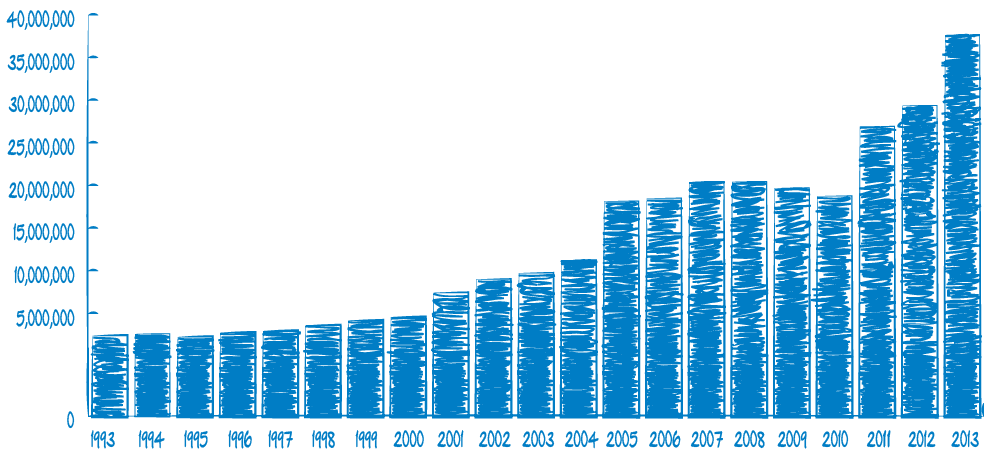 Over the past 20 years, Champlain Valley Equipment — now a 4-store operation — grew at an annual rate of 14.8% as its staff increased from 9 employees to 86 today
If we do a transaction that's a couple hundred thousand dollars, that's a monster transaction for us. Our top salesman is doing $3.2 million, and with most transactions being $10,000 or less, you've got to do a lot of transactions to get there," he says. The 4 stores comprising Champlain Valley Equipment carried out 2,913 transactions in 2013. "The requirements placed on a salesperson here — as far as his breadth of knowledge and the number of transactions — are a real challenge."
Another thing Carpenter's peers are surprised by is the restrictions in the state. Carpenter had secured a loan for a new, larger shop so it could better handle forage harvesters, but the permitting process was so long that he returned the money he had borrowed. It would have resulted in new tech jobs, but is on hold for now, with hopes for better success next year.
Acquisition Timeline
1970 — Russ Carpenter buys Knapp Farm Supply, a Ford Tractor dealership in Middlebury, Vt. When he started at the location, there were 15 competitors in the dealership's sales area. There are 2 left today.
January 2001 — Bought out Green Mountain Tractor, expanded the operation in Middlebury and consolidated everything under one roof.
March 2005 — Acquired Fine Line Equipment (Case IH and Kubota) in St. Albans, Vt., to become a 2-store operation. "There was not a New Holland store in that county and we worked to add New Holland to the store," Carpenter says.
October 2008 — Acquired Derby Equipment in Derby, Vt., to become a 3-store dealership. "This gave us a footprint in the state's top three agricultural counties," Carpenter says. The businesses, previously functioning as separate stores, are now merged into one entity.
April 2012 — Purchased Desmarais Equipment, the Kubota and Massey Ferguson dealership in Orleans, Vt. CVE closed out the facility over a 3-month period and consolidated the business into the Derby location, which was 15 miles away.
October 2012 — Acquired Riverside Equipment, a Kubota dealership in Berlin, Vt., to become a 4-store operation. "The guys there were happy to get some ag equipment to sell because the prior owner did not have the scale to make that investment," says Carpenter. "Even without being fully trained in ag at first, they knew we'd get somebody out there to back them up with care and maintenance. It's kind of like triage where you can keep things moving — but when you need the surgeon you call and get the expert."
Each time CVE expanded, President & General Manager Brian Carpenter recalls, something was "waiting for them." The first acquisition came just before 9/11/01, while another was in the middle of the 2007-08 downturn. "We'd had everything lined up and forged ahead with the plan anyway," he recalls, dispelling the notion of trying to "time" economic conditions. "We look at timing not so much based on the economy, but in our preparedness to make the expansion. If we're thinking of expanding and have an opportunity that makes sense, we'll just bite the bullet and do it anyway."
He adds that real economies of scale advantages arrived when the business went from 2 stores to 3 and 4. "At 2 stores, you can gain some economies but not enough to have centralized processes," he says. "At 4 stores was when the percent of our business expense that was overhead fell significantly."
---
Profiles from the Issue:
President & General Manager
Brian Carpenter
Leading with Structure to Minimize Chaos in Fast-Paced Business
Centralized Warranty Clerk
Marcellus Cubit
Making Manufacturers Pay Takes Patience & Persistence
Inventory Manager
Derek Gregorek
Organized Inventory Requires Communication & Documentation
Partner & General Manager Derby Store
Josh Provost
Watching the Numbers, Keeping an Eye on the 'Little Things'
Top Equipment Salesperson
Dave Merrill
View from the 'Top' Ag Salesman — Understanding 'Both Sides of the Desk'
Used Equipment Remarketer & Salesperson
Rick Rusin
Championing the Used Equipment Dossier — for Higher Turns
Store Manager, Berlin Store
Tom Wood
Store Management: Facilitating Others' Success
Partner & General Manager, St. Albans Store
Jason Bessette
Fostering a Vision Beyond Sales
Human Resources Director
Chantal Persons
'Personally' Tackling the HR Challenges of a Growing Dealership
Senior Parts Manager, Middlebury Store
Jeff Randall
Parts Management: Keeping Others Running
Office Manager
Jennifer LaRock
Administration of Growing Firm Means Expanding Responsibilities — as Needed
Service Manager
Aaron Keeler
Service Sales Hinge on Keeping Wrenches Turning
Parts Manager, Derby Store
Ben Hamilton 
The 'Numbers Guy' Preps Parts
Parts Manager, St. Albans Store
Tim Curtis 
Embracing Technology for Efficiency
Service Manager, Derby Store
Bill Hodgeman
It's All a Matter of Managing the Changes