AGCO, Your Agriculture Company (http://www.AGCOcorp.com), a worldwide manufacturer and distributor of agricultural equipment, has completed a two-year, $40 million revitalization project equipping its Hesston, Kan., manufacturing facility with the latest finishing and paint technologies. The plant revitalization is another major investment in AGCO's North American manufacturing facilities and a significant step toward the company's long-term strategic goal to be a leader in top-quality hay and harvesting equipment for the global market. A ribbon cutting was held Friday, August 16, 2013, to mark the official opening of the new paint center.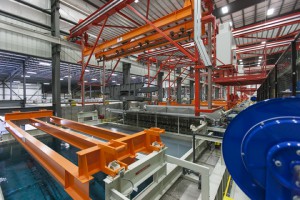 "We fully understand the importance our customers and dealers place on a high-quality finish and the impact it has on machine life and resale," says Bob Crain, senior vice president and general manager for AGCO North America. "That is the reason we have invested in this new E-coat and powder paint facility which is the most advanced and extensive coatings application center in the North American agricultural equipment industry today.
"It is an advancement we're very proud of and the most recent example of AGCO's commitment to providing our customers with the highest-quality haying and harvesting equipment products possible," Crain continues. The electrocoat (E-coat) and powder paint processes adopted by AGCO are equivalent to those of the automotive industry and provide a thorough, consistent, durable finish on each part, enhancing the overall quality and longevity of the final piece of equipment.
The new 200,000-square-foot state-of-the-art dip and powder-coat paint facility consolidates AGCO Hesston Operations' paint stations from two operations into one streamlined, efficient building. Parts for all products manufactured in Hesston will be painted and finished there before being assembled into final products. Nearly 75% of parts will go through the 17-step E-coat process which involves dipping parts in a series of solutions that remove all rust, scale and laser oxides, then applies a high-performance corrosion- and weather-resistant finish comparable to that used in the automotive industry. The E-coat primer is applied using a high voltage and high amperage charge for 180 seconds ensuring thorough coverage. After curing in one of 10, 375-degree F ovens, parts receive a powder top coat with one of five colors, then another final oven cure.           
The remaining 25% of parts, including gearboxes and drives; components that cannot withstand heat; and parts that are best painted after they are assembled, will be painted using a liquid coating system. 
In the bright and spacious load and unload center, parts are placed on load bars and transported to the paint line by un-manned automated guided vehicles (AGVs) which are programmed to follow a series of magnets in the floor as they move parts into the paint facility. This level of automation reduces employee exposure to the paint process, increases productivity and improves parts flow through the paint center and back to the assembly lines. The E-coat and powder paint processes also offer efficiency and environmental benefits as more than 95% of powder paint is transferred to the parts and the remainder is fully captured in the paint process. Aspects such as less material waste and high-efficiency lighting reduce the environmental footprint of the operation.
The flexible system will be employed across the full offering of large square and round balers, small square balers, combines, grain headers, pull-type and self-propelled mower conditioners, windrower tractors and planters manufactured in Hesston. 
An investment in future manufacturing
Farm equipment manufacturing has a long history in Hesston, and the $40 million investment in the paint center is not only an investment in improved product quality, it is an investment in the future of manufacturing in Hesston.
"The work done in Hesston and the top-quality and experienced employee team here are reasons AGCO invested in this higher application of paint and coatings technology," explains Robert Ciecko, vice president of Manufacturing, AGCO Hesston Operations. "Our team here is extremely proud, professional and committed to building equipment with exceptional quality. The strong Midwestern work ethic is second to none and helps ensure our customers receive products that meet or exceed their expectations upon delivery. Our workers dedication is the reason AGCO is bringing the latest technology here for them to use."
AGCO has made several investments in the Hesston facility in recent years. Since 2009, $3.2 million has been invested in laser cutters. There are currently 11 high-powered lasers in use, precisely cutting steel of all weights and strengths into pieces from which equipment parts are made. Precision cutting improves product quality and optimizes use of each sheet of steel.
In addition, in 2011, AGCO invested more than $830,000 to bring combine rotor production from Brazil to Hesston. The rotor robot cell now produces the axial rotors for all Class 7 and 8 combines and transverse rotors for Class 6, 7 and 8 combines.
The Hesston manufacturing facility builds Hesston by Massey Ferguson hay harvesting equipment; Gleaner, Challenger and Massey Ferguson combines as well as White Planters; and its nine manufacturing lines produce as many as 45 pieces of farm equipment per day, depending on the season. Today, with more than 1,400 employees, AGCO is the largest employer in Harvey County and much of the surrounding area.