With a 27% "bump" in unit sales in May vs. a year earlier, it appears that the prospects for compact tractors are improving significantly following 5 years of relatively flat sales.
After skyrocketing from 94,000 units sold in 2001 to nearly 140,000 units in 2004, North American sales of tractors less than 40 horsepower began contracting with the overall economy in 2008. That year, sales slipped to less than 117,000 units. Starting in 2009, sales barely got by the 90,000 mark, and only surpassed 95,000 units in 2011.
In May of this year, the Assn. of Equipment Manufacturers reported 17,193 compact tractors were sold in North America. This was up from 13,535 units sold in May 2012, a 27% increase. This also approached the highest monthly sales for May since 2006 when 17,872 units were sold.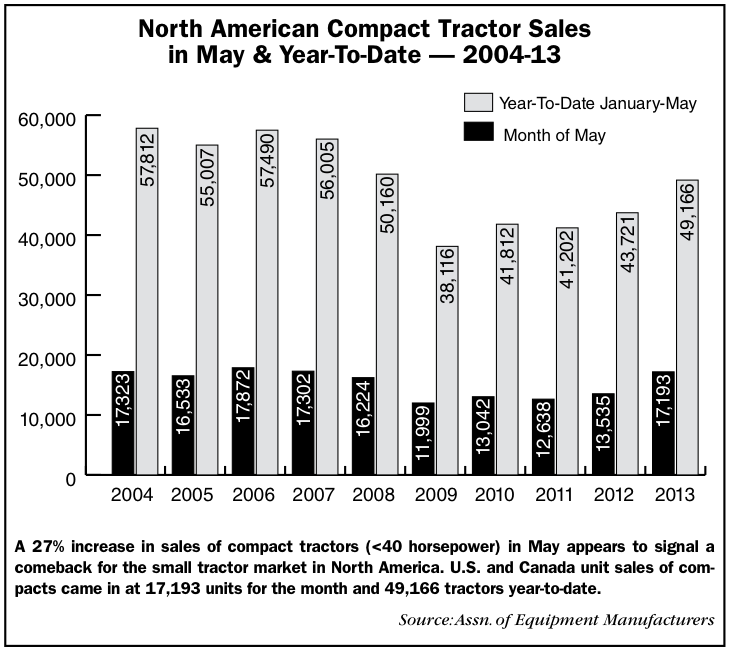 Through the first 5 months of 2013, 49,166 tractors classified as 40 horsepower or less were sold, accord- ing to AEM. This remains well below the 57,812 units sold during January through May in 2004.
In Ag Equipment Intelligence's most recent "Dealer Sentiments & Business Conditions Update" survey, not surprisingly Kubota dealers, which specialize in smaller tractors, reported the highest sales growth at 13% (Deere +9%, Case IH +6%, New Holland +5% and AGCO +5%).
Curt Siegmeyer, analyst for Cleveland Research Co., which part- ners with Ag Equipment Intelligence in the monthly poll of farm equipment dealers, commented, "We are seeing strength in the smaller tractor market, which appears to be supporting the strength in Kubota's sales."
One dealer said, "The strength in small tractor sales surprised me."

The surge in compact tractor sales also showed up for Mahindra. The Mumbai, India-based tractor maker reported that its sales for May rose by 24% to 23,626 units vs. 19,016 in May 2012. Exports of Mahindra tractors increased by 16% for the month at 1,155 units vs. 997 small tractors in May of last year.