In its February/March 2013 presentation to investors, Deere & Co. drew attention to the growing importance of the worldwide market for its equipment. According to Deere, its equipment sales outside the U.S. and Canada in fiscal year 2012 were over four times the level it saw in fiscal year 2000.
While net sales in the U.S. and Canada experienced a healthy 9% compound annual growth rate (CAGR) between 2007 and 2012, rising from $13.8 billion to $20.8 billion during that period, that increase was easily eclipsed by the net sales growth rate in other regions of the world.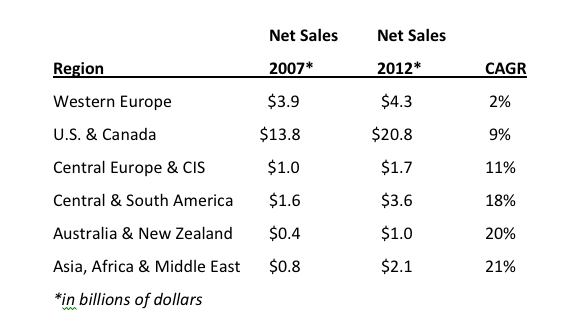 Growth Related Announcements
In recent years, Deere has become more aggressive in establishing itself in overseas markets.
Brazil: In October 2011, the company announced it was building two new factories in São Paulo to manufacture construction equipment with production to begin in 2014. It also introduced 50 new and updated products in 2010-11; roughly doubled its dealer locations since 2007; and achieved about 6 points of tractor market share during calendar years 2011 and 2012.
CIS: In November 2011, Deere moved its Orenburg, Russia operations to a new and larger facility, and increased available manufacturing space by about 600%. In March 2011, the company doubled it manufacturing space at its Domodedova, Russia operations.
China: In May 2011, Deere announced a $60 million investment in a new engine facility in Tianjin. Also in May 2011, the company an initial $80 million outlay at a new factory in Harbin to produce mid- and large-sized tractors. Production was initiated in November 2012. In December 2010, Deere announced a $50 million investment in a Tianjin plant to build new construction equipment.
India: Deere announced in January 2011 plans for a new factory in Dewas and expansion of its current tractor facility in Pune, with an estimated investment of about $100 million. In October 2010, the company inaugurated operations of its Ashok Leyland John Deere Construction Equipment Co. for the production of backhoes and 4WD loaders. In February 2012, the company commenced production of new combines in Sirhind. It also reported that it has been the largest exporter of tractors from India for the past 9 years.
North America: While expanding its overseas operations, Deere hasn't ignored its North American manufacturing facilities and clearly has no intention of giving up its farm equipment dominance in the U.S. and Canada. Here are some of the North American growth-related announcements it's made in recent years:
November 2012 - $58 million investment at Moline, Ill., planter factory to enhance efficiency and quality
June 2012 - $47 million investment at Moline, Ill., cylinder operations to expand manufacturing capacity
March 2012 - Final Tier 4/Stage IV solution to combine proven EGR Interim Tier 4 platform with customized selective catalytic reduction (SCR) system
March 2012 - $70 million investment at Waterloo, Iowa, factory to expand production of large farm tractors by 10%
January 2012 - Strategic agreement with MacDon to manufacture self-propelled windrowers
December 2011 - $85 million in capital improvements at Des Moines, Iowa, factory to expand production of self-propelled sprayers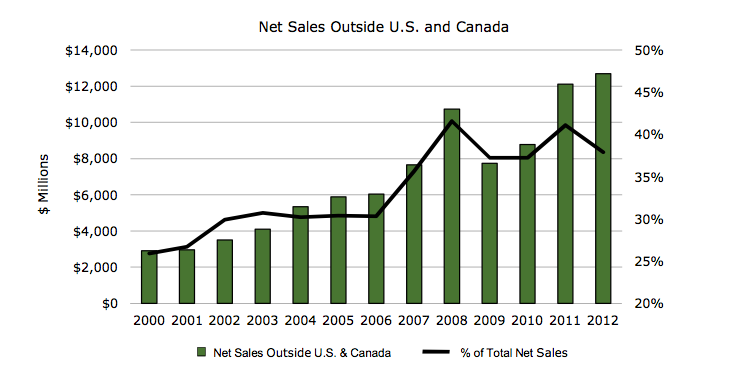 Click to Enlarge