Based on the results of the March 2013 "Dealer Sentiments & Business Conditions Update" survey, a little over 20% of North American farm equipment dealers say their new equipment inventory is still "too low," while 43% of dealers are reporting the used equipment backlog remains "too high." The survey results were released last Thursday.
New Equipment Inventory
A net 3% of dealers categorize their new inventory as "too low" (19% too high; 59% about right; 22% too low) vs. 19% last month, indicating that new farm machinery remains in tight supply.
The Assn. of Equipment Manufacturers reported that February sales continued a strong upward trend covering the last several months as row-crop, 4WD, mid-range and compact tractor sales increased 27.2%, 37.9%, 5.8% and 17.2% year-over-year, respectively. Combine sales accelerated, up 69.9%, following the 16.9% year-over-year increase observed last month.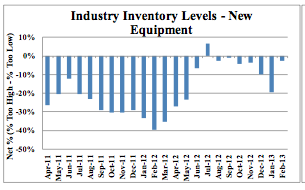 Used Equipment Inventory
Used equipment inventory remains high as a net 33% of dealers categorized their used inventory as "too high" (43% too high; 47% about right; 10% too low). This is up from a net 13% from the previous month.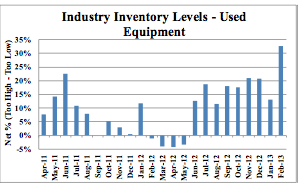 Used Combine Inventory
Within the used equipment categories, a net 45% of dealers reported used combine inventory levels are still "too high" (50% too high; 45% about right; 5% too low).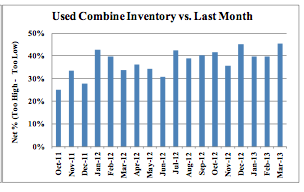 —Dealer Sentiments & Business Conditions Update, March 2013
---
To subscribe to Ag Equipment Intelligence click here.