More than a quarter of dealers responding to Ag Equipment Intelligence's most recent Dealer Sentiments & Business Conditions Update survey are reporting that their new equipment inventory is "too high." This could spell trouble as an expected softening of farm equipment sales sets in during 2014.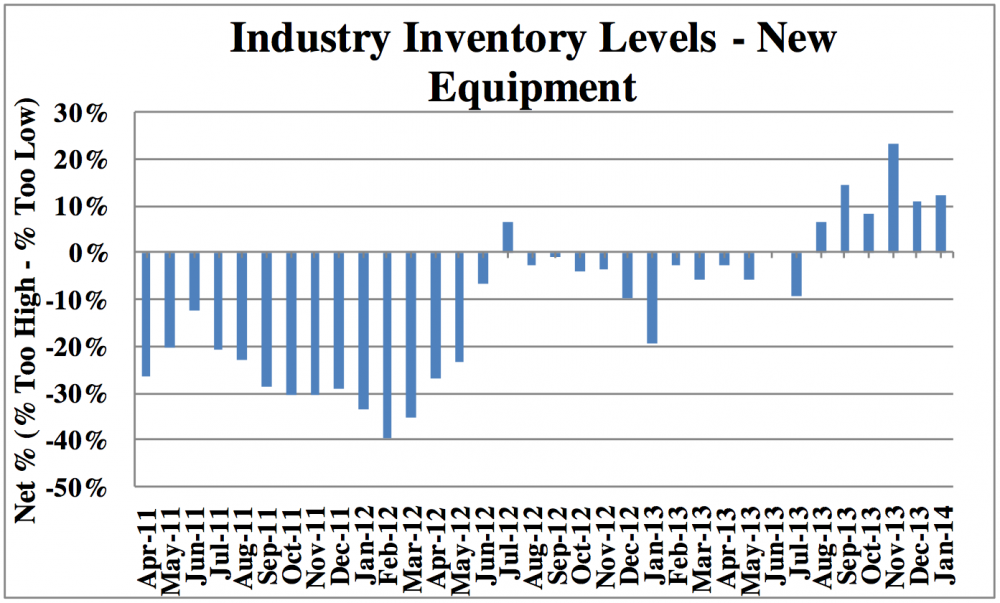 A net 13% of dealers categorize their new inventory as "too high" — 27% too high; 59% about right; 14% too low — which is on par with the 11% of dealers who categorized their new inventory as "too high" in the previous month's survey. This is the sixth month in a row that dealers reported concerns about the level of their new equipment inventory.
These numbers appear to be backed up by the Assn. of Equipment Manufacturers' February unit sales report, which also showed a trend toward higher levels of new equipment on dealers' lots.
In a note to investors, RW Baird's machinery analyst Mircea (Mig) Dobre reported that U.S. and Canadian year-over-year inventory levels and days-sales of inventories rose across all large equipment categories "with growing risk for inventory destocking in 2014 given projected sales declines."
U.S. dealer inventories of 4WD tractors increased 20.6% year-over-year in December, while days-sales of inventory was 85 compared to 71 in the prior year. U.S. row-crop tractor inventories increased 31.3% year-over-year in December vs. a 34.9% increase in November. On a days-sales basis, inventories were higher year-over-year at 106 days-sales compared to 95 days-sales in December 2012.
U.S. combine inventories were 53.8% higher year-over-year in absolute terms in December vs. up 66.5% in the previous month; days-sales (50) was up from last year (36).