The editors of Farm Equipment are pleased to announce the launch of a brand new website — PrecisionFarmingDealer.com — aimed specifically at equipment dealers.
The new website — now available — builds on the success of Precision Farming Dealer, the twice-a-month e-newsletter, that delivers relevant information and dealer-to-dealer advice on best practices for selling, servicing and supporting precision technology.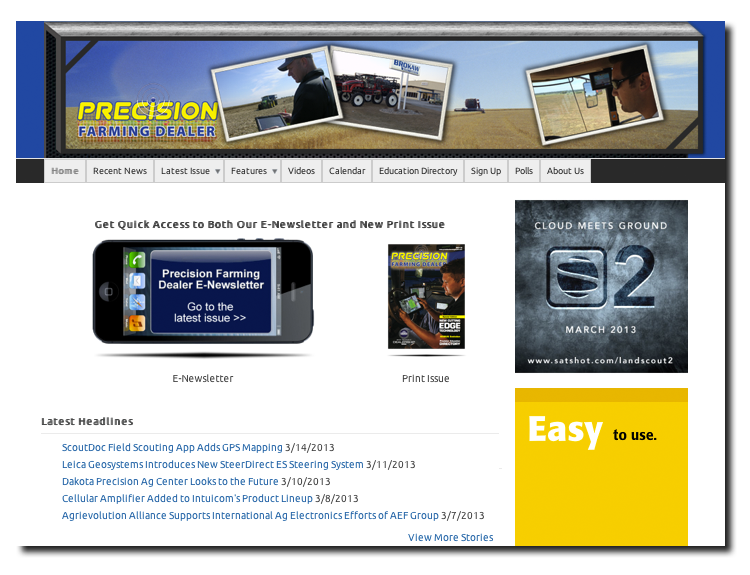 At PrecisionFarmingDealer.com, users can freely access the latest precision farming news, videos and feature articles, and also register to receive the free e-newsletter.
"Precision Farming Dealer was developed to fulfill the mission that guides Farm Equipment," says Dave Kanicki, executive editor. "This is to give our readers information they can use immediately to help improve their operations and add to their bottom line. In this case, our new website is focused solely on presenting precision farming information specifically for dealers to help them develop and improve their precision retail operations."
The established e-newsletter and the new website are part of Precision Farming Dealer's growing platform giving readers a full suite of informational tools including print, web, email and social media.
In conjunction with the launch of the new website, Precision Farming Dealer published its first ever-print edition in March, 2013.
The magazine features the inaugural Precision Farming Dealer Most Valuable Dealership profile, an in-depth baseline study of emerging dealer trends in precision ag and a precision education directory.
A digital companion of the print publication is also be available on the new website. It features additional features, interactive links and a video series on the 2013 Most Valuable Dealership award winner.
"Like many of the dealers we serve, we've added staff whose sole responsibility is to stay on top of the rapidly evolving technology of precision farming and to keep our readers ahead of the curve," says Kanicki. "We're very pleased with how our technology editor, Jack Zemlicka, has embraced this mission. He is leading the way in our efforts to make PrecisionFarmingDealer.com the most up-to-date and comprehensive source of information on technology that dealers can use to improve their operations."
Register online at PrecisionFarmingDealer.com to receive a copy of the new print publication or contact Technology Editor Jack Zemlicka at 262-782-4480 ext. 441 or jzemlicka@lesspub.com.