Laird Munro, Director of Marketing Communications, Rocky Mountain Equipment (2008 Dealership of the Year)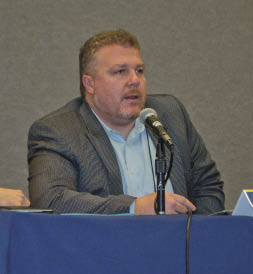 One of the clearest definitions of the difference between marketing and sales is from a lifelong marketing executive Jack Steele, who repeated "Marketing finds the henhouse; sales gathers the eggs." Laird Munro of Rocky Mountain Equipment puts it another way.
"Marketing's job is to help identify the pieces in the puzzle. To look for the opportunity that can set sales guys a course that's likely to yield value. We're not there to try and sell people things they don't want. We're not there to do pure selling. Selling is the job of the sales group; marketing is there to identify some opportunity, to mine data and find out."
Comparable Technologies & How to Brand Differently
Laird Munro, Rocky Mountain Equipment, illustrated several examples of branding paths that work and don't. Referencing the Nike TV commercials with Tiger Woods and Rory McIlroy (Link to the commercial), he says, "There's very little product placement there; it's two guys hitting balls off a tee and doing tricks. The association with Nike is that you're associating with winners — along with fun and energy. Nike is not there selling you a technical product.
"Reebok, on the other hand, has some very technical marketing about performance and stats. And you know what? They fall flat. Nike's growth is twice that of Reebok in the last decade.
"Frankly it's all on brand. The equipment and the technology — that's available to everybody. Those guys go to the same schools, the physics work the same way, nobody gets a pass on gravity — it works the same way. But what Nike has done is they've associated themselves and created an ethos around themselves that says buying and wearing Nike makes you a winner.
"How many overweight, middle-aged guys like me wear Nike? We're associating with a lifestyle."