Laird Munro, Director of Marketing Communications, Rocky Mountain Equipment (2008 Dealership of the Year)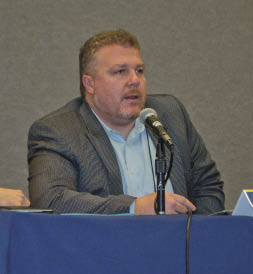 Discussing all the industry valuation tools and guides available, Rocky Mountain Equipment's Laird Munro shared an example of a dealer taking in combine on trade. "The guide says $270,000, so we value it at $270,000. This makes this magical assumption that there's an endless pool of customers who figured out the value. If we have 19 identical combines, the value of the 20th unit is not $270,000 unless we know how many customers are on the other end to buy it. If there are hundreds of customers looking, the value might be $300,000. If there are 10, the value could be $180, right?
"The theoretical one-unit sale doesn't tell you the actual marketability to sell that unit. To know that, you must know the customers."
Dealers tend to concentrate on their number held in inventory. "What we need to be doing," counters Munro, "is looking at customers and asking about the available customers for this unit? Is it properly placed within our network? Is it properly priced within our network and what we know about our customers?"
Explaining that data is an asset, he says there is great opportunity to combine all available transactional data in the business information system. Then, e-marketing history can be applied, and data can be enhanced further by applying mapping and other technologies.
"We've taken a map of all of our SSAs across the provinces we operate in; we bought a map that shows soil and common crop types. We've overlaid into that our customer data, as well as available competitive customer data."
RME is now initiating marketing programs where farmers, including non-customers, can add information to that database, which provides base information on what they're likely to do, even if not a current customer. From there, Munro plans to cross-reference data and provide messaging that is specific to the needs of individual farmers.
To get to this level, says Munro, the challenge is that a dealer needs what it tends not to have — detailed and layered information on the customer. It's not easy, says Munro, adding that many efforts fall into the trap of attempting to control the process by getting customers to fill out of a data profile. "The problem is everybody's profile changes," he says. "You must to watch this stuff in real time. Their actual demonstrated behavior is what's important; not relying on some fixed profile that they've put in the past."