The agriculture industry in North America is going strong, and equipment manufacturers responded with a number of new introductions at this year's winter farm shows. The new product launches centered around ways to help improve production and efficiency, with a heavy focus on precision farming advancements. New Tier 4i compliant engines were another big theme of the two shows, held in January and February.
The Ag Connect Expo & Summit 2013 was held in Kansas City, Mo., January 29-31 and attracted 11,000 attendees, a significant increase over 2011. Ag Connect Expo & Summit had nearly 400 exhibitors and more than 220,000 net square feet of exhibit space in the Kansas City Convention Center.
A few weeks later in Louisville, Ky. The 2013 National Farm Machinery Show drew its second highest attendance — 307,906 — in show 48 year history. NFMS had nearly 870 exhibitors and more than 1.2 million net square feet of exhibit space, February 13-16.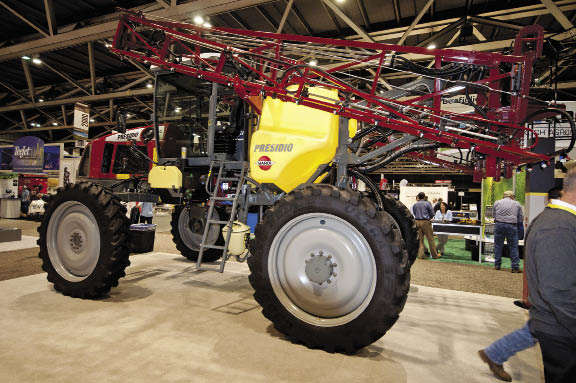 Hardi makes its entry into the self-propelled sprayer market with the introduction of two new self-propelled sprayers, Saritor and Presidio, that are targeted to current Hardi customers who are looking to make the move to a self-propelled machine, says Dave Fraker, marketing coordinator for Hardi. The Saritor's DynamicFluid4 processor analyzes spraying data 20 times a second and provides preemptive rate control capability, altering the pump speed with pinpoint precision.
---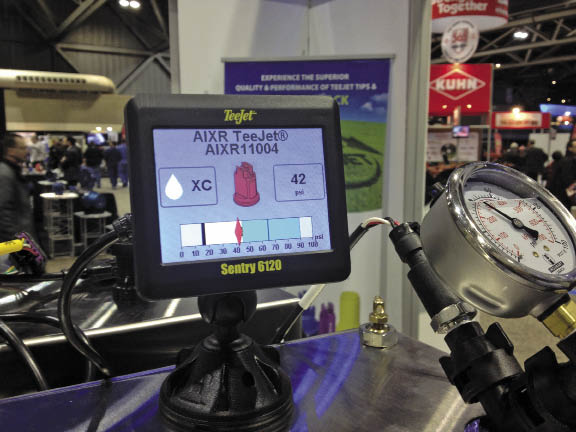 TeeJet Technologies introduced its new Sentry 6120 Droplet Size Monitor, a stand�alone unit that features an image-based interface where operators can simply select the desired spray tip and capacity. Users get real-time operating pressure and corresponding droplet size category feedback for liquid applications. "It's a simple appliance-type control that can be plugged-in to any new or existing sprayer," says Tim Stuenkel, global marketing communications manager for TeeJet.
---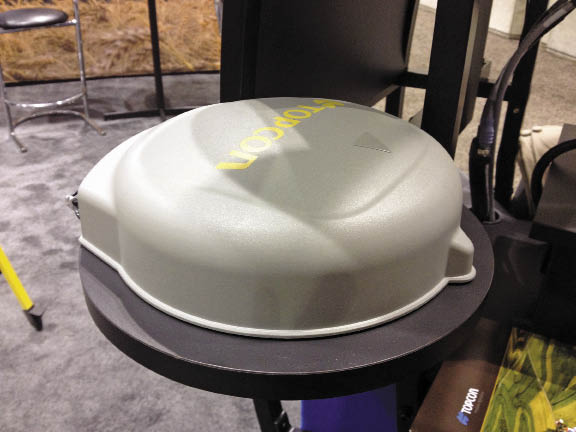 Topcon launched its AGI-4 Receiver, an all-inclusive auto-steering system with an internal GNSS receiver, antenna and processor that steers the machine. The product is ISO-11783 compatible with virtual terminals and allows customers to add auto-steering capabilities with a single-component installation. "Customers have the ability to display the user interface on an ISO VT that most machine manufacturers use these days and does not require one of our other proprietary displays," notes Kevin Cobb, product manager for Topcon.
---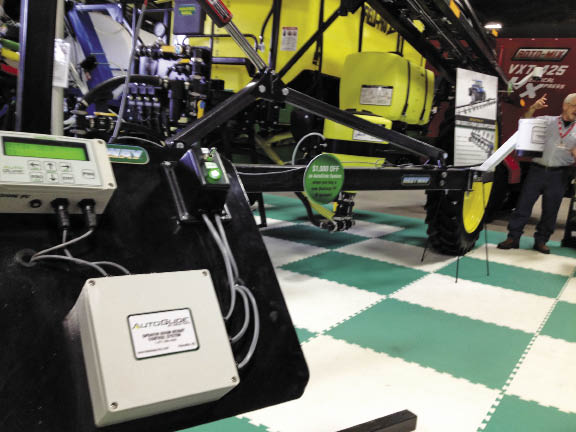 Bestway introduces the 1000 Series 3-Point Mounted Liquid Fertilizer Application. The 1000 Series Liquid Application features a 7 x 7 tool bar with rugged hinges and Prince Hydraulics. Row spacing is available in 30, 36, 38 and 40 inches. The 1000 Series comes equipped with flow monitors, check valves and pressure gauge, ready to hook up to your tractor tanks or nurse trailer.
---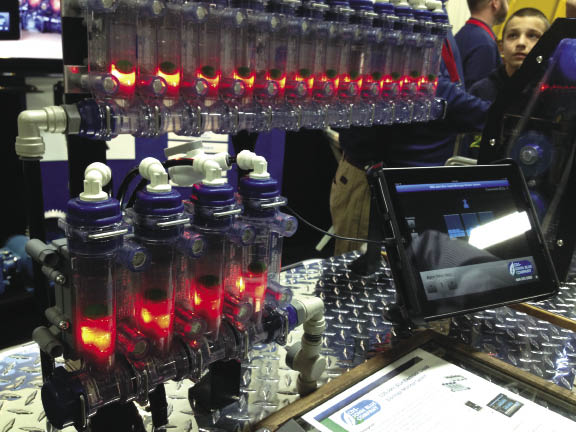 CDS-John Blue Co. launched its new Next Generation Electronic Liquid Blockage Monitor System, which allows operators to monitor liquid application flow from the tractor cab. Two display options are available — a standard display and also through an iPad. "It's a simple, effective way to make sure the operator isn't over-applying or under-applying," says Jim Stubbs, CEO of CDS-John Blue.
---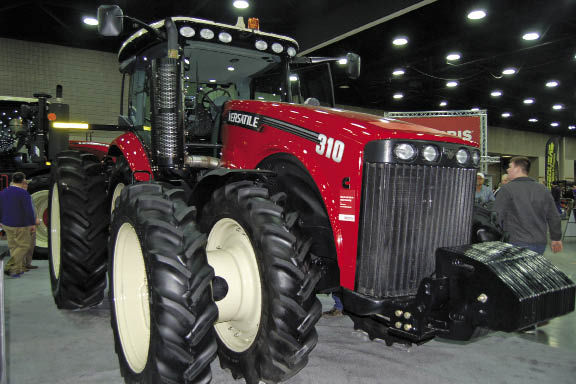 New from Versatile, the 310 front wheel assist row-crop tractor is designed to meet Tier 4i emissions standards. "It's a radical departure from the outgoing row-crop tractor that was built by Versatile," says Adam Reid. The cab on the 310, which is the same as on Versatile's 4WD tractor, is now the largest in the industry. It features integrated controls on the armrest and a tractor performance monitor LCD screen. Reid says the daily walk around can be done from the ground and you only need to lift the hood to get to the air filter.
---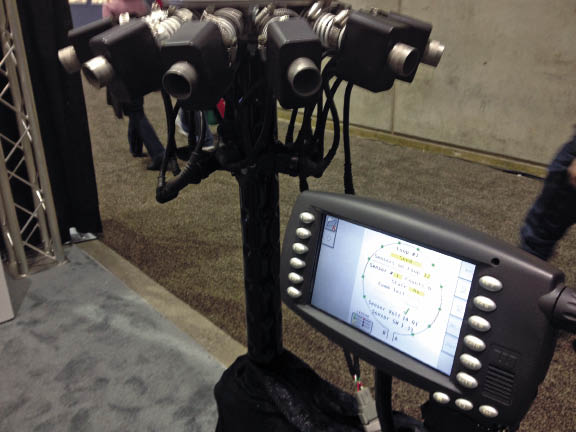 DICKEY-john Corp. launched its new Daisy-Chain Air Seeder Blockage System. The individual blockage sensors are installed on the air seeder tower and monitors seed and fertilizer flow on small and large air seeders and alerts of blocked tubes or faulty sensors. "One module mounts on the implement and it can be connected to up to 108 of the daisy chain sensors through two loops of connection," says Pat Fuchs, product manager with DICKEY-john.
---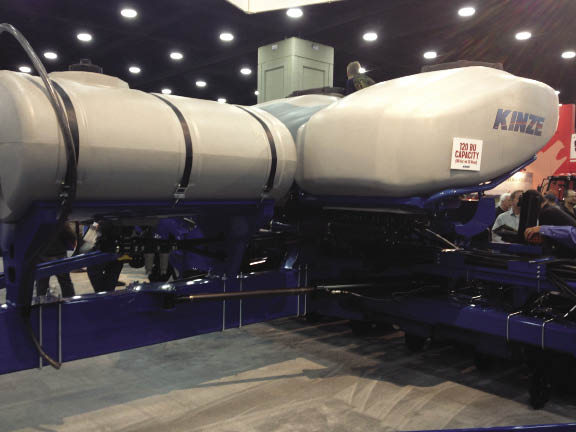 Kinze Manufacturing introduced its new 4900 series planter, featuring a narrow transport front-fold frame, 30-inch row spacing and a choice of 12, 16 or 24 rows. The planter includes a patent-pending seed meter that offers 99%+ accuracy at speeds of 2-8 mph. The meter is available with a new electric drive and the 24-volt motor allows for precise seed rate control by row. "This allows farmers to get consistent seed spacing from the inside row, to the outside row, even on tight radius turns and contours," says Luc van Herle, director of global sales and service for Kinze.
---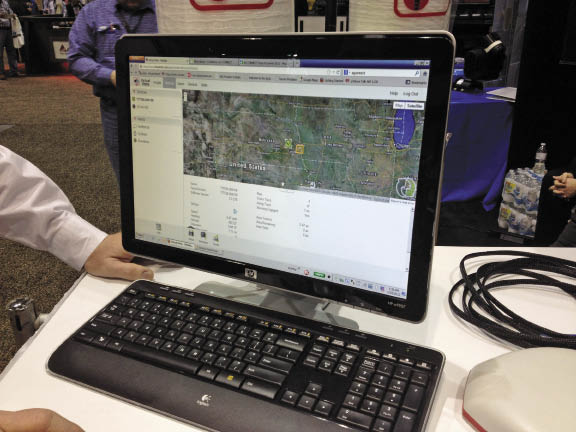 Leica Geosystems showcased its new Virtual Vista, a web-based farm management application that connects directly with Leica's mojo3D modem. Virtual Vista provides users with an overview of field activities and allows farmers to monitor their fleet by combining real-time and historical information with Google Maps. "This enhances the user experience and sets the foundation for where farmers can go with telematics in the future," says Harlan Little, business manager with Leica.
---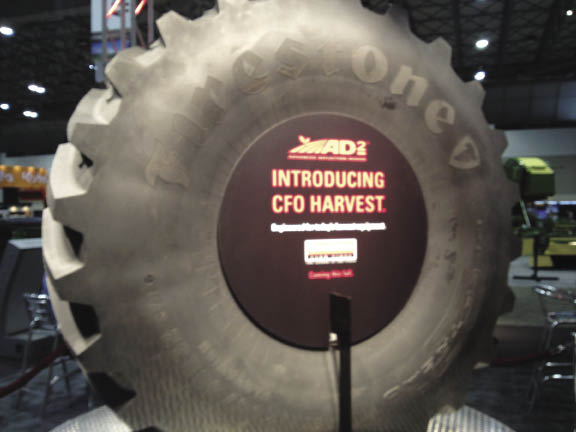 Firestone launched its new line of CFO (Cyclical Field Operation) Harvest tires with Advanced Deflection Design (AD2) technology to meet the demands of combines and grain carts. The tires can carry more load than equivalent-sized conventional radial tires and are engineered for extreme load cycles during harvest. "Farmers are able to get more done in less time, while reducing soil compaction," notes Tom Rodgers, director of sales and marketing for Firestone.
---