Nine editors from Farm Equipment took to the road to interview manufacturers and find the newest, cutting-edge products. With a mix of incremental innovations and new products, the winter farm shows delivered an array of new precision farming technology, tillage systems, commercial mowers and much more.
We visited the World Ag Expo at the International Agri-Center in Tulare, Calif., from Feb. 10-12 and also covered the National Farm Machinery Show, which celebrated its 50th anniversary this year, in Louisville, Ky. Held at the Kentucky Exhibition Center from Feb. 11-14, the 2015 show boasted more than 850 exhibitors covering 1.2 million square feet of exhibit space. Attendance for the show was up by more than 16,000 from 2014, with an all-time high attendance total of 310,589.
On the following pages, we cover 24 of the new products introduced. More product information, including videos filmed at the show, can be found at www.farm-equipment.com.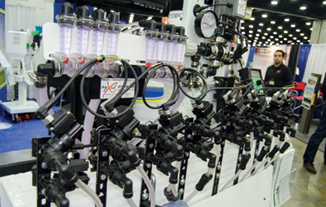 AgXel introduced its new GX30i VRT fertilizer application platform at the National Farm Machinery Show, which allows farmers to regulate flow and pressure, row-by-row, for up to 12 sections. Using a dual micro-valve system, pressure is maintained when the valve is closed, which provides for quicker application start when the system returns to start mode. "With the new high speed planters, going anywhere between 5-10 mph, this system helps farmers manage pressure and flow volume at higher speeds," says Ramiro Trevino.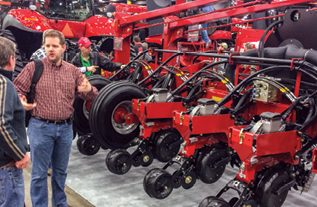 Case IH promoted its new Precision Planting partnership at the National Farm Machinery Show. The partnership, announced last August, allows farmers to buy Early Riser planters ready to accept five Precision Planting options. As a result of the partnership, Case IH dealers with AFS certification and meter test stands become Premier-level Precision Planting dealers. According to Case IH's Dan Danford, the arrangement can save farmers up to $25,000 in parts on a 24-row planter vs. buying the planter and retrofitting it with the Precision Planting technology they wanted to begin with.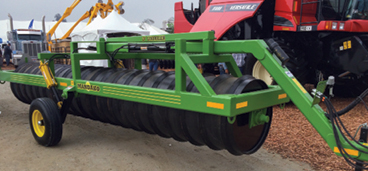 Mandako presented the 20-foot Land Roller at the World Ag Expo. The Land Roller is a heavy, production-built land roller, with the model pictured here modified with ribbed rollers for rice production. The ribbed rollers work to create rows for rice seed placement to protect against seed movement.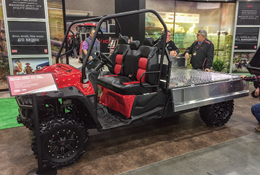 Mahindra unveiled its entry into the UTV market, the mPact XTV, at the National Farm Machinery Show. Gas and diesel versions will be available in early spring 2015 in 6 models and each comes with Mahindra's standard 3-year powertrain warranty. The pictured long bed model has seating for 3 passengers and a cargo bed that unfolds to a flatbed.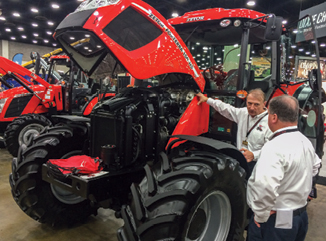 Seen for the first time in North America at the National Farm Machinery Show was Zetor's new Forterra 150 HD 4-cylinder tractor with a heavier chassis. In addition to describing the features of the 150-horsepower unit (including more sophisticated integration of components and suspended front axle), Peter Laznicka shared how a larger 6-cylinder, 200-horsepower tractor would be ready for the North American market, and in particular the Midwest, later this year.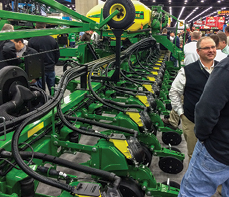 After the big announcement at the 2014 National Farm Machinery Show that their new seed-delivery technology was capable of 10-mph high-speed planting, John Deere saw strong interest in the ExactEmerge planters at the National Farm Machinery Show, which are available now for spring planting. Kelby Krueger says that 36 planters successfully planted 75,000 acres a year ago. The 1795 and 1775NT planters are available now, while the DB series and 1725 CCS planters will be open for orders this summer.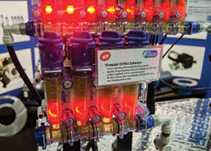 At the National Farm Machinery Show, CDS-John Blue unveiled its new VisaGage Orifice Selector, which allows operators to choose between one of four settings on each plate on the company's liquid blockage monitoring system. There are 2 plates with 8 different sizes to choose from, which provide flexibility for the operator, says Jason Stewart.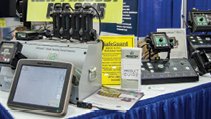 Micro-Trak Systems launched its new SafeGuard ISOMod blockage monitor system at the National Farm Machinery Show. The updated system uses an existing virtual terminal in a tractor cab to control settings and display liquid fertilizer blockage information on the planter or applicator. On-screen messages provide real-time status of individual sensors. "We can monitor down to 2.5 gallons per acre to up to 40-50 gallons per acre and do 120 sensors or rows for farmers who do in-furrow or 2 inch x 2 inch applications," says Rex McClellan.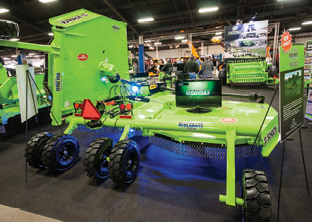 At the National Farm Machinery Show, Schulte introduced its FX-318 Rotary Cutter Blue Grass Edition mulching cutter, specially designed for the thoroughbred horse farm market. The baffle system and double shredder blades incorporate clippings below the grass canopy, instead of on top of it, to create fewer moldy grass clumps.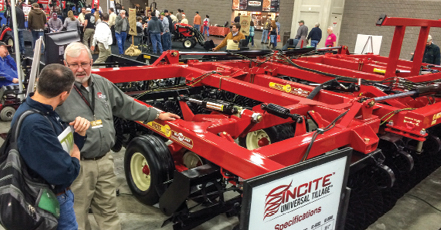 At the National Farm Machinery Show, McFarlane Mfg. Co. unveiled the Incite 5000 series tillage tool, the first series of universal tillage machines. It offers the ability to perform in a wide range of conditions, seasons, soil and crop types. The machine features Ingersoll manufactured Incizor blades that are exclusive to McFarlane. The 28 wave concave blades can operate at high speeds at shallow depths or up to 6 inches for more traditional disc work. Darren Harn says, "This tool allows you to do vertical tillage in a shallow, high-speed operation to provide a finished seedbed."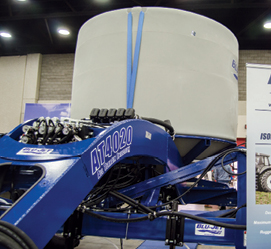 Thurston Mfg. partnered with Mueller Electronics to unveil the new AT4020 liquid applicator at the National Farm Machinery Show. It is the first liquid applicator on the market that is fully ISOBUS controlled for application, auto-section shutoff and variable-rate, along with sequence folding of the toolbar. This allows for smaller transport width and height of the 60-foot machine. According to Nick Jensen, additional "creature comforts" with the ISOBUS system include in-tank level monitoring and on-the-go calculation of acres that can be covered before either a 1,500- or 2,000-gallon tank is empty.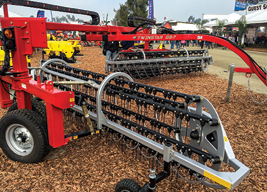 At the World Ag Expo, Northstar Attachments introduced the Generation 3 Basket Rake for producing cleaner hay in high production farming. It has the same features as Generation 2, including variable basket speeds and basket tilt feature. New features exclusive to the Generation 3 include the ability to control baskets independently or together, a centralized valve system, double-welded pivots and a safety light package for towing.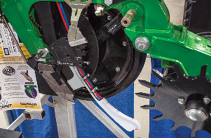 At the National Farm Machinery Show, S.I. Distributors revealed it is now offering the Acra Plant V-Shot insert for John Deere planters. With V-slice technology, the insert improves seed placement for earlier and more uniform plant emergence. It allows users to apply starter fertilizer beside the seed to maximize uptake and crop protection. "The V-shot kits are complete with 'Plug and Play.' They have all of the hardware and hookups required for on-planter liquid delivery systems," says Nick Reutz.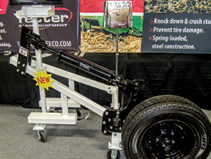 At the National Farm Machinery Show, Yetter Mfg. introduced its new Auger Ace to provide side-to-side leveling of grain augers. The tool mounts on the auger or conveyor axle and allows for horizontal positioning by raising and lowering the axle hydraulically from the tractor cab. "Farmers have always been able to back the auger up and raise and lower it vertically, but this allows for easy side-to-side shifting to line up the discharge spout over the intake hole of a bin or silo," says Derek Allensworth.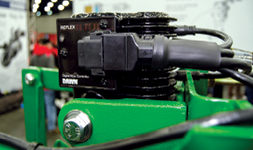 Dawn Equipment Co. unveiled its new Reflex X-Sense planter downforce technology at the National Farm Machinery Show. The system relies on magnetically charged latching to open and close two small valves, which consume no power, and is the first row-crop system that is a digital hydraulic control device. "We can make a system for a 24-row planter that uses the same amount of electrical power that other systems would use for one row unit," says Joe Bassett. "We no longer need to add copper and cabling to control the harness for super high precision."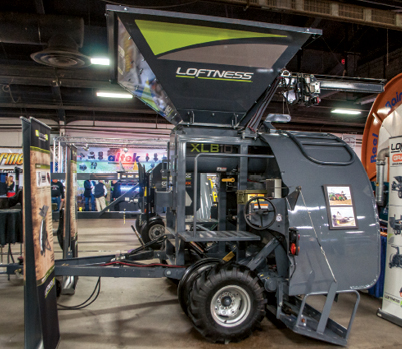 Loftness introduced the new GL System XLB10 grain bag loader at the National Farm Machinery Show. It has been engineered for bag capacity, easier bag loading and improved transport. The XLB10 has a specialized tunnel and bag to accommodate up to 500-foot long bags and about 22,000 bushels of storage per bag. It can also transfer grain at up to 30,000 bushels per hour. "Customers are going to want to trade up to this bigger bagger. Bigger bags are becoming more and more popular," says Dave Nelson.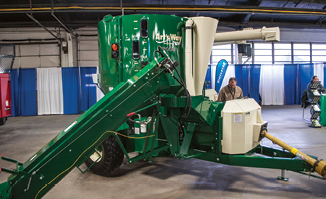 Art's Way Mfg. introduced its new 6140 grinder mixer at the National Farm Machinery Show. It has a 140-bushel mixing tank, 20-inch hammer mill, self-contained hydraulic discharge auger and auger feeder and 10-foot long discharge. The 20-inch mill allows users to grind with a 50 horsepower tractor. Ron Bender says, "The lift and swing of the discharge auger is run off of the tractor hydraulics, making it economical, yet very efficient."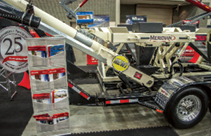 At the National Farm Machinery Show, Meridian Mfg. unveiled the new Titan SR2 seed tender, which became available on March 1, 2015. Built with a sturdier design and lockable rotating mechanism, it also gives users the ability to interchange between a conveyor and auger. A new spindle and drum brake assembly gives improved operation and control. "The basic concept is that it has a modular design, so farmers can expand from a 2-box to a 4-box to a 6-box with the same machine," says Randy Riecks.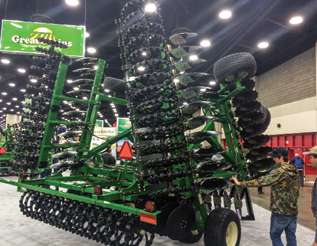 Great Plains Mfg. introduced its Short Disk at the National Farm Machinery Show, which Tom Evans says combines European-style parallel gangs with a more aggressive 24-inch diameter disc to endure high residue conditions. The blades split center, throwing out from the front and in the back to prevent "dog tracking" and ensure a consistent cutout throughout the field. "It isn't so much to compete with a European style disc but rather redefine the disc harrow for North America," says Evans. The firm also displayed its new Nutri-Pro high-speed anhydrous coulter.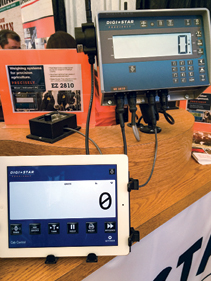 Digi-Star introduced the all-new Cab Control App, offering all of the technology and benefits of the Digi-Star Cab Control wireless remote display and control system that works with the mixer scale indicator, increasing load accuracy and efficiency. As demonstrated at the World Ag Expo, the Cab Control App provides this functionality from any Android or IOS phone or tablet.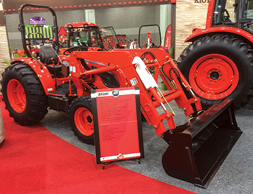 At the National Farm Machinery Show, Kioti's Christina Propst said its new DK10 series of pure utility tractors offers everything the user needs, and nothing they don't. Ranging from 45-55 horsepower, this series offers foldable ROPS for working around trees or entering enclosed areas. The DK10 Series is powered by a liquid-cooled, fuel efficient, 3-cylinder Daedong diesel engine.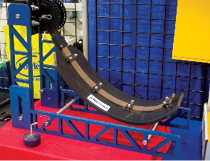 At the National Farm Machinery Show, PolyTech unveiled the new Stubble Striker, which will be available in the fall of 2015. It protects tires from tough stalks. It has a solid poly shoe and weighs 22 pounds per row. It has a pin and urethane bumper system for easy height adjustment and easily flips up for transport. "The Stubble Striker takes a lot of weight off of the combine to reduce compaction and fuel consumption," says Jimmy Rabitsch.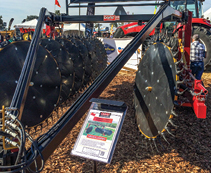 New from Darf Hay Rakes at the World Ag Expo was the 513 Heartlander 13 Wheel Overhead Hay Rake. The hay rake opens to a 20-foot raking width, producing a 4-foot windrow with overhead construction similar to larger rakes and can be converted to 14 wheels if needed. It also features the new 7 function valve monitor and working light to independently open and close each side of the overhead and magnetic mounting.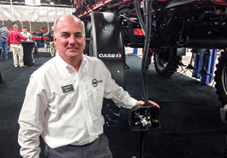 Working out of the Case IH Application booth, 360-Yield Center was seen for the first time at the National Farm Machinery Show. Founder Gregg Sauder displayed the Y-Drop system to provide nitrogen application that's easily installed and removed from a variety of spray equipment. "The corn uses 75% of the N after the V10 stage," he says. "So a late season N application — all the way up to tassel — can significantly raise yield. And the farmer can afford to do it by not putting it all down too early."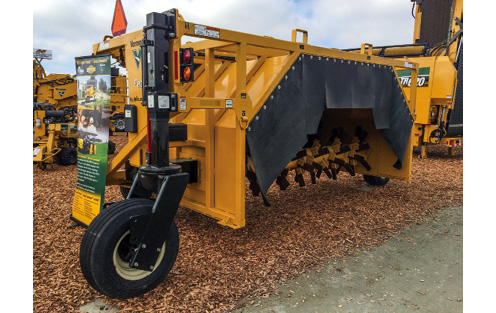 Vermeer featured several compost turning products at the World Ag Expo, including the CT612 Compost Turner. It can turn 1,500 tons of material per hour with aggressive flails for aeration and mixing, a heavy-duty frame and convenient towing with an optional low-speed transport kit, independent lift cylinders for precise control and ease of maintenance with all grease points accessible from ground level.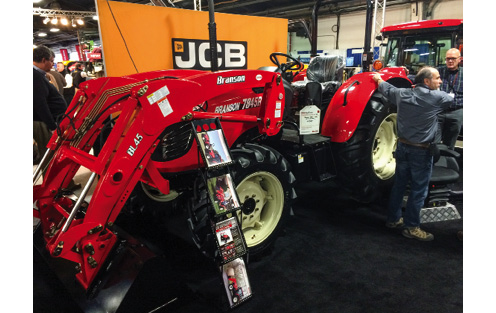 According to Branson's Debbie Alexander at the National Farm Machinery Show, its new 7845 tractor comes in either ROPS or Cab options and will be available to dealers later in 2015. At 70 horsepower, it is the second largest in the Branson line behind the 8050.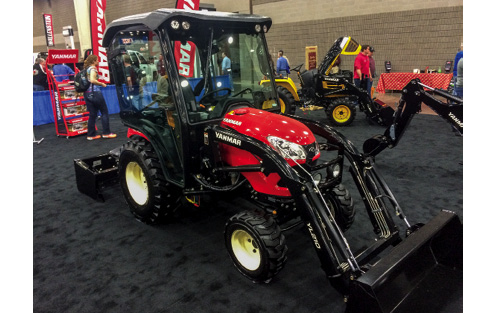 Yanmar unveiled the new 4postROPS option for its 424 series tractors at the National Farm Machinery Show. Dealer Development Manager, Ben Housch said it's a Curtis Cab with full glass doors and doesn't come with A/C, so it was designed primarily with snow removal in mind.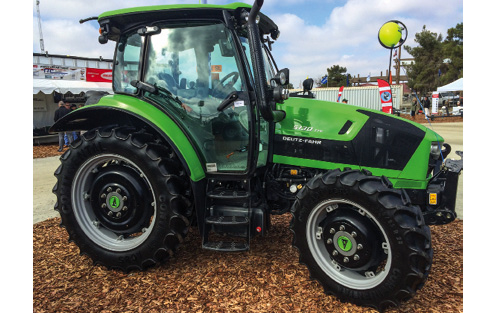 The 5130 from Deutz Fahr is the newest from the company's 5 series that features a Tier 4 engine with diesel oxidation catalyst that requires no DEF. The 127 horsepower tractor unveiled at the World Ag Expo is turbo-charged and intercooled and has an Infinitely Variable Transmission (IVT) with 3 operating modes that can run from 0–34 mph.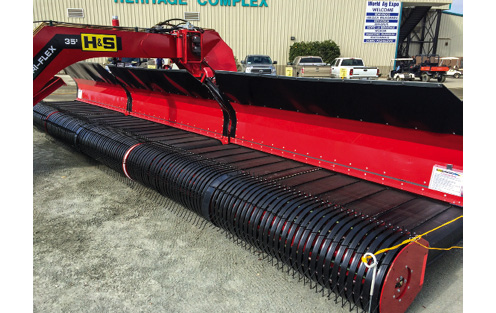 At the World Ag Expo, H&S Mfg. introduced the new Tri-Flex Merger available in 30- and 35-foot models. The Tri-Flex features three equal length heads with individual center CAM and center drive systems running at 80 rpm, providing less gap between the heads and can be controlled with an in-cab control box. It can be folded to an 11-foot, 5-inch transport width.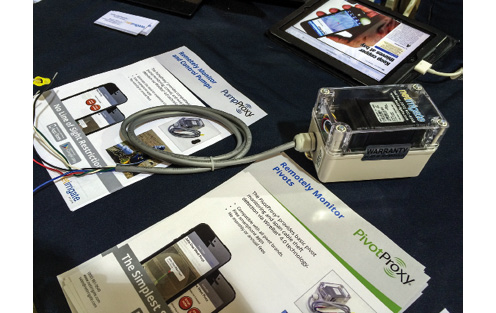 At the World Ag Expo, Netirrigate presented three remote monitoring products including PivotProxy pivot-monitoring system, PumpProxy pump monitoring system and WireRat copper theft alarm solution that comes standard with PivotProxy and PumpProxy. These systems provide remote access and shut-off capabilities on pumps and pivots and provide notification of events including theft and system malfunction.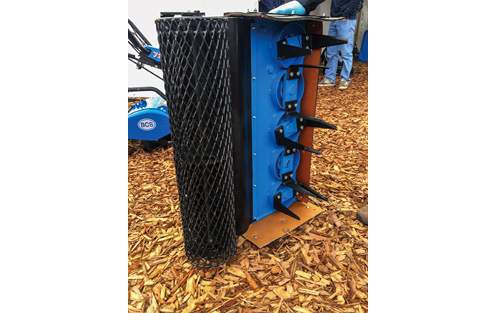 At the World Ag Expo, BCS America featured two brand new products including a stand-alone chipper/shredder and the Power Harrow Clovis 32, seen here tipped on its side to display the rotary harrow formation. Compared to garden tillers that mix vertically, the Clovis 32 knives turn horizontally in order to preserve the soil structure and reduce weed germination from seeds buried in the soil.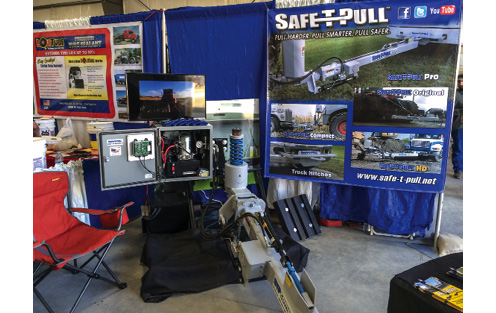 Displayed at the World Ag Expo, the Safe-T-Pull hitch system eliminates ropes and chains by operating with existing hydraulics from the comfort of the tractor cab with a shock absorbing design to cushion pull and prevent damage to the transmission, clutch and driveshaft.
Rhino displayed its new RH series Economy Cutter at the National Farm Machinery Show. It comes in 4-, 5- and 6-foot models with a 3-year gearbox limited warranty for its 60 horsepower gearbox. It also has a stump jumper attached underneath.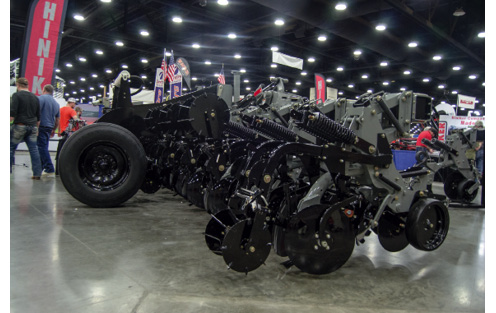 Hiniker Co. displayed its redesigned row unit for the 6000 strip-till toolbar with rear-wheel lift assembly at the National Farm Machinery Show. The pull-type machines are available in 12- or 16-row configurations for strip-till, anhydrous applications and liquid or granular fertilizer application with pull-behind wagons or tanks. "With crop residue getting heavier, we repositioned the row cleaners farther back toward the coulter to provide better residue handling," says Wayne Buck.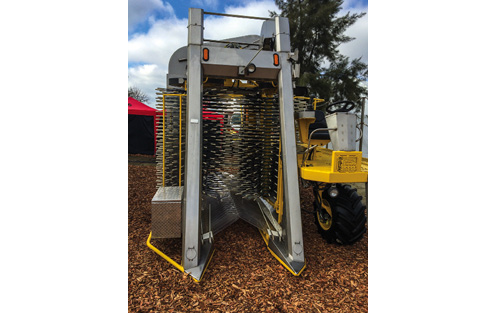 At the World Ag Expo, Littau Harvester introduced the 2015 Side Row Harvester for raspberry and blackberries for the fresh and processed markets, which provides vertical and horizontal shaker options. The Side Row features electronic steering and 39-inch unobstructed tunnel width with storage for loading and stacking crates, keeping berry harvesting moving.
At the National Farm Machinery Show, AerWay displayed its 30-foot-wide Titan Complete Tillage System featuring its Shattertine system, 20-inch SoilWave coulters and double-row, 14-inch harrow baskets. "The separate swing arm adjustments for the Shattertines and SoilWave coulters allow the farmer to choose the degree of compaction relief, cultivation, residue sizing and incorporation, while the harrow baskets break up lumps and firm the soil," says Jeff Schow.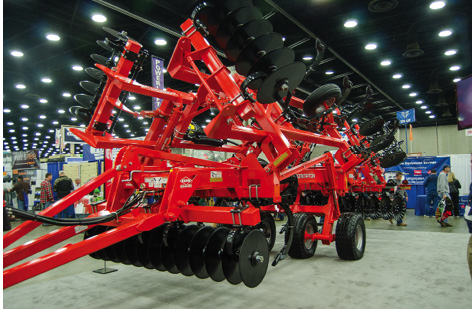 At the National Farm Machinery Show, Kuhn Krause debuted its new Dominator 4855 combination primary tillage system. The improved version replaces the company's 4850 series. Several updates to the new model include lighter transport, new tires for increased reliability during transport, and heavier carrying capacity. The machine also features a new bearing in the rear conditioner, which is a cartridge-type unit using angular contact ball bearings. "We feel this new bearing assembly will more than double the life of the original bearing," says Gary Johnson.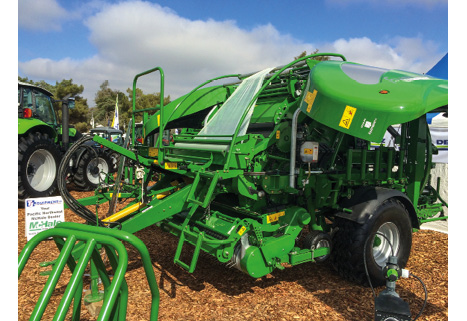 From Ireland, McHale introduced the new Fusion 3 PLUS Integrated Bail Wrapper at the World Ag Expo. It features film on film technology where the film binds the bale together as it passes from the baler to the bale wrapper, eliminating the need for string or net wrap and provides better film or plastic coverage on the largest surface of the bale. The Fusion 3 PLUS also features a film monitoring systems and an ISO touch control system with built-in cameras and automatic and manual monitoring options.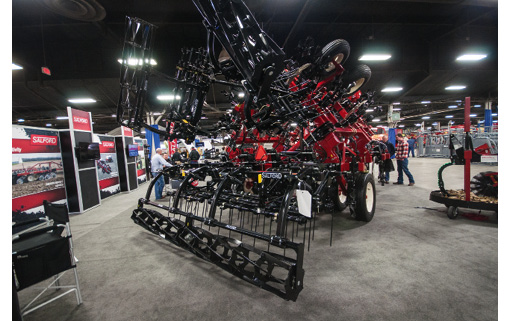 Salford introduced its Flex Finish hydraulically adjustable rolling basket, new for 2015, at the National Farm Machinery Show. Optional upgrades to the HD Harrow package, the Flex Finish rolling baskets are controlled from the tractor seat so operators can adjust to field conditions as they go. Basket pressure can be increased or decreased to reduce or graduate clod size and create finer seedbeds. A pressure indicator on the front of the machine makes the basket pressure visible from the cab.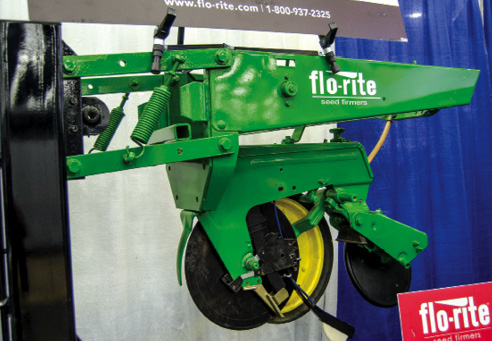 Beck's introduced its new Flo-Rite seed firmer at the National Farm Machinery Show, which features a high-tech memory polymer to deliver consistent downpressure. The system also features a protected stainless steel liquid tube, for Y-band and on-seed fertilizer applications, and a replaceable wear plate. "This wear plate allows for serviceability of the seed firmer, whereas formerly, farmers wouldn't have an opportunity to service this part as it wears out," says David Friedrich.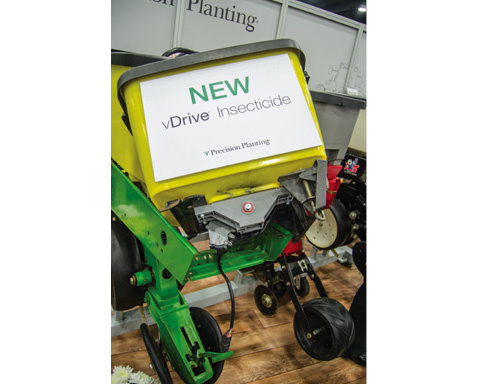 Precision Planting launched its new vDrive Insecticide system at the National Farm Machinery Show. The technology builds off of the company's vDrive electric metering system to accommodate application of insecticide at higher speeds. Using standard insecticide hoppers, the electric system can more accurately measure and place insecticide as farmers move through the field. "Farmers can also implement blockage sensors that provide feedback in the tractor cab and know whether they've applied insecticide in a particular area of the field," says Sean Arians.