North American agriculture is on a roll. And farm equipment makers are responding with a continuous stream of new equipment developments aimed at improving farm productivity, implement flexibility and precision technology. Evidence of the strong market trends the industry has experienced over the past 3 years could be seen at the two major winter farm equipment shows held in mid-February.
The 2012 National Farm Machinery Show held in Louisville, Ky., drew 305,512 visitors over its four-day run, the third highest attendance in the exposition's 47 year history. Meanwhile, the World Ag Expo in Tulare, Calif., which ran parallel to the Kentucky show, saw attendance of 100,000.
More than 850 exhibitors were on hand at Kentucky Exposition Center, while 1,471 companies displayed their newest farm products on the grounds of the International Agri-Center in Tulare.
Seven Farm Equipment editors blanketed the two shows turning over the newest machinery developments for 2012. Following is what they came up with.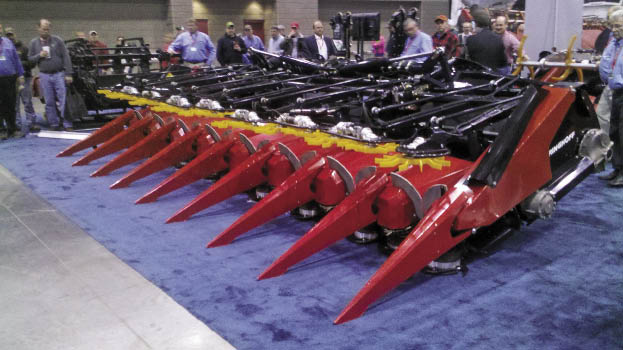 Geringhoff created a lot of buzz at NFMS this year when it unveiled its new Independence concept corn head. While the company doesn't expect to introduce the equipment for field use until 2015, this unit is being designed to harvest corn regardless of row width. This tackles one of the major issues with farmers going to narrow row or twin-row corn. They would need to invest in a new header. Derek Molnar of AEMSCO, which carries the Geringhoff line in North America, says the header is being designed to harvest corn even in a solid seeded field.
---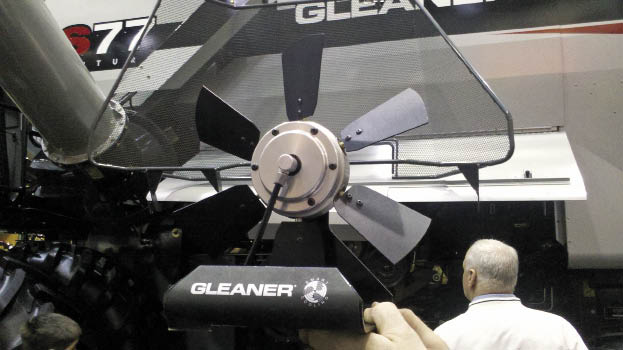 The optional SmartCooling System for Gleaner combines consists of a variable-pitch fan with reversing capability. The "Smart" system monitors coolant, intake air and hydraulic oil temperature to determine optimum fan pitch. When the separator is engaged, the fan will undergo a 5-second reversal every 15 minutes to clean the coolers. If the engine intake air temperature reaches a limit of 176 F, the fan can be reversed up to once every 2 minutes.
---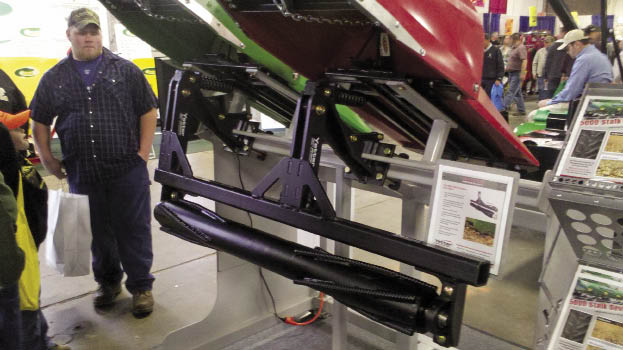 Attached to the underside of a combine header, Yetter's 5000 Stalk Devastator pushes over corn stubble during harvest to prevent damage to tires, tracks, wires and hydraulic hoses on combines, trucks, tractors and implements. It preserves residue cover while the crushed, knocked-over stalks can begin to break down quicker. Featuring spring-loaded, solid-steel construction, the Devastator is quick and easy to install with mounting kits for most corn head models.
---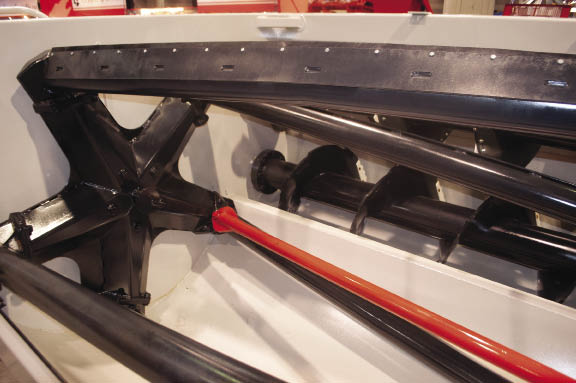 Reel mixers provide better mix of distillers rations, according to Aaron Abraham of Kuhn Knight. This year, the company introduced its new 500-950 cu. ft. additions to their line of TMR mixers that can be outfitted with an optional Helix Reel. For its size, the RC 200 Series mixer utilizes the lowest horsepower of any unit on the market, says Abraham.
---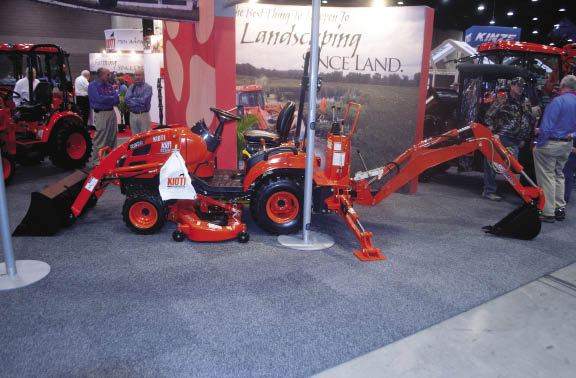 According to Ron Parrish, Kioti's newest subcompact, the CS2410, is a 24.5 horsepower unit with a diesel engine and 4WD. He says it fits a hole in Kioti's tractor lineup and these units can be fully outfitted with a backhoe, front-end loader and a drive-over belly mower. Standard equipment for the CS2410 includes rear and mid PTO, power steering, headlights, signal lamps, cup holder, horn, joystick valve and SMV sign.
---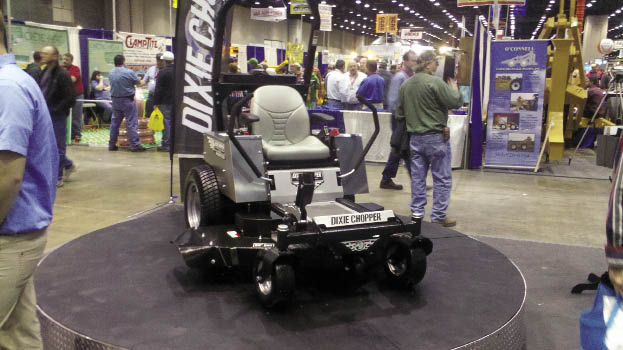 Among the newest offerings from Dixie Chopper is the Magnum Series. According to Marketing Manager Mark Meyers the series has 22, 24 and 27 horsepower options and both 50 and 60 in. deck widths to choose from. He estimates users can mow up to 4.1 acres per hour with these new models.
---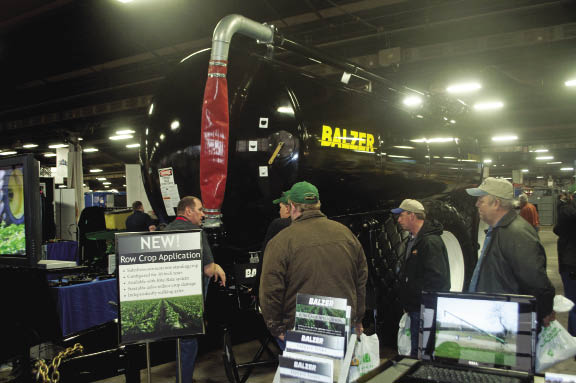 Balzer Row-Crop Application System allows farmers to make sidedress applications of manure into standing 30-in. row corn or soybeans. Featuring a 120-in. wheelbase, the row-crop applicator uses narrow 18.4R38 tires on an independent steerable axle system for superior turning on end rows. The Rite-Rate system is also available for precise, consistent application.
---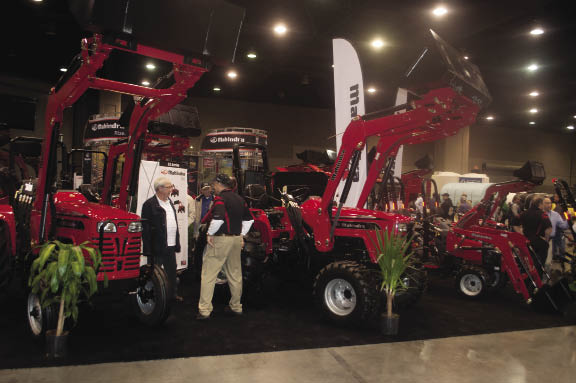 Mahindra USA introduced its Mahindra Max series to fill a performance and capability void in the subcompact market. Comprised of the 22, 25 and 28xl models, Vice President of Marketing Cleo Franklin says, "Unlike the current lawn and garden tractors in the market, the Max series are real tractors with true tractor performance."
---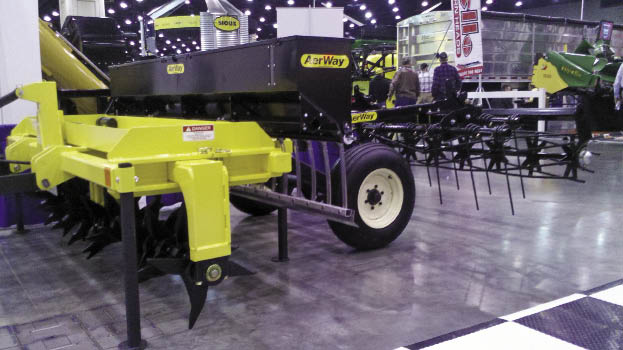 AerWay's ATS features a 10-ft. Quick-Adjust Frame with a full-width 10-bu. linear seed box driven by a 12-volt, constant-speed electric motor. The seeder handles a wide variety of seeds, as well as granular herbicides and insecticides. Tines lift and shatter compacted soil, while the quick-adjust feature allows farmers to vary the swing angle to achieve a desired seedbed. Twenty drop tubes and a bottom deflector plate ensures uniform seed distribution, and an optional finishing harrow ensures seed-to-soil contact.
---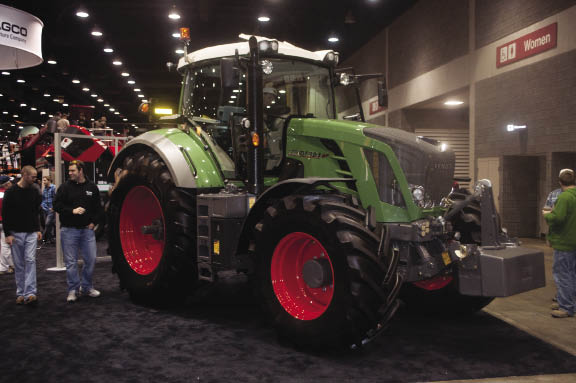 AGCO is looking to increase the distribution of its Fendt brand tractors in North America, says Reid Hamre. The brand is considered the "BMW of tractors" throughout Europe. The company introduced its new Fendt 70 series, which includes the 720 at 166 PTO horsepower, the 722 with 185 PTO horsepower and the 724 at 197 PTO horsepower. AGCO also showed off its new 900 series Fendt line, which ranges in PTO horsepower from 200-300, and 800 series, which ranges from 185 PTO horsepower to 245 horses.
---