"Q3 revenue comes in quite strong, and secures our FY landing of €1,250m for a 10%+ growth over 2011. However, our focus is already on 2013, despite a very blurred environment. Order intake remains very volatile from one week to the next, and from one country to the next; Europe clearly slows down but US are quite strong with rental coming back; last, RTH also gets the adverse effect on orders of its leadtimes reduction effort in Q2. As of today, we anticipate a flat 2013 over 2012, but articulated into 2 contrasted half years.
"We already adjusted our manufacturing capacities to match a softer business demand in H1, without compromising the expected rebound in H2, with the anticipation of a better economic climate in Europe, and rental business coming back. We also sustain all our efforts to improve our operating performance, and remain focused on all possible business opportunities."
Divisional Review
The Rough Terrain Handling (RTH) Division generated revenue of €186.9m up 1% vs. Q3'11, which partly reflects its effort to reduce its leadtimes during the first half of the year. Construction is affected by higher uncertainty in Northern Europe area. Agriculture remains stable while "New Business" continues to progress, mainly in emerging markets.
The Industrial Material Handling (IMH) Division posted revenue of €36.8m up 23% vs. Q3'11, confirming the continuous improvement of its operations. IMH continues to take advantage of the launch of its new counterbalanced industrial truck outside France.
The Compact Equipment (CE) Division generated a 39% revenue growth at €62.5m vs. Q3'11. In North America, business is supported by large rental customers partial refleeting programs and the kickstart of the Yanmar partnership. By constrast, Southern Europe is suffering on its traditional skidsteer markets due to the sluggish construction and economonic situation.
Click to Enlarge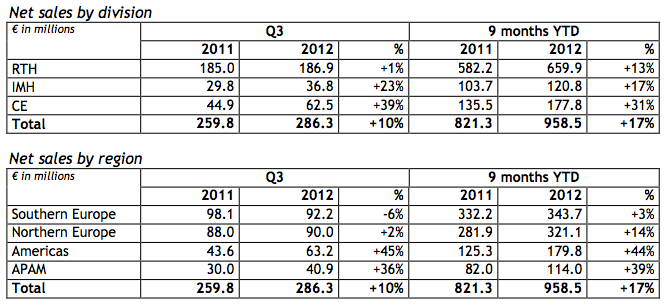 Get Manitou's full 3Q financial presentation at www.manitou-group.com.