According to a recent survey of U.S. farmers, two-thirds of them believe the weather is becoming more volatile throughout the major growing regions of the U.S. As a result, some farmers are purchasing equipment they believe will help them adapt to the changing weather patterns. At the same time, some farmers say they delayed equipment purchases due to the drought this year.
Some 313 farmers responded to an August 2012 survey by No-Till Farmer, a sister publication of Farm Equipment, about how weather conditions are affecting their decisions about purchasing equipment.
Changing Purchases
Have changes in your weather management strategies resulted in the purchase of new equipment?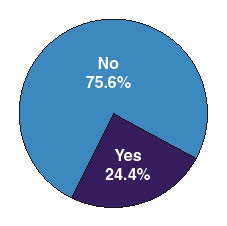 About one-quarter (24.4%) of the farmers surveyed say they have or will purchase different new or used equipment than they're utilizing now as part of their weather management strategies. In their commentary on this subject, farmers offered a range of responses to what they consider shifting weather patterns.
One said, he's thinking of employing "less true no-till to warm up soil sooner." Other comments included: "Strengthen no-till practices to conserve moisture" … "Bigger sprayer to get burn down on in wet springs with narrow windows to get the job done" … "The acquisition of some compost spreaders" … "Vertical tillage" … "Changing to larger equipment, i.e. 12-row to 16-row planter, 60-foot sprayer to 100-foot so I can cover more ground quicker" … "Strip till equipment to complement no till activities" … "Purchased high-clearance sprayer to apply nutrients late season" … "Installed better depth control on planter."
Delayed Purchases
The survey also asked if weather volatility in their area caused farmers to hold off on equipment purchases this year. Nearly 38% of the 313 farmers who responded said, yes, they are delaying their machinery purchases for now.
Has the weather volatility in your area caused you to hold off on an equipment purchase?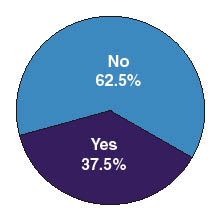 One comment from a Midwest farmer summed up much of what we've been hearing lately: "Yes, because I do not know what to do next and I cannot afford to gamble."
Other commentary reinforced that famers may be holding back purchasing new equipment because they're up in the air about what they'll see at the end of the harvest this year. "I'm not sure of yields due to the impact of drought on the livestock industry in my area and on my farm."
Other comments included: "I don't really need to combine [this year]" … "I was looking to purchase a sprayer or build a sidedress bar, but now I will wait until things even out" … "No rain no hay, no hay no work, no work no eat, and no $$$ for a new tractor" … "No grain no cash" … "Mostly tightening the belt to make sure necessary things are paid for."