While the drought throughout the Midwest grain-producing region of the U.S. has industry observers speculating about its impact on farm machinery sales for all of 2012, North American retail sales have more than held its own through June and the first six months of the year. Solid U.S. sales have managed to offset some softness in the Canadian market, according to the Assn. of Equipment Manufacturers.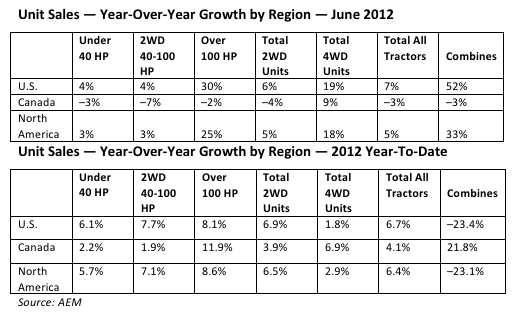 Government-reported dollar shipments were up 10% year-to-date through May. "Though shipments (in units) have increased for tractors and declined for combines year-to-date, according to AEM, growth in horsepower, pricing, features and exports continue to aid revenue growth for OEMs, in our view," says Ann Duignan, machinery analyst for JP Morgan.
"In May, the latest month available, non-seasonally adjusted industry shipments released by the U.S. Census Bureau were up 10% year-to-date. This data includes exports. In May, however, industry shipments declined 7% year-over-year, the first decline since May 2011. These were the only two declines in the past two years," she said in a note to investors.