Featured Product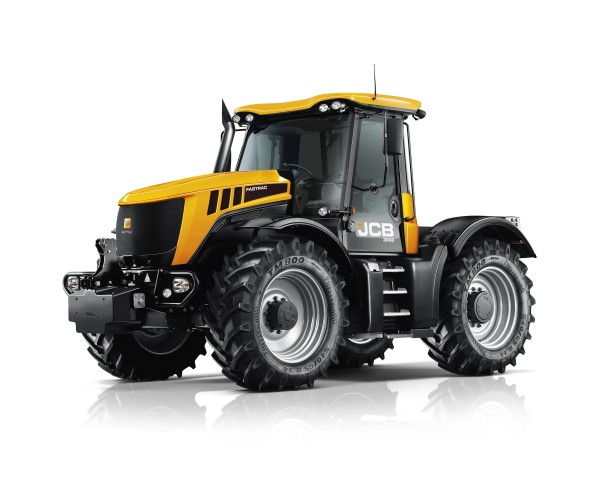 JCB has unveiled its new 3000 Series Fastrac tractors – offering customers even more productive and fuel efficient machines. The new model is the 3230 Xtra and it features:
More fuel-efficient Tier 4i engines
GPS Auto-Steer ready option
New Road Performance Package and ABS braking system
Larger tire size options
Revised chassis for improved turning radius
Improved operator and service access
New fender design to keep the cab windows cleaner
JCB Inc.'s Agricultural General Manager Ray Bingley said, "These changes build on the P-Tronic Xtra transmission we introduced on these tractors last year to create one of the most sophisticated tractors available. These developments keep our most popular Fastrac model fresh and even more productive than before."
NEW ENGINES
Earlier this year JCB unveiled SISU as the company's chosen supplier of Tier 4i engines for its entire 8000 Series Fastrac tractor range. The new 3230 will also be powered by a SISU engine.
SISU engines have been specially developed to give the sustained high power and torque levels demanded in a heavy draft tractor. On the 3230, torque has increased from 700 lbf/ft (949 Nm) to 749 lbf/ft (1015 Nm).
The engines feature a user selectable 'transport boost' increasing the normal maximum power output of the 3230 Xtra is increased to 270hp (200kW).
The engine features high efficiency combustion with after treatment limited to SCR, avoiding the need for particulate filters. This technology also adopts the efficient use of the cooling pack, ensuring visibility to the front is maximized and service access is maintained. The most significant benefits for the end user are the improvements in fuel consumption and the reduced in-cab noise levels.
ROAD PERFORMANCE PACKAGE, NEW TIRE SIZES AND FENDERS
The machines feature a new Road Performance Package including Traction Assist and Hill Hold. A new anti-lock braking system (ABS) fitted to latest Tier 4 Interim tractors also makes life easier for the driver. The new braking system gives a proportional and smoother response to give greater control on firm, loose or icy surfaces. The new Traction Assist feature uses torque and brake control to prevent wheel spin when turning into a field or pulling away on loose ground, for example. This new system works to maximize grip and minimize tire wear on the road.
Hill Hold is another new feature that keeps the brakes on when the driver presses and then takes his foot of the brake pedal; they are automatically released when the tractor moves off, which makes hill starts easier to handle.
The 3230 Fastrac model is being upgraded to 540/65R34 tires all round as standard and a 600/70R30 with the same rolling circumference becomes the widest and tallest factory-fitted tire option. New fenders front and rear cover more of each tire to reduce the amount of water and mud sprayed on to the cab and windows.
VEHICLE ACCESS
A new light action hood with removable panels and right hand, low level service door provide effortless access for service and daily checks. For operator access, new larger steps make it even easier to get in and out of the cab.
AUTO-STEER READY
While retaining the power assisted steering that gives the Fastrac positive steering control, the 3230 Xtra now comes Guidance Ready so that operators can easily add a full-feature auto-steer system.
"This will be a welcome feature that improves precision and makes the driver's workload less tiring," says Ray Bingley. "It will be especially useful for farmers and custom operators who exploit the Fastrac's unique qualities for spraying and spreading, as well as cultivation, and the Fastrac's mid-mounted cab and smooth-riding suspension make it an ideal platform for the precise and reliable use of this GPS application."
Auto-steer integrates with other automated features available through the touch-screen terminal introduced with the 'Xtra' specification last year. These include Headland Management, which allows up to 15 different control actions to be assembled and linked for instant or delayed reaction (determined by time or distance) into sequences for five different implements.
Adjustable flow rate and timing for remote hydraulic cylinders is available for both outward and return strokes – to help control big grass mower combinations, for example – using oil from a hydraulic system upgraded to load sensing status with a variable flow of up to 37gpm.
NEW OPERATOR CONVENIENCE OPTIONS
The new 3000 Fastracs will offer the option of a rear hitch camera, making it even easier to hitch up and monitor close coupled implements. In addition, a new fender-mounted auxiliary spool control option makes control of the new optional hydraulic top link a breeze.
P-TRONIC TRANSMISSION
The power and torque characteristics of the new engines are well matched to JCB's own P-Tronic semi-powershift transmission, which was introduced on the 3230 Xtra Fastrac mid-2010.
It provides a progressive arrangement of 24 forward and nine reverse ratios, with six powershift steps; automatic road and field shifting if required and a power shuttle for easy changes between forward and reverse.
Three different transmission settings give operators a choice of manual and two auto shifting modes, including Drive, which is engaged for road travel to automatically shift between all 12 speeds available in the top two ranges.
With Manual selected, the operator shifts through the powershift steps and ranges using the transmission control joystick that is part of a seat-mounted control console also carrying electric hydraulic control switches.
Engaging Autoshift for field work will automatically select the best ratio from the six powershift steps within any range. It reduces the driver's workload and can result in greater productivity by ensuring the best transmission ratio is used at all times.
Further assistance on the road is provided by Xtra-Drive, which allows the operator to ignore the clutch pedal once underway, even when slowing and stopping at a road junction. Only the brake pedal is needed – the transmission automatically controls the clutch.
"It's just like driving an automatic truck," notes Ray Bingley. "But when precise control is needed to help hitch up an implement, using the clutch pedal over-rides the Xtra-Drive system."
Learn more about the JCB Fastrac products by visiting the website.