In the summer of 2004, when our firm acquired Farm Equipment, we saw an industry embarking on great change, and a real opportunity to seek out thought-processes as dealers navigated new waters. And even before our first edition, we were planning the next year's debut of the Dealership of the Year (DOY) program.
Over the last 8 years, dealer-principals at 17 companies welcomed us into their businesses, opened financials and detailed their operational truths while candidly sharing their mental approaches to decisions they face at an increasingly rapid rate. We facilitated the annual DOY recognition program, but these dealers were the catalyst in sharing many best-practice ideas that others have since embraced.
What we hadn't envisioned was the unique mini-community that emerged from these DOY recipients — large and small and of every color — that we began to refer to as our "Alumni Group." Whatever was happening in farm equipment, the opinion of this influential group of dealership thought-leaders was being sought.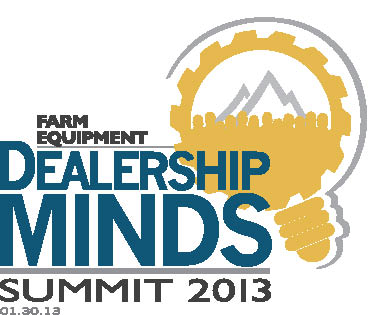 Now, we're pleased to announce the next step in this evolution, the debut of the "Dealership Minds Summit" next January in Kansas City during Ag Connect. For months, we've been refining a different type of industry gathering that perhaps only an independent organization can deliver. Guided and presented by our DOY alums, the program features a variety of formats to encourage in-depth discussions and face-time. And as much as the industry tries to define itself by equipment colors, this event is "color-blind." Every farm equipment dealer who is serious about moving their business forward is invited.
You'll see the final program shortly, but here is the Cliff's Notes version. It will be 100% relevant, and exclusive, to the success of farm equipment dealers. Every minute is intended to be outcome-based, filling your notebook with actionable ideas you can take back, talk over with your team and implement. You'll draw upon the experiences of dealers "doing it" (or not doing it) to make decisions with greater confidence. If you've read The Tipping Point, you'll know why we're keeping this event small, focused and intimate. It's a "thinking event."
Just as important is what it is NOT. You won't find company sales pitches, lofty speeches from consultants, color-specific program overviews, nor long-winded dissertations by those without a stake in the business. If you view industry meetings as somewhere to park your rear-end for a few hours to check your Blackberry, take a pass on this one — the seats are limited.
Our firm has run national events annually for the last 21 years (two each winter for the last 10) and we're eager to bring some innovative, yet time-tested, concepts to you with this first-ever Dealership Minds Summit. We hope you'll decide to invest in your leadership capital and make history with us next January. So save 1/30/13 on your calendar, and keep an eye on Farm Equipment and www.dealershipmindssummit.com for more details in the coming weeks.
---
Thanks to Agri-Trend Geo Coaches, AgTron, Dealership Information Systems, GBGI, Horsch-Anderson, IRON Solutions, Orthman Manufacturing and Versatile, who (although not afforded podium time) volunteered to sponsor the Dealership Minds Summit to provide a unique educational opportunity for dealers.