Despite robust U.S. tractor sales in recent years, overall tractor sales remain far from their 2004 and 2005 peak. Nonetheless, in terms of dollars, ag equipment shipments remain strong and healthy.
U.S. Tractor Sales Not at Peak
(Units)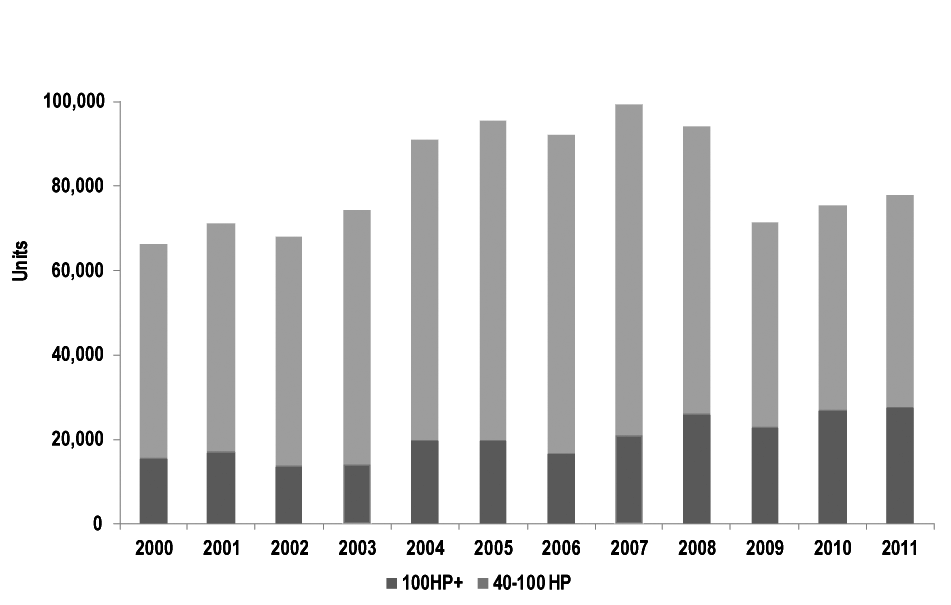 U.S. Farm Machinery Shipments Aided by Exports (Dollars)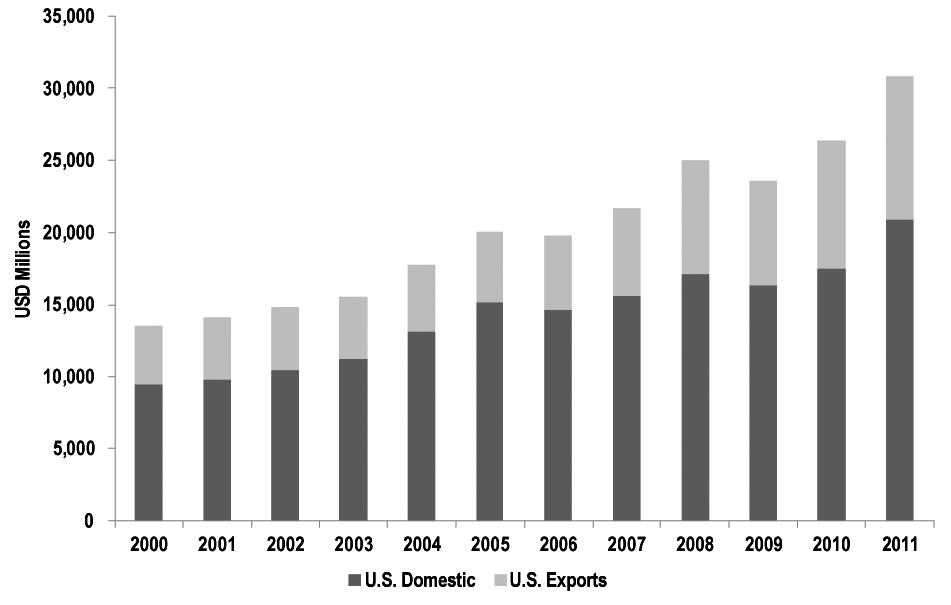 Source: U.S. Census Bureau,
U.S. Bureau of Economic Analysis and J.P. Morgan
In a May 11 note to investors, Ann Duignan, machinery analyst for JP Morgan, says, "ag fundamentals are not well understood" by many observers of the industry.
She points out U.S. sales of high horsepower tractors last peaked in 2004 and 2005, when crop receipts increased 15% year-over-year and livestock receipts increased 18%. But as shown in the adjacent charts, farmer cash receipts troughed in 2009, when crop receipts declined 8% and livestock receipts declined 15%.
"From 2009 to 2011, crop receipts increased a total of 24% and livestock receipts increased a total of 36%. During this same period, 100 horsepower-plus tractor sales increased 20%. Near term, we see opportunities for 100 horsepower and larger tractor sales to grow further in 2012 given increased corn-on-corn planting." According to USDA, planted corn acreage is expected to increase 4% or by 4 million acres this year.
Through April, sales of these high horsepower units are up 3% in North America, and according to Duignan, increased sales of tractors in the 40-100 horsepower range (up 6% year-to-date) are a result of strength in the livestock sector.
She also points to "the effect of increased horsepower, emissions changes and opportunistic pricing on U.S. shipments of ag equipment, in dollars, as reported by the U.S. Census Bureau. In 2011, overall shipments increased 17%, aided in part by exports, which increased 13% year-over-year, according to the U.S. Bureau of Economic Analysis. Shipments in dollars increased 24% in the first quarter of 2012, suggesting a solid start to the year."