Interview with Matt Hays, CEO, Equipment Technologies, Mooresville, Ind.
Farmers are finding that self-propelled sprayer ownership is a key component to increasing profits and yields, says the builder of the Apache sprayer.
"Rather than calling Equipment Technologies (ET) a 'shortline,' we think of ourselves as a specialty manufacturer. From day one, ET has focused on building its self-propelled, mechanical drive Apache sprayers.
"The main thing that differentiates our sales approach from that of other sprayer manufacturers is that 80% of our Apaches are sold to farmers rather than to custom applicators. The recognition that a lot of the growth in the sprayer market would be from the farmers was a founding philosophy of ET. We sell to custom applicators, but it's not something that we spend a lot of time promoting because the farm market has been so good to us.
"I'm skeptical that the ag market will keep getting better. I just don't see how that could possibly be, but I don't see anything that leads me to a doom and gloom scenario either ..."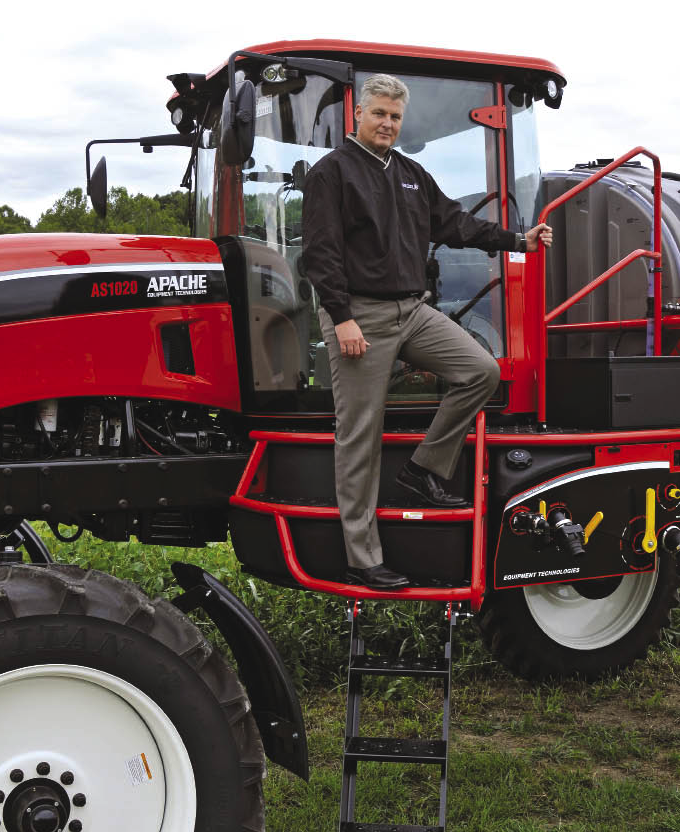 "Farmers continue to be our primary buyer because there's been a lot of consolidation with fertilizer companies. Many farmers have found themselves on waiting lists, preventing them from getting critical chemicals applied at the right time. That reality has helped them justify buying their own sprayer so they could do the application work themselves. And there's more application occurring every day, so it's easy for a farmer to cost-justify owning a sprayer.
"In terms of size, our sweet spot is the 1,500-3,500 acre farm, depending on where the farmer is in the U.S. A lot of those guys can't afford to buy a new John Deere or Case IH sprayer, but they know there are many benefits to owning a rig. That range is attractive to us because there's less competition among that size of customer. And there are a lot more of them than farms larger than 3,500 acres."
Outstanding Service is Paramount
"We have 46 dealers, and we've had solid, but not dramatic, dealer growth, by design. We've had strong sales growth among our existing dealers, and we're careful to ensure we can support existing sales before we look for additional dealerships. The number of ET dealers has gone up over the years, but in a typical year we might add two or three. We don't have a strategy that forces us to add a certain number of dealers every year. We're really more opportunistic. We'll target a number of regions where we don't have a good distribution solution yet, and work on dealer recruitment in those areas.
"Being able to select the best of the best is a good position to be in, and we have some outstanding dealers. But adding to that dealership total can be difficult because we're not a mainline manufacturer, and those companies have products that compete with ours. More and more, we're finding our dealers are application specialists who don't have a mainline and have built their business on sprayers.
"We sign farm implement dealers every year and they're some of our best dealers, but more of our Apache sales are coming from the specialty application dealers. We've got their focus, they're not trying to sell as many different lines as they can and they are seen as sprayer specialists so the farmer goes to them for answers.
"When we're recruiting dealers, their ability to service the equipment is one of the biggest things we look at. We want to work with dealerships that focus on service. Relationships with local farmers are nice — and we leverage those — but repeat customers are most important to our business. The only way we can have that is if the dealership puts an emphasis on service.
"One of the reasons application specialists have been so successful is because they're not trying to service a combine, tractor, seeder or planter at the same time. Not only do they have all of their resources allocated to supporting sprayers, they have expertise in spraying.
"So for us, service is huge. When we're qualifying dealers, we have to ensure they have the required mechanical knowledge as well as hydraulic and electrical experience. The first thing we do before we contract with a dealer is to visit their trade area to talk with customers to learn about their reputation when it comes to service. If the dealer doesn't have a good history of supporting the customer, we're not going to sign him just to get representation in an area. That can backfire."
Technology Has Changed Sprayers
"The technology used in field sprayers has changed the industry as well as ET. The adoption of precision farming has been a huge wave that has gotten bigger and moved faster in the past 3 years.
"Ten years ago, farmers were just starting to talk about putting auto-steer on sprayers, and now it's pretty much standard. Just about every sprayer we build leaves the factory with a Raven or Trimble auto-steer system. Then around 2006, auto-boom revolutionized the application process, because now the operator didn't have to look behind the machine to watch the booms. From the beginning, it was obvious to us that auto-boom was going to make it even easier to sell sprayers because it would make the customer's experience with the machine better.
"The big thing now is the ability to meter the chemical amount that gets put on the crop and to control the accuracy of the application process by using certain nozzles in specific areas of the field. You're breaking a boom into multiple sections and, with a mapped field, your controller knows exactly where to apply chemicals so it eliminates double application. That technology has led to more farmers buying sprayers because it's simplified the application process dramatically. In the next 5 years, you're going to see more precision being used in the actual chemical application.
"While we are adopting the latest technology, our big push will continue to be simplicity and efficiency. I don't know if that will be an industry-wide approach, but we're going to continue to ensure our sprayers require fewer resources to operate. We'll continue to focus on getting more work out of a gallon of fuel as we develop products. Simple, efficient and effective — that's always worked for us.
"We release new products for a model year that starts in July, so we've already released the model year 2012 line and they hit the market in late summer.
On January 1, 2012, we have to go to interim Tier 4 engines on our Apache 1020, the 1,000 gallon unit, and that consumed the bulk of our engineering time this year. We're able to defer interim Tier 4 on the 720 and 1220 models for the foreseeable future, but we don't know how long yet. That will play significantly into how much time we spend on R&D in developing the product.
"We take a 5-6 year look at the evolution of a model line. We made significant changes to the Apache in 2005 and 2006 and then in 2011 to prepare for emissions regulations, so we'll get the most out of this current look and functionality for several years. We will look for opportunities to make improvements that can make significant differences in the customer experience. We're always looking for that."
Dealer Support
"The guys who really know how to sell and service sprayers understand we make a high quality machine and they let us do what we do best. Our dealers want a simple sales program they can understand and they'll do the rest.
"Other dealers, especially the ones who haven't been selling sprayers as long, need more help on the sales and marketing side. They want us to have good promotional plans. We work to show them how to acquire sprayer customers in addition to the things that all the other dealers want, which are good, simple sales programs."
More Training Support
"Training is the biggest service we provide to develop dealers and help them promote the product. The training that we do on the sales side as well as the service side is very extensive and it's increasing all the time.
"That's one of the reasons that we bought more land and are building a new facility near our factory in Mooresville. We always have dealers in here for training. We want to try to make that dealer salesperson a product expert so they engender confidence when they're around the farmer. It's the same with the service techs, who need to be incredibly confident.
"As I said, they don't just take care of customers, they sell machines. It's common for a farmer to sort of bypass the salesperson when he walks into a dealership and goes to find his buddy in service to find out what's going on."
Aiming for Greater Yields
"There's a lot of upside in the sprayer business because of the fundamental dynamics of an expanding world population. There are more mouths to feed, and a finite amount of land for crops means more chemical application to produce the greatest yield. As long as manufacturers and dealers are competitive, you should be able to participate nicely in the sprayer industry.
"We're generally optimistic, but not bullish. We're not going to make some big bet that we'll double output in 3 years. But the farm equipment industry is a good place to be.
"We feel we can control our own destiny and the key, honestly, is not to do something stupid. I know it sounds crazy, but it's true. We just need to stay humble and hungry. If we don't get complacent, we ought to be fine.
"I keep thinking there's no way farmers can keep making more money every year, so I'm a little skeptical that the ag market will keep getting better. I just don't see how that could possibly be, but I don't see anything that leads me to a doom and gloom scenario either. We have really good sales momentum right now, so I would say that the next 6-9 months look quite good.
"I don't know of anything that's going to put pressure on farm income other than inflation — that's probably the biggest risk — but I'm not worried about a fall in commodity prices or yields or anything like that. To me, farmers seem to be managing their finances in a very conservative way. I get nervous when I hear people talking about $20,000 for an acre of land in Iowa or Illinois, but I don't think that's a trend. I don't think it's just farmers who are paying those prices. A fair amount of that is outside investors buying farm land.
"Obviously, it poses a risk if landowners pass those costs on to the farmer, but right now that's not happening. The rents are actually not increasing as quickly as the purchase prices because the investor is willing to take a lower yield in return for just owning the land and betting on it appreciating over time.
"Also it doesn't appear farmers are taking on a lot more debt to grow or support their existing operations. When they pay more for land, they're doing it with cash as opposed to taking a loan from the bank.
"That would really scare me because if land values start to fall and they can't service their debt, then we've got a real ugly situation that will get shaken out at some point. But I just don't see it. So for something to really turn south, it's going to be something totally unpredictable."