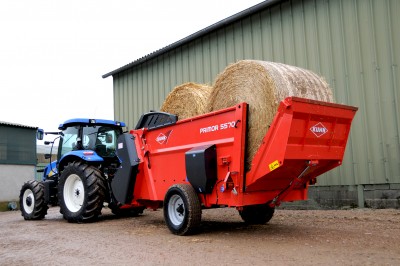 The Kuhn Primor 5570 M bale processor is designed for the distribution of bedding in bedded-pack barns, as well as direct feeding of hay, silage and baleage.
The machine can process large square bales up to 8 ft. 10 in. long, as well as round bales that are 4 ft. wide and up to 6 ft. 7 in. in diameter, to meet the needs of producers with medium- to large-sized operations.
This model comes as a heavy-duty, trailed machine designed for lower horsepower tractors.
The top discharge blower allows the operator to easily direct and control the spread pattern of the material; distances of up to 60 feet can be reached without adding options.
The Polydrive belt system drives the feed rotor, which pulls material from the bale without overcutting, resulting in uniform material length and consistency when bedding and feeding.
For more information, contact Scott Borgwardt by email: scott.borgwardt@kuhn.com