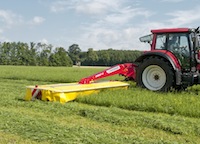 New to the NOVACAT family of rear mowers: the 402 and 442 with working widths of 12.8 feet and 14.1 feet respectively. The central element of these two models is the hydraulic lower linkage arm that makes it easy to hitch up because you no longer need to adjust the tractor's struts and the mower frame is always aligned in the right position. In addition, this system optimizes weight alleviation as well as providing excellent ground clearance (1.7 feet on the inside) for headland turns and transport on the road.
During transport the mower is pivoted through 90 degrees to the rear. The double-acting cylinder on the rear pivot also serves as collision protection. If the mower impacts an obstruction it folds to the rear and the release pressure is increased. This system ensures that the mower is ideally protected against severe damage. Both the new NOVACAT mowers feature hydraulic weight alleviation. A clearly-visible pressure gauge is fitted to the mower frame and the ground pressure can simply be adjusted if needed using a double-acting remote valve.
In order to guarantee optimum utilization of effective working width, both the NOVACAT 402 and 442 can be mounted at two different positions on the boom. Ease of maintenance is extremely important at Pöttinger: the safety guards fold well clear to provide optimum access to the cutter bar for quick and easy knife changes.
For more information, contact anders.hansen@poettinger.ca