New duplex wing hinges and walking triple tandem help tackle the toughest soil conditions yet allow for easy transport.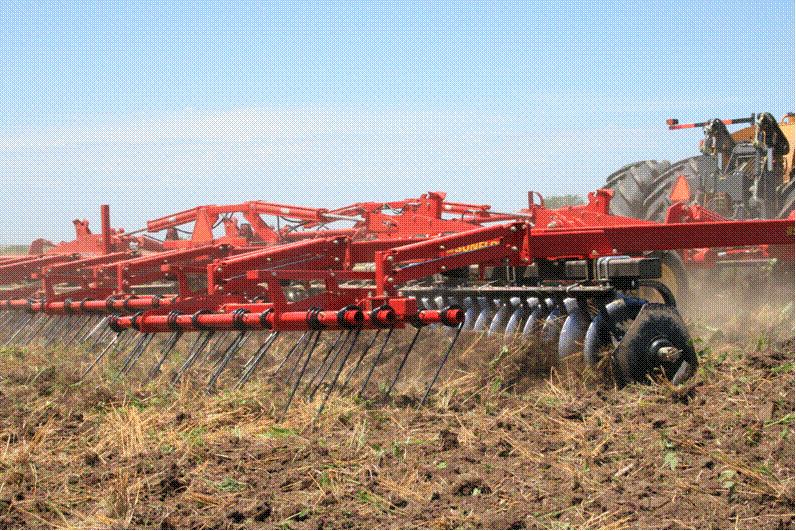 AGCO Corp. introduces the all-new Sunflower 1550 Series 5-section disc harrows.
Featuring patent-pending duplex wing hinges and walking triple tandems, the Sunflower 1550 Series is built bigger to cover more acres, and stronger to break through the toughest soil environments in the corn and wheat belts.
"Sunflower has been an industry leader in tillage equipment for decades. Our customers have come to expect quality and innovation with each piece of equipment we design and manufacture," says Larry Kuster, senior marketing specialist for seed and tillage.
"AGCO recently introduced a new line of innovative high-horsepower tractors to the market. As a result, our customers asked us to build new tillage equipment to match, and the all-new 1550 Series is our answer to their requests."
The Sunflower 1550 Series features duplex wing hinges and walking triple tandems, never seen on tillage equipment before. Duplex wing hinge design provides the wings with two pivot points.
The lower hinge closest to the blades allows for more flex so disc gangs work together to break through even the toughest soil conditions. The lower hinge also helps maintain proper blade spacing and provides more down flex allowing the disc harrows to contour to the terrain — important to establishing a consistent seed bed to promote uniform crop emergence. The upper pivot point also provides for a very compact package when folded for transport.
In the field, the Sunflower 1550 Series spans 50-feet to cover more acres, but folds to about 18-feet wide and 14-feet high for easy transport. The duplex wing hinge design also allows the 1550 Series to be 30 to 40 percent more flexible and maneuverable than competitive five-section tools. The Sunflower model 1550-47, a 47-foot-wide machine, folds to these same easy-transport dimensions.
The Sunflower 1550 Series also features new walking triple tandems, which walk over field obstacles with the front and middle wheels, then the middle and back wheels. While this design works like a conventional walking tandem, it allows for 50 percent more weight carrying capacity. The 50-foot-wide Sunflower 1550-50 weighs 33,300 pounds or more than 600 pounds per foot, equaling 230 pounds per 24-inch blade to cut through the toughest crop residue and hardest soil conditions.
"Our goal in developing the Sunflower 1550 Series was to create a machine that exceeded expectations. This piece of equipment should do just that by bringing to the market innovation never seen on tillage machinery – including duplex wing hinges and walking triple tandems – designed to handle the rough and challenging field soil conditions in the corn and wheat belts," Kuster concludes.
For more information, send an e-mail to Larry Kuster at Larry.Kuster@AGCOcorp.com.