There's no doubt equipment dealers face crucial decisions about their buildings as the world of retailing changes around them.
Many dealers are challenged to handle the super-sized combines, row-crop tractors, sprayers and planters rolling into their service shops. And it's an uphill battle attracting new customers, and keeping employees happy and productive, with cramped, tired-looking facilities.
Dealers are choosing new buildings to keep up with those demands, especially when they're locked in competitive battles with competing brands or want to lock down market share in their area.
Tom Owen, Case IH's director of network development, says he's seeing increased activity with dealer modernization projects, especially with new dealerships and service facilities being built. This includes staging buildings to increase service performance and throughput.
Trends he sees include "green" initiatives with alternative energy sources; showrooms and "expo centers" that accommodate large equipment displays; open office- and parts-counter concepts that improve customer interaction, and multi-media conference and training rooms for larger audiences.
With service, there's been increased interest in dedicated wash bays and paint booths to help increase income and used-equipment values. In-floor heating systems improve employee comfort and reduce utility costs. Larger doors — some spanning 40-50 feet — are becoming common, as are higher-capacity cranes.
Owen says the ratio of renovations vs. construction of entirely new buildings is about even, with Case IH encouraging the optimum solution to achieve "best-in-class capabilities."
For years, the market has allowed dealers to minimize their investments in infrastructure, Owen says. But many dealers now find their facilities inadequate because of high demand, technology integration and larger, more productive equipment. This can affect a dealership's productivity, retailing and ability to support products and generate profits.
"Many dealers are contemplating retirement or other business transition strategies," Owen adds, "which is fueling the industry's dealer consolidation and the emphasis for improved infrastructure."
Ken Williford, dealer development manager for New Holland, says entrepreneurs with investment capital are searching for real estate deals and opportunities near metropolitan areas. New Holland encourages dealers to "do their best" possible modernization projects, while implementing a solid and successful business model.
"If there are facility constraints that impact customer and product service, now is the time to address those shortfalls," Williford says.
"Mortgage rates and costs are at their lowest point. I think dealers know this, and that's why many are pursuing these types of upgrades. They know customer service is the key to their business model, and now is the time to address shortcomings."
The rest of this article explores improvements made by major John Deere, Case IH and New Holland dealerships in Illinois, Kansas and California, respectively, to provide Farm Equipment readers with ideas for their own modernization projects.
Growth Makes it Happen
With 6 locations in western Illinois, Kleine Equipment is a major presence for John Deere in the nation's Corn Belt. But owner Mark Kleine admits it's a competitive territory, even among Deere dealers.
Kleine Equipment's new $2.5 million "John Deere Place" dealership in Brimfield, Ill., replaces a 40-year-old building.
So Kleine Equipment spent $2.5 million to build a new "John Deere Place" dealership in Brimfield, Ill., and another $1.1 million to build a service facility and training center for customers and employees at Kleine's Galesburg, Ill., location. All have opened in the past year.
"We've had some good years recently, and we've chosen to take the opportunity to invest back in the business," says Kleine. "These are all improvements that have been needed for several years. Growth in the business has caused these things to happen."
The 31,000-square-foot Brimfield dealership replaces a 40-year-old building with a tiny showroom and shop area.
The shop at Kleine's new dealership totals 17,000 square feet and has the ceiling heights, modern lighting, wide doors and cranes needed to work on the large equipment.
The 5,000-square-foot showroom at Kleine Equipment's new dealership in Brimfield, Ill., allows the display of lawn tractors and other equipment that could attract new customers from nearby Peoria, Ill.
It also allows service technicians to work on multiple jobs without constantly moving equipment in and out of the building. Kleine says the extra parts and service revenue generated by the improved dealership allowed him to hire 2 additional service technicians.
"The biggest difference is how much the service department's efficiency improved. There were just a lot of things that went into creating a better work space," says Kleine.
"When you work from a small building, if you bring 4-5 machines in the building and you must finish one of them, you can't get it out because something else might be blocking it. The way to build a shop now is to have a center aisle, so when technicians are finished, they back the machine up and drive it out the door."
The other mission of Brimfield's John Deere Place is to attract more rural lifestyle customers and homeowners in and around Peoria, Ill. The showroom in the older building "wasn't a nice environment," Kleine admits. "It was dingy, and there wasn't a lot of floor space for displaying equipment."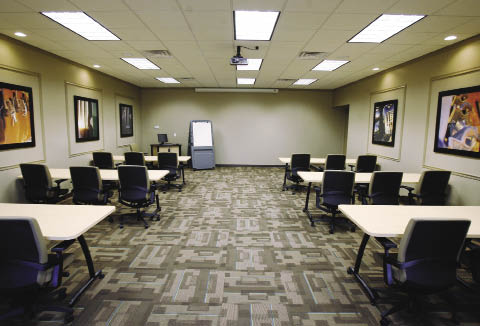 A $100,000 training center built at Kleine Equipment's dealership in Galesburg, Ill., centralizes training for employees at Kleine's 6 different locations. The facility also generates revenue through customer clinics.
The new dealership's 5,000-square-foot showroom allows Kleine to carry a full line of mowers, outdoor handheld power equipment and home and workshop items.
"We wanted the small-acreage owners and the homeowners to feel comfortable, and not be intimidated by big-time farmers and big equipment. We're seeing more walk-in traffic and selling more products that cater to all customers."
The 2,000-square-foot training center in Galesburg — a $100,000 investment — opened in April 2009. It has state-of-the-art equipment that allows for video conferencing, distance learning and 3-D service training for employees. The dealership can also host training clinics for customers.
More than 200 customers recently attended a session on precision ag products. They paid $75 each, providing new revenue for the dealership.
"One of the things about the AMS side of the business is that it's becoming somewhat saturated. To continue bringing in revenue we must look for new ways to approach it," Kleine says.
"Another thing the training center does is allow us to bring a group of employees into one place, instead of them training individually at each location. That saves us money, and they can sit, talk and share ideas."
Another decision Kleine made was to move service for the multi-store network's self-propelled sprayer customers to one location in Galesburg.
The new $1 million, 18,000-square-foot building is similar to the service facilities in Brimfield and can handle customers' large sprayers and combines. "We've been able to add a couple more technicians and work on the sprayers inside, instead of outside," Kleine says.
'Efficiency is the Answer'
Parts are a big deal at Colby Ag Center in Colby, Kan., but there wasn't enough room for them at the 1940s-era International Harvester prototype store that the dealership called home.
The new Colby Ag Center in Colby, Kan., spans 45,000 square feet and sits on a 10-acre parcel next to Interstate 70. A Case IH dealership, Colby Ag Center is battling a new John Deere dealership that opened last year about a quarter-mile away.
So employees were in for a big change a few months ago when they started moving into a new 45,000-square-foot dealership in Colby. The building sits on a 10-acre parcel along Interstate 70.
The new dealership has 6,500 square feet for parts on the first floor and another 9,000 square feet on the second floor. The parts department has Stanley Vidmar cabinets, "and we bought quite a few parts bins and lots and lots of shelving," says owner Gerry Heim, who expects the new building to have a major impact on parts and service revenue. "It's going to be an interesting spring."
Heim said it took several years to pull the trigger on the new store because of volatile commodity prices and crop yields affecting his customers. But he recognized that he couldn't wait forever. "We knew we had to either grow or go. We had greatly outgrown the facility that we had."
The 18,000-square-foot shop area, with its own wash bay and welding area, will probably have the greatest impact on Colby Ag Center's bottom line, Heim says.
The 7,000-square-foot showroom at Colby Ag Center was designed with an open floorplan to improve communication between employees and provide a more welcoming atmosphere for customers.
The old dealership's shop wasn't large enough to handle large ag machinery, forcing some outdoor assembly and shuffling around of equipment. The new shop has 20- and 14-foot doors with a removable center point to create a 34-foot door that can accommodate large sprayers and planters.
A separate wash bay will speed the cleanup of equipment to get it ready for sale, and the floor of the entire service area is heated with recirculated water, increasing comfort for service technicians.
"Time is the most perishable of all commodities. A minute lost is never recovered," Heim says. "This should greatly enhance our recovery rates in the service department, being able to sell those minutes. Efficiency is the answer."
Customers walking in the front door immediately notice a vast, brightly lit
The service capacity of Colby Ag Center's new 18,000-square-foot shop could have the biggest impact on the dealership's bottom line.
showroom, as well as office and service counters. The 7,000-square-foot showroom has space to display the Yamaha motorcycles and ATVs that Colby Ag Center carries, along with Case IH tractors with loaders, and Zipper, Cub Cadet and Toro lawn mowers. The showroom in the old location was only 1,500 square feet.
The open floor plan has efficiency in mind, too. The receptionist can take phone calls and see the offices for the parts, service and sales staff, rather than spending time paging employees.
With dozens of calls coming in every day, "being able to save time is very necessary," Heim says.
"We want to make it easy for the parts, service and office people to communicate with each other and see what's going on. And we can take care of our customers in a better manner than we ever could before."
More Pleasant Environment
Garton Tractor in Stockton, Calif., is an example of a growing business that was handicapped by a poor location.
Garton Tractor's new dealership in Stockton, Calif., has space for a prominent outdoor display of tractors, and the 26,000-square-foot facility is also highly visible to about 100,000 cars passing the building each day on Interstate 5.
The family-owned dealership was renting a former New Holland company store originally made for retailing hay equipment.
As the dealership grew, the 35-year-old building became inadequate for selling and servicing tractors, but the landlord wouldn't permit any expansion or remodeling.
And the old location, along a two-lane highway with only 8,000 cars a day passing by, was not ideal for drawing in new customers.
Owners Bill and Tom Garton decided to build a new 26,000-square-foot dealership off Interstate 5, in a spot that sees traffic counts of 80,000-100,000 cars per day.
Open for 1.5 years, the new dealership — one of 6 locations the Gartons have in California — is nearly 3 times the size of the old store, with enough showroom space to display 2 two tractors and 2 UTVs. The open floorplan allows department managers to clearly see everything happening in front of the store.
A brightly lit showroom with polished floors greets customers who enter the front door at Garton Tractor.
Six sales offices ring the perimeter of the showroom. "When a customer comes in, if they want to walk in my office, it's a much more friendly environment," says branch manager Ed Lucas. A major difference between the old and new locations is the space allocated for parts and service.
Employees used to joke that the parts department was so small it was like a chorus line: when one person turned, everyone had to turn the same way. Parts were kept in rented containers, since there was no storage for them.
The new dealership's parts counter is 80 feet long, with seating for 8 customers, with the parts manager's office near the counter and parts staff being able to see what's happening at the showroom and service counters, improving service to technicians and customers. The department also has rack shelving and Stanley Vidmar cabinets with printed labels instead of hand-written.
The shop is a major improvement, too, with a modern exhaust system, infrared heating and circulating fans, up-to-date lighting and 16-foot-wide doors. The sealed concrete floors are cleaned with soap and water instead of chemicals.
Only 8 tractors could be repaired at one time in very cramped conditions in the old shop. The new shop allows for work on up to 27 tractors simultaneously, and there's enough space for machinery to be driven inside and the doors shut.
"In the old store, we had to plan," Lucas says. "If a major project was going, like a transmission overhaul, we had to roll all the tractors in and out to accommodate the job. It was just a huge waste of time. Here in the new building, all the mechanics have their own station" and plenty of space for their large toolboxes.
The Gartons wanted the dealership to be environmentally "green," so it uses recirculated water in the shop, and a special grass planted along the fences filters any runoff from the building before entering the storm drains. The building itself is a tilt-up concrete structure, with lots of skylights designed to reduce utility expenses.
Then come the intangibles, Lucas says, like a flat-screen television in the showroom showing New Holland equipment, a clean lunchroom and modern bathrooms that aren't on a septic system.
Lucas notices customers' smiles as their kids wheel through the showroom in toy tractors. "Because of this new location, we have people stopping in whom we never would have talked to before," he says.