Focusing on customer service, satisfaction and education is not a new concept for the precision farming team at Swiderski Equipment. The New Holland & AGCO dealership has been in the business of providing solutions to customers' problems since it first started training and selling work horses to farmers in the Mosinee, Wis., area in 1925.
Nearly 100 years later, now with 5 dealership locations across Wisconsin, Swiderski's precision farming department, based out of that same Mosinee area, is still providing solutions to customers' problems, only now there's less hooves involved and much more technology. 
A few years ago, Swiderski Equipment decided to offer planter inspections to their customers right after the growing season. The hope was to cut back on problems that farmers would run into the following year and get ahead of the curve with maintenance before the farmer stowed their planter away in the shed for several months during the winter. Initially, somewhere between 10-15 customers opted to take them up on this offer. But the feedback and results were so positive that the practice has now become a required aspect of their service contracts.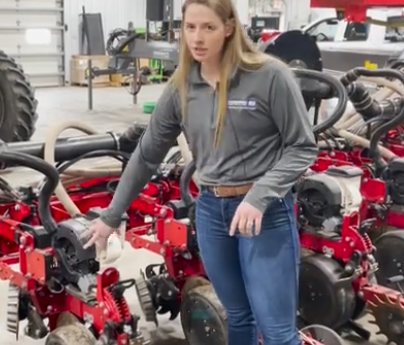 ---
"We have to be incredibly thorough because we don't want to see anything happen with that planter come spring…"
---
"This year we decided to go full force with the planter inspections because of all the failures we were seeing during the growing season," says Abby Weltzien, service & parts manager of Swiderski's precision farming department in Mosinee. "We wanted to drive home the importance of it to the customers and help educate them on the issues they could run into if they don't fix certain problems with their planter."
After fully integrating the planter inspections into their service contracts as something they strongly encourage farmers to do, the number of planter inspections they did in that first trial year has skyrocketed to more than 60. 
Weltzien says the feedback they've gotten from customers has been overwhelmingly positive, and part of that can be attributed to the affordability of the service. Swiderski charges $50 per row for their planter inspections, and each customer is consulted with a full list of any issues found. 
"From there, the customer gets to decide if they want to just buy parts, if they want to have us do the work or what avenue they want to take," Weltzien says. 
The planter inspections are mutually beneficial to Swiderski and its customers because it saves everyone time and money in the long run. 
"Last year a customer brought in his planter for a post-growing season inspection. He had put a lot of work into it. And thanks to the inspection, he was only down for about half of one day the entire spring and summertime," Weltzien says. "He told us 'every year, no matter what, that planter is coming in for an inspection.' He said he had never planted that smoothly, ever."
Checking for Everything
The planter inspections are meant to be as thorough as possible so that everything has been checked and accounted for before the farmer puts their planter back in the shed. The goal is to have them ready to plant as soon as the growing season commences. 
"We take the full row unit apart and check all your bushings, opener discs, gauge wheel arms and scrapers. We even go into the meter," Weltzien says. "We check your brushes, your seals, parallel links, all your hoses and even the routing for the hydraulics and your wiring to see if anything is pinching or rubbing through."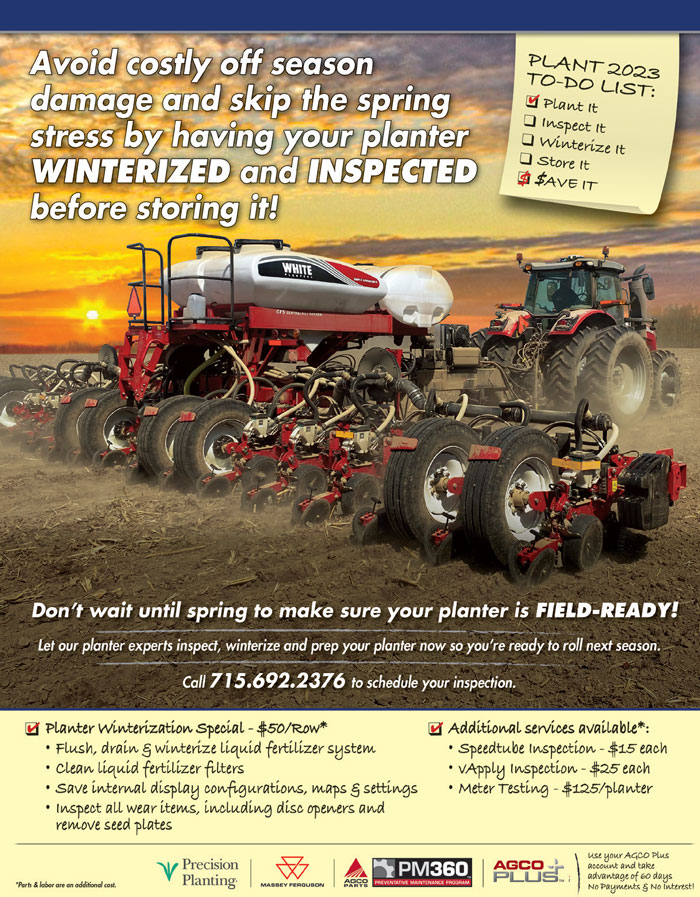 Swiderski charges $50 per row for its planter inspections with additional charges for options such as speedtube inspections and meter testing. Photo: Planter Inspection Flier From Swiderski's Website
The technicians even run the full planter and check the entire system just to make sure there are no issues that farmers might run into once they're ready to start planting. 
Although the process is extremely thorough and the technicians see planters of all different sizes, Weltzien says that usually the turnaround time is fairly quick for getting each planter inspection finished. 
"We take one full day for each one, with the exception of a 24-row planter taking a bit longer," Weltzien says. "We have to be incredibly thorough because, ideally, we don't want to see anything happen at all with that planter come spring."
Another factor that has allowed Swiderski to have such a reliable turnaround time for their inspections and planter maintenance is keeping as many parts on hand as possible – something that has been a major challenge for many dealerships in the last few years. 
"Our goal is to have as many parts on hand as possible. So when these planters come in for inspections, hopefully we have the right parts and we can get them turned around faster," Weltzien says. "Basically we have any component that could fail on the planter except for the planter bar itself."
Weltzien added that they try to stay a few steps ahead in terms of what parts they order compared to what parts they need right away.
"For example, we'll have enough feeder wheels on hand for 2-3 planters," Weltzien says. "That way if we pull 24 of them for a 24-row planter, we just order that back in and we still have enough on hand for another 12-row planter to come in and get turned around right away."
After doing these inspections for a few years, Swiderski has only gotten better at streamlining the process of planter inspections and building trust with their customers. 
Click here for footage of service & parts manager, Abby Weltzien and technician, Skyler Cooper walking through the key things to look for during their planter inspections.
"We are the experts in this field," Weltzien says. "Our customers obviously know their equipment, but they don't see what the common failures are and we see this day in and day out because we're doing so many inspections and it just gets easier for us to find these recurring issues and I think that's helped us build up a lot of trust with our customers." 
Another important aspect of the planter inspections according to Weltzien is the opportunity to educate their customers. 
"Our customers are putting a lot of money into that field just in seed alone, and you have to be willing to invest into the machine that's placing that seed into the ground," Weltzien says. "That's something we've really been working on is teaching our customers the value of replacing their wear parts and what kind of a difference that's going to make for them."