For Andy Flint, his career in the equipment industry is a far cry from his first job: running a country club restaurant at 16. During his years as a chef, he catered for the governor of Wisconsin and the princess of Thailand in a cutthroat, fast-paced environment. He says it taught him soft skills that he now uses as the general manager of 2-store Wisconsin John Deere dealership Proven Power.
"Learning to work with people was probably the biggest thing," he says. "Even if you're 16 years old, there was zero tolerance for mistakes, and you were expected to perform. It was definitely stressful. But anything after that is easy. Not exactly 'easy,' but it's easier."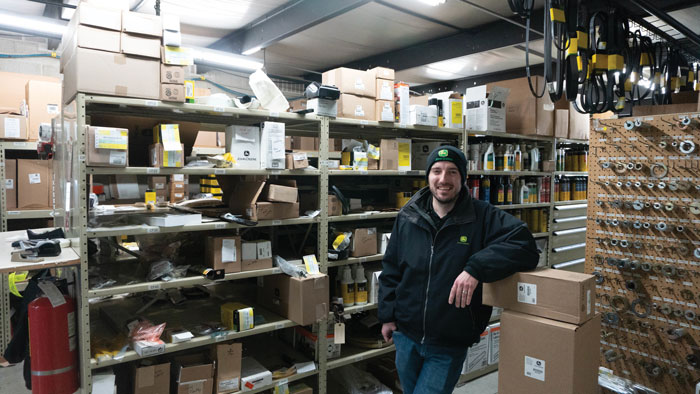 Proven Power General Manager Andy Flint says that over the winter, the dealership sold $100,000 worth of parts through their holiday parts special. Photo: Ben Thorpe
Fast forward to today, and April 2023 will mark Flint's 13th year at Proven Power. He first interviewed with Rural Lifestyle Dealer back in 2018 when he was the service manager for the dealership's Oconomowoc, Wis., store, and he spoke about working with the Veteran Administration to bring veterans in as technicians. Since then, Flint has seen Proven Power's other unique practices and programs grow and elevate its aftermarket business.
Extra Cash from Holiday Parts Special
One of the dealership's recent aftermarket successes was an employee-led winter parts sales program born out of a weekly team meeting discussion. Flint says Proven Power targeted its top customers at the end of 2022 with texts advertising a 15% off coupon code for parts and ultimately netted $100,000 out of the process.