In this episode of On the Record, Pinion Principal Marc Johnson forecasts 4-6% growth in large ag equipment sales in 2023. In the Technology Corner, Noah Newman takes a closer look at Verge Ag's Equipment Explorer, which was launched at the 2023 Precision Farming Dealer Summit. Also in this episode, a preview of the 10th annual Precision Farming Dealer benchmark study and a look at ag retailer sprayer purchase plans for the year ahead.
This episode of On the Record is brought to you by BENZI.
BENZI delivers innovative solutions for power transmission. For 60 years we have been manufacturing PTO drive shafts, torque limiters, gearboxes, speed multipliers and speed reducers for agricultural mechanization. Our products are designed and tested to grant maximum performances in every working environment and our product range is by far the widest available on the market covering the vast majority of all power requirements and applications for agricultural PTO driven equipment
---
TRANSCRIPT
Jump to a section or scroll for the full episode...
Analyst Forecasts 4-6% Growth for 2023 Large Ag Equipment Sales
During a presentation at the 2023 Associated Equipment Distributors Summit held Jan. 10-12, Pinion Principal Marc Johnson forecast 4-6% growth in large ag equipment sales for 2023.
Johnson said while the forecast may seem disappointing, it comes after 2 years of notable growth.
"We're still guessing we're going to be somewhere in that 4-6% growth range for our dealers, which sounds terrible when you grew 45% last year, and you grew 30-35% the year before that. But remember, that's 4-5% on top of the 30%, which is on top of the 45%. So we're not going backward at least, that's good. But it's not as good as what we'd like to see. Now, that looks like it will probably get a little worse as the year goes through. Most of that pullback would be in the back half of the year, if there's any at all."
Johnson noted Midwest dealers would be more likely to see 5% growth and could possibly see up to 6% in 2023.
Among the many factors Johnson looks at when making these forecasts is the Ag Economy Barometer, specifically the percentage of growers considering it a bad time to make large investments, including buying equipment. In the latest update to the barometer, that percentage came in at 75%, and the percentage of farmers considering the next 12 months in the ag sector to be financially bad was 46%. Johnson thinks part of that could be farmers' perception of losing bargaining power with dealers.
"I think part of what we see between the two graphs of supply also is, part of the bad time might just be, 'If I go to buy something from you guys [dealers] anyway, I've lost all my bargaining power. Because I'm going to go in and say, 'I want this tractor,' and, you're going to say, 'I've got one, and nobody else has got it. This is my price, and I'm not negotiating.' And that's what they ran into. So that's part of what we see as the bad times."
Dealers on the Move 
This week's Dealer on the Move is Green Acres Machinery.
Twain Capital and Green Acres Machinery have acquired Williamson County Equipment Co, a Case IH farm equipment dealership with locations near Austin, San Antonio and Corpus Christi, Texas.
Verge Ag Launches Equipment Explorer Solution for Dealers 
There was a big product unveiling at the Precision Farming Dealer Summit. Verge Ag launched a new solution within its Launch Pad portfolio, called Equipment Explorer. And as Verge VP of Enterprise Operations Chad Matthies tells us — it's unique because it's designed specifically for dealers.  
"As you can see to my right, we have a screen that's our brand-new solution that we've built for equipment dealers. It's a solution that's really unique because not too many software companies build solutions for equipment dealers to help them sell their products which is primarily ag equipment and the technology that goes with it.

"At Verge we've used our proprietary algorithm for path planning. The core, the foundation of our business is we're a path planning company. A path plan is an optimal way for a machine to completely cover a field while avoiding all obstacles. And when you create a path plan you have headlands, you have inner tracks and you have turns. They all need to be composed and rolled up to create data that you can build analysis on.

 "With our Equipment Explorer solution, we have our proprietary algorithm that really drives that aggregate data. So, an equipment dealer can compare one piece of equipment to another piece of equipment on a customer's actual field, which is truly unique. It's the first of its kind in the marketplace."
Matthies says Verge Ag is interested in gathering feedback from dealers and tailoring the solution to meet their needs as the software evolves over time. 
Dealers' Precision Revenue Outlook Remains Positive
Precision farming revenue numbers reached new heights for some dealers in 2022 despite an overall decline in growth, and the outlook for 2023 remains mostly positive according to the 10th annual Precision Farming Dealer benchmark study. 
The results — with contributions from farm equipment dealers, input retailers and independent precision companies from 20 different states and provinces — show that over half (55%) of total respondents estimated their total precision revenue in 2022 to be between $500,000 and $2 million. That number is up nearly 10 percentage points from 2020 and 27 points from 2019. Some 40% estimated total precision revenue to be $500,000 or less, up 14 points from 2020, while nearly 7% estimated $4 million and more, down nearly 3 points from 2020.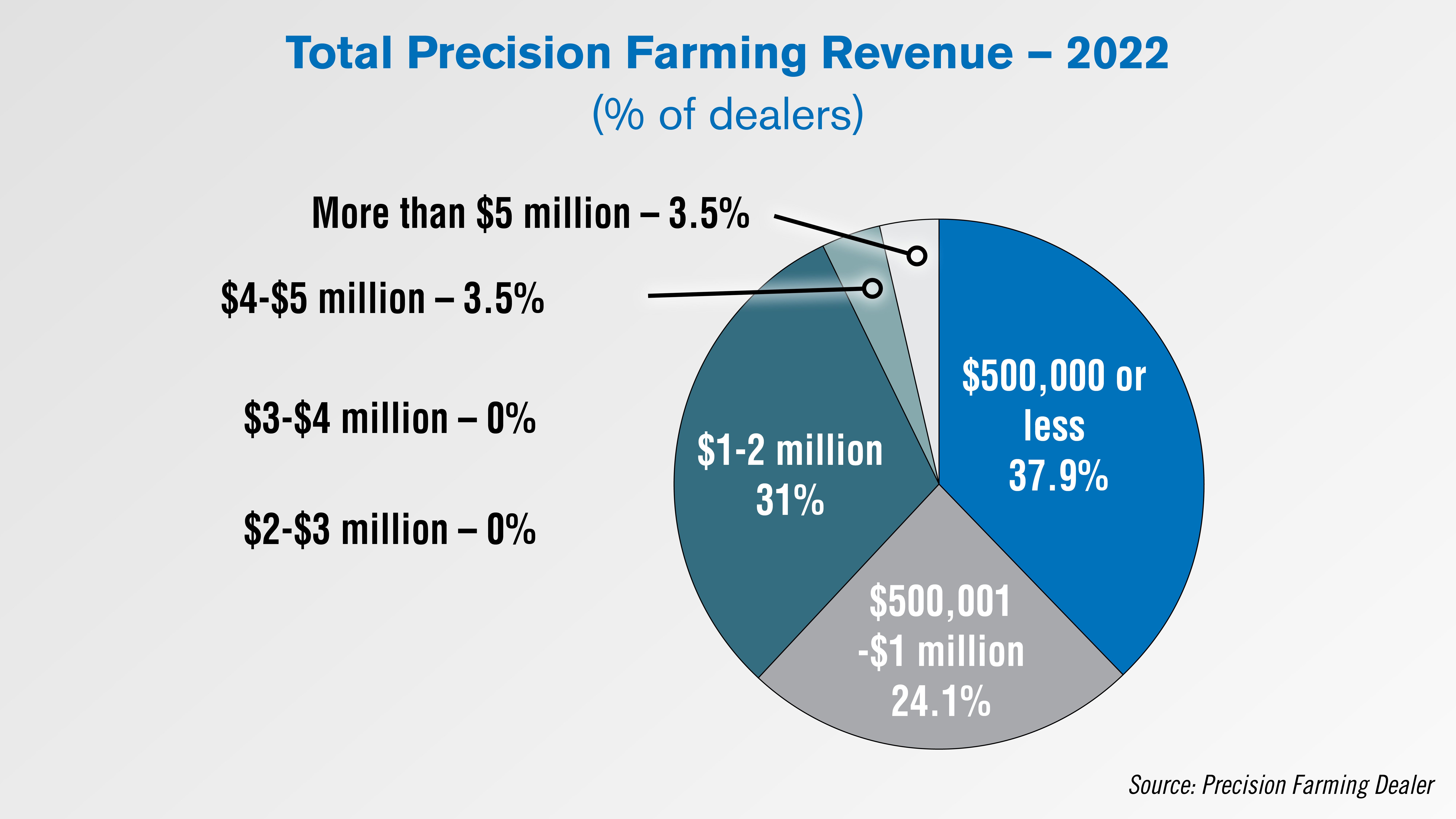 More dealers than last year reported a decline in precision revenue growth in 2022. 55% of total respondents estimated their precision sales and service revenue increased 2% or more in 2022 compared to 2021, a 17-point drop from last year. Some 26% reported little or no change, 13% projected a 2-7% decline, and 6% said revenue was down 8% or more from 2021.
In comparison, looking at the 2021 survey, just under 18.6% estimated little or no change, only 7% saw a decline of 2-7%, and 2.3% said revenue was down 8% or more.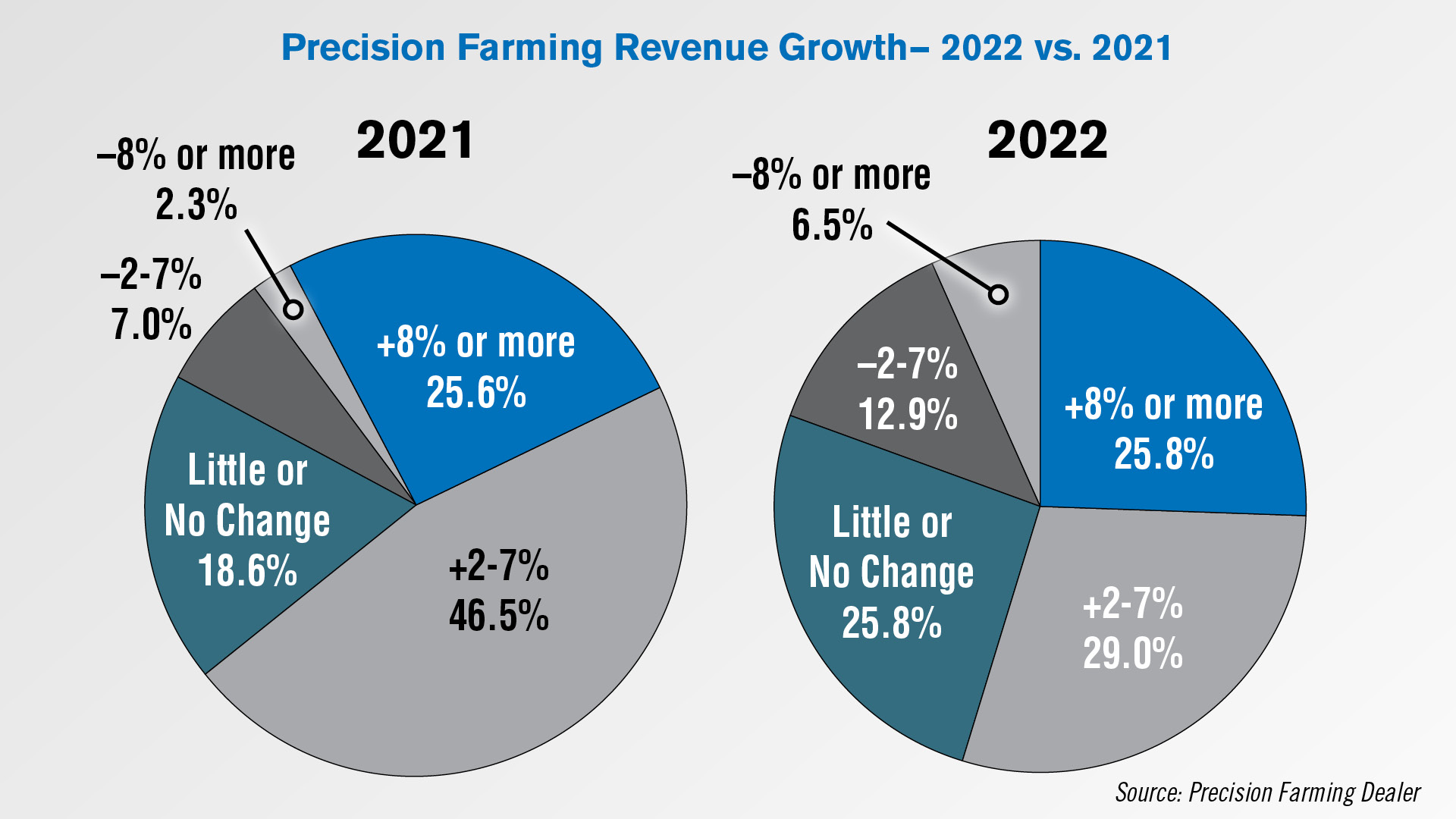 Full results of the study will be in the February issue of Farm Equipment and available on PrecisionFarmingDealer.com. 
Over 40% of Ag Retailers to Buy Deere Sprayers in 2023
 According to the results of the 2022 CropLife 100 survey, 42% of the nation's top ag retailers will purchase self-propelled sprayers from John Deere and Hagie in 2023.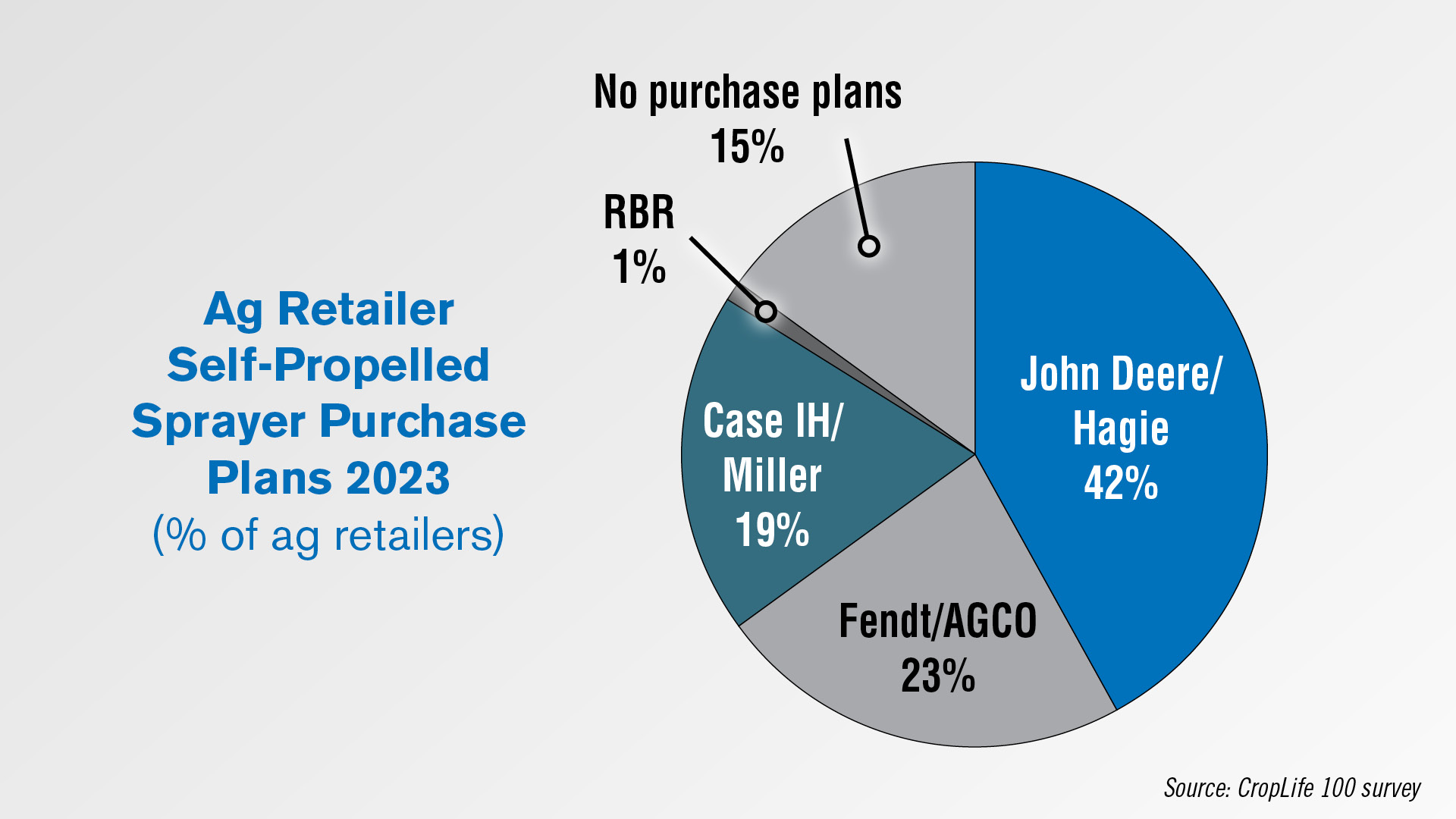 Year-over-year, this is a 7 percentage point increase from the 35% seen in the 2021 CropLife 100 survey. The second most-popular option was Fendt/AGCO sprayers at 23%, followed by Case IH/Miller at 19%. Shortline sprayer manufacturer RBR Enterprise was the least popular brand at 1%.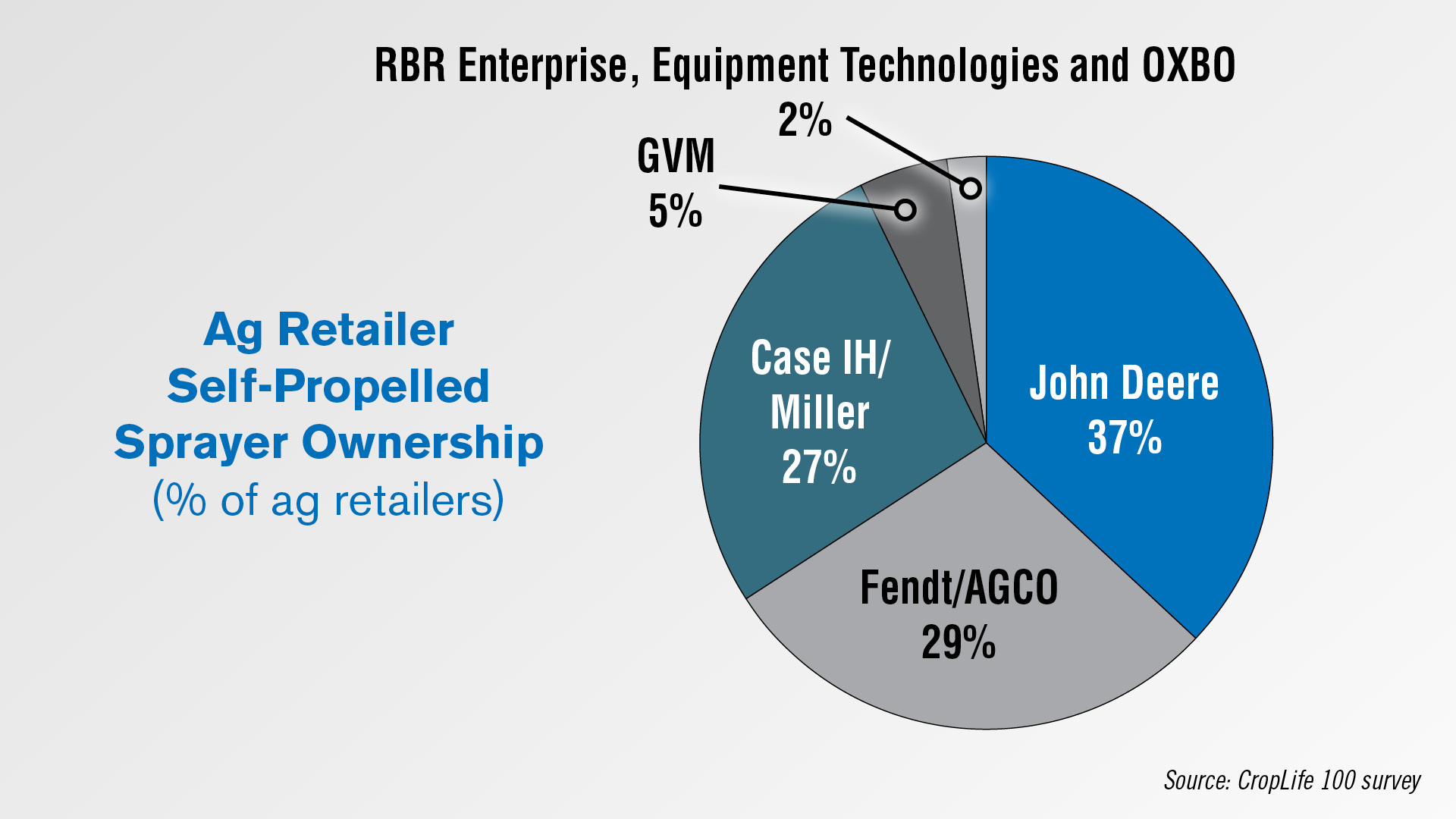 When it comes to their current self-propelled sprayer ownership, 37% owned John Deere sprayers, 29% owned Fendt/AGCO sprayers and 27% owned Case IH/Miller sprayers. Some 5% owned GVM sprayers and the remaining 2% owned all other brands, including RBR Enterprise, Equipment Technologies and OXBO.
DataPoints: Precision Ag Adoption
 This week's DataPoint is brought to you by the Dealer Success Academy.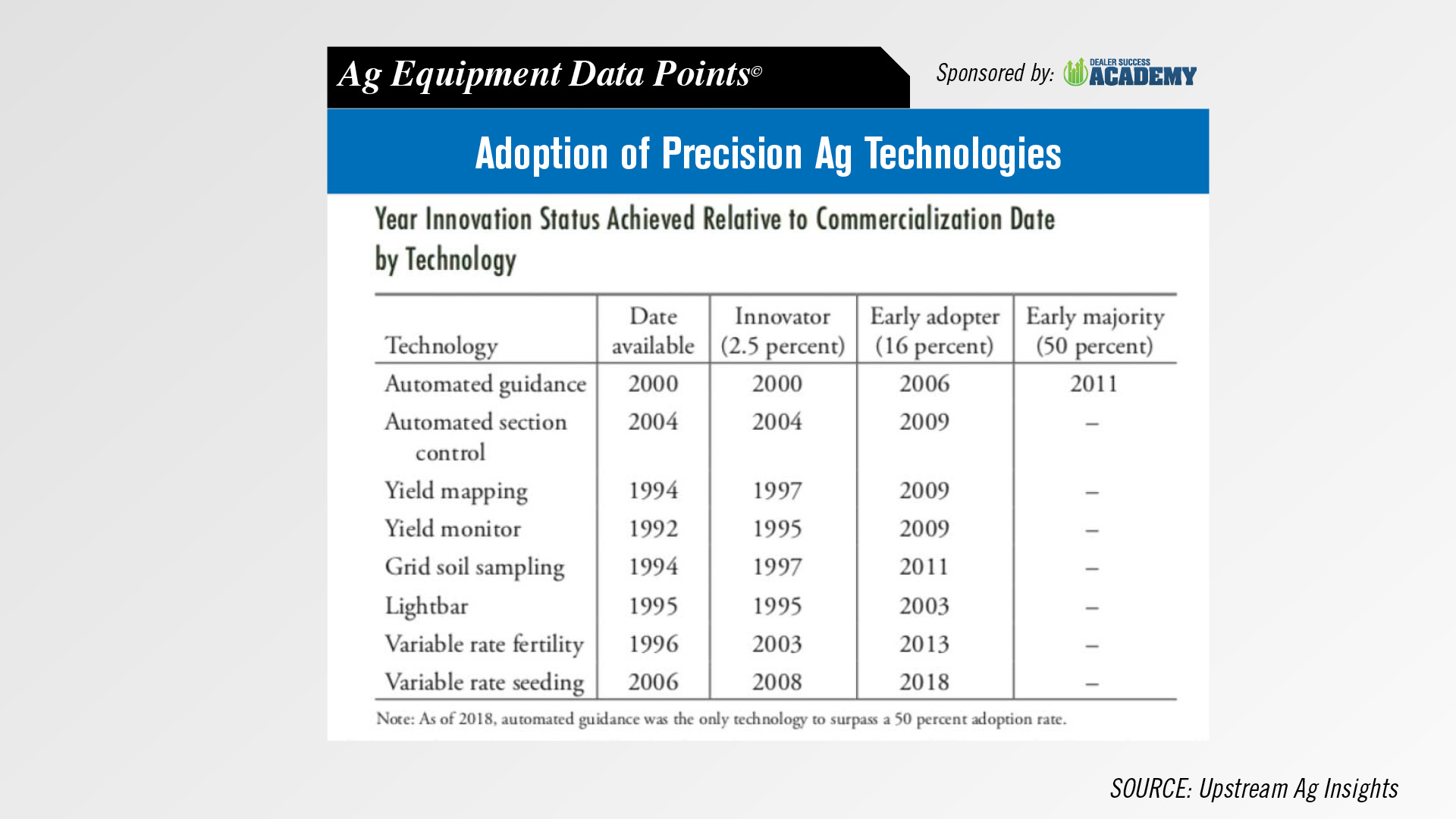 Looking at the rate of adoption of precision ag technology, analysis from Upstream Ag Insights shows technologies advance to 2.5% at an average duration of 2.6 years. The average duration to reach early adoption is 12 years, and the average duration to advance from 2.5% to 16% adoption is 9.8 years.

---
On the Record is now available as a podcast! We encourage you to subscribe in iTunes, the Google Play Store, Soundcloud, Stitcher Radio and TuneIn Radio. Or if you have another app you use for listening to podcasts, let us know and we'll make an effort to get it listed there as well.
We're interested in getting your feedback. Please feel free to send along any suggestions or story ideas. You can send comments to kschmidt@lessitermedia.com.