What started as a way to make money delivering milk to town for the local creamery during high school turned into a feed delivery business for Eldon Stutsman in 1934. Nearly 90 years later, Stutsman has grown into a diversified agricultural and transportation business that is still family-owned.
Stutsman is much more than a feed distributor, though. The 9 divisions include: agronomy, feed ingredients, transportation, logistics, field and application equipment, manure equipment, precision ag, wholesale hose and valve, and grain handling equipment. 
Each division has a different customer base, explains Mark Rohret, manure equipment salesman and assistant manager. This is true for competitors as well. For instance, the agronomy division is more concentrated in southeast Iowa, whereas the manure equipment department primarily services Iowa, Illinois and Missouri.
Customers Across Divisions 
With so many points of entry for a customer, the various divisions need to work together and be in regular communication. While not every customer does business across multiple divisions, there is overlap among the various business units, particularly in southeast Iowa where the business is based. 
Eldon C. Stutsman Inc.
Location: Hills, Iowa
Founded: 1934
Equipment Lines: Krone, Schulte, Salford, HitchDoc, Dalton Ag, Ag Spray, Mid-State Tank Co., GEA, Bazooka Farmstar, Nuhn and Artex
Precision Lines: Precision Planting, Yetter Farm Equipment, Raven, Reichhardt, Ag Leader and TeeJet
Employees: 300+
Divisions: Agronomy, Feed Ingredients, Manure Equipment, Precision Ag, Field & Application Equipment, Grain Handling & Storage Equipment, Stutsman Transportation, Stutsman Logistics and Wholesale Hose & Valve
Al Kessler, vice president of equipment and precision ag, says they regularly refer customers over to other divisions. He says often customers start doing business with one department, are pleased with the service they received and inquire about other Stutsman products/services. 
What makes the Stutsman experience seamless across divisions is the team's ability to work well together to ensure the customer is talking to the product expert, notes Kessler. 
"Although I know the very basics of our manure equipment line, I'm going to introduce the customer to the manure equipment specialist who best fits their operation," he says.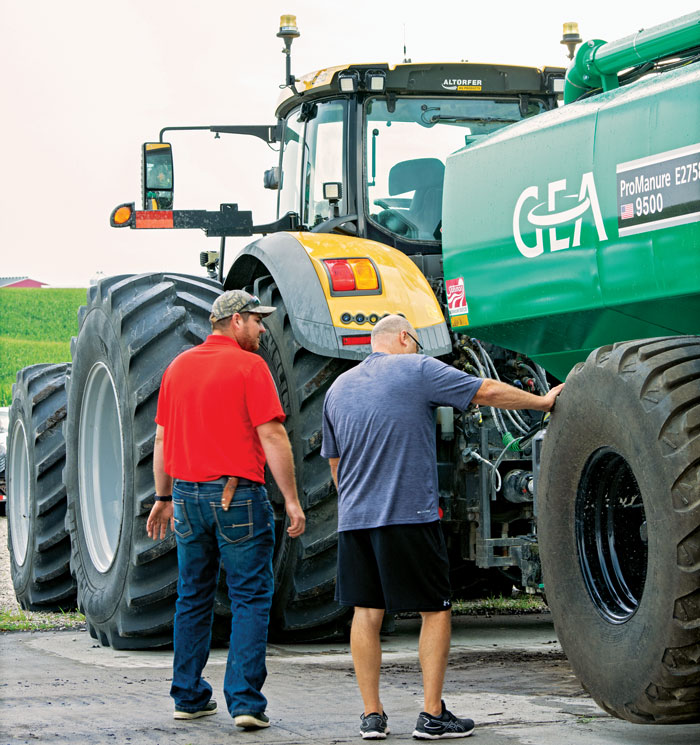 Jake DeLay, flow control and electronics technician at Stutsman in Hills, Iowa, inspects a GEA 9500 with a customer. All photos courtesy of Eldon C. Stutsman Inc.
Many of Stutsman's customers who aren't local often don't realize the extent of the dealership's offerings. For example, Rohret says a customer from Missouri who comes into the store to see a used manure tank might notice Stutsman also sells tender trailers. 
"They'll say, 'I didn't know you guys even had those.' The next thing you know, we're talking about a tender trailer and a manure tank," he says. "Once they're in Hills, they realize how diverse we are in the ag industry. But there are a lot of customers who have never been here. Getting them to Hills is a big deal for us to show them what we have to offer."
Taking Care of Customers 
For Stutsman's, making the sale is just the start. The Stutsman difference has always been exceptional service. There is a major emphasis on taking care of the customer long after the sale is made. That means "making sure the product is right for the customer from the start and ensuring the product is performing as expected," Kessler says.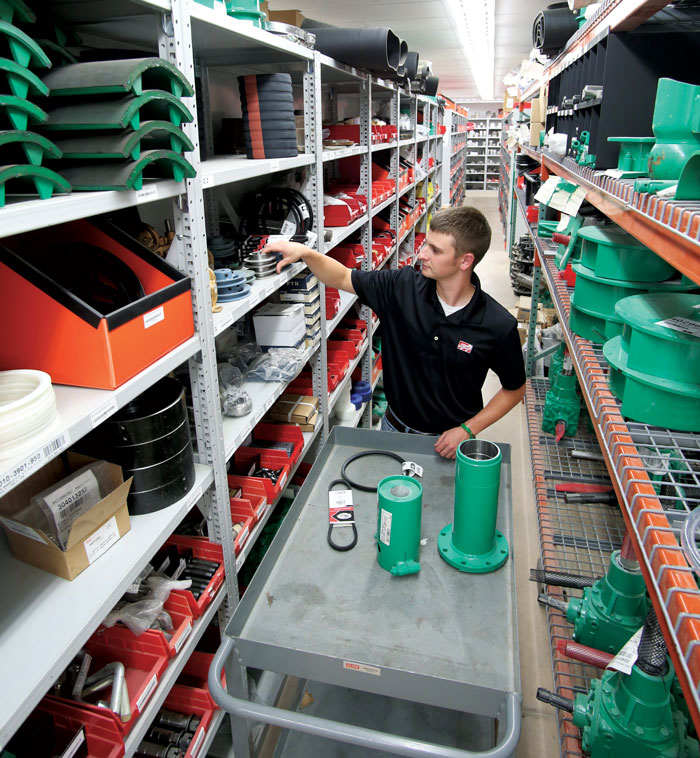 Having the right part on hand is key to how Stutsman serves its customers. Supply chain issues have put pressure on parts inventories, but Al Kessler, vice president of equipment and precision ag, says they've put an emphasis on buying parts earlier than normal to support customer needs.
Over the past few years, Stutsman's has put a stronger focus on having more product —both wholegoods and parts — on hand for customers, which has been tough to do lately. 
"We are ordering so much farther in advance than we ever used to because of the lead time situation. In some ways, this is a domino effect because you keep ordering more and earlier which intensifies the supply chain situation, but you can't sell out of an empty basket," Kessler says.
---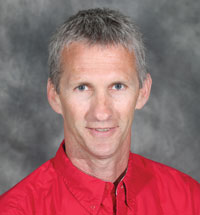 "In some ways this is a domino effect because you keep ordering more and earlier, and it just creates more of a problem, but you've got to do that. You can't sell out of an empty basket…" – Al Kessler, Vice President, Equipment & Precision Ag
---
They've felt the pinch of the production delays from manufacturers. While some of the companies Stutsman works with seem to be getting back to capacity, there are still cases of equipment that have been early ordered last year that still have not arrived, well past the season it's needed in. 
Evaluating Shortlines
When it comes to evaluating the shortline and precision companies Stutsman sells, product quality and relationships are the top priority. 
"We look at the product quality ourselves. A lot of us are either farmers, were farmers or are users of the equipment we sell. It's got to pass our expectations as users before we will bring it on," says Rohret.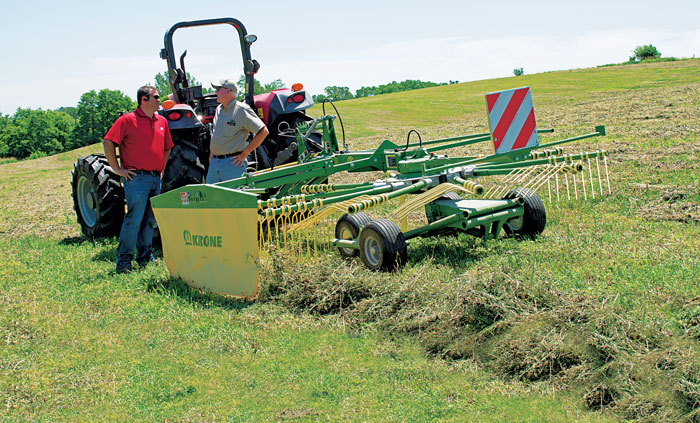 When evaluating shortline manufacturers, Stutsman is looking for high-quality products and dealership loyalty. The dealership added Krone a few years ago because they offer a product line that has a reputation for quality in the forage industry.
Stutsman's priority is to provide the best service to customers and because of that, they choose to work with manufacturers who provide high-quality products that fit their market. 
"To meet customers' needs and to provide the best experience, we've got to sell quality equipment. We took on Krone hay equipment a while back; it may have not been the cheapest on the market, but they have a reputation for quality in the forage industry," Kessler says.
He adds that they also look at the manufacturer's current territory structure to understand their dealer concentration. 
"If it looks like they sign up every person that asks to become a dealer, it's likely not a good fit," he says. 
And at the end of the day, it needs to be a product that is relevant to Stutsman customers.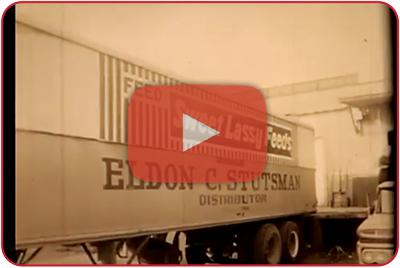 It All Started with a Man and a Truck
Watch a video about how Eldon C. Stutsman Inc. grew from just feed delivery to a diversified agricultural and transportation company at www.Farm-Equipment.com/Stutsman
Kessler adds they want a company that is equally as interested in working with Stutsman. 
"I've seen companies that we deal with that are great, but they get bought out by a bigger company, and it's like pulling teeth to have the same relationship with them," he says. 
"We value strong partnerships with the manufacturers that we choose to work with."
Challenges Ahead
Looking toward the end of 2022 and into 2023, Rohret says much like everyone else, their biggest challenge will be supply chain issues for both parts and wholegoods. 
"I have a feeling it's going to be a long fall. I think we're just getting into the worst of it on the ag side with what we've seen so far," he says. 
"I think there will be a lot of scrambling this fall. I have other dealers already calling me and asking me about our parts reserve."
---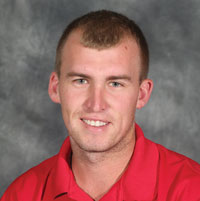 "Getting customers to Hills is a big deal for us just to show them there is a lot more than just manure equipment here…" – Mark Rohret, Manure Equipment Sales/Assistant Manager
---
Rohret adds they work with a good group of surrounding dealers who all help each other out where they can. 
"But at a certain point, you've got to make sure you have it for your own customers, too," he says. "We all try our best to make sure we have enough to provide the best service possible."
In addition to a challenging fall inventory-wise, Rohret is expecting these issues to trickle into
spring 2023. 
He also notes rising interest rates and equipment pricing as challenges. "There's going to be a day of reckoning at some point; we all know that."
Customers have come to expect the price increases, he says, and for the most part, it hasn't deterred many purchases. 
Unlike some industries where people can choose to hold off buying equipment or purchasing products, manure has to be hauled regardless of equipment prices.