Farm Equipment editors encounter a variety of articles, social media posts, podcasts and videos that offer a unique look at various aspects of our great farm machinery industry. Here is our favorite content from the past week from across the web. "Best of the Web This Week" is brought to you by CLEANFIX. 
---
---
We're drawn to any story with a connection to our industry, and this week we caught up on our Amazon viewing. Percy vs. Goliath is a 2020 film of the famed fight of Percy Schmeiser (played by Christopher Walken) against Monsanto, which sued him in the late 1990s over Roundup Ready canola and his "seed saving" practice. If Percy's last name is familiar to a younger generation, it's likely because of John Schmeiser, CEO of the Western Equipment Dealers Assn. (WEDA), who is making some headlines of his own these days. John is Percy's son, and was portrayed by a sullen Luke Kirby as a composite character in the movie.
John is a central figure in another drama – this "variety" involving dealer associations. Last month came the announcement that Schmeiser's large WEDA group will merge with 3 other equipment dealer associations after member approvals this spring. Meanwhile, another 5 regional associations are uniting in opposing the merger (click here for the latest developments and comments).
We'll give this film 3.5 COMBINES out of 5, with a slight penalty because the filmmakers omitted Percy's equipment dealership from the story. Percy, who died in 2020 right before the film was released,  ran 2 dealerships – Schmeiser's Garage and Central Farm Sales – that were later sold to Farm World, served on the White Farm Equipment Dealer Council and was a director of the Saskatchewan-Manitoba Implement Dealers Assn. (SMIDA). He received SMIDA's highest honor in 1984. Interestingly, Percy vs. Goliath is very much a "farmer fights back" story, one likely being whispered into the ears of right-to-repair plaintiffs' by their attorneys ...
See Guest Blog by Percy Schmeiser's son, John, here.
---
John Deere dealer 21st Century Equipment shared this video from 6th Gen Farmer, Carson Kahler, on Jan. 19, 2022 on its Facebook page. Kahler breaks down some misconceptions about the so-called right to repair movement, including that farmers don't have access to the diagnostic tools and software to allow them to fix their equipment.
---
Gary Thompson, COO of GUSS Automation, shared this video on LinkedIn of the mini GUSS in action during a demo at a Washington apple orchard. According to the company, a single employee can operate up to 8 GUSS sprayers at a time from the comfort and safety of a pickup truck using a laptop computer. The autonomous sprayer will be available in spring 2022. 
---
This Youtube video from Dawn Equiment's Joe Bassett & Stock Cropper's Zack Smith dives into implement design and the iterative steps to refining a "new to the world" product. Plus we like Zack's nod to the "good land" to open the 13-min. video.

---
This video will interest those who like to predict the pace at which the driverless ag machinery could find acceptance. If things are moving at this speed in semis on the open highways, the calm of the farm fields must not be far behind.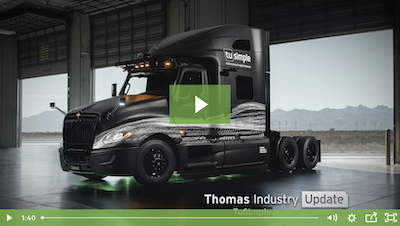 ---
Check out the new series for other interesting information found from around the web. Is there something you want to share in "This Week"? Send us an email.
---
Best of the Web This Week is brought to you by CLEANFIX.
Proven in the most demanding of ag conditions, CLEANFIX reversible fans provide the most efficient diesel engine cooling and radiator cleaning available. The multi-patented reversing fan technology maintains machine cooling as needed and, when required, provides the strongest blowout of dust and debris -- without halting or slowing operations.

Click here to view past "Best of the Web This Week" updates.