When Mike Burnett, learning and development manager at Empire Southwest, was first hired at the company 9 years ago, he encountered the attitude that many dealerships have toward leadership development. 
"When I first got hired on, the philosophy was if they're a great technician or mechanic, they must be a great leader," Burnett says. "Too often we just threw them the keys to the shop. We set them up to fail." 
Empire Southwest, an AGCO and Caterpillar dealership in Arizona and southeastern California with 27 locations (8 of them ag stores), has since undergone a culture shift in how it approaches its next generation of leaders. Burnett, with his 20 years of experience in training and developing managers, implemented a leadership program that's helped the company identify, train and retain its best employees. 
"Our leadership program has been a powerful tool," Burnett says. "We're not perfect, but we're seeing some awesome results. We're seeing more engaged leaders. We're seeing leaders become more like a coach to their teams and know that we need to support those up-and-coming generations."
Understanding the Millennial Mindset
Priming the youngest generations to take on leadership roles within a dealership starts with understanding what keeps those employees motivated and engaged with their employer. 
There are currently 5 generations in the workplace: Traditionalists, born before 1946; baby boomers, born from 1946 to roughly 1964; Gen X, born from 1965 to about 1980; millennials, born between 1981 to roughly 1996; and Gen Z, born after 1996. 
Dealer Takeaways
Understand what motivates and engages employees.
Ask leaders and employees what they need to be successful.
Coach new leaders and provide continued leadership development opportunities.
By 2026, more than half of the working population will be millennials, according to Burnett. That shift has already arrived at Empire Southwest as 65% of its workforce is millennial or Gen Z. 
Burnett says it's important for employers to understand what motivates these two age groups, rather than assume many of the stereotypes about them are true. Millennials in particular are often categorized as lazy, entitled and narcissistic. 
But remove the label, and the picture of who's a millennial at any given dealership will look much different. Employees who are ages 25-40 are millennials, many of whom are the leaders and leaders in training at many dealerships.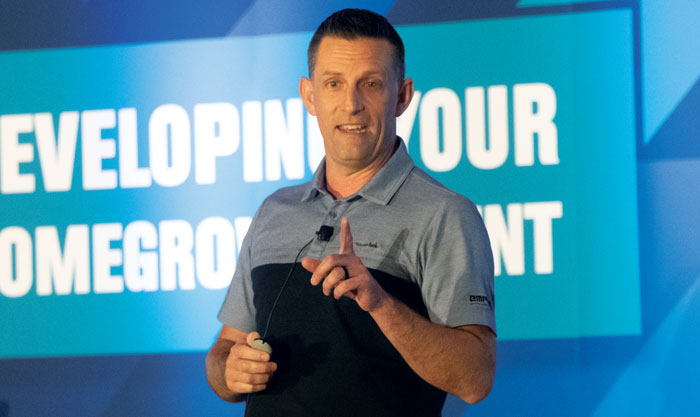 Understanding what motivates the next generation of leaders at a dealership helps the current management structure a development program that will retain those star employees and set them up for success, says Mike Burnett, learning and development manager at Empire Southwest.
While millennials can be just as capable of leaders as their older coworkers, their motivations and mindset are often much different. Burnett points to the research of Simon Sinek, a world-renowned author and expert on leadership. Sinek says many millennials are the products of their Gen X or boomer parents' failed parenting strategy — kids who were told they were special and received what they wanted just because they wanted it. That illusion is shattered when they enter into the workforce and encounter their first major conflict or criticism. 
"For some employees, when times get tough, they bail because at times they've lacked a coping mechanism and to be taught the right way," Burnett says. "But it's interesting, we've also had a lot of employees leave our company and come back. They thought the grass was greener on the other side and realized, 'You know what? I actually have it good. I didn't realize that.'" 
---
"Our leadership program has been a powerful tool … We're seeing leaders become more like a coach to their teams…" – Mike Burnett, Empire Southwest
---
The two youngest age groups in the workforce likely received more positive reinforcement than their older counterparts, Burnett says, and that means they may like to receive feedback differently. 
"We still hear it at our dealership today, 'Shut your mouth and do your job. Figure it out,'" Burnett says. "That doesn't work with millennials or Gen Z. We have to find ways to catch them doing things right but also (provide) constructive criticism where we can."
Generally, millennials and Gen Z see their bosses as peers, and they often want to be part of the big conversations about the company's future and how they can work their way up the ranks. It's a mindset that current leaders should embrace and harness to keep that employee engaged and driven to continue their career with the company. 
Preparing Next Generation Leaders for Success
In order to support their successors, current leaders need to do more than just promote a star employee. Good leaders require coaching, not just instructions to figure it out on their own.
Burnett recalls some of the issues that Empire was experiencing when he first joined the team. 
"We had awful retention issues," Burnett says. "The morale was down. Our loyalty scores were down. People were at a loss of not knowing exactly where to go."
The dealership had to shift its culture from "we fix tractors, not people" to actively developing its leaders. Burnett began with a needs analysis, interviewing 50 people at all levels of the company about what was working, what was missing and gaps in training and education. 
3 Steps to Starting Your Own Leadership Development Program
Mike Burnett Shares How He Did It for Empire Southwest
1. Identify the Issues
Burnett did a needs analysis when he first started working at Empire Southwest, interviewing 50 people ranging from executives to technicians. He asked them a number of questions, including:
Where are you at in your career?
What are you envisioning as your future?
What's working at the company?
What do you wish you learned?
2. Find Your Next Generation Leaders
Think about who could make a good leader with the right coaching. Talk with your employees about the opportunities they have to advance within your dealership. Don't restrict yourself to people who are "obvious" fits for leadership roles, and be sure to address any conscious or unconscious biases about what makes a good leader.
3. Prepare Next Generation Leaders for Success
Create a pathway to leadership for employees. Burnett created a 3-tiered leadership program with classes specific to where each person is in their management career. Here are some examples of the classes Empire Southwest offers at each level:
Level 1 – Leadership Prep
For Aspiring and Potential Leaders
Example Courses:
The Client Experience: Education about Empire's 8 standards for customer relationships
Extended DiSC: Examines employees' individual communication styles and identifies their motivators
Leadership Prep: 2-day class about the realities of management roles
Level 2 – New Leaders
For Managers with 2 or Fewer Years' Experience
Example Course:
Leadership Development Series: 4-part course held over the course of 10 months that includes employee feedback about their leader's performance, successful communication and feedback, coaching, handling conflict and more
Level 3 – Experienced Leaders
For Managers with 3 or More Years' Experience
Training at this level focuses on the leader's individual coaching and development needs with tailored courses and workshops available
"I heard all kinds of stories from all kinds of different people," Burnett says. "I found it was powerful to take the time to visit with the executive and leadership team on down to different layers of leadership as well as employees to find out where are you at." 
He organized a Leadership Development Council with representation from each department within the company. The council met monthly to discuss what each leader and department needed to grow. Their conversations led to Burnett's 3-tiered Be the Best Leadership Development Program. 
The program is made up of classes on topics like service and technical training, sales and leadership skills, people skills and employee development. Level 1 focuses on preparing future leaders, level 2 trains people in their first 2 years as leaders at Empire, and level 3 provides continuing development for employees who have been leaders for more than 2 years. 
All of the classes tie back to 1 of 16 core competencies, which Empire identified with Caterpiller's help. 
"We said these are the observable traits and characteristics that leaders at our company must have, regardless of the generation," Burnett says. "Every course or workshop or program that we put together, we would always make sure (to ask) which of these competencies does it align back to?"
Checking Conscious & Unconscious Bias
"The biases that we have about ourselves and about others significantly impact the decisions we make and the results we get. For us as leaders, if you're trying to hire employees or promote somebody into leadership, whether we mean to or not, we have certain biases." — Mike Burnett, learning and development manager, Empire Southwest
A belief about a group of people that you're aware that you hold.
Example: All sales reps should be extroverts. 
Attitudes that you unconsciously attribute to a group of people.
Example: A study found job candidates with non-Western names have to submit 30% more resumes than someone with a Western name with the same qualifications to get the same response from recruiters. 
Why It Matters
Recognizing your own will help you make better decisions.
Employees who perceive themselves as the target of bias are 3 times as likely to be disengaged, withhold ideas and leave their job within 1 year.
Challenge Yourself
"My challenge to each of us is to recognize our bias but also to make sure that we can help support, develop and build those individuals where it needs to happen."
He recommends that dealers start with fewer than 16 competencies to help simplify their programs and then add on in the future.  
Recognizing and Rewarding Success
Empire added a new piece to its leadership program in January 2021. The Excellence Pays Assessment ties into goals set by employees during their annual performance reviews. 
The employee and their leader track progress toward the goals throughout the year through a series of 1-on-1 meetings. Notes from those conversations are then readily available for the performance review.
"We have found that this has been a game changer to help support our leaders, as well as to help support our employees, to make sure that they stay engaged in their work year after year," Burnett says. 
In addition, employees and their leaders have career development conversations about 6 months prior to the annual performance review. The intent is to talk to the employees about what skills or jobs they want to obtain in the future, and also show them what opportunities are available within the company. 
"What we're finding is a lot of our employees got hired in a certain role, but they may not know that there are other departments, other groups, other jobs that are available," Burnett says. "Too often, we were losing employees because they thought, 'This is all I can do.'" 
When review time arrives, all of those conversations come together. Burnett encourages his leaders to provide positive feedback to recognize and reinforce what the employee is doing well, in addition to constructive criticism about areas of improvement. 
"When we talk about identifying our next generation leaders, it's not a checklist of they need to have all these different things," Burnett says. "It's more of do we truly understand where they're coming from and how we can truly support them."    
Facing Reality: Dealers Must Develop Their Own Home-Grown Talent
Why Executives Should Train the Next Generation of Leader
Developing Leaders Takes Time but Yields Big Results
How to Identify, Develop & Retain Your Dealership's Next Generation of Leaders
Leadership Development Must Be Proactive
College Recruitment Programs Help Alleviate Hiring Crunch