As the corporate parts manager, Doug Pascoe's job — simply put — is to ensure the parts departments at Young's Equipment's 9 locations remain profitable. Pascoe joined the Case IH dealership group in 2000 as a parts counter person, having come from a parts management job in the automotive field. After 3 years working the counter, Pascoe was promoted to the parts manager at the Moose Jaw, Sask., location, a role he filled for about 10 years. Since 2012 he has been based out the corporate headquarters in Regina, Sask. 
The dealership added the corporate parts manager role in 2012 after expanding to 7 locations. Since, then Pascoe says they've created another new position, an inventory analyst, who runs parts orders for the entire organization and does inventory maintenance. In addition to Pascoe and Kevin Penner, the inventory analyst, the Young's Equipment parts department includes 9 parts managers and 45 parts counter people. The dealership currently employs 8 Red Seal journeymen in the parts technician trade and has 3 enrolled in the apprenticeship program. 
Watching the Numbers
Over time, as business conditions change, the metrics Young's narrows in on for the parts department has evolved. "Seven or 8 years ago, there were different metrics just because the economy was so good, business was good. We weren't watching gross margins like we are now," Pascoe says. "We were rolling along, but then when the economy dipped on us here in 2017-18, our focus changed to expense control. My guys did an excellent job with their expense control as far as salaries, overtime and unnecessary expenses. That was the metric that we really tuned into in those years, which was a net profit type metric." 
Young's Equipment Parts Department at a Glance
1 Corporate Parts Manager 
45 parts counter people (including 8 Red Seal journeymen enrolled in the Parts Technician Trade and 3 enrolled in the apprenticeship program)
For locations with parts volume to the service department over $1.4 million, one parts person is dedicated to the shop. If/when the volume gets over $2.8 million, a second person is added. 
Absorption Rate Goal: 85%
Pascoe says they always track gross margin dollars and watch turns. His goal is for 32% gross margin and an 85% absorption rate. Freight recovery is another big metric for him. "Freight charges have just grown exponentially in the last few years with fuel prices through the mid-2000s and then with COVID," he says. 
Not only are the freight companies increasing their charges, Pascoe says they are starting to see their vendors add on surcharges because they are experiencing the increase in freight charges on their end too. 
---
"My approach with absorption is, if you can control your expenses, make sure your gross margin is where it should be, then absorption will just follow along. Absorption is just a natural thing if you control those…"
---
At the store level, Pascoe says they are watching inventory levels, but also adds that it isn't the end-all metric for them. "Young's Equipment's philosophy is that we don't focus a lot on inventory level. Of course, we still have to watch the inventory levels. Inventory turns is a metric that a lot of parts departments look at. It's one we watch, but we don't hang our hat on it because it can be tough on your customer service."
Obsolescence, cost control and overtime are the big numbers Pascoe wants his parts managers watching. "Basically, managing their people and managing their inventory is what we really depend on," he says.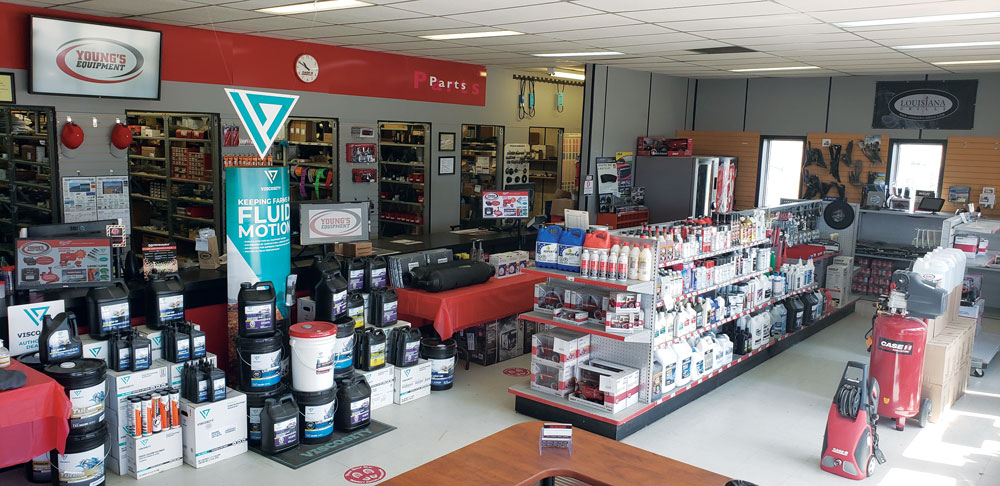 On the store level, while Young's Equipment tracks its parts inventory turns, it isn't the primary metric because it can be tough on customer service, says Doug Pascoe, corporate parts manager.
Absorption rate is important to Pascoe, but it isn't the number he has his team focus on. "You can throw absorption at your managers, but if they don't understand it, then it just falls on deaf ears," he says. "My approach with absorption is, if you can control your expenses, make sure your gross margin is where it should be, then absorption will just follow along. Absorption is just a natural thing if you control those." 
Pascoe adds that he has some very experienced parts managers who know and understand what absorption is, so he does reference it with them so they are aware of what's happening to it. But he drives the expense control and gross margin side of the equation more. 
Inventory Management 
Young's Equipment — like most dealerships — started to seeing supply chain issues in the earlier part of 2021 for parts. "I expected to see some of that last year with COVID, but there was enough supply in the chain that it didn't affect us much last year. We're really noticing it this year," says Pascoe. 
Young's Equipment Plans Parts Department Succession
A few years back, the Young's Equipment corporate management team developed a succession plan for every location. "You can see who your rising stars are, and with those I task my managers with delegating some of their work to them," says Doug Pascoe, corporate parts manager. "It's our job as managers to prepare our staff for the next step. And it's not picking and choosing. It's everybody. You can see who's going to be prepared for that next step, and you can see who will need some more time."
Promoting from within is ideal, Pascoe says, because those individuals already know Young's culture and how the business is run. "It's just so important for us to make sure that we make our people better and try to get them to that next level," he says. 
Young's Equipment has worked to make sure they are building their future workforce. "We're nothing without good parts people. They're a big cog in the wheel," Pascoe says. 
The dealership group works closely with the Saskatchewan Apprenticeship and Trade Certification Commission. When Pascoe first came to Young's Equipment, the dealership had just one parts journeyman working for them. Today, there are 8 in the parts department spread out among the 9 locations. The dealership also works with Sun West Distant Learning, a virtual learning center that has a specific parts technician course for high school students. It includes 50 hours of online theory, 40 hours of work placement at a local ag equipment dealership and 10 hours of optional PT Boot Camp at Saskatchewan Polytechnic.  
"We've jumped in with both feet there; it's a really good grassroots program. The kids take some parts training in school, and then they spend two weeks in a parts department somewhere with hands-on experience. And we welcome that program. It doesn't cost us anything and the students can come in, and get their feet wet, find out if they like the trade. And it gives us an opportunity to see what's coming out of high school, and maybe pick and choose some of those kids to come work for us," Pascoe says. 
In a normal year, when supply isn't as much of a concern, Pascoe says they take advantage of booking promos and time different parts promos throughout the year so they aren't loading up their shelves all at once. That had to change this year, though. "We're looking at the possibility of that shortage come harvest time. So currently, we're loaded up for the entire year," he says. 
"Seeding is one thing. Harvest is a whole different thing. We just can't be without product come harvest, so we made a conscious effort to get our orders in early and load up. Logistically, it's added a whole bunch of challenges, maybe in some locations, for storage space and everything else. But it's just necessary for us to do that."

Young's Equipment has 2 dedicated parts vans that depart from the Regina, Sask., location weekday mornings at 7 a.m., with one heading south and one heading north and ultimately making a complete loop of all 9 stores. The vans primarily move inventory among the stores but they also will make parts drops for customers who are located between stores.
As Young's Equipment grew into a larger organization it began to evaluate its business system. "Back when we were 1-4 stores, the business system we had at that point worked well. But once we got into more stores, like 7, 8 and 9 stores it just wasn't going to cut it, because it didn't give us enough power," Pascoe explains. 
In 2014, Young's switched over to CDK for its business system, and Pascoe says it opened the door for better reporting and better inventory controls. Now they are able to identify different parts in different fields. For example, not only can they identify different season parts (haying, seeding, harvest, etc.), but they can drill down further and break say harvest parts into bearings, belts, etc., and all those different parts are then identified with different codes in the system. Pascoe says then they can tailor stock orders to any of those codes. 
Each shortline is identified in the system as an individual vendor and all the parts are coded the same, so making orders — whether it's for Bourgault, Vaderstad, MacDon or any of the other shortlines Young's carries  — is a simple task.
Moving Parts Through the AOR
Young's Equipment has two trucks that are dedicated to moving parts among the stores and to customers. Both trucks are on the road 5 days a week and leave the Regina, Sask., store at 7 a.m., with one taking a south route and the other heading north. During seeding and harvest, the parts trucks are on the road 7 days a week. 
"We're utilizing our total inventory as a complex to its fullest because of those trucks," says Doug Pascoe, corporate parts manager for the 9-store Case IH dealership. 
The majority of parts are being moved between stores, but Young's also has some drop points for customers who are located between stores. "It can be an hour or  an hour and a half between some of our locations. So, we've strategically picked a small town halfway between the two stores that is on the road, and our customers know that we'll stop there and drop the parts. It's important for us to touch base with those businesses in those small towns just to make sure it was OK, and then our customers know that we'll drop there for them," Pascoe explains. 
"If there was a program from a vendor where they had a special on bearings, for instance, we could just specifically run stock orders on that. The business system is a big tool for us, and what you put into it is what you get out of it. And Kevin has done a really good job working with that and getting that streamlined. So now, all the parts managers have to do is to say, 'Run me a return.' And he can run the return, and the system basically generates that return, and it's pretty seamless for the parts managers to pick it, ship it and get it out.
"And then opposite to that, it's the same with stock orders. They can say, 'Run me a harvest order to the end of October,' and he can go in there, and set his parameters, and run those to the end of October. We rely on the business system 99.5% of the time to make sure we've got right stuff on the shelf."