Dealers who are looking for more options for moving their used equipment inventory may want to consider overseas buyers. However, not everyone is sure where to begin with such an endeavor, or what it takes to begin the process. Selling used equipment can be a profitable business for your dealership, but it doesn't come without its risks.
"You've got to have sense, but you also need a sense of adventure," says Don Aberle, used equipment manager for Titan Machinery who has found big success in overseas sales. Aberle, along with Stacy Anthony of MirTech Harvest Center and Olga Hall of RDO Equipment, recently shared advice for dealers who are looking to explore overseas sales. 
"The biggest thing you need to have if you're going to do international business is patience," Aberle says.
While patience is important, it won't ensure success. Here are 9 things that Aberle, Anthony and Hall agree are essential when dealers make the move into exports.
Exporting Used Equipment: Advantages & Disadvantages
Advantages:
No trades
Cash sale
Moving out older equipment that is not in demand in the U.S. or Canadian market
Helps turn your inventory
Disadvantages:
Time and hassle
Exposure risks

Fraud attempts
Currency fluctuations
Geopolitical 

Price shoppers
Competing with auctions and jockeys
No future revenue stream
of parts and service work
Little to no recourse for disputes (You're not going to go Africa, South America or Russia to repo equipment)
1. Foster & Develop Relationships
Dealers who sell domestically know the importance of making a connection with potential customers. According to Anthony, the same should be true when conducting international sales.
"That relationship is just as important as the ones you work so hard to develop here at home," Anthony says. "There's no replacement for boots on the ground. You have to commit to developing the relationships. It will require more time, more energy and more investment to develop an export relationship."
Although it's not easy, he says, it's a necessary component of the export business.
2. Set Aside Resources Specific to Exporting
According to Hall, successful dealers don't add the responsibilities of international sales to the workload of their current sales staff. Instead, they designate a specific person — or multiple people — to manage the processes involved.
"If you have a dedicated staff or person on your team who can stay focused on all overseas transactions, it will make a big difference and will help you save a lot of money down the road," she says. "Just like with the domestic market, you have to have somebody who will respond to leads right away."
Part of that person's job description, Hall says, should be reaching out to potential buyers.
"You cannot sit and wait until a customer finds you," Hall says. "You have to actively search for buyers. I would definitely dedicate time, effort, resources and energy to creating an international portion of your current website."
The internet has made it possible for a greater number of dealers to expand their business into overseas sales, according to Anthony, but he agrees with Hall that it's not enough to simply wait for those clients to reach out.
"In some situations it's very possible to set up a successful internet-based business, but you still have to dedicate resources to translation, legal preparation, documentation and finance," he says.
3. Be Fully Transparent
"The majority of international customers cannot travel to a dealership to physically look at the machine," Hall says. Because of this, she stresses the importance of posting excellent pictures online for potential customers to view.
"The same goes with equipment inspection," Hall says. "No one wants any surprises when the equipment arrives to the final destination. Let the customer know the exact condition of the machine, and then the customer can make a decision about repairs."
4. Start with a Low-Level Risk
There are more hoops to jump through when selling used equipment to customers in foreign countries, Anthony says, and with those added steps come additional opportunities for pitfalls.
"A lot of things can go wrong from your dealership to final destination, and the consequences can be very expensive," he says.
That's why, according to Anthony, it's crucial that dealers decide how much financial risk they are comfortable taking at the outset.
"Are you going to be just cash up front or are you going to entertain some type of export financial agreements as a letter of credit?" Anthony says. "Most of the decisions you make will be based upon the level of risk you are willing to take. We started out by taking the lowest level of risk, and I suggest you do the same until you develop your relationships."
Hall recommends dealers utilize wire transfers for payment, as she thinks it's the safest option available. She also cautions dealers to be mindful of who they share their company account information with, and instead suggests creating a separate account that can receive deposits but is not approved for dispersing funds. This may create delays with processing payments, but Hall says it's worth it for the financial security.
Because of the high potential for fraud, Hall also advises against accepting credit card payments.
"Our company stopped taking any credit cards from overseas customers," she says. "Credit card payments are something I would not recommend."
5. Understand Your Shipping Destination's Requirements
Equipment that's shipped overseas has to clear customs in the destination country before it can be forwarded to its final destination. That's why, according to Aberle, it's crucial to understand each country's requirements ahead of time.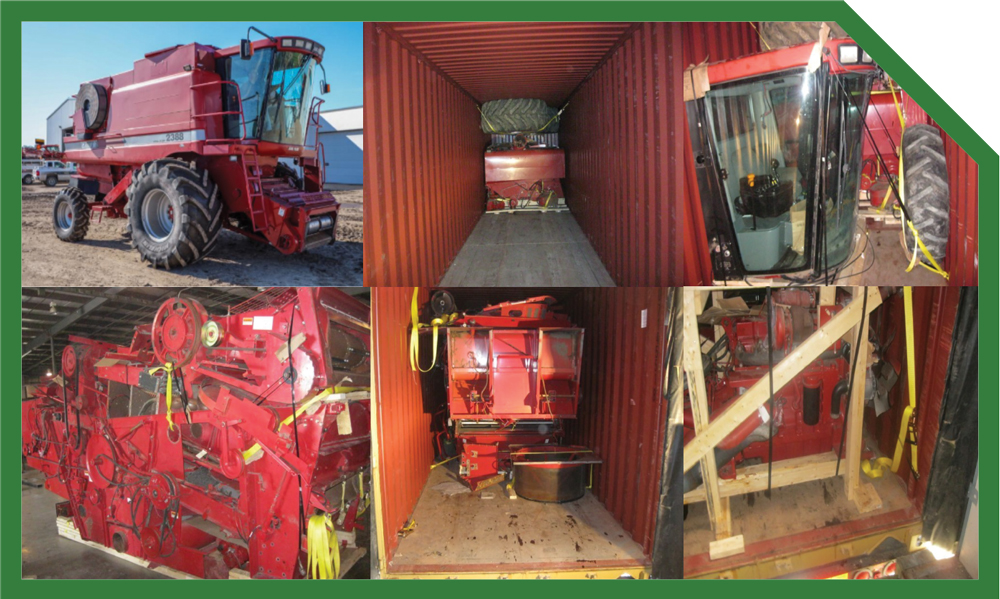 Don Aberle, Titan Machinery used equipment manager, says shipping via container is a good method of transporting equipment overseas, especially static equipment and to ports that don't have roll-on/roll-off service. Transporting via container mandates that the client dismantle the equipment into separate parts that will fit in a container. This requires someone to put the equipment back together when it arrives at the destination port. Shown here is a Cases IH 2388 in one 40-foot high cube container.
"At their port, customs has complete control," Aberle says. "They determine whether it can be clear. If they tell you that you have to take it completely apart, then you have to take it apart — and you're responsible for paying for it."
The costs incurred by not meeting customs regulations can add up quickly. For example, Aberle says, goods that are shipped to Australia must be completely clean of foreign particles such as dirt or straw in order to be allowed to enter. A combine that he shipped to an Australian client was found to have 2 pieces of straw and a bit of grease on an internal component, despite the combine being cleaned 3 times prior to shipment. That mistake wasn't cheap.
"My combine sat for 3 or 4 weeks in customs, and it cost us a lot of money to get it out," Aberle says.
He advises dealers to consult the website www.myus.com/country-alerts before shipping in order to fully understand what will be required when the equipment arrives at customs.
Shipping Options
1.Roll-on/roll-off (RO-RO):
You can consider using this method if you heavy machinery is self-propelled. That means it has either wheels of tracks, so you will drive it onto the ship or whichever transportation vessel you choose and then off at the destination, drive it off.
2.Flat-rack:
This would be your ideal option if your heavy machinery cannot be driven on or off the ship, so it has to be loaded onto a rack before stacking it onto the vessel.
3.Container:
Shipping via container can be a good method of transporting construction equipment overseas, especially static (non-moving) equipment and to ports that do not have RORO service. However, transporting via container mandates that the client dismantle the equipment into separate parts that will fit in a container. Note that this requires someone to put the equipment back together again when it arrives at the destination port or customer final point.
6. Hire an Agent
Aberle, Anthony and Hall agree that shipping equipment overseas is a risky business, and they advise hiring an experienced third-party to help diminish that risk. 
"Hire an expert who knows what they're doing," Aberle says. He recommends looking for someone who has been vetted by the government, in order to ensure that the person is experienced and reliable.
Anthony agrees and says, "The No. 1  key to shipping things overseas is hiring an expert. They've done it before."
Anthony reiterates the number of steps involved in the process — from payment accountability and paperwork organization to transferring goods and cleaning equipment — and he says that's why it's crucial to have someone on your team who's done this before.
"There's a whole lot of steps there," Anthony says. "One of the key things is understanding who's in charge of each step and who does each step." 
According to him, an expert should manage this part of the process for the dealer, giving the dealer fewer things to worry about.
7. Consider Containerizing
While this method of shipping adds extra time, according to Hall, it's worth it in the long run.
"It is amazing how many different kinds of equipment can be containerized nowadays," she says. "Containerizing does take time. However, it is less expensive and safer way of shipping your equipment to the final destination."
8. Accuracy is Critical
"It's so important to prepare documents correctly, and to know the shipping rules," Hall says. "For example, using correct Incoterms [International Commercial Terms], which spell out who is responsible for insurance, shipping, trucking customs and customs clearance, is extremely important." 
A misstep in this area can lead to major problems, Aberle says. "A misspelled word or a number in the wrong place can cause you delays at customs," he says. "It's critical to be accurate."
9. Have a Backup Plan
According to Hall, it's important to behave as though problems are inevitable. "Be prepared for things to go wrong," she says. 
She advises dealers to anticipate customs issues such as paperwork mistakes or quarantine, and have a plan B ready in order to respond to those hassles. 
Aberle agrees. "Things can happen that are outside of your control," he says. "We had one time where the bypass didn't work on the machine that lifts the containers, and it crunched the container like an accordion. So there was damage inside and we had to settle all those charges with the customer and the insurance company. 
"That's why having a good freight forwarder and having protection on insurance are very important things."
More Dealership Minds Summit coverage
High Risk, High Reward — Dealers Tackle Used Business with Profit-Turning Trades
Keys to Keeping Used Equipment Inventory Clean and Moving
Process & Consistency Keep Used Equipment Business Moving
Optimizing Your Used Combine Business Through Data-Tracking
What Should Influence Your Used Valuations?
9 Tips for Successfully Selling Used Equipment Overseas
Working with Your OEM to Move Used Inventory
7 Tips for a Successful Dealer Auction