As part of his recent presentation at the 2020 Virtual Dealership Minds Summit, Trent Hummel, consultant and trainer with the Western Equipment Dealers Assn.'s (WEDA) Dealer Institute, showcased a series of studies conducted with Farm Equipment in which surveyed dealers were asked what influences their valuations of used equipment. 
When giving the sources for influences on their valuation process, the number one source was referencing past sales. Dealers rated the weight of their past sales as an 8.5 out of 10 influence in 2015, a 9.2 in 2017 and an 8.5 in 2020. "I've asked dealers why their past sales aren't a 10 out of 10,. Mot indicate it's because some of their locations are far apart and in different markets. This doesn't alow them to take their past sales as an exact value guide" says Hummel.
The top 4 influences have remained the same since 2015, including TractorHouse auction results, IronSolutions guides and past sales. But from the fourth option down, Hummel points out that results start to fluctuate and fall in their level of influence. One issue in particular that he notes is dealers' lack of discussion with others in the industry.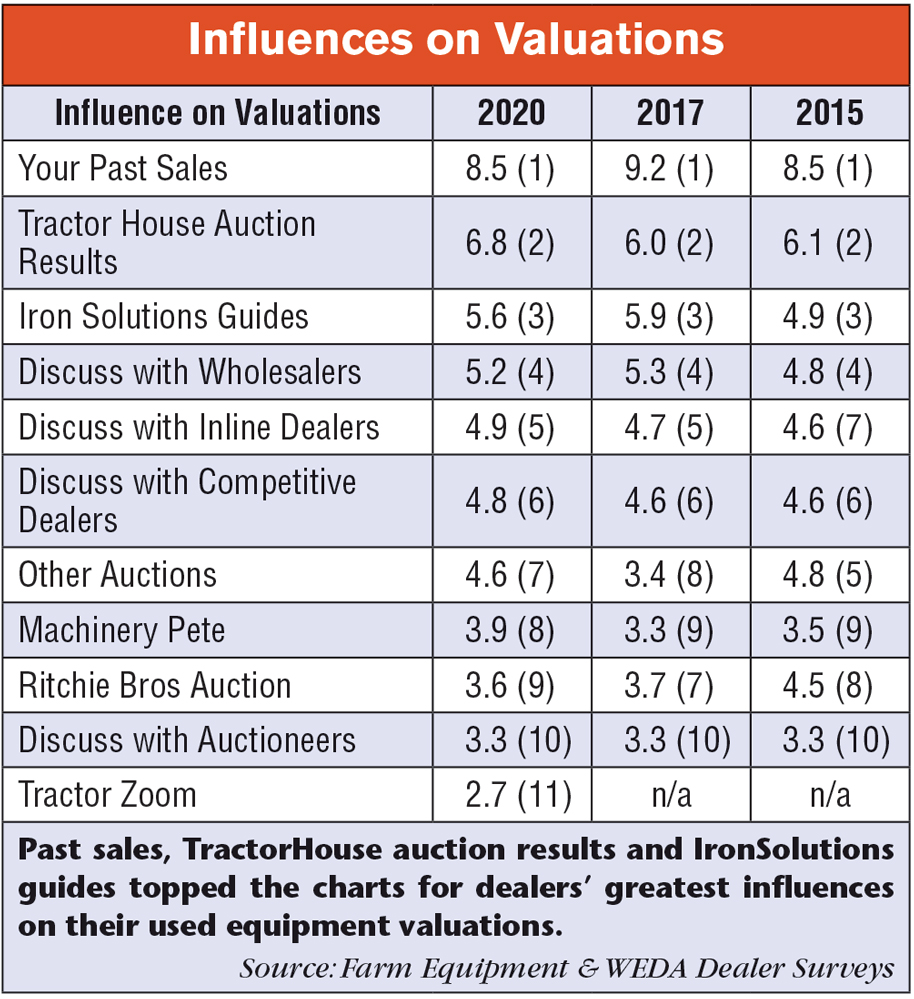 "Very few dealers are calling their auctioneers to ask what a potential ite will sell at," says Hummel. "And discussion with wholesalers, inline dealers and competitive dealers isn't scoring very high either. We are concerned dealers aren't phoning industry people to ask what's going on with used equipment, which is a huge value to us. I spend at least an hour a day talking to wholegoods managers of any brand about what's going on and where the markets are at."
Hummel uses his own experiences with pricing 4WD tractors to showcase the value of a simple phone call to another dealer. "I wasn't strong in knowing 4WD trades, but I knew a dealerhip about 90 miles down the road who was very strong in it," he says. "We would call and ask what they thought I could get for a certain piece. If we backed off 10% from the wholesale value they shared, it was always right."
For those who are worried about diiscussions with inline and competitive dealers, Hummel says it shouldn't be a big concern. "I've had dealers tell me you can't call anyone, because they'll lie to get you to pay too much on a trade," he says. "But I don't think that's the case. Nobody wants you to overpay for your used, because you'll screw up the deals they're working on."
Hummel says the type of equipment you're dealing with will influence what sources influence your valuation. For example, using an auctioneer makes more sense when dealing with a much older unit.
"I don't think any source should always be on top for every unit a dealer takes," he says. "If you're taking an old clunker with a lot of hours on it, I think you should call the auctioneer and ask what he thinks. His influence should be stronger than your own past sales, because you probably haven't taken anything like this before."
More Dealership Minds Summit coverage
High Risk, High Reward — Dealers Tackle Used Business with Profit-Turning Trades
Keys to Keeping Used Equipment Inventory Clean and Moving
Process & Consistency Keep Used Equipment Business Moving
Optimizing Your Used Combine Business Through Data-Tracking
What Should Influence Your Used Valuations?
9 Tips for Successfully Selling Used Equipment Overseas
Working with Your OEM to Move Used Inventory
7 Tips for a Successful Dealer Auction