---
Pictured Above: AgriVision Equipment has a 3-tiered leadership plan at multiple levels so that they have talent ready at all levels down through store management. The leadership team at AgriVision Equipment, which combines a variety of levels of experience and ages, includes (from l-r) Reed Allen (31), Director of Aftermarket; Steve Mead (38), CFO; Jeremy Ostrander (48), CEO; Jamie Brand (47), Business Development Manager; and Jon Carlo (39), Director of Sales.
---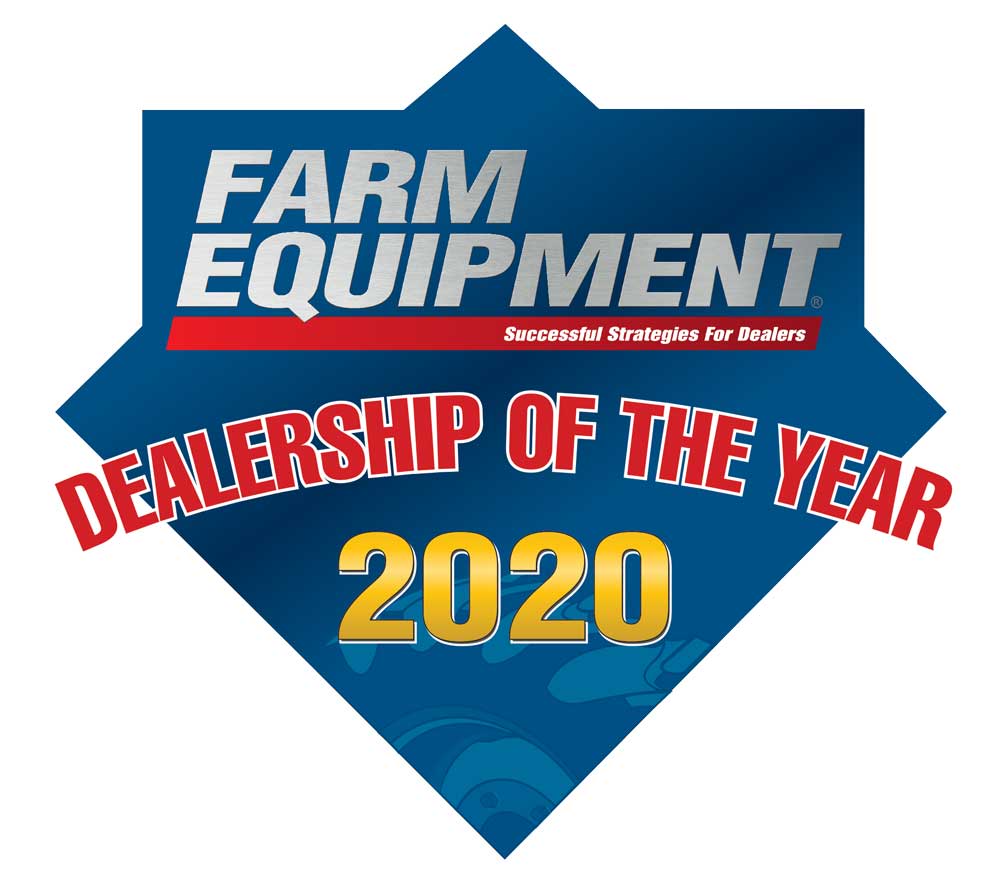 AgriVision Equipment
Video Interviews
Visit www.FarmDealerOfTheYear.com to watch exclusive videos with AgriVision Equipment. Filmed on location by Farm Equipment editors, these videos are sponsored by CDK Global.

In the last 3 years AgriVision Equipment has expanded from 10 locations to 17, reworked its management structure, implemented a technician recruitment program and built 2 new facilities, all while responding to devastating flooding. Through it all, the organization remained nimble through the growth and changes, while still being able to react quickly to any challenges that came along. 
The 2020 Dealership of the Year faced significant challenges in 2019, including having 2 of its 17 stores completely destroyed by historic and catastrophic flooding of farmland in AgriVision Equipment's AOR. The 2 Iowa stores that were destroyed — Pacific Junction and Hamburg — each filled with about 10 feet of water. Despite the damage and ensuing challenges, the dealership still saw 24.6% revenue growth over 2018 and managed a 91% absorption rate. As the dealership has grown (it has added 7 locations since late 2017), it's remained nimble in its ability to adapt quickly and hit its aggressive operational goals. 
AgriVision Equipment, Pacific Junction Iowa
Founded: Jan. 1. 2014 with the merger of A&M Green Power Group and Barker Implement. The merger completed the consolidation of 4 long-time family-owned John Deere dealerships that cover Southwest and Southcentral Iowa, into one
operating unit. 
Employees: 415 full time & 32 part time 
Major Line: John Deere
Shortlines: Unverferth, Brent, Landoll, Westfield, REM, Kuhn, Kuhn-Knight, MD Products, Diamond, Degelman, Great Plains, Westendorf, Yetter, Martin, Danuser, Bison, Worksaver, MDS, H&S, Boss, Meyers, Scale-Tech, KMC Phillips, Demco,
Te Slaa, Carry-On, Jenkins, J&M, Kwik-Belt and Sidney Manufacturing
Locations: 17 — Clarinda, Creston, Doon, Hamburg, Ireton, Lawton, Le Mars, Lenox, Leon, Macedonia, Massena, Onawa, Pacific Junction, Paullina, Red Oak and Winterset, Iowa and Pender, Neb. 
2019 Market Share: Large ag 67.7%; mid-size 57.9%; small tractors 52%
2019 Parts & Service Absorption: 91%
Ownership Group/Board: Don Athen, Randy McCunn, Jeremy Ostrander, Todd Barker, Reed Allen and Shoan McCready
Management Team: Jeremy Ostrander, CEO; Steve Mead, COO/CFO; Jon Carlo, Director of Sales; Reed Allen, Director of Aftermarket; Jamie Brand, Director of Business Development; Randy McCunn, Controller; Ashley Hendrix, Marketing Specialist; Mark Ford, Director of Organizational Development
Regional Organization Expands Culture  
While AgriVision was already considering a regional organization, CEO Jeremy Ostrander says the rapid acquisition growth in 2018 brought it to the forefront. "We added 7 locations in one year and had a lot of people who didn't grow up in our culture," he says. "They're going through process changes and the emotional roller coaster of 'what does that mean for us?'"
To stay connected with the location managers and employees in the newly added stores, Ostrander says they needed someone in those stores every week. As a result, AgriVision is divided into 3 regions with 5-6 stores each. "The regional approach allowed us to take our culture, structure and processes, and get closer to the front lines on a more regular basis," he says. 
Steve Mead, COO/CFO, says the regional structure allows them to communicate with more employees more quickly, more efficiently and more effectively. When they were a smaller operation, it was possible to quickly reach out to 200 employees. But with more than 400 employees today, a new structure was needed to maintain that agility. "It still allows us to have speed … though we may be the size of a cruise liner but want the speed and efficiency of a speed boat," he says. 
Watching the Numbers 
There are 5 primary metrics AgriVision focuses on intently: return on sales, market share, absorption, personnel expense ratio and dealer experience. Those metrics are measured on the corporate level and the store level, and are available for all to see.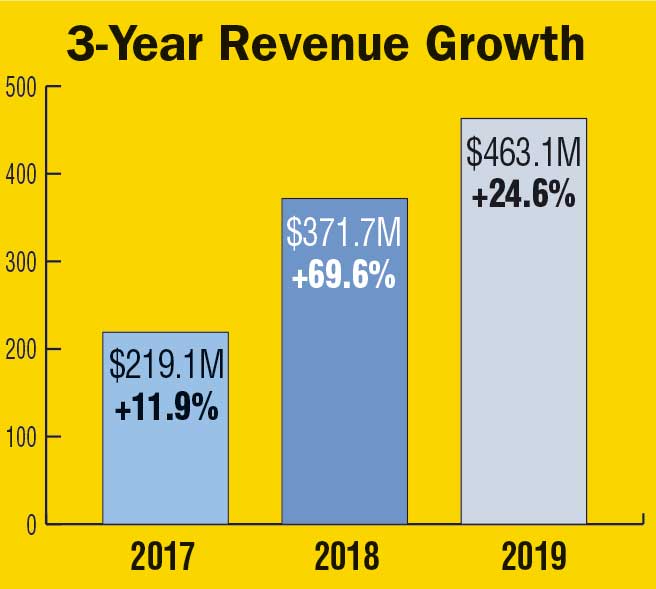 "We're transparent. Steve puts a dashboard out monthly and every store manager gets the full-blown company scorecard as well as all 17 stores scorecards. They know our profitability as a company. They know each other's store profitability," explains Ostrander. 
With the help of consultant John Spader of Spader Business Management, Mead has created an online dashboard that displays the various ratios and metrics and provides specific location metrics and information. "Improving the business and financial acumen of our key leaders is critical as we grow. As a result, we partnered with John's team to help our team not only understand the metrics and their meaning but more importantly to better understand the drivers of performance so they can make the necessary adjustments in order to influence the results they are looking to achieve," Mead says. 
The dashboards have created healthy competition among the stores to strive to be at the top, but it's also encouraged the store managers to talk to each other and find out more about why they've been successful, Ostrander says. "Most of us want to learn from the others and ask, 'How do you get your ratio to that level? Teach me what you do.' Or 'I've seen over 2 years that you've moved yours from the bottom of the range to the top. What did you do to do that?' And really try to create a learning environment that allows them to learn a lot from each other."
On the sales side, AgriVision salespeople view their own — and every other salesperson's — sales and gross margins on a monthly basis. That transparency has been a helpful tool, but for younger salespeople Ostrander says it needs to be combined with regular communication. "They can't lose heart if they've only been here 6 months and are at the bottom of the list. But that's where we have to stay close to them and have constant dialogue about setting goals for progress on a weekly, monthly, and quarterly basis," he says. 
1. Return on Sales. AgriVision has established a minimum return on sales they strive to achieve at each location. Ostrander says when a business starts to fall below this threshold — it makes it more difficult to continue to invest in facilities, technology, as well as continuing education for our employees. "You start to see people rob from the long-term sustainability of the business if it falls below a minimum rate of return," he says. 
Being laser focused and having the discipline to not get distracted by things that do not create customer value are two critical components when it comes to delivering on that minimum return on sales hurdle rate that allows the organization to continue to invest in innovation and customer demonstrations, Mead says. Even in lean years, AgriVision expects to deliver against their minimum return on sales target. Getting there can be challenging as new dealerships are brought into the organization. 
"It's certainly an evolution, especially as you keep bringing on dealerships. When you bring on some stores that lost money for 3 years straight, and you tell them that they're expected to deliver a minimum return on sales the first year, you start to figure out who wants to be on the bus pretty quickly," says Ostrander.
"Some think profit is a four letter word. We believe it's just part of what we have to do if we want to remain relevant, continue to invest in our employees and deliver on the commitments we make to our customers every day." 
2. Market Share. For large ag equipment AgriVision had 67.7% market share in 2019. For mid-size equipment, the dealership was at 57.9% and small tractors had 52% market share. The dealership's goal is 70% market share, says Jon Carlo, director of sales. 
Ostrander, who worked for John Deere before coming to the dealership, knows that market share is about more than selling wholegoods; it's about keeping enough machine population in your AOR to generate parts and service business. 
"We set a high bar for hitting market share levels, but that is because we truly believe that our John Deere production systems are differentiated from the competition and that the growers in our geography can improve their operation by leveraging the technology and capabilities of our equipment." he says. 
Ostrander says something they do differently than other dealers is sharing volume and P4P (Pay for Performance) with the sales team to help them understand the importance of market share. "A lot of dealerships keep that for themselves and use it to clean up their messes at year end. It's part of our pay structure with our sales team." 
He goes on to say that sharing that information helps the salespeople understand why sometimes a no-margin deal needs to be made, and how they benefit from that. 
3. Absorption. If expenses from the flooding were removed from the calculations, AgriVision would have seen an absorption rate north of 100% in 2019. After flood expenses, that number dropped to 91%, still well above the Cost of Doing Business standard performance of 80%. For 2020, the expectation is to hit 110% absorption. "If we have the equipment population, absorption will help us weather the tough times," Mead says. "For example, if our customers pull back on buying machinery, but we have a very strong aftermarket business, that aftermarket business will help sustain us in good times and bad. So, that's one of the reasons why we pay attention to absorption — it helps ensure that kind of long-term sustainability."
4. Personnel Expense Ratio. AgriVision aims to keep its personnel expense ratio (personnel expense as a percentage of available income) below 50%. Mead says, "It comes down to focusing on what you can control to improve your likelihood of long term success. If you keep your personnel expense within a certain range, it's a good indicator that your absorption and return on sales are likely trending the in the right direction, which gives us the confidence and ability to continue to reinvest in our business."
Managing personnel expense ratio is something they've found true across variety of industries, thanks to Spader Group's varied clientele in dealerships. "It is amazing how transferable some of these ratios are. But the tipping point that I have seen in multiple businesses over the years, and very much true for ours, is when we cross 50%," Ostrander says. "So if our personnel expense gets over 50% of our total gross margin and volume, it becomes really hard to achieve our minimum return on sales. So, that is a ratio that is almost like watching gauges on your car. And when we see it hitting 50% or getting close, we know that we have to start taking action to get it back within range.
"Every year when we're budgeting, we're doing a best-case scenario and a worst-case scenario. And we're looking at it and saying worst case scenario, including this year with COVID. We said, 'OK, how bad could this thing get? And if that's the case, how do we keep our employee expense ratio at 50% or less?' And we've crept out of that range 3-4 times, and every time it's like a teeter totter, because when you cross that point, other things start falling apart."
Store managers — and some tenured department managers — know their numbers and are watching them closely each month. Ostrander says often it's the store and department managers who point out to the corporate management team they are approaching 50% with plans to either generate more gross margin or look at the possibility of cutting staff if they don't foresee an improvement in say the next 6 months.
"Many dealerships that disappeared in the 1980s and the post $7 corn era, were unwilling to make these adjustment," Ostrander says. "It is a hard decision to make, if you have to reduce headcount, but it is a commitment that we have made to the communities that we are in. We want to be here for the future, and to do that, we have to make hard decisions. 
Responding to the Flood & Focusing on the Future
The flooding that destroyed the Hamburg and Pacific Junction, Iowa, AgriVision stores in 2019 could have just been a hit to the organization that they slowly worked their way back from. But that's not how the AgriVision team operates. "The whole 17-store organization rallied to support them," says CFO Steve Mead. "Let's be honest, the flooding that impacted us and our customers was not easy to overcome, physically or emotionally. From the first calls we made to our stores to assist with the evacuation to the calls asking for volunteers to help salvage whatever we could to the calls asking for help to move back in, everyone pitched in and rolled up their sleeves in one way or another. That's where we really learned what the "Power of 17" really meant. I am very fortunate to have the opportunity to work alongside such a dedicated, tough, and resilient team." 
Following the flooding, most employees were relocated to the 3 neighboring locations — Red Oak, Macedonia and Clarinda. Within just a couple weeks the Pacific Junction store was able to rent out an old Shopko building, which Mead says helped stabilize the operation in that location. Customers stepped up to help as well. In fact, one customer offered up his brand new shop to AgriVision to work out of. "He saw a need and rapidly finished that shop and then allowed us to rent up to two-thirds of his monster shop building that he just built," says CEO Jeremy Ostrander. 
"He held off moving his crew into that shop for 12 months and allowed us to put a lot of our Nebraska technicians and sales staff there and use it as a headquarters. They were cut off because the only places you could cross the river were Omaha and St. Joe, and we have a lot of employees that live over there."
For the Hamburg location, another customer offered up his shop and they also put up a mobile office, similar to the job site offices you see at construction sites. "After that whole crew was living in there for a long time, they stared to refer to it as 'the coffin,'" says Ostrander. 
Once they were able to get back in the Hamburg store, they moved the coffin into the shop while the offices were being renovated. "They all took a video of that thing leaving, waving at it going out the door as they pulled the coffin away. I don't think they ever want to see it again," he says. 
In all, the flooding caused multi-million dollar losses last year, amid plans that had been in place for a new building in Onawa Iowa, and Sioux Center, and Ostrander notes that the ownership didn't blink an eye. Instead, they encouraged the leadership team to keep moving forward with their building plans, while also working to rebuild from the flood. Ostrander notes that they also encouraged the team to push ahead with their technician hiring plan (see Focused Strategy & Incentives Help Recruit Record Number of Technicians) saying, "'If you guys are going to continue to hire technicians, then we're going to have to build facilities in certain locations and stick to the plan there.'"

In 2019, AgriVision's Hamburg, Iowa, location was destroyed by flooding, which filled the building with 9 feet of water. The new facility was completed in May 1, 2020. The Pacific Junction, Iowa store was also destroyed in the flood and the new building is nearing completion.
"We find that once your location management understands that, then we don't have to go to them and tell them," Ostrander says. He adds that making small adjustments along the way because you are keeping your eye on that ratio helps avoid being forced into a situation where painful decisions are necessary.
For Ostrander, it comes down to not deviating or creating excuses, because the ratios don't lie, he says. For strategic reasons, they've been willing on occasion to go out of the range, but he says they clearly explain why they made the decision to do so when those instances arise. In those cases, a timeline is set for when they are going to go out of range and when they will get back under 50%, Ostrander says. 
"I view those as the dashboard of your tractor, truck or your car, and if you see your oil temperature going up, you're going to do something about it. And we view that in our business very much the same that it's OK for them to move within the range, but you've got to know where the guardrails are, and especially as we grow if it's a store that I've worked with for 16 years now they get it right there," he says.
5. Dealer & Customer Experience. While the first 4 metrics focused on financials, the last one is all about the customer. "Financials are great, but our customers ultimately take care of our business. We pay attention to that, so we understand what type of experience each customer is having within the dealership. Are we delivering on our commitment to our customer as a dealership?" says Mead. "Ultimately, customers are the ones who are going to really sustain our business long-term."
While John Deere provides them with a dealer experience score, Ostrander says the leadership team is looking at much more than that. It really comes down to how much their customers trust them. 
"There's a level of trust that comes with having the right dealer experience. So it isn't just a score, it's about the level of trust that we have with our producers. And what kind of information are they willing to entrust us with? What's the level or depth of involvement, engagement and trust that we have with our producers. And that's one that we still struggle to measure, that one is a challenge. But we're very focused on it and you can see it and feel it. That's one of those things we're trying to figure out is how do we better measure that."
Used Equipment 
When asked what he thought sets AgriVision apart from its peers, Ostrander points to their used equipment strategy. Today, AgriVision's used inventory turn is over 3, "which we think is absolutely horrible," Ostrander says.
"For example, there was a period where we ran a 6-8 times turn and a lot of people in our peer group were like, 'I still don't understand how you do that. And I could never even get a 4.' And we were working on 6-8."
Carlo explains that the company has always been aggressive on used equipment. "You can go out and sell a lot of new equipment, and if you aren't able to digest the used, that's the Achilles' heel of most of these businesses," he says. "As you factor in all the things that used turns account for, the slower you turn it means you've overbooked it most likely. Then you need to take losses and you've paid more interest. You typically have lot rot. The equipment doesn't increase in value typically if you've missed the mark."
What Others Say About AgriVision Equipment...
Farm Equipment spoke with several others (including members of the peer group led by John Spader) who know AgriVision Equipment well. Nearly everyone specifically cited AgriVision Equipment's expertise in modeling out ROI for customers, but here's a quick sampling of what others have to say...
"They aren't afraid to try something and change it because it didn't work. There's isn't a fear of failure. It's not like they fail often, but they aren't afraid to try new things or be innovative and creative. They fought through adversity with the floods last year that closed 2 stores and came back while remaining profitable and successful. They're a tough group." — Darrell Pankratz, Prairieland Partners, Hutchinson, Kan. 
"They're very focused on what products and technology can deliver for the customer's financial return and have set up ROI calculators for a number of products. Their sales process takes a deep dive into the customer's operations to ask the right questions before attempting to sell product." — Dan Bodlack, John Deere Territory Manager
"They are very impressive in their goal setting — setting unit and market share goals and following and meeting them." — Ken Timmerman, Greenmark Equipment, Holland, Mich.
"They work as hard on their internal systems and people development as they do on building market share, and are equally effective on both." — John Spader, Spader Business Management, Sioux Falls, S.D. 
Ostrander says they own their trades better, which helps them keep the used equipment turning. To stay current in the market, they regularly monitor and adjust their used values. While some dealers make adjustments on a monthly, quarterly or yearly basis, AgriVision makes adjustments on an as-needed basis. "We look at that weekly and if we see the market slipping, we will start making used equipment adjustments immediately," he says. "Sometimes that's hard for our sales team and our store managers to accept, but it's a business philosophy that we've operated on and seen the benefits of for 16 years that I've been in the business and that is one that we are unwilling to compromise on and unwilling to change."
Ostrander firmly believes they'll always be ahead of the industry on used turns, and he says it has everything to do with how they book equipment and control it centrally to their value proposition and using data. 
He adds that AgriVision will not sell a new planter without an optimization package. "We've gotten to the point where we'll allow ourselves to lose the deal before we'll sell a planter without a startup and optimization package that goes through the first 2 seasons … We've learned the hard way that that is how we are going to do it and it's going to be a high value proposition. And if the customer is unwilling to pay for that and you can't sell the value of it to him, then maybe that's not the type of customer that we want to deal with." 
Selling Value
The sales team at AgriVision isn't just looking for transactions. "We really focus on how do we come alongside our customers, walk beside them to come up with a solution," says Carlo. And they do that by creating and providing value. "The competitive nature and the margin pressures that all businesses in ag face is that it's hard to hang on to that value proposition and not become a complete commodity. But that's really where it starts. It's this sales culture of taking care of customers by creating and providing value."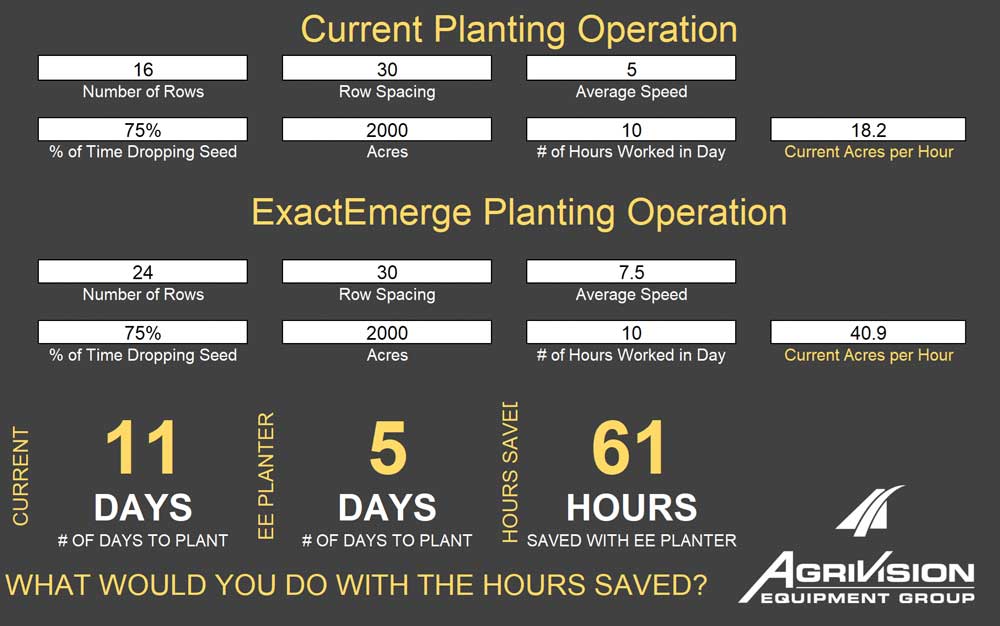 AgriVision Equipment's sales team focuses on using real, local data to show customers a product's return on investment. They developed an in-house ROI calculator for a number of products. See p. 20 for more on how they put it to use.
Carlo says the sales team is made up of a group of high performing individuals, and he's set a high bar for what he expects them to produce. "When I say produce, there's a performance side which is definitely numbers related, but it's also how they do it. We have a very high bar for how we sell," he says. In 2019, AgriVision's average sales per salesperson was just over $8 million. Key to that has been the sales team's ability to be adaptable and open to new ways of selling, Carlo says. 
"If you look back, a lot of the selling skills required knowing the cost per hours and the trade difference, and whether [the customer] can actually afford it or not. And then there was an arm wrestling match that would take place and either they'd win, lose or draw. But what's missing from that picture is the focus on the bigger picture challenges our customers are face. Today, we're seeing customers up against cashflow constraints. Balance sheet health is a big part of the conversation. Labor challenges is another.
"We're getting into bigger picture conversations and then what we're doing is we're tailoring a solution based on what their needs are. And oftentimes it's not just a single transaction. It's something that fits into the bigger picture."
As equipment prices have climbed steadily over the last several years, focusing on the value and the customer's return on investment (ROI) is important. Carlo points to ExactEmerge planters as an example. "Those are the highest performing planters on the market today. And when you go to sell a customer based on what just the sale price is and what their trade in is worth, that's a real tough conversation. But what we do is we leverage ROI calculators that we have for our team to use that show if whether that's a 4, 6 or 8 bushel advantage in real data that we've seen from our customers," he says. "Then we plug that into the calculator to show what that return looks like and over how many years. A lot of people would like to talk about the speed and efficiency side of those planters, so if we go from 5 to 7 mph, or 5 to 9 mph, and we're able to reduce the hours on our equipment, lower our labor costs, we factor all of that into the equation. And it's a way that can help the customer break down that the value. The value isn't going to be determined in the trade difference. The value is going to be determined over the life of that machine." (For more on AgriVision's ROI Calculator, click here)
With 17 locations, accounts could be divided based on geography. Instead, Carlo says they look at a customer's current operation and whether it's growing. "We try to assign an account manager based on the customer needs vs. where that individual might be located geographically from our brick and mortar," he says. 
That, Carlo says, is both the biggest opportunity as well as a big challenge for AgriVision's customers and team. "The facts are that customers are getting more complex. Their expectations are higher and some of the skills and motivation are just different for that approach than some who's more transactional. And we need both," he says. 

One of AgriVision Equipment's key tracked metrics in the service department is labor performance (right), which is measured as a technician's on-the-job productivity (left) times their billing efficiency (center).
The regional managers also play into this approach and are involved in those strategic account conversations to help create the 50,000 foot strategy with those customers and then leverage the locations to help execute, explains Carlo. From an account management standpoint, he says the dealership also looks at who within the company — whether that's a salesperson or someone from a different department — has the most impact on a customer. And then they make sure there is a clear contact plan, which may involve multiple people in that relationship and how they manage the account. 
"I may go to our Pender, Neb., store where I have a customer who I play quarterback at 50,000 feet. That's based off of business that they have done with us and future potential business, so we use our business system heavily to monitor those customers and how we generate sales and margin," says Carlo. 
Being a customer focused organization, AgriVision Equipment also recognizes that in some cases the best way to serve a customer requires more than what they alone can offer because the customer operates in an area that spans outside of the dealership's territory. 
Sometimes, the best way to serve a customer requires more than what AgriVision alone can offer. And in those cases, Carlo says, they use a multi-dealer approach. Meaning, AgriVision will partner with other dealers in the region to provide the best possible experience for that customer, as well as consistency and a single point of contact. This is often the case with ag service provider customers (COOPs, fertilizer and chemical companies, custom applicators), who might have locations in AgriVision's AOR as well as one or two other dealers. "Working with other dealers is key to that strategy," Carlo says. 
"A lot of it just starts with a level of trust of what is truly in the best interest of the customer and our businesses; we're all in this to make some money but at the same time we're talking about how do we create consistency with service. How do we create consistency with technology support, which for us is a connected support center. We literally go in there, with a team approach and try to leverage everyone's skills accordingly, and just having a united front to help with those customers." 
Outside Partnerships 
The leadership team's willingness to take risks by exploring outside partnerships has proven valuable. "When it comes to the technology space and data and how we approach that business, it moves so fast that you have to be willing to try some things and be willing to fail at them. They come and go too quickly that you can't take a conservative approach there," Ostrander says. 
He adds that they know a certain percent of these partnerships, ultimately, won't work out, but they structure them so if they do fail both parties can walk away friends. For example, AgriVision partnered with a co-op via an LLC for several years, even having some employees who were paid jointly. The two organizations had common employees who engaged the producer to utilize data to make better crop decisions. 
"We used data to test different products, rates and application timing as well as different agronomic practices that our equipment is engaged in,"  Ostrander says. "By doing this jointly, we provided more value to the producer and made their life more efficient."
Focused Strategy & Incentives Help Recruit Record Number of Technicians
Benjamin Thorpe, Associate Research Editor
Finding technicians is a pain point of every dealer, but in 2019 AgriVision Equipment hired nearly 2 technicians per store — a net gain of 31. Director of Aftermarket Reed Allen's goal is to avoid what he calls the "short-handed panic button" method. 
"We're trying to overhaul our mindset in parts to make sure we're recruiting the right talent," he says. "I've been there. When I was a store manager, sometimes you hit the 'panic button,' and say, 'This is the first person that applied, I'm going to hire them.' We're trying to sometimes hit that 'pause button' and slow things down."
The proof is in the pudding on AgriVision Equipment's hiring process. The dealership had a net gain of 31 technicians in 2019, and so far, has had a net gain of 18 in 2020's first 6 months. AgriVision Equipment was the second highest John Deere dealer in 2019 for adding technicians.
"With the state of agriculture right now, the equipment fleet is as old as it's been in a long time, which is really why we're putting focus on hiring technicians," says Allen. "Our first priority with hiring is making sure our customers get the parts and service support they need. The second priority is making sure our technicians have a healthy work life balance, and the third is securing strong support for our overall business performance."
He says this year's hiring success comes from a renewed focus on working with ag students, an opportunity they missed last year. "We had a lot of success with mid-career hires last year, but we didn't put a lot of focus into recruiting high school students who wanted to go into diesel technology," says Allen. "In January this year, I believe we had 8 ag tech students. Now, in May, we have 17. We're focusing on trying to develop that pipeline of young talent who want to come into the industry."
A powerful tool the aftermarket department utilized to make this happen was a trip Todd Morgan, AgriVision Equipment's manager of service strategy, organized for high school students. The company took them to the John Deere Ag Tech program in Milford, Neb., letting them see the campus and program firsthand. They took around 75 students, and most of their hires so far in 2020 were students that went on that trip. He also explains having strong financial incentives is a good draw for bringing students to the dealership.
"This can be a very lucrative career, and I don't think that message is out there in the mainstream," he says. "These kids can come out of a 2-year degree at college with very little debt and make a good living right out the gate.
"We'll also pay them while they're in school. Our students can make up to $20,000 a year just working weekends and during their breaks."
Mentorship is another tool the aftermarket department uses to make sure students get a solid foundation in the dealership, which encourages them to come back when they're looking to enter the workforce.
"We've got several high school students in dealerships this summer," he says. "We try to get them exposed early. We look to get them paired up with a tech as well to help answer questions, particularly if that tech has also been through the student programs themselves. 
"It's good for them to form a connection with the people in the shop before they leave, because then hopefully they feel there's someone here they know if they want to come back."
Part of this hiring success, and part of AgriVision Equipment's aftermarket success as a whole, comes from its incentive programs. One program Allen mentions is "The Great Escape," which pushes for stores to add more technicians, and rewards them mightily.
"We have a system where each technician a location hires is worth a specific number of points," he says. "To qualify, they have to reach a certain number of points by the end of the year. We recently made a change so there are more points associated with ag tech students, where last year we focused on full-time hires.
"For stores that reach their goal, we send the entire service team, including the office, to Cancun, Mexico, in February. Last year we ended up taking around 200 people, including spouses." 
AgriVision has a few arrangements with other John Deere dealers. "We actually just came out of some dialogue recently where we're looking at partnering with two other dealers to do some business that would cover a 3-4 state geography, for example. If we didn't care about the relationship we had with fellow John Deere dealers, we'd just do it ourselves," Ostrander says. "But we believe that there's enough to go around and need to create win-win situations that keep good relationships for the rest of our careers."
One such partnership is with PrairieLand Partners (2014 Dealership of the Year), based in Hutchinson, Kan. The two dealerships worked together to create standard job codes, similar to what is common in the automotive industry. "What codes or jobs that were out there were outdated and not very good. We created a set and learned that PrairieLand Partners had also created a set. We looked at it at one point and said, 'Why are we going about this separately? Why don't we partner and bring them all together? Because then AgriVision didn't have forage choppers and some older equipment while PrairieLand didn't have some of the newer equipment that we had invested in."
The two dealerships combined those sets of job codes, formed an LLC and now market the program, known as Codify to other John Deere dealerships. Ostrander says there are roughly 30-40 other organizations using Codify today, and that number is growing. The group works with an outside consulting firm, Time Service Consulting (led by former AgriVision employee Brian Miller), that builds the system and helps with training, development and onboarding.
"That's an example where we saw an opportunity and weren't afraid to invest and take some risk. For the first several years, it was not profitable. It took quite a few years to get there. But it's a successful ongoing kind of subset of our business today," he says.
Developing the Future
Ostrander acknowledges that in order for AgriVision to stay viable in the future, they will have to continue to grow. The organization has an extensive development program for all levels of the business. 
For what Ostrander calls the high potential group — frontline people who the leadership team believes could move into management roles down the road — there's a 2-year development program that includes a series of workshops that can then be applied to their daily work, as well as some high level management development programs. 
They also recently kicked off a performance coaching and mentoring process, Mead says, where they provide monthly feedback at various levels of the organization. "It really helps people understand where the opportunities are, where they have room for growth," he says. 
AgriVision has never set a hard limit on training costs because as Mead puts it, "It's the right thing to do." The investment in people is what will move AgriVision forward, Ostrander says.
"I view every turmoil, storm or challenge as a learning opportunity. That has helped solidify my thoughts that it's the people who are going to make this work long term and, therefore, we're going to invest in hiring and developing the right people for a long time to come," he says.
Putting Real Numbers into AgriVision's ROI Calculations