---
Pictured Above: AHW's new retail space at their Williamsport, Ind., location is 12,500 square feet vs. the 2,000 square feet at their original building.
---
A fire, a divided dealership and limited space were the challenges facing 3 dealerships who took on major construction projects to support their growth plans.
Improving service, overall efficiencies as well as the customer experience helped drive facility modernization projects for Heritage Tractor, AHW LLC and Stotz Equipment. Other benefits included a better work environment and creating the "wow factor" they had been lacking.
Out of the Ashes
Heritage Tractor, based in Baldwin City, Kan., has 22 locations in Kansas, Missouri and Arkansas. The dealership carries John Deere, Honda, Stihl and Frontier equipment. 
Heritage Tractor was forced into a remodeling project — actually a total rebuild — after a fire completely destroyed its Lawrence, Kan., facility. On the afternoon of Saturday, March 5, 2019, a utility pole split and the pole and the transformer fell on the building, electrifying the facility and starting a fire. The loss totaled $4.2 million, says Ken Wagner, owner and general manager of Heritage Tractor.
Dealer Takeaways
Identify what's lacking in your current facility to help direct your modernization project, including poor lighting, a lack of attractive design elements or inefficient communication and workflow.

Consider the employee experience along with the customer experience when planning a remodeling or expansion project.

Be open to new approaches as you design your space, such as kiosks for the sales team instead of offices
"There were no employees or customers in the building, which really was a blessing," Wagner says.
A Heritage customer, who owned the building across the street, called Wagner that day to offer the use of his building, which had been a power sports dealership. "It had the basics for us. It had a parts department layout, a customer reception area and a small service facility. So Monday morning, we met with all the employees up there and we were moved in by 10 a.m.," he says. Some employees were shifted to other locations to work, so no one lost their job.
"Some customers don't like how big John Deere dealerships have gotten, but I have since explained that had we not had multiple locations close to Lawrence, we would have had an interruption in service," Wagner says.
They had both replacement and business interruption coverage through Nationwide Insurance. "Sometimes you wonder why you make the payments, but when you have something like this happen, you're sure glad that you did that," Wagner says.
Envisioning the New Facility
The plan for the new facility included remaining at the current high visibility location and rebuilding with the same footprint. Beyond that, Wagner envisioned a completely new approach to dealership design based on an automotive-style dealership.

Windows across the front of the store create a welcoming, well-lit environment at Heritage Tractor's new Lawrence, Kan., store. There are also windows between the retail space and the service department, so customers can see the expertise of the service technicians.
"About 5 years ago, we really started focusing on social media and digital marketing and that got me thinking about what the experience should look like for today's customers," Wagner says. 
The agricultural customers who had been working with the Lawrence location were shifting to locations in Topeka and Baldwin City, Kan. They also were turning more to mobile service as opposed to bringing machinery into the dealership. New types of customers were visiting Lawrence.
"My sense was that those customers wanted a different experience. They didn't want to walk into a building that was built in 1955, was poorly lit and didn't have the right merchandising and fixtures," he says.
Before the fire, Wagner had been thinking about a redesign that featured a retro look. For the money, he thought a progressive look was a better, more appealing approach.
Heritage worked with Hastco Construction of Topeka, Kan., and Davidson Architecture + Engineering of Overland Park, Kan. 
Changing the Layout
The customer experience drove nearly every aspect of the design, starting with the entryway. The building had been situated toward the middle of the 3 acres and it was moved to the west side of the property to allow for more equipment displays and parking. The original gravel drive was paved. 
The 18,000 square-foot facility is the same size as the original building. However, the building's height is 24 feet, compared with 16 feet, allowing more space for displays, utilities and storage. The retail space is about 2,500 square feet; the parts department is about 3,000 square feet; and the service department is about 12,000 square feet.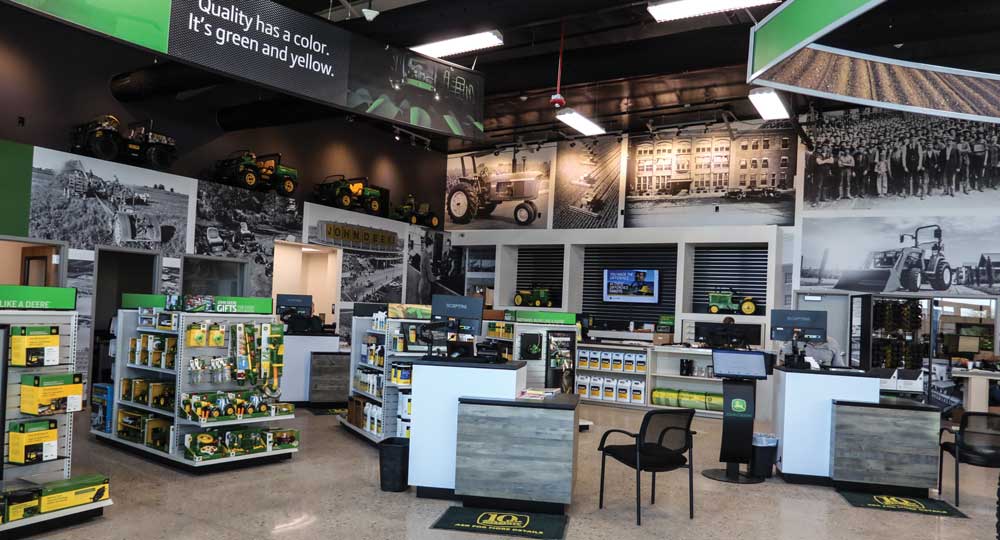 Heritage's Lawrence, Kan., facility features a floor-to-wall collage of vintage and current-day John Deere photos. Salespeople, parts personnel and service writers work at stand-up kiosks instead of offices, making them more accessible to customers.
The interior is designed for openness, visibility and better connecting the staff with customers. "The whole front end of the building is glass and two sides of the retail space that are customer-facing are also glass. When you walk into the retail showroom floor, it's very bright. One of my design criteria for the contractor and architect was that I wanted everyone who a customer would want to talk with to be on the showroom floor, not sitting in an office," Wagner says.
This means only one office in the retail area, which is for the store manager. The salespeople work at kiosks, made for standing, with a chair if the customer wants to sit. The parts staff and the service writers also work at standing kiosks. There is a conference room for private meetings.
They invested in Stanley Vidmar cabinets for the parts department, replacing the wooden bins they had in the original building and exponentially increased parts storage.
The retail displays and employee kiosks are from idX Corp., which offered the modern look that Wagner was striving for. They used John Deere signage for brand and department messaging. The lighting and heating are high efficiency systems and the service area has natural gas heaters. 
The building also has an outside canopy for displaying equipment and islands were built to show off compact equipment. Building lights and tower lights ensure the area is lit for security and to allow customers to view equipment after hours. Wagner estimates they have doubled the amount of inventory they can display outside.
Enhancing Service Capabilities
Heritage shows off its service expertise through the windows from the retail area that look into the service shop. They currently employ 6 technicians, with room for two more. Bridge cranes have been added for the larger equipment; doorways have been expanded to 18 feet from the original 12 feet; and a loading dock and inside wash bay were added. The turf technicians have automotive style lifts.
Wagner also invested $40,000 for 6 toolboxes on a suggestion from their Stanley Vidmar representative. "He said some automotive dealers are recruiting new talent coming out of vo-tech schools or high schools by offering them toolboxes. So, instead of them having to invest $10,000 in their own tools, we provide it for them."
The toolboxes are steel grey, have a stainless steel top with electrical plug-ins, built-in trash receptacles and are permanently mounted. "We don't allow any of our technicians to have their own personal toolboxes in that workspace. When a customer looks into our service department, I want them to see a uniform look," Wagner says.
Welcoming the Change
Wagner says he purposely didn't share the early designs with the staff. "I wanted to get further along in the design because I didn't want people's attitudes to go negative. I took a leap of faith because this building is not traditional, but I think it could be a template going forward."
He said one salesperson who had previously worked at a Bass Pro Shop told employees that they had used this kind of design and the customers love it. "He really helped me a lot on introducing this whole new concept," says Wagner.
A focal point of the dealership is a wall that displays floor-to-ceiling black & white vintage John Deere photos — even one of John Deere himself — along with images of new equipment. He says the mural has had a big impact and customers have talked about their family connections to John Deere. "It shows you how deeply rooted the John Deere brand is in the fabric of a lot of families and in rural America," he says.
Now, a few months into working in the building, Wagner says he's pleased with the design. "I'm not sure I would change anything. We had a target that we wanted to stay at or below a $3 million investment in the building and we accomplished that," he says.
Moving Forward
AHW LLC's modernization project in 2019 brought together its divided Williamsport, Ind., facility. AHW acquired the location in 2014 and the previous owners had expanded by purchasing a manufacturing facility across the highway.
"It was 341 steps, door to door," says Kurt Hartman, location manager. Sales, parts and administration were located on the west side of state highway 28 and service was on the east side. The work day included a constant flow of people, parts and equipment back and forth across the road. AHW has 16 locations in Illinois and Indiana, and carries John Deere, Brandt, Frontier and Hagie equipment lines.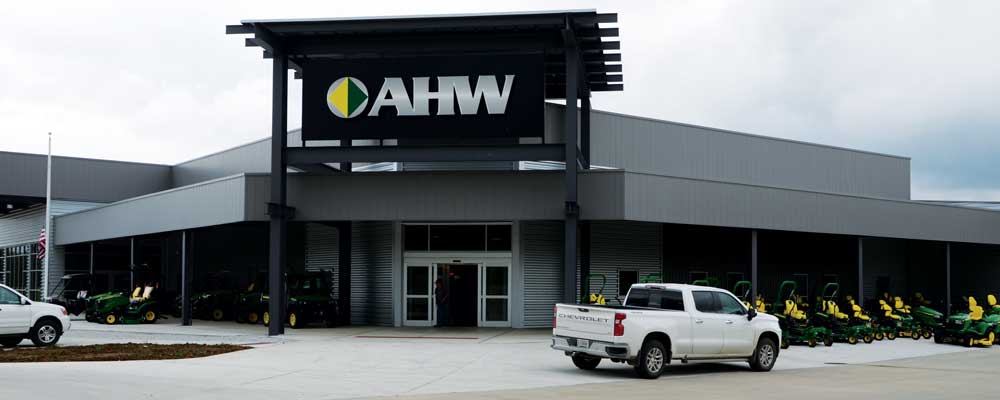 AHW's location in Williamsport, Ind., was expanded and updated, bringing two locations into one. Brick accents highlight the dealership's longevity in the area.
In March of 2017, Chad Braden, one of the owners, talked with Hartman about bringing everything under one roof — moving everything to the east building and expanding and updating that facility to serve the local staff as well as the corporate staff housed there.
"When we first started designing, we had a very simple and utilitarian approach, but as we worked through the layout, we took the best and brightest ideas from our other locations and built them into the facility," Hartman says.
The dealership worked with Randy Grubbs, principal of River Group Architecture, who served as architect and general contractor. Grubbs says of the 28 subcontractors, only 4 were not local businesses and were located outside of Warren County, Ind., a rural county with no stoplights.
The location sits on 30 acres, so they had room to expand. A total of 21,000 square feet was added onto the front of the existing building, which included 12,500 square feet of showroom, 1,000 square feet for offices and 7,500 square feet for parts, plus another 2,500 square feet for a training room. The training room doubles as the AHW Event Center. Part of the existing service area was also converted into offices.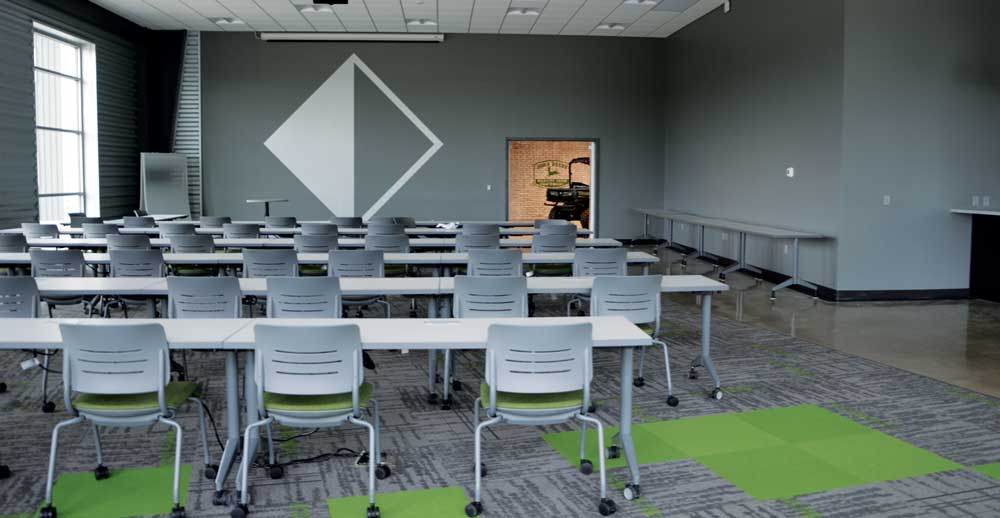 A training room at AHW's Williamsport, Ind., location doubles as the AHW Event Center. The dealership allows community organizations to use the Event Center.
Moving a parts inventory of more than $1.2 million was one of the major phases of the project. Enhancements to the parts department included a mezzanine for storage and a drive-up window for customer pickup. They saved money by reusing the existing racking from Global Industrial along with their Stanley Vidmar parts cabinets. 
"We never closed down the parts department. During planting season, we moved over the parts for harvesting equipment and then during harvest, we moved over parts for planting equipment. We scanned the parts when they left their current location and then scanned them again in their new location," Hartman says.
They've also gained valuable inside retail space, increasing their display from about 2,000 square feet to 12,500.
"Having everything under one roof has improved communication, both internally and with our growers and we've gained efficiencies. We're the first thing you see when you come into town and we've accomplished the 'wow' factor we were looking for," Hartman says.
Updating & Expanding
Stotz Equipment is a 25-location John Deere dealership with stores in 8 Western states. The dealership also carries Lemken, Kuhn, Parma, Schulte and Wishek. The dealership acquired its American Falls, Idaho, location in 2016. The building was older, but the front office and showroom had recently been remodeled. A detached service facility had also been added, but the service department in the main building had not been updated. 
"With the market growth we were experiencing, we quickly realized the limitations this shop presented. The ceilings were low, not allowing us to service newer, larger equipment safely and efficiently. Safety equipment was outdated, ventilation and climate control was poor and technicians were walking much more than needed, wasting time to engage with support systems. Above all, we needed more space. We could remodel and repurpose the existing facility but a simple facelift wouldn't do; an expansion was necessary," says Jason Behrend, vice president of sales and customer experience.
The solution was a remodeling in 2019 that included a 20,000-square-foot expansion of the shop, the addition of a 5,525-square-foot indoor wash bay and an expanded outdoor wash area. Stotz worked with Steel Vision Construction on the building and Kelly Construction on the interior.
The new facility has eight 25-foot and two 35-foot bay doors with four 5-ton cranes. Each crane hook is at just over 25 feet in height and the technicians can move two cranes on each side together to lift a combined 10 tons.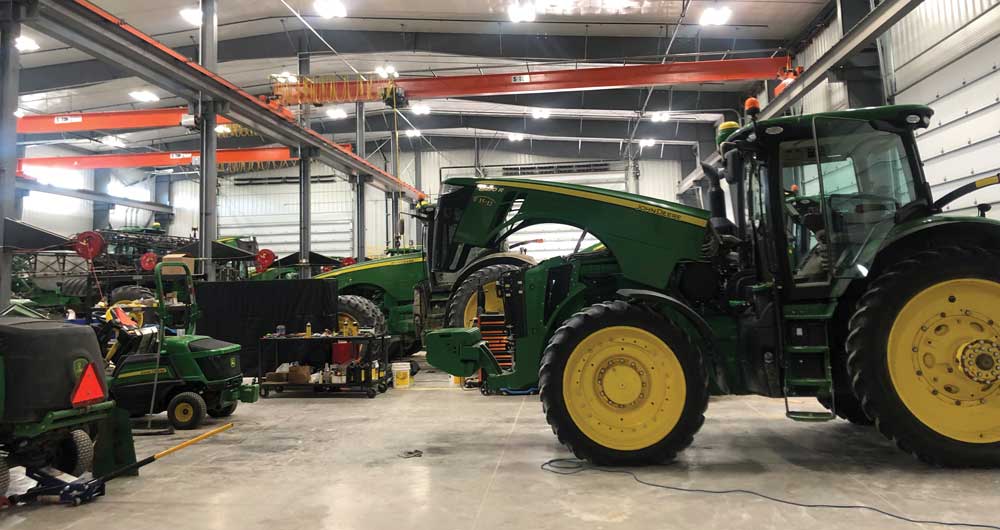 The new service facility at Stotz Equipment's American Falls, Idaho, location has eight 25-foot and two 35-foot bay doors with four 5-ton cranes; an oversized air system with three large compressors; a high efficiency ventilation system, heated floors and a waste oil burning heating system.
The dealership also added an oversized air system with three large compressors and air lines that are half an inch bigger than standard; intentionally minimized wall space to reduce clutter; ran all power and air lines overhead to improve safety; and added high-efficiency ventilation, heated floors and a waste oil burning heating system.
"The expanded wash bay can fit up to five 8,000 series tractors, so wash bay employees are not affected by inclement weather and can de-ice equipment, allowing them to efficiently move more equipment," says Stettson Beard, service manager at American Falls.
In addition to the new facility, the existing shop was also remodeled to improve efficiencies. Improvements include a new tool room, service parts room, service offices, lunchroom and a training room. Technicians can have more than one job in progress if they are waiting for parts and machines can now be moved in and out without delay.

The service department remodel and expansion at Stotz Equipment's American Falls, Idaho, location included new service offices and a new lunchroom. A new tool room and service parts room were also added. The project helped modernize the dealership and improve the overall experience for customers and employees.
"Investing in this space has allowed us to give our employees the resources they need to be more successful in their careers, has improved their job satisfaction and has reduced workplace injuries. The efficiency gained as a result of the expansion has also improved profitability and customer satisfaction by improving turnaround times. Overall, these facility updates have helped modernize our dealership and improve the way it operates for both our employees and our customers," say Levi May, American Falls store manager.