Editor's Note: This Q&A originally appeared in AG Tire Talk to provide answers that farm equipment dealers have about farm tire technology. This series features a trending question followed by an abridged version of the answers. For the complete answers, check out www.agtiretalk.com.
Warranty Definitions 
There are 3 different types of Radial R-1/R-1W warranties: Workmanship & Materials, Stubble Protection, and Field Hazard.
Here are the basic definitions of each:
Workmanship & Materials - Manufacturer Defect Coverage within manufacturer's control.
Stubble Protection - Coverage against tire degradation or puncture caused by hybrid crop, not within manufacturer control.
Field Hazard - Similar to Road Hazard, coverage for unforeseen puncture or damage, not within manufacturer control.
What should grower look for in a Radial R-1/R-1W AG Tire Warranty to maximize return on investment and what is summary of your Manufacturer Defect, Field Hazard (if applicable) and Stubble Guard warranties?
Titan International Inc. (Manufacturer of Titan and Goodyear Farm Tires), Scott Sloan, Ag Product Manager/Global LSW
You could spend hours comparing each and every aspect of every tire company's warranty policy.  Stubble, Field Hazard, Workmanship and Materials along with the length of the warranty, and how it applies with respect to how the amount of credit is determined based on years of service or wear are all factors to consider.
One of the first things a producer should look for to maximize return on investment with warranty is to make sure they have a local servicing dealer that can handle the claim. Titan/Goodyear has one of the most extensive dealer networks in North America. That means in almost every rural area the producer can find someone not only to handle his tire requirements but also administer warranty claims when they come up, making the warranty claim easy and hassle free.   
On Manufacturer Defect Warranty, you should make sure No Charge Free Replacement includes Service and Labor charges, as this can dramatically reduce the cost for a producer if there happens to be an issue. The initial length of time for "No Charge" replacement due to workmanship issues and on what types of tires is extremely important to know also.
On Stubble Protection Warranty, make sure your Radial Rear is covered before you purchase, as many manufacturers only cover "stubble branded" tires. Some manufacturers require a knock down device be installed after the 1st warranty claim. That is actually money very well spent any time when you install new tires especially for stubble damage. Front tires on tractors are changed 3-1 compared to the rear tires. Common sense tells you it's because the front tires are knocking down the stubble, so it only makes sense if you put a mechanical device in front, you could actually be tripling the life of the tires. That is really maximizing your return on invest.
Alliance Tire Americas, James Crouch, National Product Manager — Agriculture
When you shop for a tire, ask your dealer about the warranty that covers it. Of course, the first thing that should jump out is the length of the coverage. Obviously, the company is not expecting many failures during the warranty period, so if they're willing to back a tire for many years of service, you can figure it's a very safe bet. When a manufacturer promises long warranty coverage — 6 or 8 or even 10 years — it's making a very strong statement about the quality of its tires.
Look for Stubble Damage, Field Hazard and Manufacturers' Defect coverage, of course. Consider problems you've had over the years, and make sure the warranty would cover them, or that you at least know what's not covered.
But just as important as the warranty policy is how easy it is to handle a claim. Is there a lot of paperwork, or can the process be handled smoothly? Do you have to haul the tire into town, or can you just send a few pictures from your phone?
Also, be sure to ask your dealer: does this company handle warranty claims quickly and smoothly? Do they have your back? After all, a warranty is just a bunch of legal language until a company makes good on it.
That's why we're so proud of our ATG Warranty Wizard app. It's a smartphone app for iPhones or Androids that makes a warranty claim really simple to file—it walks you through a few questions, you take a few photos with your smartphone and push "send." The information goes directly to the people who need it to process your claim, and they handle each claim promptly. It's as simple as that.
Tires worn less than 25% and deemed in "adjustable condition" will be replaced without charge (excluding mounting and service charges). Tires with more than 25% wear deemed to be in adjustable condition will be prorated based on the remaining tread depth
Here's the bottom line: a warranty is an important tool and a major consideration when buying a tire — and so is the company that's backing it.
BKT USA Inc., Dave Paulk, Manager Field Technical Services
A warranty provides protection should a customer have issues with a tire due to a manufacturer defect or material related failure. 
Some companies offer a Field Hazard and Stubble Damage Warranty, comparable to the Road Hazard Warranty on automobile and light truck tires. The Field Hazard part of this warranty covers tires that become unserviceable due to non-manufacturer related circumstances. This can be the most important part of the warranty to help a farmer protect their investment with circumstances that they sometimes can't control.
Stubble Damage, the second part of this warranty, is caused by corn, cotton, soybean, etc. stubble penetrating the tire and causing air loss. With most manufacturer's warranties, the tires must be unserviceable and not able to be repaired to be adjusted under this provision.  To minimize stubble damage, mount equipment to the front of the tractor to push the stubble over to eliminate stubble penetration into the tire. Also, if possible, cut the stalks taller so the front tires push stubble over instead of directly running over it helps.  Tires are made of rubber and fabric and unfortunately aren't indestructible. This is an important part of the warranty of help a farmer protect their investment of tires.
BKT has a both a Limited Material and Workmanship Warranty and a Field Hazard and Stubble Damage Warranty to help farmers protect their investment by purchasing BKT agricultural tires.
BKT's Limited Material and Workmanship warranty covers Radial agricultural tires for 9 (nine) years from the date of purchase or the date of manufacture if proof of purchase cannot be furnished. This will cover any condition considered to be a manufacturing defect by BKT.
BKT has a 3 (three) year Radial Field Hazard and Stubble Damage Warranty from the date of purchase or date of manufacture if proof of purchase cannot be furnished. This covers both for a period of 3 (three) years. The tire must be unrepairable to be considered for warranty under this provision.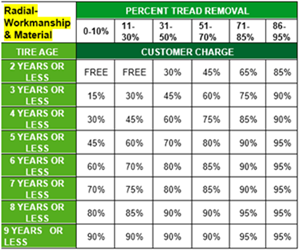 Continental Agriculture North America, Dana Berger, OE Sales Representative and Farm Project Lead
Continental released its 10-year Agriculture Tire Warranty for the United States and Canada in February 2019. 
Some farmers will hold on to a tractor for the entire length of its life. For those farmers, the extended support from a tire supplier proves that we value their hard work. On the other hand, farmers who lease their equipment will benefit greatly from our Stubble Damage and Field Hazard coverage. This comes back to the density of the stalks causing tire damage. With the proper stalk dampening procedures in place, a farmer can be confident that Continental will stand behind them, should there be damage from regular operation. This includes any concerns from piercing or blowout situations related to field hazards.
Tires are an investment for a farmer. Even leased equipment must often be returned with a tire in good condition within reasonable treadwear use. For a R-1 and R-1W tire, the farmer needs to consider the tread depth and overall wear when they turn in their equipment. Our warranty can help the farmer not have to purchase a full priced tire that they won't benefit from, upon return. If they need to replace a tire from workmanship and materials, field hazard or stubble damage, we will prorate the remaining tread depth percentage with a credit toward a new Continental R-1W tire.
Basic Coverage Summary:
Any tire that becomes unserviceable from a covered warranty condition will be repaired or a pro-rata credit will be issued towards replacement with a new Continental or General Tire brand tire. This credit will be determined by applying the lesser of the percentage of actual remaining tread depth (RTD%) of the covered tire, or the maximum credit based on the age (from purchase date) of the covered tire as indicated in the attached chart.

Stubble Damage Coverage:
If, in normal agricultural service, a covered tire becomes unusable or not repairable due to Stubble Damage (piercing or erosion due to plants and/or crops), a pro-rata credit will be issued towards replacement with a new Continental a pro rata basis based on the purchaser's then current (at the time of adjustment) purchase price for the covered tire. The first year has 75% pro-rata credit, the second year has 50% pro-rata credit, and the third year has 25% pro-rata credit.
In order to qualify for Stubble Damage Coverage, the owner-user must use reasonable efforts to reduce Stubble Damage such as adjusting tire spacing to run amid the crop rows, knocking down stubble with the help of mechanical devices readily available through equipment manufacturers, and running parallel to the rows for the first tillage pass.
Field Hazard Coverage:
If, in normal agricultural service, a covered tire becomes unusable or not repairable due to Field Hazard Damage (piercing or blowouts due to hazards commonly encountered in agriculture field settings),a pro-rata credit will be issued towards replacement with a new Continental a pro rata basis based on the purchaser's then current (at the time of adjustment) purchase price for the covered tire. The first year has 50% pro-rata credit and the second year has 25% pro-rata credit.
Firestone Ag, Bradley J. Harris, Manager, Global Agricultural Field Engineering
When purchasing new equipment or new tires for your current equipment, does the tire manufacturer's warranty or policies factor into your decision? Does your tire dealer or equipment dealership help you understand the warranty that comes with your purchase? What is the difference between a warranty and policy, and what should you ask your dealers when comparing the warranties or policies?
The Firestone Ag manufacturer's warranty is a program in place to help customers when the tire becomes unusable for any reason within the manufacturer's control. The manufacturer's warranty applies when the customer uses the tire correctly, but it becomes unusable. In Firestone's published manufacturer's warranty, there are examples of what typically is not covered under the manufacturer's warranty, like tire damage due to apparent overloading, abuse of the tire, rapid tire wear, mounting damage or improper repairs. The list of typical conditions not covered is in the Firestone manufacturer's warranty, which can be found at FirestoneAg.com.
Firestone agricultural radial tires (excludes Performer EVO–branded radials) have a manufacturer's warranty of nine years and six years for the Performer EVO–branded radial and bias tires. The Firestone manufacturer's warranty start date is based on the tire or new equipment's original proof of purchase (POP) date. If the POP is lost, Firestone will use the DOT serial date code of the tire to determine the age of the tire. This serial date code is found on the sidewall of the tire, and shows the week and year the tire was produced. The published manufacturer's warranty outlines the amount the customer pays, based on the age of the tire. The Firestone warranty is transferable between owners of the equipment, which means it doesn't matter if you're the first, second or third owner — the Firestone manufacturer's warranty stays with the tire.
Firestone Ag also provides a Stubble Damage Policy and/or a Field Hazard Policy on R-1 and R-1W tires. A policy is extra protection that extends to the customer when the customer follows all the recommended operating instructions, but damages a tire early in its life. The  Field Hazard and Stubble policies are there to help customers when  a tire is damaged beyond repair and the damage is not within the tire manufacture's control. Firestone's Stubble Damage policy is a three-year program, and the Firestone Field Hazard policy is a two-year program. Unlike the manufacturer's warranty, the policies only apply to the original owner of the tire. Just like the warranty, Firestone will use the proof of purchase as the start date of the policy. The published Firestone policies can be found at FirestoneAg.com, with a full explanation of what is covered and the common limitations of the policy.
The questions to ask your dealer when comparing the manufacturer's warranty or policy:
Do these tires have a manufacturer's warranty or policy?
Where can I find the published manufacturer's warranty or policy?
How many years are the tires covered under the manufacturer's warranty?
How much do I need to pay if there is a warranty or policy claim?
Is the labor or service call covered by the manufacturer?
Does the warranty or policy transfer to the next owner?
Asking these questions is a great way to understand the total purchase price of the tires. A certified Firestone agricultural tire dealer will be able to walk you through the warranty that comes with every Firestone agricultural tire.
Trelleborg Wheel Systems, Norberto Herbener, OE Applications Engineer 
Warranty is a word that should symbolize manufacturing quality and the compromise of the tire manufacturer to stand behind his product with high quality and after sales support. This compromise must be complemented with the local tire dealer knowledge and support. This combination assures that the final tire customer has peace of mind.
There are several aspects to consider when analyzing tire manufacturer warranties and how its applied in each case. Several steps must be followed in order to have a hassle-free process in case a warranty has to be used. Always the process starts with your local tire dealer and he will determine if the issue is warrantable and will follow up the process with the tire manufacturer. If your local tire dealers do not respond to your expectations, most tire manufacturers offer a toll-free number to contact them. Please don't abuse this resource and use it only as the last resource.
First point to consider is the length of the covered period, when it starts, how the credit is applied in case the warranty is accepted, paperwork required and what additional perks the tire manufacturer offers. For most cases, especially with well-known brands warranty coverage period starts when the tire is sold to his final user. For example, a farmer that bought a tractor, the start of his warranty is the date of the tractor invoice – it's important to keep a record and proof of purchase for a claim. If this information is not available, the start of the warranty is the date of manufacturing of the tire (date code) stamped on the tire – normally 4 digits representing the week and year of manufacturing.
Claim type. The tire manufacturer warranty covers – during the covered period – for defects in material and/or manufacturing. The tire must be used as its designed to be used, the warranty will not cover for improper use, maintenance, storage and/or abuse of the tire. Cosmetic blemishes – as small stubble damage – that will not affect the tire performance are not warrantable cases. Always consult with your local tire dealer if your situation is covered by the tire manufacturer warranty before starting a claim. In the case the tire dealer agrees on the viability of the claim, he is the responsible to collect all the information and evidence of the claim and submit it to the tire manufacturer for analysis. Even in this case, always wait for final manufacturer approval of the claim.
Type and quantity of the adjustment from the tire manufacturer. This criterion defers between manufacturers and most apply a percentage of reduction per year. For example, in a 5-year warranty, the adjusted credit will be reduced by 20% for each year of usage (a 3-year-old tire would get a 40% credit). For Mitas tires, the credit is based on remaining tread depth at the time of the claim (takes in account the tire usage). So, if a tire is 6 years old and the tread dept is 50% of the original, the credit would be of 50%. Once the claim has been accepted by the tire manufacturer, the credit will be issued to the local tire dealer that initiated the claim and forwarded to the end customer. In most cases the credit is applied toward the purchase of the replacement tire.
CEAT Specialty Tires Inc., Jim Enyart, Technical Manager
Growers who are looking to purchase radial Ag tires should start the process by identifying the product or products that best fit their needs. After a grower identifies one or more candidates, they should gather information on costs, availability, past experience and inventory. It may be prudent to check these items with several dealers. The warranty policy should also be a big part of your fact-finding process. The warranty coverage may be a determining factor in your purchase.
CEAT's FARMAX brand Ag radial tires are covered by a limited Ag radial warranty that provides seven years of Workmanship / Materials coverage. If the tire becomes unserviceable, unrepairable or unsafe during the first seven years in service due to a Workmanship / Materials defect, the original owner is covered by this seven-year warranty. During the first two years, there is a No Cost Replacement as long as the tread depths are at 75% of the original tread depth or more. Credits for years three through seven are pro-rated on a tread removal basis.
CEAT also offers a Field Hazard / Stubble Damage warranty for a three-year period on all CEAT Ag tires. If the tire fails or is unrepairable during the first three years in service the grower has coverage at a 75% level for the first year, 50% during the second year and 25% coverage during the third year.
Time in service for warranty calculations is based on dealer invoice to grower. If the invoice is not available, the fallback position is the date code molded on the sidewall. CEAT is not responsible for any associated costs or damages caused due to the failure or the replacement process.
Please see the complete warranty policy for all details of CEAT's FARMAX Ag radial warranty.
Maxam Tire International, Greg W. Gilland, Business Development & Ag Segment Manager
A Grower should first and foremost find Ag tires that meet his definition of "Value" for his Farm, Ranch or Operation. Our Maxam Agrixtra Family of Radial R-1W Ag tires are designed to deliver the best possible "Value" to a Grower through superior traction, ride comfort, and endurance at a competitive price. Our New Ag Warranty was developed to ensure we give that same grower "peace of mind" in his purchase of Maxam Radial Ag Tires by protecting his investment.
The protection we provide for our Radial Product Line Workmanship & Materials is Eight (8) Years, with a Two (2) year Free Replacement <25% of wear that includes standardized labor and service reimbursement.  After free replacement time frame, our Workmanship & Materials warranty is based on years of service only, not tread depth.
Maxam also offers both Field Hazard & Stubble Damage protection with Four (4) years of coverage, based on both years of service and tread depth.
Lastly, we offer Four (4) year Workmanship & Materials warranty for scraper service, in addition to the above Agricultural service coverage noted.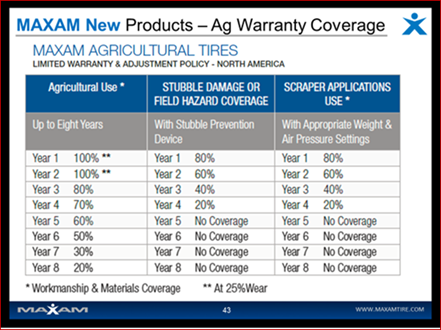 MAXAM FULL WARRANTY: Maxam Warranty
Michelin Ag, David Graden, Operational Market Manager — Agriculture
No one really wants to spend their valuable time sending in warranty claims for their tires. The fact is, in the case of Ag tires, most warranties tend to cost you. Typically, when a warranty claim is filed, you end up paying for the rubber/time used on that tire; not to mention the down time, mounting, labor etc. A typical comment I hear is, "That's why I paid so much for this tire to begin with!"
Good point, however, regardless of whom the tire manufacturer is, there will be occasional manufacturing issues that cannot necessarily be controlled. For instance, folds in the rubber being extruded into the mold, shipping damage, delamination of one rubber compound to another, etc.
When choosing new Radial R-1/R-1W tires for your machine, it's important to consider the warranty that comes with that tire. This warranty should not only protect you from Manufacturer Defects, but some will even protect you from possible damages caused by normal use.
For example, Michelin Agriculture tires come with a standard 9yr Workmanship and Materials warranty, where the first 2 years are No Charge to the customer including Service and Labor for replacement. After that, we start at 30%, 40%, and so on down to 9yrs.  It's also important to know that Michelin credit is based on years of service only- not treadwear & years of service.
We also carry a 3yr Stubble Hazard warranty on all of our tires, with select "stubble shield" tires (YieldBib & MegaXBib2) having a 4yr warranty, again with Michelin credit based on years of service only- not treadwear & years of service.
To round out the total Michelin Agriculture Warranty offer, we also carry a scraper warranty, and if you wanted to try a set of Michelin Agriculture tires, we have a standard 90 day total satisfaction guarantee, where you can try the tires for a season and return them if they don't work for you.
Bottom line, the environment in which agriculture tires work is severe. When you make your next purchase decision, it is very important to start with a quality product that will minimize downtime and additional cost down the road.  Lastly, it's important to consider the entire warranty program. Not just one aspect.