It's hard to pinpoint exactly when precision agriculture began, but a significant event occurred just over 25 years ago: a new invention enabled farmers to utilize technology to find substantial yield variations in different sections of their fields. The Yield Monitor 2000, the first accurate combine yield monitor, was released in 1992 and was the brainchild of Ag Leader Founder and President Al Myers, who helped bring precision farming to the mainstream. From humble beginnings, Ag Leader now operates globally and continues to develop new products to help farmers use emerging technology to become more efficient.
Based in Ames, Iowa, Ag Leader is the largest privately-owned supplier of precision farming technology in the world, with 290 employees, offices in The Netherlands, Australia and Brazil, and an international dealer network. Becoming a global leader in precision farming wasn't on the horizon when the company started. "I was just plain dumb lucky," Myers modestly admits. "In 1992, I did not recognize how big precision farming would be, or the advancements that were coming."
The Yield Monitor 2000 was first introduced in 1992 and paved the way for Ag Leader's continued success.
A background in agriculture and engineering uniquely positioned Myers to recognize the applications for technology in crop production. A tenacity to continually raise the bar in product development and a talent for hiring like-minded employees catapulted the company to a leading position in the world of precision agriculture.
Cultivating a Passion for Engineering & Product Development
Myers grew up in Watseka, Ill., about 90 miles south of Chicago. He worked on his father's diversified crop and livestock farm and was mechanically inclined. This caught the eye of his vocational agriculture teacher, who then suggested a career path in engineering. Myers says a senior trip to the University of Illinois lit a fire under him.
"I was fascinated with the things I saw there, walking through the different engineering departments, so I enrolled in engineering and never looked back. I love that kind of stuff and got my Bachelor of Science degree in 1970 and later a Master of Science in Agricultural Engineering."
Myers hoped for a job with John Deere or Caterpillar, both headquartered close to his hometown, but the economy nixed that plan. "The year I graduated, there was a recession in the off-road machinery market, so there weren't any job offers from either one of those. I ended up working at Sundstrand Corp. in Rockford, Ill. They focused primarily on aerospace, but I worked in a division that was trying to develop some high-pressure hydraulics. It merged into the hydro-transmission plant in Ames, Iowa, now called Danfoss. I worked in Rockford for less than a year before I was transferred to Ames.
"The first 10 years that I worked for Sundstrand were a lot of fun," Myers says. "The division I was in developed a lot of new products."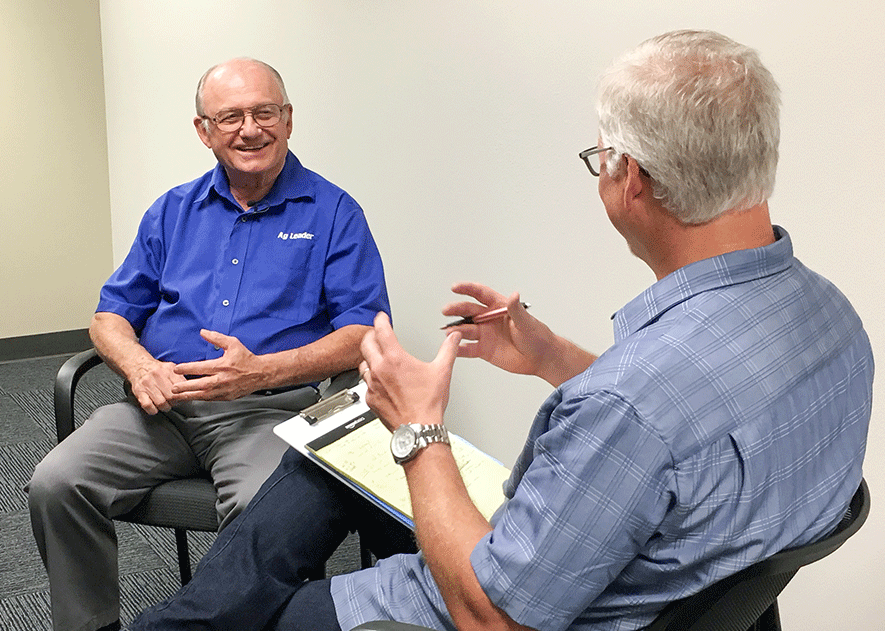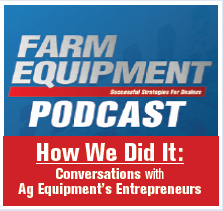 Hear more from Al Myers on Ag Leader's history in the How We Did It: Conversations with Ag Equipment's Entrepreneurs podcast at www.Farm-Equipment.com/Myers
Soon, though, the economic problems expanded to other industries, leading Myers to go off on his own. "Once 1981 hit and the big slide started, sales of their products were down 6 years in a row," Myers says, "which led to research and development cuts. I like to develop new products and wasn't really happy with my job, but had a young family then, so I couldn't do something different."
"Going out on my own was a big step," Myers recalls. "I'd never been laid off like many people who I knew in those recession years. I had a secure job with a good salary and benefits, so it was like stepping off a cliff. I had young children when I started the company: one 13 and the other was 2 years younger. My wife didn't say so, but kind of wondered, 'Is this guy crazy?' I was obsessed with being successful and finally took the big step."
In his free time, Myers dreamed about starting his own company and developing products on his own. "I brainstormed a lot of ideas and by 1985, I was motivated. I thought a combine yield monitor would be useful to farmers. My dad was still farming and I put a crude prototype on his combine in the fall of 1986 and kept refining it. It was tough to develop something that worked accurately enough to be a salable product."
Early Days of Disappointing Sales & Sticker Shock
Myers says the yield monitor took six years of development and testing. "I had a couple of other field testers: one was a neighbor with a newer combine than my dad had. The last year, I expanded to another farmer in Iowa, so I only had 3 field testers before putting the product into production. The first year the product was out, in June of '92, I thought I could sell 30-40 units. Well, I sold 10, and at least half of them were to people who I had personal connections with. With less than $30,000 in total sales, I didn't make money that year, but it was just me so my expenses were pretty low.
"After the first year, I certainly learned some business lessons, like you have to keep cash flowing — that's the lifeblood of the business," Myers says. "It's different than with startups today, because there are a bunch of them that go out and collect venture capital. When I started, venture capital was unknown in this part of the country. I wouldn't have gone after that even if it were, though, because I wanted to be in control of the company. It was very important to manage expenses in the beginning. I had nothing other than the money that I could spare from my full-time job, with two kids and a mortgage."
---
"I knew that I had to have a dealer network, but did not know how to do that until the first farm show in Peoria, Ill., just after the 1992 harvest season. I started hooking up with some of the independent manufacturers' representatives. They were good for me because they had the connections to the implement dealers…"
---
In the first 6 months of the company, Myers worked alone at home, but going into winter, he realized his need for space and help. "I rented a small office space for employees, who at that point were part-time university students who I could get to work 15-30 hours a week. It was more than a year before I hired the first full-time employee, who is still with me today."
Myers says that being a struggling tech-oriented company may have been a blessing due to the type of employees he was forced to bring in. "I couldn't afford a lot of experienced help, so I was hiring people off the street or out of college — a lot of young people. Because there were areas of business where I wasn't an expert — sales, marketing, manufacturing and accounting — I'd let them show me how it should be done rather than tell the employees how to do their job. You see managers that are very participative in large companies and you see some that are dictatorial; I like to be participative. Even back when everybody looked to me to make the final decision, I always asked opinions of all my people."
Photo Gallery & Video Recap
To see the Ag Leader Photo Gallery, click here.
To watch the Video Recap of Ag Leader's story, click here. 
Retail price on the first yield monitor was $2,250. A moisture sensor, added the second year, increased the price to $2,750. Myers remembers reactions, "When I'd go to farm shows, I found that farmers were used to buying low-cost pieces of electronics, like a device that would count your acres for $295. When you showed them a $2,250 yield monitor, they'd say, 'I've never spent anything like that for an add-on piece of electronic equipment.'"
While first-year sales were unimpressive, Myers says early customers were astonished at the capability of his new tool. "I know a local farmer who bought one of the first 10 monitors I sold. He had one field that was having poor soybean yields and eventually figured out that he had cyst nematode moving into his soil and he wouldn't have known that otherwise. He also found that drift from fungicide he was spraying on seed corn was improving bean yields in certain areas."
Gaining Traction
After the first selling season, Myers visited Deere dealers within an 80 mile radius of Ames. "I took a monitor to show and pictures of the flow sensor installation. I knew that I had to have a dealer network, but didn't know how to do that until the first farm show in Peoria, Ill., just after the 1992 harvest season. Independent manufacturers' representatives — which I didn't even know existed — stopped by our booth. I started hooking up with some of those folks. They were good for me because they had the connections to the implement dealers."
The business continued to grow in the early '90s and a huge break came when Myers' company was contacted by an original equipment manufacturer. "Case approached me in 1994, and the next year they put 60 systems in the field as a test program. I had thought we might get into the OEM business, but I wasn't expecting it that early," Myers remembers.

A glimpse into the Ag Leader plant: What started as a small rental space with part-time university students is now an international company with nearly 300 employees.
"They went into production in March 1996. I think that after a full year with them, OEM sales might have been 40% of my total, but over the years our aftermarket sales grew more than OEM sales. For a long time we've maintained about 75% aftermarket and 25% OEM sales."
In the early days, Myers had no indication of the precision farming boom that lay ahead. "I had anticipated making maps with dead reckoning and compasses. Global positioning came along a couple years after I started the business and was becoming usable. GPS has been such a wonderful thing for giving you accurate position location and the yield mapping part of my machines  would have been quite a struggle without it. As GPS made mapping practical, it became obvious that people wanted the whole system ready to just plug in and go."
Myers recognized that advanced users were looking for yield maps coupled with analytics, and that meant the company would need to offer software. He explains, "We initially marketed a program that another small company made for us, and then a few years later developed our own software." In 1996, Ag Leader unveiled the GPS 2000, a stand-alone receiver and antenna system capable of basic field mapping, allowing data to be tied spatially so a yield map could be produced.
As technological tools were rapidly changing the face of agriculture, not all farmers were on board, Myers recalls. "That was a real struggle in the beginning, and that's one of the reasons we developed a very strong technical support department. There were a few 'techie' farmers, those were maybe 5% or less. It was a struggle to get farmers trained. In the beginning, practically none of those who were buying yield monitors had even touched a computer before; it was only the real techie ones who found it interesting, had a computer and learned how to use it themselves. Today, younger people coming into farming grew up with technology and pick it up much easier than the people who didn't."
Farming was booming in the early 2000s, and New Leader began to use technology to efficiently control individual functions of equipment control. "The first thing we actually controlled was spinner spreaders and then we moved to planters and other types of devices. The trend developed from just monitoring in the beginning, to controlling something on the machinery," Myers explains.
"I call 2004 the beginning of the modern era of Ag Leader," he continues. "That was the year we introduced our Insight Display and started transitioning our products to the CAN bus type of electric architecture that all the farm machinery was moving to. That really gave us the platform for expanding into all these different functions that we have now.
"Prior to the Insight Display, we did grain and cotton yield monitoring and some planter and spreader control, but that's all we could do. The Insight and CAN bus architecture really opened up the future for us. We were able to introduce the first reliable, easy to use, large color touchscreen display in agriculture. It was not the first color display, but it was a giant step ahead."
Building a Team Committed to Innovation
"I always had that appetite for wanting to create something new, and that philosophy has gradually been instilled in the employees that come on board," Myers says. "It was an advantage for me to build the engineering department. I knew the mechanical engineering end of things and did my own electronics and programming in the beginning, but I needed to bring in people who had strong expertise in that."

Ag Leader employees outside the plant in 2017.
Myers continues, "I've also been building a very strong management staff, and with our capable engineering department, we can produce products of OEM or better quality. I attribute that, to a large degree, to the background I had working for a company whose whole business was supplying products primarily to agricultural and construction machinery manufacturers. I knew how OEMs worked and what they expected of their suppliers: reliability, quality and design.
"I have two sons," Myers says, "The older one runs his own business, which isn't ag-related. Mike, the younger one, is manager of our display programming area. He'll be in control of the company after I am gone. We've started to integrate him into what we call our 'business leaders group' staff who reports directly to me and get together twice a month to discuss high level business issues and set yearly objectives for the company."
Myers sees more refined innovation in the next 5 years. "We are certainly going to see a continuation of making the things you can do on a smaller, site-specific basis. It's not going to happen overnight, but you are gradually going to see the ability to record pieces of data that we can collect in the field on a smaller scale. In other words, analyzing a smaller spatial area and then doing something there more precisely. We already have row-by-row shut off population control on planters and that kind of thing, but we will see that happening on other machines."
MORE FROM

To stay a leader in charting the future of the rapidly-evolving precision farming field, Myers challenges his staff to find direction — literally — from the field. "I have a whole department of product managers and specialists doing market research by going out and riding with farmers, talking with them and walking in their fields."
This requires continuing to find the right type of employee to move forward. "We have many people who have started here just out of school and, in most cases, come from a farm background, which gives us an understanding of what to do and not do in the ag market.
"Our challenge is to keep our existing product lines viable by introducing enhancements," Myers says. "We also put every penny we can into research and development. We've tried to provide a complete year-round precision farming package as technology has progressed, and there is more every year. You have to put the R&D effort into new products to stay ahead of the game. Today, we are always trying to figure out the next thing that the farmer is going to need and want out of technology. We are moving into the realm where the entire developed world is connected."