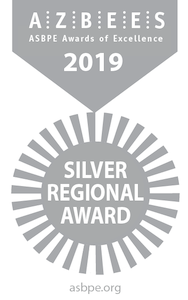 In mid-April, Mike Lessiter, Editor/Publisher of Farm Equipment, received a Silver Award from the American Society of Business Press Editors for Editorial Writing. His "To the Point" editorial columns were recognized with a Silver award in the Upper Midwest Division, representing business editors in Iowa, Illinois, Minnesota and Wisconsin.
ASBPE judges evaluated two 2018 Editor's Letters in their evaluation. Lessiter's award-winning columns included:
Take Charge Where Charge Can Be Taken (February 2018) — This "To the Point" page challenged subscribers to pay close attention to the "people asset" in a themed edition on operational facts, figures and benchmark ratios. It was a timely message for business executives and managers during yet another year of struggle for the farm industry and the many uncontrollable factors impacting the dealer's businesses — something that would become clearer as the trade/tariff issue surprised the market a month later.
One thing that can be counted on, Lessiter writes, is your talent, so an investment in a well-prepared and agile team should be able to navigate whatever turbulence it faces next. The column is also unique in that it not only shares a "talent pool and depth chart" concept origination from progressive farm equipment dealer Stotz Equipment, but also a case history on how a small family company (in this case a B2B media company) applied that same concept for finding the flex and full-time talent needed to compete.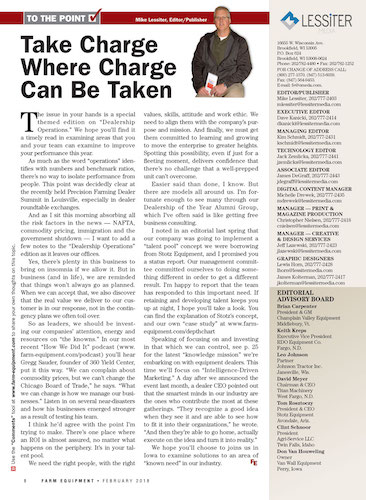 Boots & Spades Needed, Not Gigabytes (October/November 2018) — This column detailed a candid late-night interview with German-based farmer and manufacturer Michael Horsch, who is challenging the entire ecosystem in his approach to farmers, dealers and manufacturers. The interview dug deep into topics rarely discussed by American leaders, including how the manufacturer can compete with giants like John Deere. After just 2 months, this print editorial also achieved the highest digital traffic of all of 2018.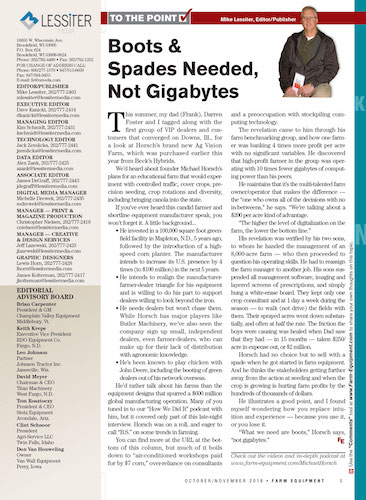 At the same awards banquet in Chicago, Farm Equipment also received an award for its "How We Did It: Conversations with Ag Equipment's Entrepreneurs" podcast. Judges reviewed the episode on two generations of executives at Kinze Manufacturing, Jon Kinzenbaw and Susie Kinzenbaw Veatch. 
About the American Society of Business Publication Editors (ASBPE) Awards:
The ASBPE's Azbee Awards of Excellence program is one of the most competitive that exists for business-to-business, trade, association, and professional publications in the U.S. It celebrates the highest quality reporting, editing and design in business-to-business, trade, association and professional publications. The awards honor all types of publications, including magazines, newspapers, newsletters, websites and digital media.