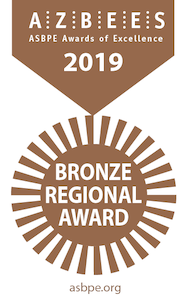 The content team at Farm Equipment earned a Regional Award from the American Society of Business Press Editors for the podcast episode on the founder and successor generation at ag equipment manufacturer Kinze Manufacturing. ASBPE announced in mid-April 2019 that the podcast earned a bronze award from the Upper Midwest Division, which consisted of business publications in a variety of media that are headquartered in Iowa, Illinois, Minnesota and Wisconsin.
The "How We Did it: Conversations with Ag Equipment's Entrepreneurs" podcast on founder Jon Kinzenbaw and second-generation president Susie Veatch of Kinze Manufacturing was one of the earliest and most-listened to episodes in the 24-part series, which debuted in January 2018. The series focused exclusively on independent manufacturers of shortline farm equipment that remain family-owned.
The award-winning Kinze episode was a casual, personal conversation with the Kinzenbaw family members in an interview by Editor/Publisher Mike Lessiter at the Farm Progress Show. The entire 24-part How We Did It podcast series was edited and produced by Joe Kuenzle, Manager of Audio/Visual at Lessiter Media.
Kinze Manufacturing was founded in rural Williamsburg, Iowa in 1965 by Jon Kinzenbaw, a 21-year old with $5 to his name. After finding a few thousand in credit, Kinzenbaw opened a repair shop which has now grown to 30 acres of under-roof facilities and nearly 900 employees worldwide. In 2005, Kinzebaw's daughter, Susie Veatch, joined the company full-time after working at Caterpillar and became President of in 2016. To listen to the podcast, click here.
Lessiter sat down with Jon and Susie at the farm show to learn more about how the company started, the 7-year legal battle they fought their way through with John Deere, their history of innovation and the reinvestment in their state of the art production facility. The podcast explores the remarkable journey from a tiny shop to a vertically integrated global manufacturer — and one of the largest remaining family owned equipment businesses in the American ag industry.
To see the other 23 subjects in the series, visit www.farm-equipment.com/HowWeDidIt
About the American Society of Business Publication Editors (ASBPE) Awards
The ASBPE's Azbee Awards of Excellence program is one of the most competitive that exists for business-to-business, trade, association, and professional publications in the U.S. It celebrates the highest quality reporting, editing and design in business-to-business, trade, association and professional publications. The awards honor all types of publications including magazines, newspapers, newsletters, websites and digital media.