As precision agriculture honed practices for planting, fertilizing, watering and harvesting crops over the past 20 years, it has lagged somewhat in helping farmers with what many say is historically the most important factor of agriculture — preparing a proper seedbed for planting and protecting the soil for future crops.
That situation is rapidly changing, however, as farm equipment makers have begun applying precision technology and capabilities to tillage tools.
Now, rather than obediently following a tractor wherever it pulls, tillage implements can maintain pre-set working depths, accurately track between rows (even on hillsides), and vary the intensity of ground-engaging steel either by manual or digital directions from the tractor cab. In effect, today's "variable rate" tillage advances are eliminating the final technological hurdles to truly autonomous agronomic field practices.
"While no-till and strip-till have become popular, there are areas where cool and wet conditions in the spring have prevented them from being widely accepted," says John Nowatzki, Ag Machines Systems Specialist at North Dakota State University's Agricultural and Biosystems Engineering Department.
 "In our area of the Upper Midwest there's less interest in the two reduced-tillage practices as systems and more excitement about being able to vary tillage intensity according to conditions and to variations in the soil types," he says. "The idea is to reduce tillage as much as possible on lands where less is needed, but yet be able to combat weeds, size field residue and dry heavier soils in the spring.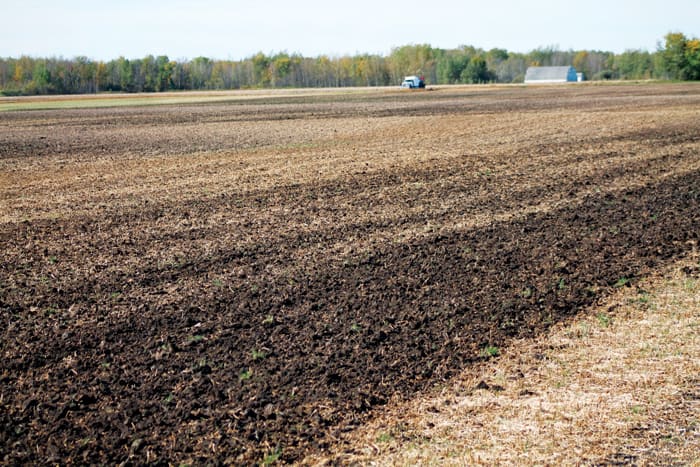 Strips of field residue left behind varying intensity tillage passes are evidence of the results possible from in-cab controls of VIT implements. Many of the new machines are capable of making the changes themselves, on-the-go, according to prescriptions loaded into their system controllers.
"Generally on higher lands, soils are lighter and many have salinity issues," he explains. "Those acres don't produce as well and, from a profitability standpoint, many shouldn't be farmed at all. Still, growers don't want to go around the poorer soils so they go through them and harvest little if any yield. That kind of soil variability, and the need to farm those areas differently explains the interest in variable intensity tillage (VIT)."
The enabling engineering for VIT lies in the development of so-called vertical tillage equipment, which became popular around 2010 as growers sought methods to size heavy field residue ahead of planting.
"Vertical tillage basically is any tillage operation that does not cause a horizontal shearing or a smearing plane in the soil profile," says Jodi DeJong-Hughes, regional extension educator at the University of Minnesota.
"Most vertical tillage equipment consists of vertical coulters set between 0 degree and 10 degree angles and lightly tills the top 1-4 inches of soil at relatively high field speeds, typically leaving residue on about 50% of the soil surface," she explains.
---
"The idea is to reduce tillage as much as possible on lands where less is needed, but yet be able to combat weeds, size field residue, and dry heavier soils in the spring…" – John Nowatzki
---
From a research standpoint, DeJong-Hughes says tillage implements pulling disc or coulter gangs at between 15-20 degrees are really out of the "vertical tillage" category and are more akin to conventional tandem disc harrows.
As implement makers looked at vertical tillage equipment and its variable gang angles, it was a simple leap to begin exploring changing those angles from the cab, and "VIT" entered the precision agriculture lexicon.
Nowatzki says two things had to happen to fully integrate VIT into precision agriculture, and, eventually, autonomous farming: In-cab control of tillage implement intensity settings, and the ability to put a map in the controller that pre-programs tillage settings so the operator wouldn't have to switch manually on-the-go.
"To further enhance the usefulness of VIT, we also need real-time determination of field and soil conditions being encountered by the machine at any given position in the field," he explains.
While Nowatzki's first two "must haves" are currently commercially available, remote sensing by the machine to make on-the-go variations is still in its infancy.
Topcon's View
"Topcon launched Topcon Depth Control in 2018 and continues to develop solutions for growers in the precision tillage sphere," says Brady Bjornson, product manager at Topcon Agriculture, maker of the NORAC Tillage Depth Control system.
"Some people are not into tillage at all, and others are very big proponents, depending upon the soil types, soil moisture management plan and residue management plan," he explains. "For control, our system is very effective. If you want to lightly mix residue and fluff the soil to build a uniform 1 inch working depth across the entire field, we can do that. If you want complete mixing of residue at 6 or more inches, we can do that, too," he says.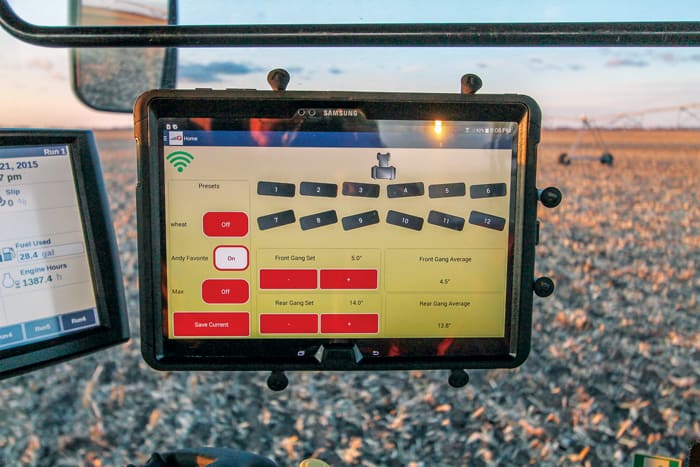 This cab-mounted display shows various pre-set tillage programs along with graphic illustration of current gang angles on the trailing tillage tool. Most VIT systems allow "push button" changes in gang angle on-the-fly, or will follow pre-programmed tillage prescriptions. (Photo Courtesy of Gates Mfg.)
Bjornson says Topcon continues to develop its ultrasonic sensor technology to continue moving into the "control" phase of precision tillage, but says between U.S. and European farmers, there are two basic goals such a system must meet.
"In North America, farmers are interested in clump or clod size and residue levels behind their tillage equipment. In Europe, growers want to know if the soil is 'black enough' since they traditionally prefer a more thoroughly prepared seedbed for planting.
"The same is true for vegetable growers in the U.S. and others who are planting tiny seed and want a precise, uniformly fine seed bed texture," he explains.
"While we're moving, our front sensors are figuring out what is what, and in the back the sensors are telling us what we accomplished, and research continues on both control and monitoring functions of our system to make certain we can give the growers exactly what they want," he says.
The Gates Patent
Similarly, Andy Gates of Gates Manufacturing says his patented Dynamic Adapt Soil Conditioning system promises on-the-go VIT operation, and is an option on the Gates 9000 and 12000 Series Coulter Disk Series.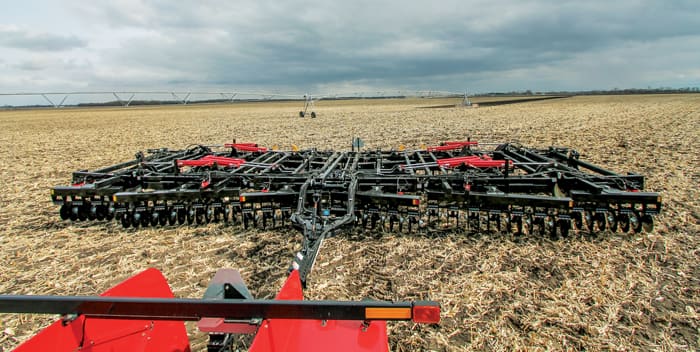 The 9000 and 12000 Series Coulter Disks from Gates Mfg. offer 0- to 15-degree gang angle changes on 11 models from 12-56 feet working widths. Gates also offers an optional photo-image-based monitoring and control system which promises real-time, on-the-go machine-adjusted operation. (Photo Courtesy of Gates Mfg.)
"Using front photo sensors, the DASC system provides a pre-pass view and its software controls proportioning valves on the implement to adjust the gang angle to provide the desired post-pass residue," he explains. "Our system is looking for the proper black dirt to residue ratio."
Currently, the Coulter Disks in operation in China, Texas, Canada and the Upper Midwest in the U.S. Corn Belt feature a system which sends signals from sensor cylinders to a control box which transmits data over Wi-Fi in real-time to an in-cab tablet. In turn the system processes the information and communicates back to the controller via Wi-Fi, which signals the proportioning valves to make adjustments.
The Gates machines come in 11 working widths, ranging from 12 feet to 56 feet and all feature gang adjustments from 0-15 degrees in 0.5-degree increments, with front and back gangs adjusted independently of one another. Gang blade spacing is 9-12 inches, for an overall implement track of 4.5-6 inches of blade spacing. The machines are capable of running 8-11 mph, and can be used as a "conventional" medium-duty disc when set at 15 degrees at 3-4 inches working depth and field speeds of 6-8.5 mph.
"This system allows you to precisely adjust your settings with the push of an on-screen button," Gates explains. "We think the addition of the optional machine-vision option to our system will provide growers with a lot of value once they begin to adopt it.
The Summers Approach
In 2015 Summers Manufacturing entered the variable rate tillage category with its VRT2530 and VRT3530 adjustable gang machines to accommodate growers who wanted to do vertical tillage but also "move more dirt and bury more residue," says Bruce Johnson, innovation and business development director.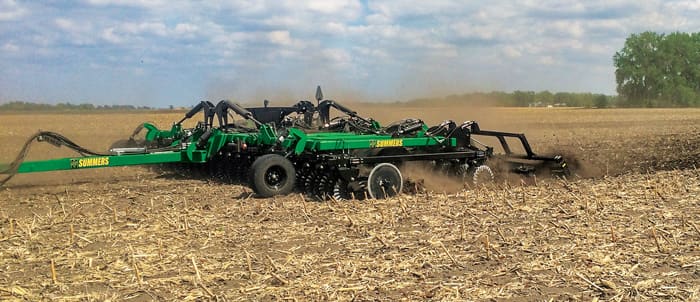 The newly-introduced VRT Renegade from Summers Mfg. offers growers a highly flexible machine capable of high-speed vertical tillage operation, or with the touch of a screen, an aggressive disc-harrow operation with blade angles up to 19 degrees. The new machine comes in four models from 25-40-foot working widths. (Photo Courtesy of Summers Mfg.)
"These machines brought a more aggressive tillage option than our true vertical tillage Supercoulter, which featured two rows of gang-mounted coulter blades running at a 0-degree angle," he explains. "Many growers liked the moisture management of vertical till and the speed with which the tools could travel, but they were fighting heavy residue from BT corn crops and needed a more aggressive tool to deal with it.
"Rather than switching back and forth between implements, they made it clear they wanted a tool that would do both, and that's why we introduced the VRT Series machines," he says. "With them, the operator could have one machine with varying levels of tillage intensity."
The 2530 machines featured front-mounted discs set at 12 degrees, and rear-mounted coulter gangs set at a 0-degree angle, to combine the benefits of a disc harrow and a vertical tillage machine. They were also equipped with a hydraulic hitch to shift the weight from front to back, giving the front blades more or less depth to bury more or less residue. The finishing tool was a mounted harrow/rolling-basket combination. The 3530 machines featured discs both front and rear which were manually adjustable from 5-24 degree angle.
Summers Mfg. equipped the VRT Renegade with a solid shank, dual-blade mount that operates with a 1,200-pound rock-trip safety. (Photo Courtesy of Summers Mfg.)
Still, in 2016, farmers in focus groups and dealer meetings wanted more flexibility and more features, Johnson explains.
"We realized manufacturers were trying to deliver individual tools to a dynamic bunch of growers with dynamic needs that change from farm-to-farm, from season-to-season and even from field-to-field or within a field." he says. "We figured out they want a tool that allows them to easily do the tillage they need at the time and the conditions they are in, and it must be easy to use."
The result of that realization was the company's new VRT Renegade which made its debut on 2018's fall farm show circuit.
"After a lot of prototype testing, we introduced the VRT Renegade as a highly versatile tool that allows growers to switch from minimal to aggressive tillage and anywhere in between with the touch of a button in the cab," Johnson says. "Operators can control tillage depth, blade angles, hydraulic hitch settings, gauge wheels and down pressure on the wings and rolling baskets using an iPad with Summers iControl technology."
---
"By not over-tilling, you're keeping residue on the surface, maintaining moisture on the lighter soils and preventing erosion…" – Bruce Johnson
---
He says the design allows the Renegade to do true vertical tillage, but its frame is heavy enough to do the work of a number of conventional tillage tools. Working widths range from 25-40 feet across four models, and all feature blade spacing of 10 inches, or an overall 5-inch spacing across the machine's track.
Blade angles range from 0-19 degrees, and the precision depth control allow the machine to consistently incorporate fertilizer, manure or chemicals to the desired depth. Field speeds are rated up to 10 mph.
"Our iControl system allows a number of pre-set options for particular conditions," Johnson explains. "For instance, you can touch and hold one for 'aggressive work of corn stalks in the fall,' another for 'vertical tillage in the spring,' or any number of needed functions for the machine throughout the season."
While aware of the ground-sensing technology emerging in the market, and increasing requests from farmers for such technology, Johnson says prescription tillage is still in the works at Summers.
"We think, when the time comes we'll hit the mark with what farmers are wanting," he explains. "Also, we know autonomous field operations are coming, and we think the VRT Renegade is a good platform and entry point for that."
VIT from Deere
Designed to use John Deere's TruSet technology that allows in-cab depth, gang angle and down pressure control along with field data gathering, the 2660VT is Deere's 2019 entry into the VIT market.
Tillage Product Marketing Manager Jarred Karnei says the key to the new machine's versatility is its on-the-fly adjustable gang angle.
"The 2660VT allows operators to customize a gang angle from 0 degrees for sizing residue and vertical soil movement, to 12 degrees for more aggressive horizontal soil movement and burial of soil residue," he explains. "Operators can easily adjust gang angle with a manual slider or use TruSet tillage technology for more precise, one-degree adjustments and prescription tillage capabilities from the cab and the Generation 4 or 2630 display."
Front-to-back and side-to-side leveling are also in-cab-controlled, as is down pressure on the wings and its double hydraulic rolling baskets, designed for convenient finishing an even subsoil and seedbed surface. The front, knife-edge basket is designed to pin residue and fracture subsurface ridges, while the while the back flat- or round-bar basket breaks clods and firms the surface.
The machine comes in 6 models with working widths ranging from 20-50 feet in 3- and 5-section configurations.
The Case for VIT
While North American growers are farming ever-increasing acreages in a race to benefit from the economics of scale, their actual farming practices are increasingly focusing on smaller plots of land – grid sample zones, sections of soil variability maps, yellows and greens of yield maps, and their own knowledge of the most and least productive soils on their farms.
For years, producers have been saving money and boosting overall yields with variable rate technology designed to put just the right amount of seed, fertilizer and water where it will do the most good come harvest time, and as a reward, they've seen increased yields and significant savings in inputs. More of the same will likely come from the move to variable intensity tillage (VIT).
Today, a VIT system for tillage costs roughly $10,000- $14,000 depending upon capabilities desired, existing electronic and hydraulic systems in use and the computing power of in-cab displays.
Brady Bjorson, product manager for Topcon Agriculture, says the price tag represents a lot of money, but amortized over the number of acres farmed, and the benefits received, VIT systems will soon be a "Can I afford Not To" proposition.
"In the case of a farmer wishing to properly manage crop residue, it's a matter of fertilizer costs," Bjornson says. "All the residue that doesn't break down represents expense to balance out the carbon/nitrogen ratio to get stored N in the residue back into the soil.
"That situation then becomes, 'What can I do to mitigate the risk of not decomposing that heavy BT corn residue in my fields,'" he explains "Nitrogen is here today and gone tomorrow, but when it's locked up it's not going anywhere, and we need it available when we're getting a crop off to a good start."
Fuel Savings
Other benefits include reduced fuel consumption in areas where vertical tillage can be accomplished vs. tilling the entire field with a set intensity or with intensities more severe than conditions warrant.
Canadian studies in 2017 showed reducing the gang angle from 6 degrees to 0 degrees on a two-pass, 1,000-acre vertical tillage operation accounted for 260-gallon (17%) fuel savings.
Soil Savings
Over-tilling also breaks down soil structure, which eventually leads to the loss of soil organic matter, and ultimately the soil's biological populations and productivity. Sometimes, it accounts for loss of the soil itself.
Jodi DeJong-Hughes, veteran soil scientist at the University of Minnesota says a well-structured soil includes aggregates of clay, silt, sand and pieces of organic matter into structural units. These aggregates are held together by exudates of plant roots (glomalin), and excretions of soil microbes and networks of fungi hyphae (rootlike structures).
"Between the aggregates, many pore spaces form allowing roots easy access to penetrate the soil and a free exchange of air and water in the root zone," she says.
"Over time, tillage breaks apart these aggregates and destroys fungi hyphae networks, all of which degrades the soil's structure, leading to finer aggregates and individual soil particles which are more easily eroded and can clog pores to crust the surface — slowing water infiltration and increasing runoff.
"In this way, valuable topsoil moves into a ditch, the neighbor's field or the next state and is lost forever," she adds.
Productivity
By using the least intensive tillage methods necessary, growers see a nearly automatic increase in field speeds.
The same Canadian studies on fuel usage also measured acres tilled per hour based on a working rate of 80%. Compared with pulling a tandem disc, which covered 15 acres in an hour, vertical tillage with gangs set at 0 degrees worked 25 acre, and when gangs were set at 6 degrees, the rate dropped only to 24 acres per hour.
Andy Gates recalls one of his customers who, because of the ability the Coulter Disk to run effectively in wet conditions, was able to plant an additional section of land that otherwise would have been "prevented planting" acres.
"He now has a place for that implement over and over again, and adjustability to deal with conditions at hand give him that productivity."
Bruce Johnson of Summers Mfg. says not over-tilling is an automatic path to productivity.
"In western North Dakota we have a customer that, to prevent over tilling would run his vertical till rig until he ran onto a problem area like a draw with grass in it, then he'd call a friend with a disc to come hit it," he explains. "Now, with VIT a grower only needs one implement and two presets … one for trouble spots and one for vertical tillage.
"On the conservation side of it, by not over-tilling, you're keeping residue on the surface, maintaining moisture on the lighter soils and preventing erosion," he adds.