CNH Industrial showed a strong year-over-year sales gain in 2018. The company reported consolidated revenues of $29.7 billion for the full year, up 7% compared to 2017. Net sales of Industrial Activities were $27.8 billion for the year, up 8% vs. 2017.
Net sales of Industrial Activities were $7.7 billion in the fourth quarter, flat compared to the fourth quarter of 2017 Net income was $1.1 billion for the full year.
Net sales for CNH Industrial's Ag Equipment segment increased 9% and total revenues grew by 9.4% for the full year 2018 vs. 2017. According to the company,  the increase was driven by a sustained price realization performance, coupled with a stabilization of end-user demand in most, including further evidence of a replacement cycle in the row-crop sector in North America.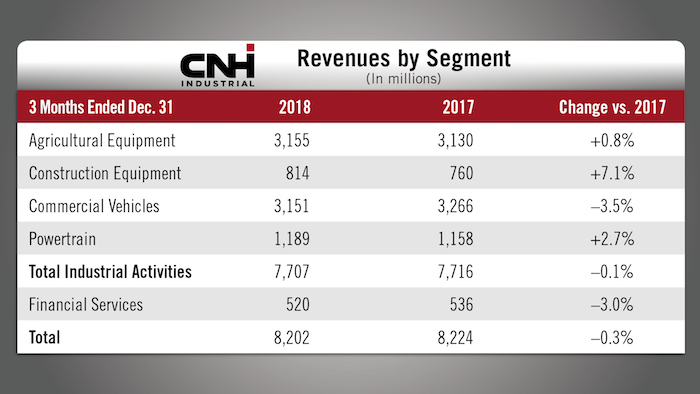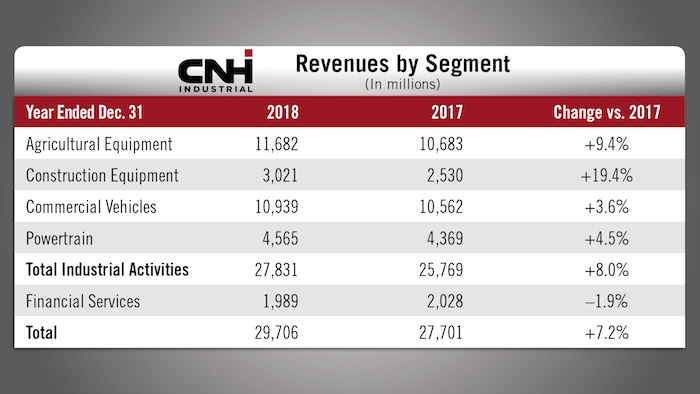 In the fourth quarter of 2018, Agricultural Equipment's net sales increased by less than 1% compared to the fourth quarter of 2017. Net sales increased in North America due to favorable volume and positive net price realization, partially offset by a decrease in the other regions.
During 2018, CNH said that worldwide deliveries of tractors and combines were up 8%, while production rose by 10% vs. 2017. It said it worldwide inventory in units was up 27% in tractors and 4% in combines with a solid order book in its NAFTA row-crop segment.
Looking ahead to 2019, CNH said sentiments in its North American ag segment continues to be soft driven by uncertainty around trade, geopolitical tensions and low commodity prices. At the same time the company noted precision farming technologies continue to drive adoption of implements and high horsepower equipment. Overall, CNH's outlook calls for flat demand for its low horsepower tractors and combines, but a 0-5% growth in tractors over 140 horsepower.