Ag Equipment Intelligence has Moved!
2018 was a big year for Farm Equipment's sister publication, Ag Equipment Intelligence, with the new website launching in October. Check out the new site at www.agequipmentintelligence.com.
The start of the new year is a great time for reflection. This look back can help us set impactful goals and make informed decisions for the coming year. In order for the Farm Equipment editors to stay ahead of the curve on reader concerns and interests, the Digital Media Dept. at Lessiter Media conducts an annual audit of the top items that garnered the most attention and buzz with readers. Armed with this data, our editors can ask the important questions and write the pieces that will help you succeed every day in your dealership. What follows in a snapshot of these trending items to give you an idea of the news and content that has shaped 2018 in the farm equipment industry. To see the original pieces noted on the following pages, go to www.Farm-Equipment.com and type the article headline into the search bar in the upper right corner of the homepage. If you want to catch this content in real time, you can register for our FREE e-newsletters — Monday-Saturday's eWatch Daily and Sunday's Weekly Digest. Go to www.Farm-Equipment.com/enewsletters to subscribe. The newsletters bring you breaking news, featured content, webinars, podcasts, videos and much more.
---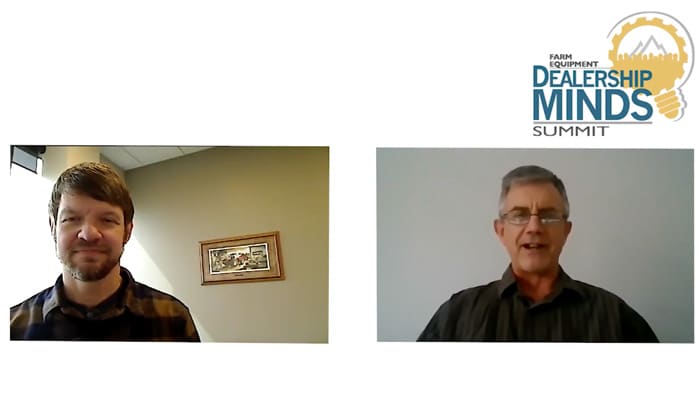 The most popular video out of the 2018 Dealership Minds Summit, which was held July 24-25 in Iowa City, Iowa, features Jeff Bowman, Chief Experience Officer of Titan Machinery, who shared transformational and progressive marketing strategies with attendees. Bowman has 20 years of experience as a leader in driving business technology, including a 7-year tenure at Caterpillar, where he helped Cat double its digital impact to 25% of company revenues, including 5 times growth in sales through online leads. Bowman brought insider knowledge to Dealership Minds Summit attendees of how "Intelligence Driven Marketing" can change the game for farm equipment dealerships.
---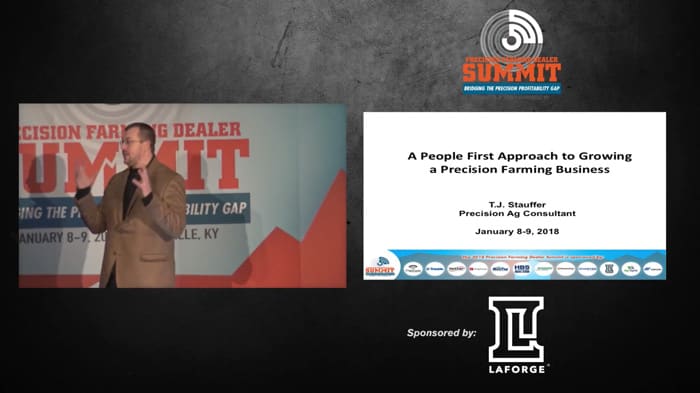 The Precision Farming Dealer Summit was held Jan. 8-9 in Louisville, Ky. The most viewed video to come out of the summit was a presentation from T.J. Stauffer, veteran precision consultant and ag recruiter. Stauffer discussed technology's greatest obstacle — the fact that no amount of autonomy and automation can erase the need for human interaction. Attendees learned that the greatest investment they can make in their precision business is in their employees. Stauffer shared his advice for maximizing performance, retention and stability within a precision business. This video can be found on PrecisionFarmingDealer.com.
---
The most viewed video from a farm show in 2018 features Taylor Grout, sales & marketing director for Power Farming Group America, the new Deutz-Fahr tractor distributor for the whole of the U.S. Grout explains the strong return to the U.S. market and next steps for the company, based in Duluth, Ga. Grout was interviewed by our Farm Equipment editors as part of our team's coverage of the National Farm Machinery Show in February.
---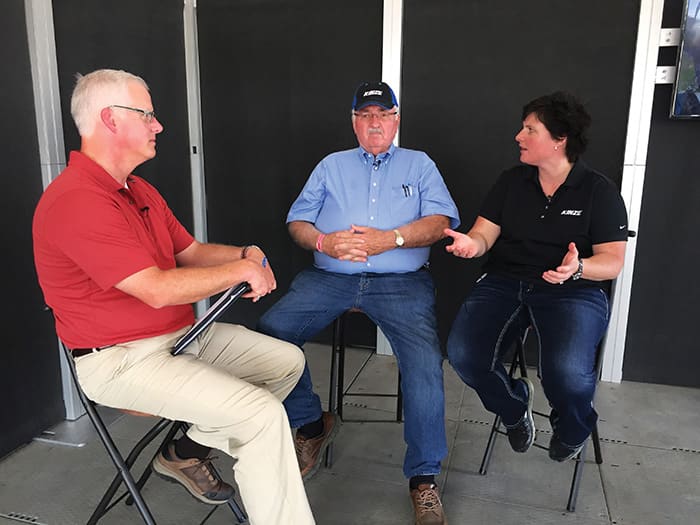 The "How We Did It" podcast premiered at the very end of 2017, and since then Editor Mike Lessiter has sat down with ag equipment entrepreneurs from 24 companies. The most listened to podcast in this series was his conversation with Jon Kinzenbaw, founder of Kinze Manufacturing, and daughter and company president Susie Veatch. In this podcast, listeners learned about Kinze's remarkable journey from a tiny job shop to a vertically integrated global manufacturer — and one of the largest remaining family owned equipment businesses in the ag industry.
---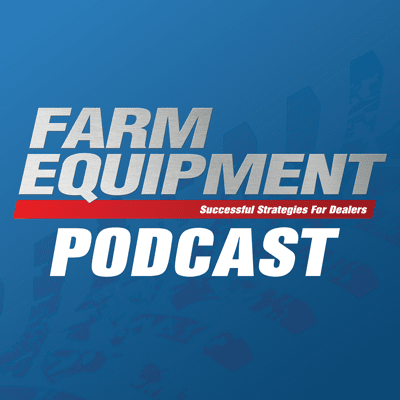 The Used Equipment Remarketing Roadmaps Podcast is hosted by Casey Seymour of Moving Iron LLC and 21st Century Equipment. The Jan. 31 podcast, "Is An End to Equipment Leasing Coming?," Seymour spoke with Trent Hummel, who was turning used equipment in the double digits at Case IH and New Holland dealerships before selling his dealership to Rocky Mountain. The two discussed how the vast amount of information and data available to customers can paralyze them when it comes to making decisions on machinery purchases and the sticker shock of reconditioning costs.
---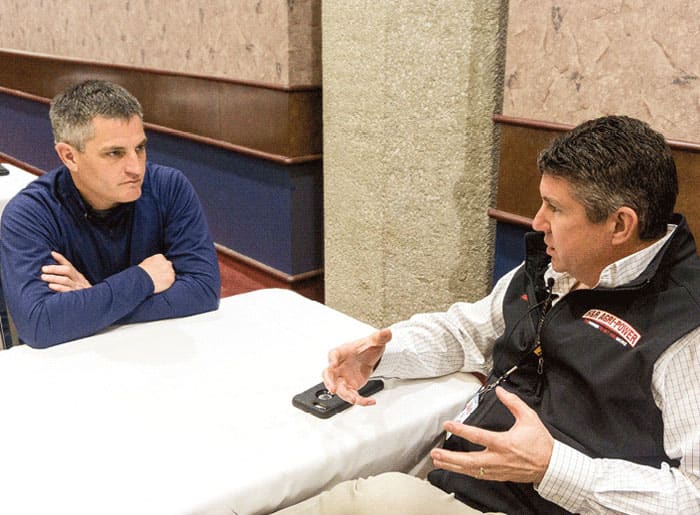 For the 2018 Conversations in Ag series, which appeared in the June 2018 SHOWCASE issue, industry professionals were paired together to participate in a dialogue on various industry topics, the ground rule for which was only that there were no rules. In our most viewed article in this series, Kentucky grain producer Joe Sisk and Jeff Morgan of Case IH dealer H&R Agri-Power learned more about each other's worlds and discussed why they have not yet consummated a high-ticket deal for Sisk's 5,000-acre operation, which remains 100% green on combines and tractors.
---
 "The Balance Sheet, Leverage and Turnover: Birkey's Training Primer" was the most downloaded FREE eGuide of 2018. The balance sheet is a slower tool compared to income statements, but it keeps the business healthy and allows you to pursue opportunities without jeopardizing its health or stability, and it shows a bigger picture. This 9-page guide breaks down how you can use the balance sheet to measure financial stability and provides the groundwork for looking at key metrics to get a more complete view of your business.
---
Most Print Editorial: Farm Equipment Price Increases Take Hold
The top-viewed print editorial came from Managing Editor Kim Schmidt on May 21, in which she covered manufacturer anticipation of how the tariffs on imported steel would impact farm equipment prices. She also shared commentary from a survey in Ag Equipment Intelligence's May Dealer Sentiments & Business Conditions Update that suggested steel pricing had driven nearly all of the ag equipment manufacturers to raise prices anywhere from 2-5%. Now that we've arrived in 2019, it will be interesting to see if what was anticipated by Deere and others will come to fruition.
---
Our Feb. 6 webinar, "Creating a High Performance Service Department," was the highest attended of the year. During this webinar, Bob Clements, one of North America's leading dealership consultants, shared his insights on how to maximize tech performance and profitability. Bob discussed the importance of utilizing flat rates as a part of your pricing strategy and shared information on the new online flat rate guide being introduced through the United Equipment Dealers Assn. Recordings of all past webinars can be viewed online at Farm-Equipment.com.
---
Casey Seymour of 21st Century Equipment and Moving Iron LLC has served as our expert since the inception of the blog series in August of 2017. The most viewed Ask the Expert blog for 2018 was the April 11 piece on the fragility of the ag economy. In this blog, Seymour examines the potential outcomes the steel tariffs could have on the used equipment market.
---
Our most viewed editorial was born out of a reader response to Executive Editor Dave Kanicki's blog on Deere & Co.'s lawsuit against AGCO and Precision Planting. Reader Chad Braden respectfully disagreed with Kanicki's opinion on the matter and spoke to his time working for John Deere, stating, "Precision Planting was the company who copied John Deere." Our editors always appreciate the feedback we get from readers and the potential these responses create for further discussion.
---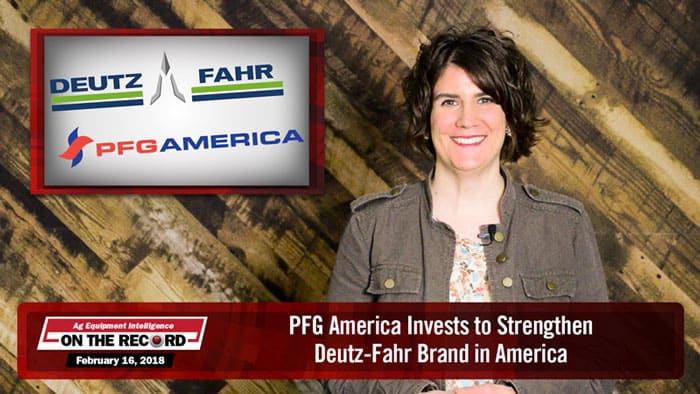 In this Feb. 1 newscast, our editors looked at the company that was formed to distribute Deutz-Fahr tractors in America — PFG America. They also covered The Climate Corp.'s partnership with Case IH for 2-way data sharing and provided more information on Kinze's partnership with Degelman. The newscast was rounded out with Case IH's new classifications for autonomy and AGCO's 2017 year end results.
---
Managing Editor Kim Schmidt's March 5 blog discussed President Donald Trump's pledge to impose a 25% tariff on foreign steel that at the time of publication was scheduled to go into effect the following week. Schmidt discussed the results of the Farm-Equipment.com poll, "Do the benefits to President Trump's just-announced tariffs on steel imports outweigh your concerns for the American farm machinery business?" An overwhelming majority, 86.2%, said that the benefits did not outweigh their concerns for the American farm equipment business.
Top 10 Industry News Items of 2018
Check out the list of the most-viewed pieces of news shared on Farm-Equipment.com from Jan. 1-Dec.1, 2018.
Farm Equipment Editors Share 'Biggest Newsmakers' Out of National Farm Machinery Show, Feb. 15

Deere Partners with Norwood Sales on Compact Disc, June 8

More Leadership Changes at CNH Industrial Emerge, April 17

AGCO Announces New Organizational Structure for North American Region, Jan. 9

Understanding Case IH's Strategic Plan, Jan. 29

Looking Back What Happened to Equipment Manufacturers in the Early 1980s Farm Crisis, Aug. 21

Case IH Announces Jim Walker Retiring, March 23

Case IH Clears Air on 'Brand Purity' in Dealerships, Feb. 26

Farm Equipment Editors Share 'Biggest Newsmakers' from Farm Progress Show, Aug. 29

Vermeer Corp. Manufacturing Buildings Damaged by Tornado, July 20
Top 5 Perennial Content Items
Here is the top content on Farm-Equipment.com that continues to draw readers year after year. These items continued to see consistent traffic in 2018..
Tillage or No-Tillage: High Yields or Soil Health?, April 10, 2015
The Rear-Fold Planter and the Battle that Ensued, Oct. 15, 2015
Ahead of the Curve: Small Tractor OEMs Embrace Tier 4, Oct. 1, 2014
New Holland, John Deere are Market Leaders in EU Tractor Sales, June 29, 2015
Timeline of Ag Equipment 'Firsts,' June 29, 2105