The following article is based on Hannah Ross, Lisa Steffens, Heather Hetterick and Chad Colby's presentation at the 2018 Dealership Minds Summit. To watch the presentation, click here.
As the world around us has become more digital, the way your farm customers seek out information and even interact with each other has changed. They too have become more digital. Farmers aren't necessarily making their daily trip to the coffee shop to visit with each other anymore.
"I don't know about your dads and your grandpas, but in little Tiskilwa, Ill., when I was a kid on our family farm, if we weren't in the field, my dad went downtown to the coffee shop. That's what my dad did and I'd ride with him," says Chad Colby, general manager of Central Illinois Ag in Atlanta, Ill. "You know what I do in the morning, when I get ready to put my half a day in? (That's 12 hours for me.) I grab my phone and I check Twitter. That's what I do. You know why? I want to see what's going on. I want to see what's going on with the government. I want to see what's going on with USDA. I want to see what's going on with my friends in Nebraska or Texas or what's happening farming wise. Or I want to talk to some of my friends on the other side of the world. I'm telling you, I do that in 2 or 3 minutes, maybe 5."
Your dealership should be one of the sources farm customers are turning to for their information — their virtual coffee shop. Content marketing will help you fulfill their informational leads, while also targeting your customers to move them through your dealership's marketing funnel. (See "What's a Marketing Funnel"  below.)
What's a Marketing Funnel?
The marketing funnel helps track the stages of a customer's journey to eventually making buying decision. Generally, the top of the funnel is awareness, followed by interest, consideration, intent, evaluation and finally purchase. Content marketing can be used to guide customers through the funnel, and Lisa Steffens, digital marketing manager for RDO Equipment, says every piece of content a dealership creates should fulfill a specific stage of the marketing funnel.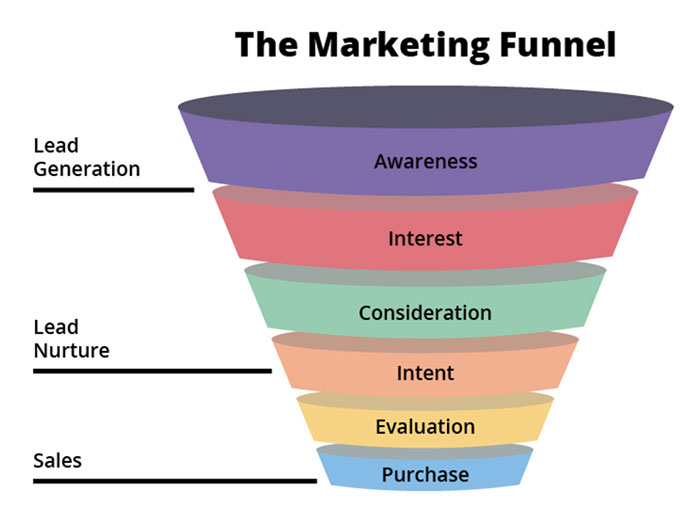 Every piece of content should have a purpose. Your goal is to target each part of the funnel with unique, stage-specific content, explains Lisa Steffens, digital marketing manager for RDO Equipment.
Start with Your Website
Colby stresses that having a new, modern website is the first step in generating content that helps you generate leads and sell equipment. "Websites in our industry are a challenge for a lot of reasons. Who has a new website in the last year? Has your website been changed more than twice in the last three years? For Central Illinois Ag, that's an absolute yes," he says.
"If you didn't raise your hand, go fix that when you get home. The technology has changed so much; it's important that you take advantage of having a good website. That's the hub. Everything feeds to your website."
You know your website will be the hub for the content you create, but where will that content come from? "When we're talking about content opportunities, we're talking about Google moments, right? We're talking about times when someone is searching for our products and services and lands on our website because of the content we've produced," says Hannah Ross, marketing manager for 4Rivers Equipment, a 15-store John Deere dealership in Colorado.
Ross adds that creating content can be hard and you need to be dedicated to it and make it part of your normal routine. "I feel like a chain or rope in this situation. I feel like I'm constantly being pulled in multiple directions. It gets really challenging to do it all. Content marketing is not my first priority. I have poll campaigns that are going on. I have to figure out where the product stickers are, and I have to figure out how many hats we have in reserve for the next event. Content marketing is often on that bottom of the list," she says.
"We have the full John Deere product lineup, so that means everything from lawn mowers all the way to production class mining equipment. So when we're looking at the segments that we're trying to approach or be ready for, we have 3 to 4 different journeys that we need to map out. That's a lot of content."
A lot of dealership marketing departments are a one-person show, which means creating large amounts of content is going to be challenging. "Not only that, but you have to be an expert in all of the machinery and technology and all of their changes. And you have to have unique content. Those are big challenges," Ross says.
Creating the Content
To help tackle these challenges Ross and 4Rivers Equipment whiteboard their topics and create customer paths or journeys. They've identified the topics within those customer journeys that really need to be covered. "My next thought is, 'OK, now who am I going to get who is an expert enough to write about this or create content for me?'" she says. Ross advises against using an agency for content creation. Someone from an agency isn't going to be an expert in farm equipment, service or parts. "They'll end up Googling something and piecing together content stories that are all the same. They'll just restructure it a little bit, add in some content, add in some [local] themes and there you go," Ross says. "That's a red flag in my mind. It's not producing true, unique and genuine content."
Redline Equipment's Content Marketing 'On Steroids'
Earlier this year, one of Redline Equipment's precision farming specialists had the idea to take 4 acres in front the Gas City, Ind., location to create a test plot. "Equipment dealers don't do this, right?" says Heather Hetterick, director of marketing. "When he suggested this, I wouldn't let it go because to me, this is a content marketer's dream." Redline created a micro site within its website for the test plot that is churning out content every week, Hetterick says. "People love it because they're following along with the crop just like what they're going through at that time. Our specialists are showing them what to look for," she says. "Then I took it a little step farther and we actually use geofencing ads to bring people in there, then we used retargeting. I just got really lucky and Precision Planting (our supplier) came out with an offer. I couldn't have planned this any better by accident. Then I'm actually able to drive them, with a little bit of money and retargeting, back to the site," Hetterick says. You can read more about Redline's test plots at www.PrecisionFarmingDealer.com/test-plots.
Those experts you need are all around you in your dealership. They're in the shop, they're behind the parts counter, they're selling equipment. And while they might not be the right person to write the content, they are a valuable resource to the marketing department. "Take 30 minutes of their time and interview them on camera. It usually just takes a little bit of 4Rivers swag and I get them on camera. If they're not comfortable talking about it on their own, then I'll do the interview with them," Ross says. "From there, we'll take the video, we'll add in some B-roll. Then we will transcribe that video and add in our keyword searches that need to be added for journey purposes. Suddenly, we have content that we post to our website and post to our social media platforms as needed."
Heather Hetterick, director of marketing for Redline Equipment, a Case IH dealership in Ohio, Michigan and Indiana, advises dealers to "Think like a publisher, not like a marketer." She adds, "When we're content marketers, we're sharing what we want the customer to know, not necessarily what you want to tell them. That's a struggle. When we're in sales or marketing, we want to tell them about offers and all the features and benefits. But in true content marketing, we're thinking like a publisher."
Ross shares this example of how 4Rivers got its foot in the door by creating unique content. The core of some of their small ag journeys is centered around research. The dealership takes the Dare to Compare videos that John Deere has already produced and has them transcribed. "We rewrote them and added a few things that we learned from spring training as well as maybe a more female demographic perspective and some Colorado themes, such as altitude and the effects on horsepower," Ross says. "Adding those little bits and pieces allowed us to have unique content related to our market and it's not the cookie cutter version you would get from an agency."

This chart shows how a piece of 4Rivers Equipment's content performed. When it was first pushed out and promoted via social media, the pageviews spiked. However, 6 months after it was originally promoted, the piece continued to generate pageviews organically because 4Rivers used keywords that were relevant to searches and how people were searching for their product.
The chart above shows how this piece of content performed. Ross promoted the piece of content on social media for a short time and pageviews spiked. Then over time, the page continued to get views and it was all organic. "Our keywords were relevant to searches and people searching for our product. They landed on our page for a unique, relevant experience. That's what we're in it for," she says. "I'm going to ask you to put perfection aside and know that our content is not always exactly how we want it to be, but it is genuine and it is there for the long haul. That's our ultimate goal when we're doing
content marketing."
Target Your Customers
Simply creating the content isn't enough. Lisa Steffens, digital marketing manager for RDO Equipment, says you can and should align your content marketing strategy with your marketing funnel or with your customer journey. She also stresses if your dealership hasn't already gone through the exercise of creating your own version of the marketing or sales funnel, that you do so. "I found a statistic that said roughly two-thirds of B2B organizations have gone through this exercise. If you haven't already, you can find a generic funnel online. It's a great starting point to really know what makes sense for your organization," she says.
Bottom line, every piece of content that you create needs to have a purpose. "If you don't know who your content is targeted toward and what you want them to do as a result of that content, you're really not going to get anywhere," warns Steffens. "Content volume is certainly important, but if we're cranking out hundreds of blog posts that are all directing to one home page with no real direction, you're not going to really move the needle. Your goal is to target each section of the customer marketing sales funnel with unique, stage-specific content."
Easy Tools for Creating Top-Notch Content
Hannah Ross, marketing manager for 4Rivers Equipment, says she's found a handful of relatively inexpensive tools have helped her create great video content. Her toolbox includes:
iPhone
Gimbal Stabilizer
Microphone
Tri-pod
After Effects/iMovie
Using these tools she was able to take video footage that looked comparable to drone footage, she says. "We were in a really bumpy hay field, riding in a Gator taking that footage. That's the power of some of the tools your have at your fingertips."
Ross filmed the footage on her iPhone with a Gimble stabilizer that she found on Amazon for $99. "I went into Best Buy and asked them to make me look like I know what I'm doing when it comes to taking photography, so they gave me a Cannon Rebel. I'm sure that there are better cameras out there for you guys to use. I found a microphone, a wireless mic, and a tripod. We use After Effects and iMovie to edit. If you've done anything with Adobe products, you know there are plenty of tutorials out there. There are plenty of tools and resources. I would take advantage of that resource. iMovie is also a great solution as well," she says.
You can view an example of 4Rivers video work at www.4Riversequipment.com/our-partners/working-partner/.
The first step in achieving this is to start with your data. How sophisticated your data and analytics tools are is less important than the regularity in which you are checking the information, stresses Steffens. "You really get to know the ebbs and flows within that information," she says. You can simply start with your customer sales data. Once you have an idea of what your marketing and sales funnels look like, Steffens suggests taking a look at where you're missing the mark. Are you bringing enough top of funnel leads? Are you missing the mark on converting those leads into sales? That will help pinpoint your direction of where to get started with your content marketing strategy.
"You can also use your analytics to plan and make adjustments to your content strategy. I start with primarily website analytics and social media tool analytics as well. If you, for example, have a piece of content that is a detailed whitepaper that's intended for a bottom funnel, sales enablement tool and your analytics tell you that content is attracting visits to your website, that's going to tell you there's a little bit of a mismatch between the content you're producing and the stage of the funnel that you're intending to hit," Steffens explains.
Hetterick adds, data can come from somewhere as simple as conversations at the parts counter. "You're thinking, 'That's not very data driven.' But that's how my content marketing journey started. I literally was at the parts counter and kept hearing the same conversation. Nobody knew when to replace their Kinze brushes," she says. "So, I went out in the shop and got our best Kinze tech. We had one that we took in on a trade. I got brushes that needed to be replaced and I got the new ones, and he explained how to tell when they needed to be replaced. That was our first venture into content marketing. I constantly watch interactions at the parts counter because you'll find valuable information to make decisions off of."
Make sure all the content you're producing is as trackable as possible, Steffens says. She recommends dealership marketing departments create custom campaign URLs for any content they are putting online. "You don't want your inbound traffic from the content marketing you're doing to get commingled with your organic traffic; you want to be able to pinpoint what is happening from that information," she says.
Lead Generation. The top of the funnel — lead generation — is marketing's sweet spot, Steffens explains. While buyers aren't always buying, they are always learning, she says, just like the rest of us as we go through our general media consumption habits. "We're paying attention to things that relate to our profession, to our day-to-day work. It's no different with any of our customers."
At this stage, you need to create and share actionable, digestible content that's going to catch someone's eye. Common tactics you see at this level of the funnel are blog posts, tip articles, infographics and short videos — things that are very digestible and will grab attention. "But, it's not just about attracting attention. You need to be cognizant of how you're capturing leads, so you can move these people into later stages of the funnel. Pay attention to very simple landing pages, very simple call to actions, easy ways to capture information for these new prospects," she says.
Lead Nurture. Once you've generated new leads, who may not be ready to buy, you need to keep moving people through their journey. Steffens says this stage — the middle of the funnel — can be challenging but is an important step in the process. "One tip to make this manageable is to develop a system to score and segment your leads. That is a really deep topic we could have a session on alone. But really, it comes down to giving people the information that they're asking for. If you're starting from square one, segment based on who is inquiring about used equipment, who is inquiring about new equipment, who is inquiring about aftermarket? Don't commingle those messages. Set aside communication that goes to each of those audiences," she says.
"Whereas the top of the funnel we are really all about attracting people, at this point we really want to start telling people about what your dealership and the equipment you sell, how that can help solve their problems. Getting a little bit deeper into that mindset so that you're really setting yourself apart as a thought leader."
This stage is all about distributing your content and there are a number of ways you can do that. (See "RDO's 5 Tips for Distributing Content"  below) The idea is to stay top of mind and provide a deeper level of content that helps you stay top of mind, Steffens says. That could be monthly newsletters or informational webinars, for example. "Some tactics that are really helpful at this stage are things like reviews, case studies and customer testimonials. Information that helps compare your product to a competitor's, or even really good literature that helps explain how a customer can make the most out of the equipment that they purchase," she says.
RDO's 5 Tips for Distributing Content
Lisa Steffens, digital marketing manager, for RDO Equipment, shares these five tips to distribute your dealership's content so that your audience sees it and responds to it.
1 Don't be afraid to spend money. "I think this is always kind of a challenging tip to put in something like this, because I know the sessions descriptions for content marketing sessions always say, "Content generation is free. Start with the people you have. You can do this on your own." That is absolutely true, you absolutely can. But if you do have budget to do so … You know, as Hannah eluded to, it's very time consuming to produce all of this content. Don't be afraid to outsource, if that makes sense for you. But also on spending money here, don't be afraid to spend money to boost your content, especially on social medial channels. How we approach this at RDO is sometimes we'll spend a lot of time putting together a blog post or an article that we think is really great. It took a lot of time, it's really awesome, and we want our audience to respond to it. Sometimes, they just don't. It's just not popular. It can be tempting to say, 'OK, we're going to boost this on Facebook because it's just so good, we want people to see it.' But we actually take the opposite approach. We kind of let the lame ducks just die, and instead focus our efforts on boosting things that are already doing really well organically to just take it to the next level. That's where you're going to get the most ROI when it comes to social media boosting."
2 Don't be afraid to rework and reuse high performing content. "The lifespan of a tweet or an Instagram post is pretty short lived. If you do have evergreen content or content that has some seasonality, don't be afraid to use it again, perhaps in a different context or in a slightly different way. I've seen this done really well too, with organizations with blog posts, for example. You can have a blog post and maybe it's 10 tips for something. Pull each one as a pull quote out and use it for different social media posts. It doesn't look like you're just reposting the same thing, but you're pulling people into the same content in different ways throughout a period of time."
3 Don't be afraid to use tools. "Again, this might cost a little bit of money. Some of my favorites are Hootsuite, Buffer and CoSchedule and all three are either free or have a low cost of entry. If you are a marketing person and you don't already have tools at your disposal to help with your content distribution, you need to get some. Or if you control the budget for the marketing team, you need to let your marketing team use some of these tools. It will really save a lot of time."
4 Work with, not against, social media algorithms. "Who is using Facebook Live? I know, everyone's always like, 'A little bit.' That's kind of where we are too, if you asked our social media team. An example of the social media algorithm, if anybody uses Facebook just for their personal life, you'll notice that people who use Facebook Live are at the top of your newsfeed and are very visible. Facebook right now is really promoting that tool. They're really trying to get people to use it, so they're favoring it with their algorithm of what's showing up right there. If your goal is to distribute content that's seen on social media, you need to play within their game. An example of that would be going outside your comfort zone and trying Facebook Live."
5 Enable others to share your content. "This can be as simple as making sure that you're including share icons on the things that you produce, and more complex in a way that you're strategically tagging and interacting with people, especially on social media. If you have sales team members who are active on social media who represent your organization, if they have a really good customer interaction or testimonial to share, tag those people. People love seeing their friends and family show up on social media content. That's just an additional way to enable others within your wheelhouse to help you distribute your content a little further."
Hetterick says that while you can't ever really fail with content, it might not always be a big hit. She says she's found that you need to pay attention to how and where you're pushing the content out and how you are posting it.
She offers this example. Redline's precision manager created a great piece of precision farming content and the dealership posted it on Facebook and Twitter. Hetterick says she was disappointed in the results on social media. "What I found was when it went in customer emails, it got all the glory it deserved. Just because you don't win in one medium doesn't mean that people don't react to it in another," she says.
Titan Machinery's Jeff Bowman: 7 Key Changes to Transform Dealership Marketing
The Importance of Improving Your Marketing ROI & How to Do It
Target Customer Interactions Using Content Marketing
How YouTube Fits in the Marketing Mix & Making It More Effective
Getting Results with Do-It-Yourself Marketing
Leveraging CRM for Farm Equipment Leads and Sales
How to effectively use digital marketing for ag equipment dealers
Good Data Takes Digital Marketing Further for Farm Equipment Dealerships