By Jason Pickerill, Marketing Director, Hutson Inc.
The Stage Is Set
That was the subject line in what would be the equivalent of a pregame speech, delivered via email by Hutson's Ag Data Works Manager Karl Huebner.  
The stage was being set long before Huebner started typing up his email. Ideas started whirling around during Hutson's January Planter clinics. Plans started to come forth and the vision was clear; Hutson's Ag Data Work's team was going to put on their largest customer training event in Hutson's history. A proposal was presented to the Hutson leadership team and the greenlight was given the same day.
"I have been wanting to do our very own field day for a while now," said Huebner. "My team has proven themselves with many previous combine clinics and this was our year, and everyone was on board and ready to set a bigger stage for both our employees and our farmers."
Work began back in March, clearing the field site in Paducah, Ky. Meetings started, strategies were discussed and budgets were finalized. The target date was late July, but inclement weather moved the final event date to Aug. 15. The plan was already ambitious, but over the next couple months, the vision became much larger than anyone had originally envisioned.
As with anything else, things grew and the mantra "while we are at it" kicked in. Hutson has a biannual sales, service and parts meeting called the Hutson Summit, typically in January and August. So, with this opportunity in front of Huebner's team, it was decided to put on a "dry run" of the event on Aug. 9. The Hutson Ag Data Works team gave abbreviated 15-minute versions of their talks to 160 Hutson employees. This was the perfect platform for everyone to practice and work out any kinks. One hundred sixty farmers in attendance the next week would have been a homerun. However, the registrations kept coming and before Hutson knew it, roughly 200 had been registered. In addition to the already mounting pressure of a more than expected turnout, Hutson sandwiched the field day with 2 different service tech training days. The first on Aug. 14 and the last on Aug. 16.
All together Hutson trained 48 techs on shared map coverage, Gen 4 monitors, Combine Advisor, combine calibrations and a general Ag Management Solutions software refresher. Techs were in the field, hands on the steering wheels for this training and got to harvest 78-day corn as a part of this training. The ability to train 48 technicians in the field was priceless and well received by all who were involved.
"Pulling off training our techs, employee engagement at the dry run and a successful Field day with 200 of our valuable customers is hard to describe," says Tom Sutter, president/CEO of Huston Inc. "I am beyond proud of all those involved and appreciate everyone that attended these events. We look forward to serving our customers in the field, in our shops or through these classroom-like scenarios."
The day of the big event was Aug. 15 and with only a 35% chance of rain and a high of 89 F, the stage was set. An estimated 225 farmers were in attendance from all over. Hutson covers 58 counties in its fully contiguous AOR, encompassing southern Indiana, western Kentucky, southern Illinois and parts of Tennessee. A bus hauled nearly 40 farmers from the northern locations. The event kicked off right on time at 3:00 p.m. and groups rotated via hayride pulled by, you guessed it, John Deere tractors. Rain showed up for only a few minutes and was gone as fast as it came in. The rest of the day was clear skies and focused on the farmers attending.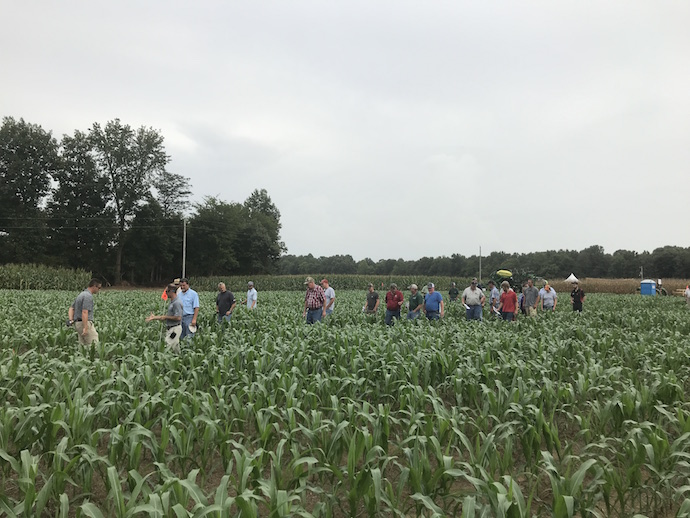 The Field Day consisted of 4 separate talks with groups rotating every 45 minutes.
Coverage is Key — When it comes to fungicides, coverage is key to their efficiency; but what is the best way to get full coverage? We used water sensitive paper to compare different application methods. We also featured ExactApply and discussed herbicide coverage.
Soil Pit — We had two pits showing cultural practices through tillage (ripped and disced). Farmers could see the difference in compaction, rooting zones and discuss ways to manage around these problems.
Combines — Learn how adjustments and new technology can make a difference in your harvest this year. We walked through AMS settings, calibration basics and Combine Advisor to show adjustments that are be made throughout the field.
Planters — See how ride quality and other aspects of your planter can make a difference in your stand counts. We ran multiple planters in different scenarios — you be the judge!
Following the presentation was dinner, drinks and dessert served in a 40- x 80-foot air-conditioned tent complete with a live singer/guitar player. Door prizes worth $3,500 were given out at the end of dinner and off everyone went.
The first ever Hutson Field Day was officially in the books. It was a win for Hutson's customers who attended and especially for Hutson's Ag Data Works team, who spent countless hours working on it.
Timeline of events  
Aug. 9 – Hutson Summit including Field Day dry run with 160 Hutson employees
Aug. 14 – 24 Hutson Service Techs go through hands on training
Aug. 15 – Hutson Field Day
Aug. 16 – An additional 24 Hutson Service Techs go through training
About Ag Data Works
Ag Data Works is a consulting division within Hutson that focuses on field by field profitability through equipment utilization and agronomy.
Why should a farmer use Ag Data Works?
Increased profitability for the farmers through management of programs
Education of the latest technology and trends
Management of risks through greater visibility of their own data
Saves time and guess work out of farm operations
What makes Ag Data Works unique?
2 for 1, precision specialist and an agronomist on your team
Equipment knowledge is one of our strongest assets
Access to multiple resources for equipment or agronomic solutions
We manage fields based on customers previous data
We have 30-year proprietary satellite imagery
We manage field profitably using a zone system vs. a grid
About the Author
Jason Pikerill is the marketing director for Hutson Inc., a 13-store John Deere dealership serving Kentucky, Indiana, Tennessee and Illinois.