Highlights
Reported fourth quarter regional sales results(1): Europe/Middle East ("EME") +25.9%, North America +18.9%, South America +2.5%, Asia/Pacific/Africa ("APA") +23%
Constant currency fourth quarter regional sales results(1)(2)(3): EME +16.6%, North America +17.4%, South America +3.2%, APA +16.8%
Generated $578 million in cash flow from operations and $374 million in free cash flow(3) in 2017
Quarterly dividend increased to $0.15 per share effective first quarter 2018
Full-year earnings forecast for 2018 remains at approximately $3.50 per share
| | |
| --- | --- |
| (1) | As compared to fourth quarter 2016 |
| (2) | Excludes currency translation impact. |
| (3) | See reconciliation of Non-GAAP measures in appendix. |
DULUTH, Ga. — AGCO, (NYSE:AGCO), a worldwide manufacturer and distributor of agricultural equipment, reported net sales of approximately $2.5 billion for the fourth quarter of 2017, an increase of approximately 20.7% compared to net sales of approximately $2.1 billion for the fourth quarter of 2016. Excluding favorable currency translation impacts of approximately 5.9%, net sales in the fourth quarter of 2017 increased approximately 14.8% compared to the fourth quarter of 2016.
Net sales for the full year of 2017 were approximately $8.3 billion, an increase of approximately 12.1% compared to 2016. Excluding the favorable impact of currency translation of approximately 1.6%, net sales for the full year of 2017 increased approximately 10.5% compared to 2016.
"Stabilizing market demand and solid operational execution allowed AGCO to meet its financial targets for 2017 and deliver improved results compared to 2016," said Martin Richenhagen, AGCO's chairman, president and chief executive officer. "Over the past few years, we worked diligently on cost reduction strategies targeted at purchasing actions, factory productivity as well as new product development, which now positions us well to seek new opportunities for growth.
"Looking forward to 2018, we are forecasting further earnings improvement as industry conditions trend positively from the lower end of the agricultural equipment cycle in key markets. In addition to cost management, we will continue to make long term investments to raise the efficiency of our factories, improve our service levels and strengthen our product offerings." 
"The 2017 global harvest is the fourth consecutive year of near record production," continued Mr. Richenhagen. "With these robust harvests, crop production has outpaced demand, thereby keeping crop prices and farm income at relatively low levels. Global industry farm equipment demand started to recover following three years of strong declines. In North America, the farm equipment fleet has begun to age, and industry retail sales were mixed throughout 2017. Tractor and combine demand was higher compared to last year, while sales in other row crop equipment remained weak. Overall, we project industry tractor sales to be relatively flat in 2018 compared to 2017, with some modest improvements in combines and hay equipment. Industry retail sales in Western Europe improved in 2017, but remained below historic levels. Growth was strongest in Germany, Italy and the United Kingdom. Recovery in the dairy sector provided support to retail sales and helped improve overall confidence in the region. While farm income remains under pressure due to low commodity prices, 2018 farm income is expected to improve modestly driven primarily by better dairy economics and higher 2017 wheat production. Based on these assumptions, we expect farmer sentiment to remain positive and 2018 demand to be relatively flat compared to 2017 levels. Industry retail sales in South America increased during 2017 as demand in Brazil grew strongly from depressed first-half levels experienced last year. Industry sales in Brazil slowed in the second half of 2017, however, as ongoing macroeconomic weakness continued to hurt farmer confidence. Industry demand in Argentina remained robust as more supportive government policies continued to stimulate growth. Our South American industry forecast for 2018 assumes industry sales are flat to modestly up compared to 2017. Our long-term global view remains positive. Increasing demand for commodities, driven by the growing world population, rising emerging market protein consumption and biofuel use, are expected to support elevated farm income and healthy conditions in our industry."
Regional Results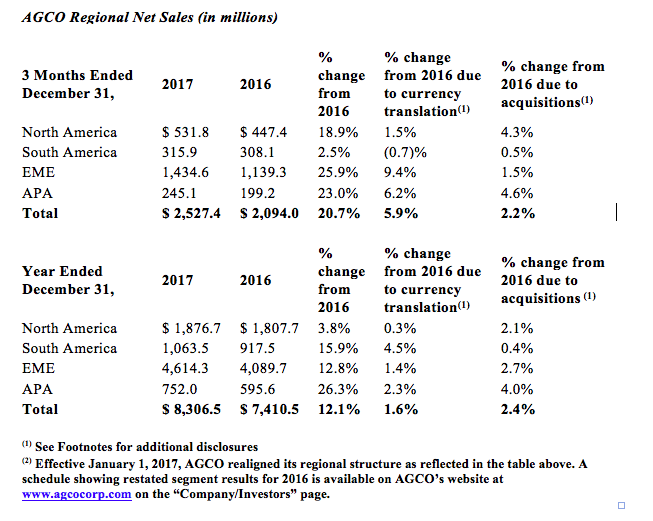 Outlook
Relatively stable industry demand is anticipated across all regions in 2018. AGCO's net sales for 2018 are expected to reach approximately $9.1 billion reflecting improved sales volumes, positive pricing as well as acquisition and foreign currency translation impacts. Gross and operating margins are expected to improve from 2017 levels, reflecting the positive impact of pricing and cost reduction efforts partially offset by increased engineering expenses.