Stronger than expected sales of agricultural and light construction machinery was the basis for managers at Kubota to increase their forecast for year-end revenues.
With the Farm & Industrial Machinery division recording a 10% upturn in revenues for the 9 months to the end of September, Kubota executives now expect a full year figure equivalent to almost $15 billion, up $176 million or just over 1% on previous forecasts.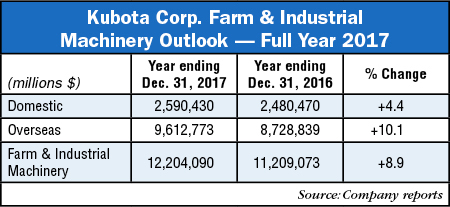 In North America, sales of compact tractors, construction machinery and engines grew due to expanded demand, in addition to the positive effect from favorable exchange rates and the contribution from Salina, Kan.-based Great Plains, which was acquired in 2016.
Short and long term finance receivables increased due to the expansion in sales financing operations in North America, where retail sales were strong, notes Kubota. Trade notes and accounts receivable decreased because of the inventory control by dealers in the U.S.
Increased sales in Europe also contributed to a near 12% increase in over- seas revenues over the period, with the Kverneland Group implements business doing better as it supplies an increasing number of machines to Kubota dealers, as well as its Vicon and Kverneland independents.
China contributed a significant increase in revenues due to better sales of rice transplanters, construction machinery and engines, which more than offset slowing demand for combines.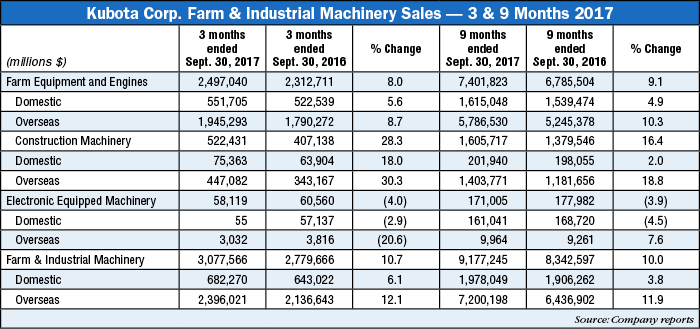 In Japan, sales of tractors and implements, engines and other equipment in the division's portfolio increased 3.8%, thanks to recovering sales of tractors previously held back by the strengthening of emissions regulations.
Overall, the farming-related division accounted for 82% of Kubota group revenues in the 9-month period. For 3 months ended Sept. 30, sales of farm equipment and engines were up 8%. Domestic sales rose 5.6%, while overseas sales increased by 8.7%.
U.S. sales for the quarter were $991 million.