Editor's Note: On November 8, 2017, Farm Equipment & Ag Equipment Intelligence editors interviewed Carlo Tonutti on-camera at the November Farm Equipment Manufacturers Assn. & Equipment Marketing Distribution Assn. Joint Convention in Houston, providing an update to the September 20, 2017 coverage that appeared in Ag Equipment Intelligence (see original story below).
An Ag Equipment Intelligence Staff Report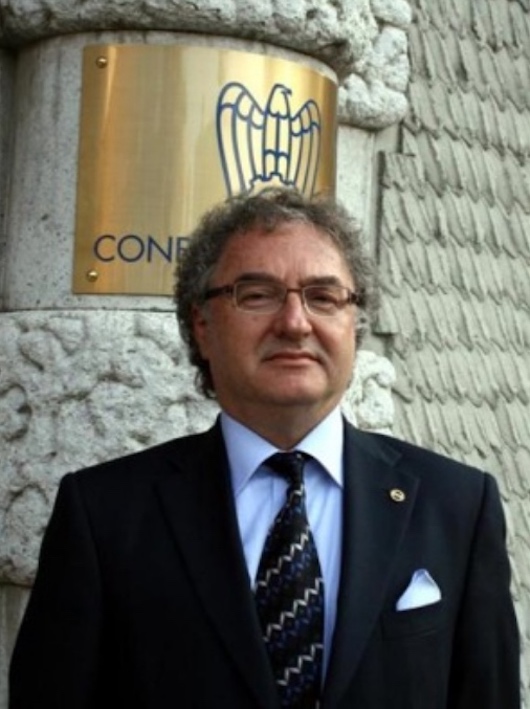 Carlo Tonutti
After two years of legal battles, Carlo Tonutti, the fourth generation of the Italian farm equipment manufacturer Tonutti, Remanzacco, UD, Italy, has regained the possession of the company bearing his name. Tonutti-Wolagri, which was founded in 1864, has long been recognized as one of the world's leading manufacturers of haying equipment. It has 3 manufacturing plants in Italy as well as operations in Russia and the U.S, with a Chinese operation in progress.
Last May, Tonutti won the court-appointed auction of two other suitors and managed to re-acquire Tonutti Wolagri and Tonutti USA, which had fallen into bankruptcy following very unusual set of circumstances.
Tonutti shared the "nightmare" with Ag Equipment Intelligence with a series of correspondence last week, much of which reads like a movie script, complete with death threats, police surveillance, animal killings and an explosion at the company's headquarters.
How He Lost the Company Control
Tonutti notes that the trouble for his firm began at the end of 2013, when his firm needed to look outside for capital. He decided to merge with entrepreneur Luigi Blasi, then president of Bgroup. Bgroup was active in agricultural machinery and held the Bargam trademarks.
With an agreement signed on February 28, 2014, Carlo Tonutti agreed to sell 50% of the shares in Tonutti Wolagri spa to Bgroup for 4 million euros, with the agreement to merge and strengthen the commercial network for greater effectiveness in product and product marketing policies. Farm Equipment covered the news here. 
Tonutti says that Bargram paid the first 1 million euro immediately, which the Tonutti family put into Tonutti-Wolagri Spa, but the 3 million balance was never received.
Within 2 weeks of his new partnership, Tonutti recalls he was brought to a meeting with the president of the Italian Industrial Assn. and informed about the infiltration of organized crime and the history of a firm buying the assets for virtually zero investment after having pushed out the owners.
Tonutti says he dismissed it as a "movie story" and admittedly did not pay much attention to the warnings of the officers. "But we immediately realized that the person was not who we thought and that his goals were not to develop the synergies of the two companies." And after a couple of weeks, everything the officers explained to him also happened to him, he says.
After a bomb exploded in Tonutti's offices on Sept. 6, 2014 (no one was hurt), the Tonutti family relinquished the management of the business, which was passed to Blasi and Bgroup. Then, on Feb. 9, 2015, Tonutti recalls, the bankruptcy of the company was declared by the Court of Udine Italy.
Tonutti recapped the events as follow. The trustee leased the company to NTW srl (who then had Bgroup as sole partner and Luigi Blasi as general manager) from September 2015 to September 2016.
"During the rental period (in which payments are supposed to be made to the government), the Tonutti and Wolagri brands, as well as post-sales assistance, literally disappeared from the markets, leaving an unmistakable void and an embarrassing silence toward the customers who for 150 years relied on Tonutti Wolagri," he says.
Still, Tonutti had attempted to obtain the company with the financial backing of Zoomlion, a Chinese manufacturer of tractors and combines, but Tonutti says Blasi raised the bid price to 2.4 million euros. Italian bankruptcy court rules tend to favor the incumbent due to the "rental" payments.
So, in June 2016, the court announced that NTW and Blasi was awarded the purchase of 100% of the company. The failure to pay the amount of 2.4 million Euros by Blasi at the due date caused the company to go to auction once again.
Final Auction May 2017
Tonutti, who is former Unacoma vice president (manufacturers association, now FederUnacoma) and president of Mechanical Industry of Confindustria Udine, competed in the May 2017 auction with two other bidders.
On May 20, 2017, Tonutti, along with his sons, Fulvio and Gianmaria, officially returned after 2.5 years of battles to acquire Tonutti Wolagri and Tonutti USA. The restart of production will begin next month, says Tonutti.
North American Plans
While "the events of the last couple of years had nothing to do with the work and will of a family dedicated to farm equipment since 1864," Tonutti says he realizes it is essential to regain customer trust that has been heavily damaged.
The Tonutti USA office, Tonutti says, includes employees familiar names to customers, including Roxanne Howerton, branch manager; Michelle Maxey, sales manager; and John Goss, warehouse and parts manager.
Tonutti has a long history of supplying product for other brands, including Gehl, Miller, Vermeer (15 years), John Deere, Kuhn and Bush Hog, with the last agreement made in 2013. The presence of the location in Memphis was established in 1989 to serve John Deere customers. "Apart from Gehl and some smaller manufacturers, the other contracts with manufacturers ceased with the bankruptcy," he says.
When asked about plans for contracted manufacturing work vs. its own brands, he replied, "We will concentrate on our own brands but keep our eyes opened."
Asked about the initial strategy for North America, Tonutti says he will do exactly what he did more than 35 years ago. "We'll rebuild a distributor sales organization and where we cannot find distributors we will go through reps direct to dealers. My sons, Fulvio and Gianmaria — the fifth generation of Tonutti family — are the company's future." He credits his family in remaining together and united in a very difficult time.
He admits now that in the middle of the storm, he had his doubts about the company's future. "But I decided to be stronger and react because truth and legality must win against bad."
A lawsuit against Bgroup was filed in February 2015 for failure to pay the second payment, says Tonutti, adding that of course the third and fourth payments have also not been paid.
"So I hope that signing and acquiring the company on June 28, 2017 in front of a notary public, that this nightmare can be over. If someone that had my experience were to give up, there is no future for our families and for the next young generations," he says.
Farm Equipment & Ag Equipment Intelligence will prepare additional coverage of the family's renewed presence in North America following the 2017 Farm Equipment Manufacturers Assn. - Equipment Marketing & Distribution Assn. Joint Conference in Houston this November.