Updated on June 15, 2017
It's no secret that there's too much used equipment on North American farm equipment dealers' lots these days. While dealers are making strides in reducing their equipment inventory build up — Titan Machinery, Case IH's largest dealer, has reduced its used equipment inventory by $39 million in the first half of fiscal 2017, for example — correctly valuing used equipment is key to properly managing inventories now and in the future.
According to Ag Equipment Intelligence's May 2017 Dealer Sentiments & Business Conditions survey, A net 28% of dealers described their used equipment inventory for as "too high" in April. That's just slightly lower than the net 30% reporting used inventory was too high in March. One year ago, a net 42% of dealers reported their used equipment inventory as "too high." 
Unfortunately, when it comes to valuing used equipment, there's no one-stop-shop source, says Trent Hummel, a consultant who specializes in wholegood inventory management and a trainer with the Western Equipment Dealers Assn.'s Dealer Institute. "I know everybody wants the silver bullet to figure out what a used unit is worth. We all live in different markets, we all carry different product lines, different products within our line, but there are multiple data sources that need to be used," he says.
Rank Your Used Equipment Valuation Sources
Farm Equipment and WEDA surveyed dealers to determine what data sources they were using to determine the valuation of used equipment. On a scale of 1-10 (with 10 being the most influential), dealers were asked to rank the influence level of 10 data sources, including:
Discussions with Wholesalers
Discussions with Auctioneers
Online Tractor House Auction Results
Ritchie Bros. Auction Results
Machinery Pete Auction Data
Iron Solutions Guide Values
Discussions with Competitors
Discussions with Inline Dealerships
Your Past Sales
Other Auction Results
The survey data confirmed what Hummel contends; dealers are not doing their homework as well as they should when it comes to researching used equipment values. (See "Sources Influencing Trade Valuations" for the complete rankings.) While Hummel says it's good to see that dealers aren't basing their valuations completely on one source, he adds with weighted averages of about 3-5 for most sources, they are ranked too low. "We obviously don't have the confidence in what the wholesalers are telling us. We don't have the confidence in what the guide book is telling us. We're not confident in what the inline or competitive dealerships are telling us when we're only scoring those sources under 5. What we would like more is to have the confidence to score all these at 6, 7 or 8," he says. "It's great to have all these sources, but if they're not having much influence on you, why use them?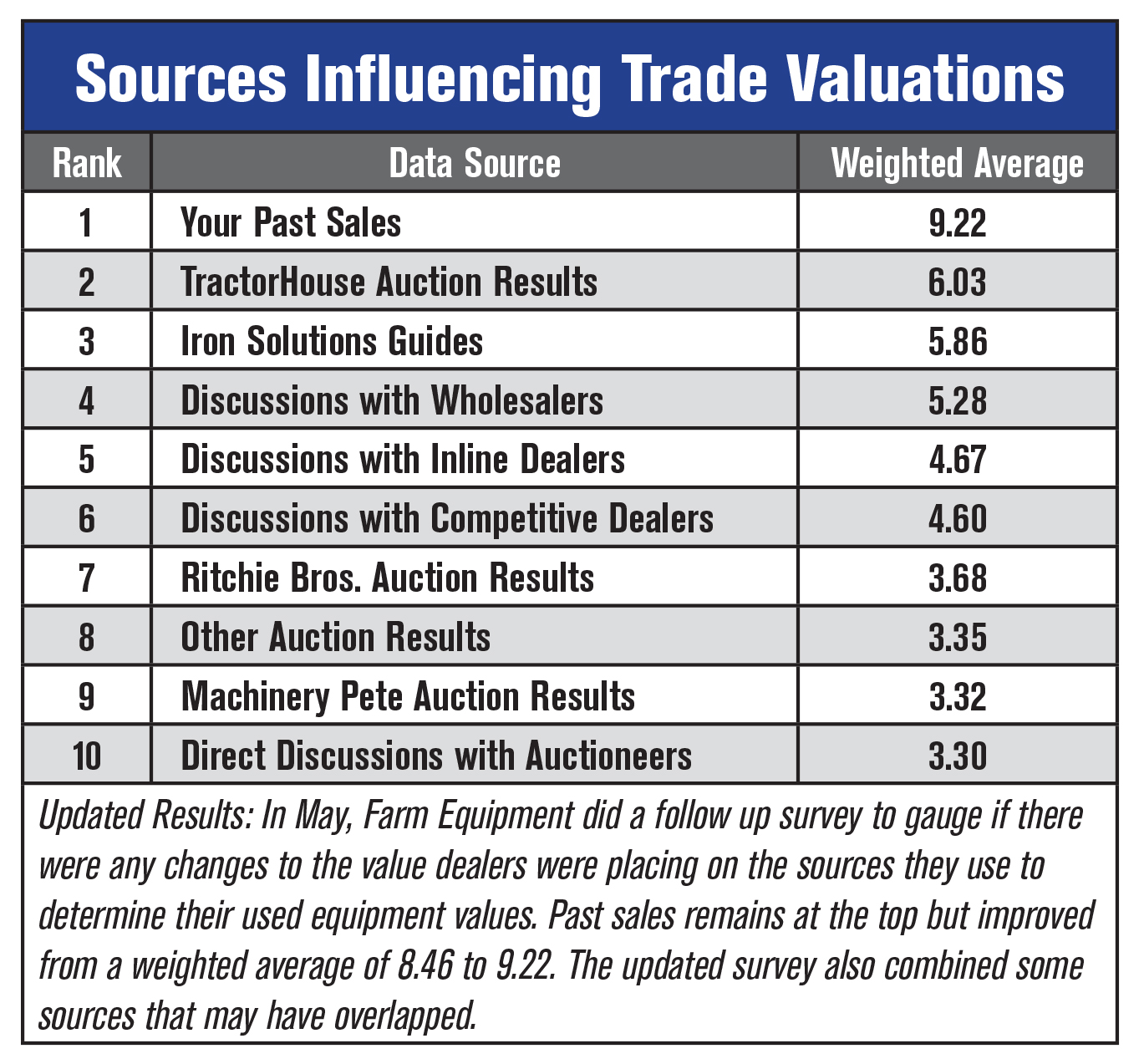 According to the 2016 survey, dealers' own past sales results impacted their valuation decisions the most. However, with a weighted average of 8.46, Hummel asks, "How is this not a 10? I can't figure out why dealerships aren't using their own results as the gospel. Your past sales are the most important." However, in the 2017 survey, this number improved 9.22. Tractor House auction results remained in the number two position in the latest survey, but it's weight average dropped to 6.03 from 6.11 in 2016. Iron Solutions Guides remained in the number 3 spot with the latest survey.
Hummel stresses that dealers need to be looking at all these sources to determine the right values on a piece of used. When looking at auction results, such as those posted by Machinery Pete and other such sites, Hummel says it's important to make note of where the auction was held. For example, the results of an auction in Iowa don't reflect the market in Washington. It's also important to note that when equipment gets to be of a certain age, the year is no longer important. In those cases the condition and hours are the most important.
Assign the Right Value to Used Equipment
Hummel says the number one job of sales managers and inventory managers is evaluating used equipment correctly. "Everything comes back to valuing that piece of used equipment. If you bought that used unit for the wrong price, it's not good. It doesn't work. We all know that. We get backed up and it causes a lot of problems. If we can buy it right, it will sell fast," he says. "I constantly ask sales managers what their number one job is, and very few state 'evaluating used correctly.' They seem to think it's selling stuff. The salesman's number one job is to sell stuff. The sales manager's number one job is to buy stuff correctly."
---
"Figuring out what the value of used equipment is will be the hardest bloody job you ever do. This is too complicated for a one-stop shop…"
---
While mistakes are bound to happen, Hummel says what's important is to correct the mistakes right away. "We can't be in this business and buy and sell as much equipment as we do and not have some mistakes. But, what we do with mistakes and how fast we address them is what separates the men from the boys," he says. If you buy a piece at noon and by 3 p.m. you realize you made a mistake by paying too much, Hummel says that's when you need to adjust the price. Or if it's 3 days later and you realize the mistake, adjust it. "Don't wait 3 or 4 months. And don't just keep saying, 'Well, let's try to sell it for this much money for 6 another months.' Because all of a sudden it will be 18 months and it's still sitting on your lot," he says.
Dealer Takeaways
Consult multiple sources before assigning a value to a piece of used equipment. Possible sources include, recent auctions, your dealership's sales history, inline dealers, competitive dealers and equipment jockeys.
If you realize you priced a used unit incorrectly, address it immediately and adjust the price.
Educate your sales staff on what to look for when evaluating equipment, including tire condition, cosmetic damage, how many nicks or scrapes, any deep scars and the condition of the paint.
In addition to the cosmetic condition of a unit, take what you know about the customer into consideration when determining its value. What does the farm look like? Does he work his equipment hard? What history does he have with used equipment?
Hummel says if, in the example above, the dealer had reduced the price 18 months ago when the mistake was first made, the unit wouldn't still be sitting on the lot. Now, the dealer has to take a bigger loss than he/she would have. "A loss doesn't always mean that you have to lose money. It's just that you budgeted to make 10-15 gross margin points on a unit and you had to sell it for 5. While you lost from what you intended to make, you didn't lose money. You've still made 3, 4 or 5 points. The first loss is your best loss because sometimes it doesn't actually mean you lose money. You just make a lower margin than you wanted to," he says.
To help avoid making those mistakes, Hummel says you have to put in the work and do the research. "Figuring out what the value of used is will be the hardest job you ever do. Evaluating iron is too complicated for a one-stop shop. There's no bulls-eye or magic formula. You can't look at one set of auction results and buy it for those prices. It doesn't work like that," he says.
Learn How to Appraise Equipment From Others
Hummel recommends watching and learning how jockeys work. "They use their own money to buy iron and resell it. They take that same money and buy another piece and resell it. We've got to get that mentality," he says. "Some of the best car dealers I know have hired old car jockeys or wholesalers to be their used equipment buyers because they know about working cash, turning cash. There is no one-stop; they're always evaluating from different sources in the automotive world. And we've got to do the same thing in this business."
So how do dealers make that work in the farm equipment business? Hummel says dealers have to be more thorough when following this order — appraisal, evaluation, marketing and Band-Aids, if needed. He says it's important to make sure the sales staff is trained on how to do a proper appraisal. Things to consider include: tire condition, cosmetic damage, how many nicks or scrapes, any deep scars and what is the condition of the paint. But, you need to look beyond just the units physical appearance. Take the reputation of the customer into account, Hummel says.
"Does the customer still have the power pole leaning on the house from last year's windstorm? The reputation of the farmer sells his trades. We've got some farms where no one will buy their trades and we've got some farms where neighbors line up to buy their trades. Everyone has "those farms" and that should be taken into consideration. An appraisal is more than just options. What is the condition of the unit, what's the home like, what does the farm look like, what is this guy's story? Does he run his equipment to death, does he work it hard? What is his history of used iron? Does he love his stuff or not?"
Reduce Remarketed Inventory
While today's used equipment inventory levels are high for many dealers, Hummel notes some have managed to get the situation under control. "I've talked to a lot of dealerships that started addressing the problem in 2014, made a great effort in 2015 and now are clean in 2016. They are making money," he says. In fact, some of them are even going out looking for used equipment. "They're buying equipment from finance houses, their own manufacturer's finance company, lease returns and from other dealerships. They're buying units and making a buck. We know of a dealership that does not have any units over a year old. They will never go back to having units with a birthdate."
---
"Sometimes I've phoned 10 sources to really get a feel of what the market is doing on a specific product…"
---
But you do not get to that point overnight and without hard work. Hummel advises dealers to review each unit individually. "Go through it and say, 'At what price is it going to sell? You paid $25,000 for this unit, but what will it sell for? Call the auctioneers. Call the jockeys. Call other dealers. Find out what is going on with this one item and why it's not selling. And that's how you do it. That's how you work out of this problem."
Likely, you are going to take a loss on the unit, but Hummel says the only way to get the problem under control is to get very honest with yourself. "A great way to practice is by phoning all your sources and collect the data on the problem products you have in stock," he says.
It's going to take hard work — and a lot of phone calls — but it's absolutely necessary, Hummel says. "Sometimes I've phoned 10 sources to really get a feel of what the market is doing on a specific product. You will get tired of calling and you'll just want to put a number on it, but don't do that. Spend the time and do it. There's a little bit of pain and suffering, but when you get that unit bought right and sell it the next week, it feels great.
"When it starts rolling, you'll be that much more appreciative of spending time and making those phone calls."

5 Key Tactics to Profitable Equipment Valuation Download