This article was initially published on April 8, 2017.
Fans know that all major sports have a most valuable player award coveted by everyone in the game. It is extremely rare when a rookie wins that award, but this is what occurred when Corner Equipment, in East Carroll, Man., was named the recipient of Versatile's 2016 "Sales Performance Leader — Canada" award after approximately 12 months of representing the product line.
Dwight Logeot (pronounced "low-zhoe") is the co-owner of Corner Equipment and, while he's certainly not a rookie to the business, his dealership is relatively new and won the award by achieving rapid growth in a short period of time. He and his partner, Darrel Carlisle, agreed to share their secrets with Farm Equipment and they can be narrowed down to 5 characteristics: 1. a career path that allowed an inside look at what practices worked at several other dealerships; 2. a unique business model that provides lots of floor traffic and benefits sales of all products offered; 3. hiring employees with certain traits that fit the personality of the business; 4. passion for the product; and 5. knowing the importance of building relationships.
Crash Course in the Business
Logeot would be the first to admit that his path to building a successful dealership would not suit a lot of people. "Anyone looking at my resume would probably be scared to hire me because of the number of places I've worked," he says. The native of Deleau, Man., in the southwestern part of the province, started a career path toward sales due to a dislike of being stuck in a school building. Using a high school vocational education program to get out of the classroom, Logeot got a taste of selling cattle handling products and by his senior year was making as much money as some of his adult counterparts.
After graduation, a job opened up selling farm equipment at the local dealership, which led to his first career disappointment. Logeot secured a sales position at the Hartney, Manitoba Co-op after high school, and says it ended abruptly. "I showed up for work one day and they were no longer in business and I found out what it was like to be jobless." The organization had declared bankruptcy and, though unhappy at the time, Logeot made the best of it. "Every bad experience in life can be turned into a good experience for knowledge on down the road," he says.
Dealer Takeaways
• Even in today's farm economy, it's possible to do extremely well with a new franchise if there's a belief in the quality of the product and the desire to go after potential prospects.
• If you're starting out at the bottom rung of a dealership, learn all you can from the people you work for, both successful management techniques and those that don't work. It will serve you well someday.
• With the farming community continuing to diminish in numbers, having a side business under the same roof can provide insulation from downturns, as well as increase floor traffic and new prospects.
• It may be time to look outside of the equipment business for new employees to bring in fresh ideas. Closely examining their abilities to learn and adapt to change may be more important than their education.
• It's important to always cultivate good customer relationships because you carry them with you throughout your sales career.
Living through a dealership closing didn't drive Logeot away from equipment sales, but he did move around a lot. He had sales jobs in Killarney, Swan River and Portage La Prairie, Man., and Prince Albert, Taber and Brandon, Alta., selling, at various times, New Holland, John Deere and Case IH equipment. All total, he was employed by 6 different dealerships in 10 years across Alberta and Manitoba. Logeot admits the frequent job moves were probably a result of his youth. "I'm not as open now to change as what I used to be. I think that's why I tried so many different dealerships early in my career — I wasn't afraid of challenge, change or the unknown. As you get older, you develop more focus."
What Logeot did gain from the various positions was extensive experience, working for a lot of different people and selling a variety of products. "I learned a lot from bosses — what to do and what not to do, just from witnessing the repercussions of certain ways people run businesses. You try to be a sponge as much as you can and soak up what you learn, both good and bad. The more you adapt to your surroundings or the more open your mind is, I think the more successful a business person you'll be."
By 2005, Logeot had moved from sales into management and was running a branch for Miller Farm Equipment in Brandon, Man. He settled into an organization that fit him, planning for an extended future there. In 2008, though, right after being named Farm Equipment's Dealership of the Year, the family-owned business announced they were selling to a publicly traded conglomerate, a move that Logeot admits he knew he wouldn't like. "When the news came, I was standing on my front door step. I remember sitting down on the step, it hit me like a pail of cold water. That day, I knew I was done, deep down inside."
The Success in Shortline Machinery series highlights the best practice strategies employed by top farm equipment dealers to promote and sell shortline equipment. It is brought to you courtesy of Väderstad.
Väderstad, is a family-owned full-line manufacturer of high-speed planters, seed drills and tillage equipment. Together with farmers in 40 countries all over the world, we have spent the last 55 years creating machines that make any farmland find its full potential. Väderstad is seeking independent-minded dealers capable of selling and servicing high quality equipment to professional farmers. If you are looking for the possibility to expand your customer base, contact Larry Wieler at larry.wieler@vaderstad.com or (289) 527-4697.

A year later, Logeot exited the corporate farm equipment environment, burned out and ready for a career change. He was resigned to pursue a career in the financial field with no plans to look back. In 2010, Logeot formed a financial consulting and mortgage brokering business focusing on developing financing and leasing options for equipment, assisting producers in preparing accounting documents and offering farm and succession planning. Little did he know that his new endeavor would lead him right back to where he began.
Building a Partnership
Into the picture came Logeot's future partner, Darrel Carlisle, who was expanding his own business. Carlisle contacted Logeot's company, because he was exiting farming to put more emphasis on his successful fertilizer business. Carlisle says, "In his Case IH days, Dwight used to sell us all of our equipment for the farm. Since he had a financial planning business, I contacted him about how to set up the sale of our farm for tax purposes and how to organize the new venture. After that conversation, he mentioned that maybe he would like to rent some office space at the new facility that we were building for the fertilizer business."
Carlisle was attracted to Logeot sharing office space because of his financial business customers. "When he first started saying that he might want an office in our new facility; that was what I was looking for, him bringing different clientele in that maybe I've never met or dealt with before. Vice versa for his business as well, just two different sets of traffic coming in to see what other interest we can get with them."
Carlisle's enterprise offered a wide customer base and an extensive territory. "Carlisle Liquid Starters is our company and we're an Alpine Plant Food Depot. Our sales area encompasses western Manitoba and the southeast corner of Saskatchewan. We sell starter fertilizers, in-furrow products, foliars and micronutrients. We specialize in everything that everyone else has gotten out of. We don't do anything with chemicals, herbicides or pesticides, but instead we look at the health of the soil and the plants and concentrate on the total nutrition side of things. Everything we do is about how we get the plant and soil healthier so we don't have the insect and disease issues as bad."
As discussions progressed, Logeot confessed to Carlisle that he missed the equipment business and thought the new facility offered an opportunity to get back into it on a limited scale. Carlisle says, "Dwight asked if I would be interested in selling some shortline stuff, just something the two of us could do on the side and keep it small and simple. Back then, as we were moving forward, one thing he didn't miss was having engines around and dealing with warranty work. He told me that if he ever got back into something with engines to just kick him. Six years later we're an Apache and Versatile dealer with 35 employees and we've stepped past all that."
Corner Equipment, the partnership between Logeot and Carlisle, was officially formed in 2011 offering Gates Manufacturing tillage equipment and Elmer's Manufacturing grain carts. Apache Sprayers were added later. Logeot says the partnership started out small. "When we were beginning we shared employees. Some of the fertilizer delivery guys were doing equipment setup and this allowed them to stay employed year-round, which worked out well for both partners. The first year, we did just over a million bucks, the second year was $3 million and then $6 million and $12 million and $15 million."
Eventually the equipment business became Logeot's full-time focus and he sold the financial planning enterprise.
Carlisle says fertilizer and equipment operations go well together under one roof because of the overlap with customers. "On the equipment side we got into more of the liquid fertilizer equipment because we're dealing with all liquids now. We got into liquid caddies; we do lots of banjo fittings, starter kits and sectional control systems through Raven, so there's a lot of overlap back and forth that way, which works really nice."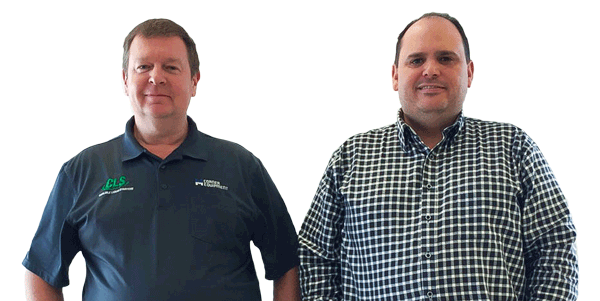 Darrel Carlisle (l) and Dwight Logeot (r) opened Corner Equipment in 2011.
Next Big Step
A giant leap in floor traffic for the new facility came 4 years ago when the partners acquired the OK Tire franchise. Carlisle says, "For us, in the area we're in, we get a lot of farm traffic through here now, guys coming in to get truck and tractor tires done and they see equipment on the lot. It also gets them looking at our fertilizer side, other products that we offer and what else we do to help their farm. For as many different projects as we run under one roof, they really complement each other quite well." The OK Tire franchise now generates $2 million in annual sales.
The addition of the tire franchise brought new prospects to both businesses. Carlisle says it creates large numbers of customers with idle time to kill. "When you look at the equipment and fertilizer side, by throwing the tires in there, you get so many guys who'll bring a semi in for a safety (inspection) or their wife's car for tires. They'll sit out front waiting for an hour to get their tires done and balanced, but they don't just sit out front, they come into our offices or Corner's offices. They're always asking questions about equipment or fertilizer and there's a lot of stuff that gets sold or changes made on different farms. It's all due to guys having one location to go to and trying to kill time while they're waiting to get another job done."
Carlisle is especially happy with the tire operation, because of the diversity it brings. "We concentrate on the agricultural customer, but it's not just ag driven. If you do have a weather event, like a wet year where crops don't get put in, the tire side still keeps the shop busy with safeties for semis, cars and trailers. It keeps a lot of the mechanics busy. There are always the possibilities of disasters in the farming community and there's not much you can do about it. You can come to a slow halt for a season because most of the crops didn't go in." He says the fertilizer business — that services a group of other dealers across western Canada — may also help carry the equipment business in a crop disaster. "We're so far stretched with the size of our territory, the chance of my whole area having a bad weather year is pretty slim, so it takes a lot of that risk away for us."
Logeot agrees, "Most people don't really know what all we do; we sell lots of different products for different markets. It's kind of a one-stop shop, which probably scares most dealerships. It does bring in a lot of people."
One thing the owners continually hear, especially from farm customers, is that they appreciate the local ownership of the business. Carlisle says customers get a sense of relief with the business model. "We're here working with them every day, so if there's an issue, and something has to get resolved, there's somebody that can make that decision, give an answer and carry on with life. Where some of these corporate dealerships are so big now there's really nobody left in charge and customers don't know who the owners are anymore. It used to be that companies would bend over backward for their customers, and now a lot of them, their hands are tied. The employees can only do so much and take it so far. That's been a big benefit to us, just the fact that customers see we're here and we're not owners that live in Florida and come to the shop once every 3 weeks."
Screening Employees
Both partners attribute a large part of the initial success of Corner Equipment to their employee team. The hiring process that has brought the group together encourages seeking diverse backgrounds to bring new ideas to the table. Also, an emphasis on people skills more than education and specific abilities and traits have built a cohesive staff that is recognized by both customers and suppliers.
Logeot says establishing the new business necessitated some unique concepts when hiring. "I'm a very out of the box sort of character. We started from scratch and brought in a couple of people with good experience. But several employees came from outside the equipment business, such as grain system sales or automotive. They had no pre-existing thoughts of how things should be done. It's fresh thinking. When you bring somebody in from a different industry, they may not understand everything that an experienced person does, but they bring so much more to the plate, a lot of ideas that we narrow-minded machinery people never think of."
Part of the staff diversity arose from necessity. Logeot says, "When all the safety parameters for dealers started coming out, a lot of dealerships were struggling, so we had to look at other industries that were further ahead of ag that were doing safety programs. Automotive was ahead of us as was industrial [equipment]. So we brought in some outside people from different industries who had been through these changes. It gave us some new experience and thinking and even though they came in to do one job, they contributed ideas for other things.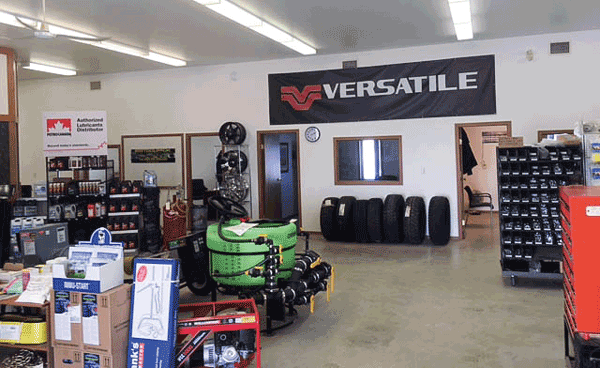 Taking on the OK Tire line has helped increase traffic for the fertilizer and equipment side of the business. The tire franchise generates $2 million in annual sales.
"A couple of my sales guys are in their early 20s and wet behind the ears," Logeot says. "I compare them to myself a few years back. They're going to be rock stars one day; they have a lot of learning ahead, but I have the utmost respect for them. I've got a great staff. When someone doesn't have a lot of experience, you have to build their confidence and once they have it, I think they become lifetime employees. I'm not a micro manager, obviously when you do this kind of volume, you can't be. You have to make your people accountable, but give them their leash. Sometimes they'll hang themselves, but so will I. They've got to learn by mistakes and just keep them to a minimum and move on. I think we all dwell on the bad and don't look at the good enough. But if you're not making mistakes, you're not moving."
If you're applying for a job at Corner Equipment, don't bother to emphasize your education on the resume. Logeot says schooling is overrated when it comes to selecting good future employees. "I think education is of minimal importance. I hate to say you can judge a person in the first 5 minutes, but I think to a certain degree that's bred into us. What I look for goes back to the simple things: politeness, how they carry on a conversation and their willingness to go out of their way for other people. You can kind of see it in them as soon as they walk through the door, in how they greet you and how they talk with you. It's a gut feeling for me and I think it has to do with their upbringing in many cases."
Those applying to work for Logeot will hear his favorite screening question: "Through the interview process, I ask 'What are your thoughts about growth, change and challenge?' I tell them that we're a growing dealership and the one thing that's always evident is change, as we're always trying to adapt to make things better. That's a key question.
"If you see the fear of God in their eyes, you might as well walk them to the door. If they say, 'So there's an opportunity to grow with the business?' That's what I want to hear. You can see some excitement in those people; I can tell right then and really don't need to go any further. Their level of excitement or interest about the business lets you know that they're the right person for some kind of job in your organization. Sometimes what they have for related experience doesn't mean anything, it's the excitement that they bring to do what they have to do."
There is one trait that Logeot values most in all his employees. "I think overall it's the willingness to learn. You can't teach someone that doesn't want to be taught, it doesn't matter age or anything. I've had 20 year olds who don't want to learn and I've had 50 year olds who don't want to learn and, if you have those inside your business, it just doesn't work."
Pursuing the Customer
Once Corner Equipment began building staff, Logeot says he saw the potential for expanding his product offering. "I've known some of the Versatile guys all the way along and had always talked to their territory rep, every time I've bumped into him. One day I just picked up the phone and called to inquire. I had heard some rumblings that there might be an opening for a new dealer. I think they definitely held their brand with tractors, but I thought there was also opportunity with some of their other lines. At the end of the day, there's New Holland, Case, John Deere and AGCO. There's just not a lot of selection out there anymore. The Versatile tractor is definitely one of the ones high on the list; you still need the mainline staple and I looked at Versatile as being just that."
Adding Versatile to the mix came at the end of 2015. "I remember sitting down with them just over a year ago and we did projections for what I told them I was going to sell," Logeot says. "And I remember saying, 'They're going to think I'm an idiot.' And they laughed and said, 'Yeah, this is pretty aggressive.' And we pretty much blew that out of the water."
In the early meetings, with Logeot, to discuss becoming a Buhler Versatile dealer was Alan Graff, their North American dealer development manager. He played a large role in getting the contract to Corner Equipment. He says the company was attracted by Logeot's desire to be a full-line Versatile dealer. "In the area, we had a dealer that was basically just selling the tractor line and our focus is on signing up full-line dealers. Corner and their ownership saw that light and decided they wanted to go forward with it."
Graff admits to being a little shocked with Logeot's first predictions. "We did a 5-year sales plan with him and it kind of blew us away with the numbers. The first year or so, I think he forecast about 30 units and we thought he was crazy, but he far exceeded that number. So, we're pretty pleased. He added combines, which originally he wasn't going to do the first year, and did well with them and air drills. He's done well for us."
"I think people underestimate me," Logeot says, "which has always been my strength. My horsepower has always come by people telling me I can't do something and then the challenge is on. I've heard so many times dealers saying, 'Oh, he's too aggressive, or too young, or he doesn't know enough. He's going to go broke.' If I had a dollar for every time I've heard that, then I'd have a lot more money than I do today. But I'm not a talker, I'm a doer."
Logeot had been familiar with the brand since his days selling New Holland, which owned Versatile at the time. "The first tractor I ever sold was a 976 under the blue paint, which is about as 'Versatile' as you can get. I remember taking a plant tour in the mid-90s and looking at their 'component' tractors. A year ago, I took the same tour and the line hasn't changed. The tractors are similar and most of the people that work there are the same. It's Manitoba made. It's Canadian made and that gives you a reason to pump your chest out, when something's built two hours down the road. It's such a good product, Versatile has adapted to some of the new technology, but they've still kept that core reliability that nobody else has."
Logeot sells hard on the maintenance and cost of ownership of his tractor line. "You can have a clutch sitting on the ground in two hours and you can change the PTO out in a matter of minutes. If we have engine work needing to be done, it's a Cummins, who doesn't like Cummins? Transmissions have been virtually bulletproof, but if they were to give trouble, they're simple to fix. Anybody that owned a Versatile never saw the inside of the shop and it's still the same component tractor. If you do have trouble, you're literally a few hours away from being back in the field."
The enthusiasm for the product was contagious and being named Versatile's Sales Performance Leader for Canada didn't surprise Graff as much as it may have others. "It's not that they weren't selling anything before, they were selling sprayers and also some other shortlines, so Dwight and his crew had the experience, plus he's got an aggressive team that helped him succeed. That's probably the biggest thing, he's got a lot of young talent that's done a nice job. Also, he knows everyone in his area up there."
Graff expects Corner to continue its forecasted success and reach the 5-year plan. "Well, if anybody will, it'll be him. They've done a good job of selling new product and they also sell plenty of used equipment, which is very important on the ag side. As you well know, it all comes up to what the farm economy is going to do. And in the U.S. it's not good; in Canada it's much better, but it could change overnight up there. I'll be honest, he's probably a few years ahead of where we thought he'd be from the forecast he gave us, because we didn't dream he'd even make the 30 units the first year."
'It's All About Relationships'
Corner's rapid growth would not have been achievable without Logeot's previous sales experience and the relationships he's developed. "It's not new customers that we're selling to, but guys I've dealt with a good chunk of my life. We do price equipment aggressively, but about 90% of our sales are within an hour of the dealership. The farther away customers we have are because of my past relationships. I don't wait around for guys to come to us. I was a poor student in school and can't remember what I had for breakfast, but I can remember how many tractors are on everybody's farm, both Versatile and competitors. We'll promote deals and go after their business. If we waited for guys to come to us, we'd be old and retired.
"Everything is relationship based, whether it's staff or customers," Logeot says. "It's hard to draw lines between friendship and business some days. A lot of us live in small communities — some of us in big communities from a population standpoint, but really they're not that big when you look at our circle in the ag community. We cross paths every day with people we do business with, whether you're at the rink with the kids, curling or out fishing. There's getting to be more crossover than ever before for guys like myself in business.
"As a business owner, one of the most important things is that people see you in all aspects of life. I think that's where we do have an edge on some of our competitors. We do have a more personal touch in our community.
"It doesn't matter whether you're running a farm business or any kind of business. We put ourselves in our customers' shoes and they want answers now," Logeot says. "They've got a big business to run, too, and we have to make sure we treat them how we would want to be treated. So many big businesses forget those important things. We need to go back and shift down a gear and remember what got us here. It takes us a long time to earn the business and it doesn't take very long to lose it."
Logeot says the drive for winning the sales award didn't come from a desire to be the biggest volume dealer. "I love to get on my Twitter account or look on Facebook or Combine Forum and see a report come back that 'Corner Equipment was out to my place yesterday, Sunday, at suppertime. I was down for about an hour and I'm fixed and going again. Thank you.' You see guys on Twitter bragging about you or about certain services you provided or the way you run your business. Those are the things that fire my engine up every day and make it easy to go to work. I really don't care about the numbers. I'm very driven by what people around me think of my business and my people."
Looking to the future, Logeot is in the growth mode, both personally and professionally. A second Corner store was opened in Shoal Lake, Man., in January 2016, which was about the same time Logeot's wife, Denise, gave birth to twins, a boy and a girl. Logeot, is a father for the first time, at the age of 40, and expanding his dealership's footprint at the same time.
Corner has been approved for the Versatile contract at the second location and, when the ink is dry on the contract, Logeot plans to duplicate his first store philosophy: building relationships, adding fresh staff and expanding sales for the brand that he believes in. He says any expansion after that point is going to depend on the ability to locate strong employees.
"I just picked up another key employee; one of the people that would eventually make me think that we could have a third location down the road. If we can manage to retain these people, that's when I'll look at more growth. So 5 years down the road, I hope to have a third location. But as far as getting any bigger than that, I don't know if it really excites me. I would like to stay within that size. My drug comes from hearing the customer satisfaction reports and those kind comments made on social media. I think we're going to strive to see more of that rather than growth."
Carlisle agrees, "I think we're getting maxed where we are. But as more opportunities walk through the door, which is every day it seems, really the sky's the limit, if you've got the employees to do it as far as I can tell."